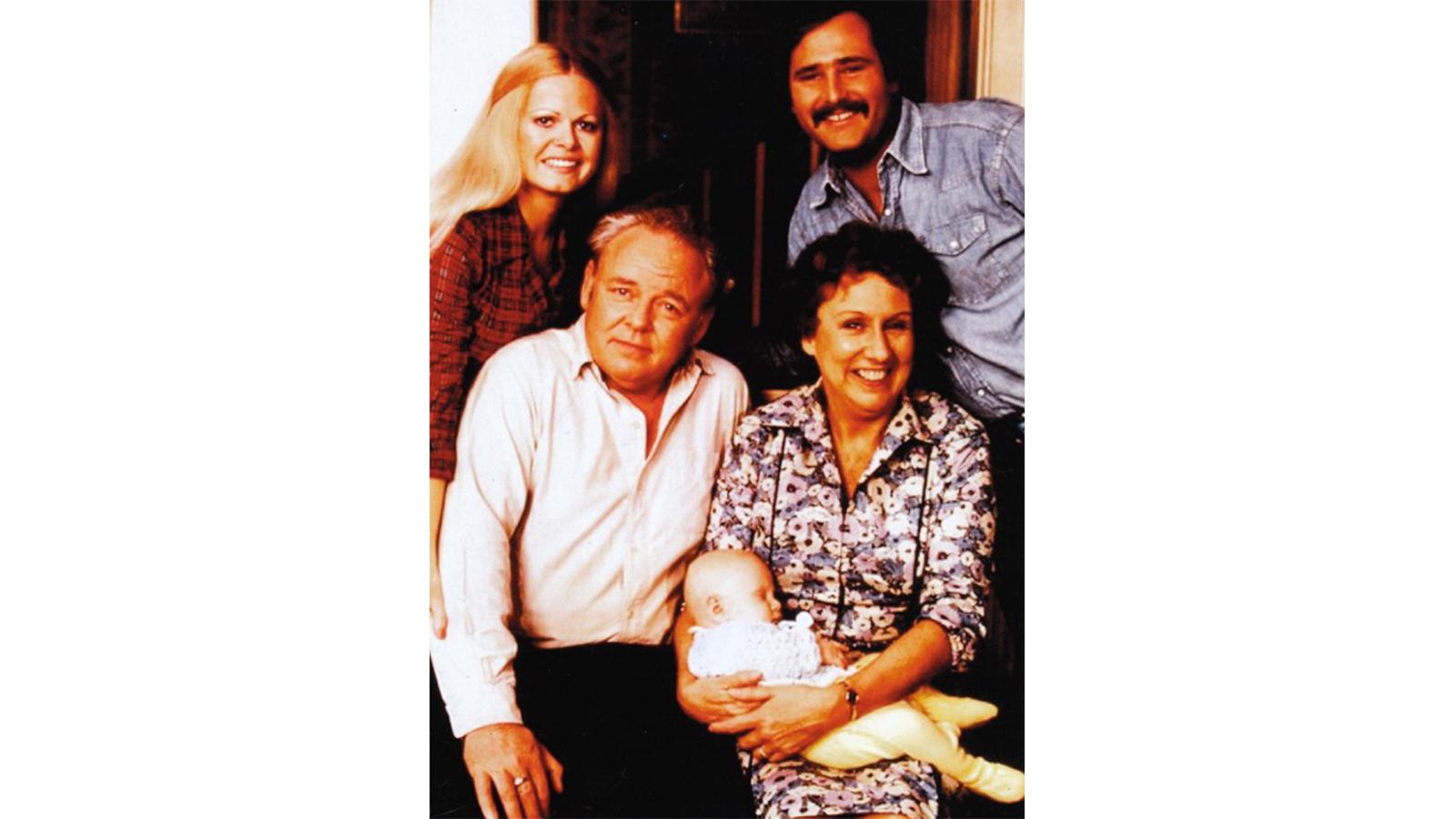 Struthers with the All in the Family cast; Rob Reiner, Carol O'Connor, and Jean Stapleton. "I loved her on the set with Carol O'connor," says Liz Torres. "He was a very very formidable man and I treated him with great respect, as did everyone else. But Sally would run up to him, take his glasses off and put them on top of his head all eskew and then tuss his hair and the first time she did that I nearly fell off my chair laughing. Sally was like his little baby."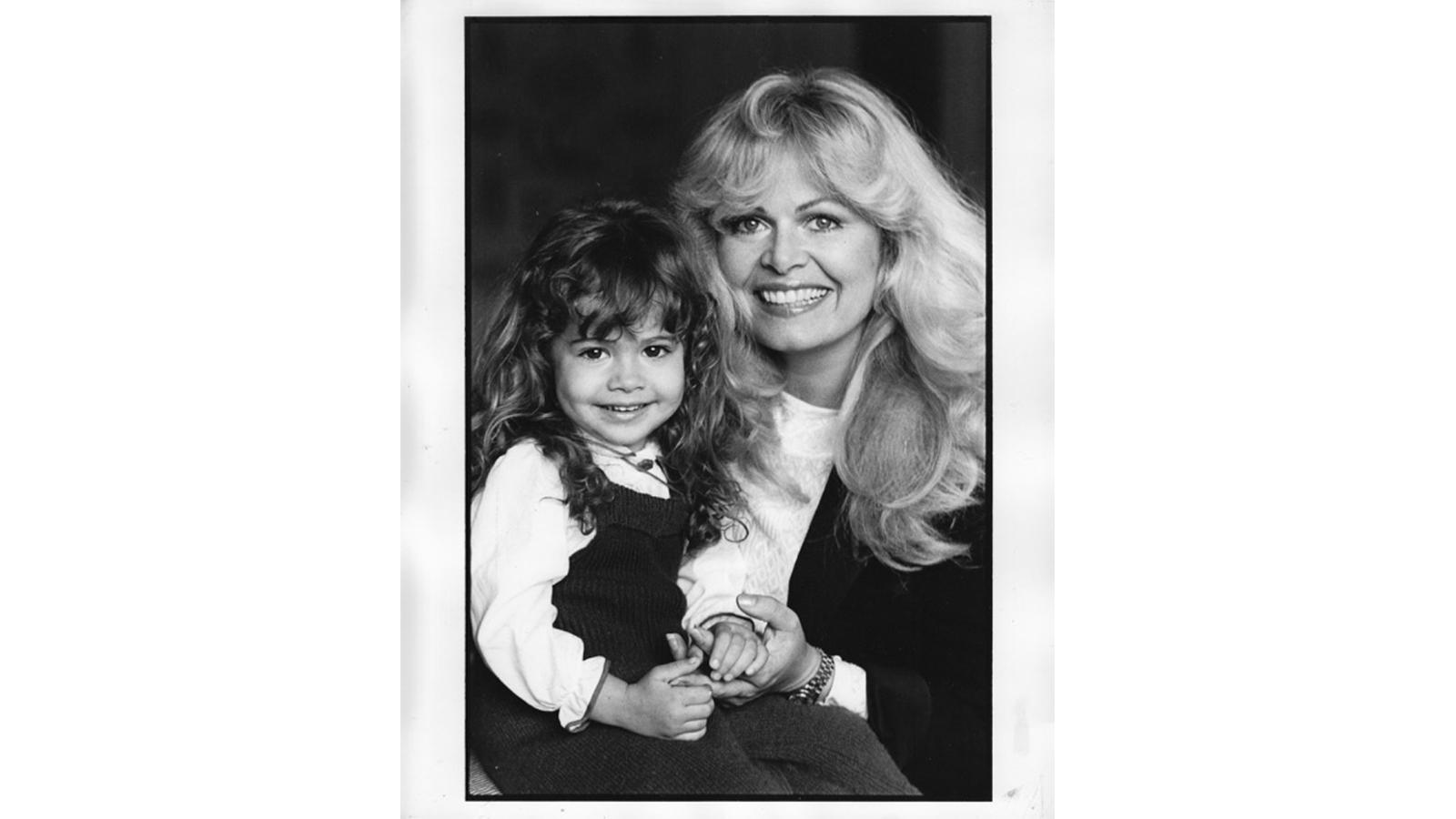 Sally Struthers with her daughter Samantha.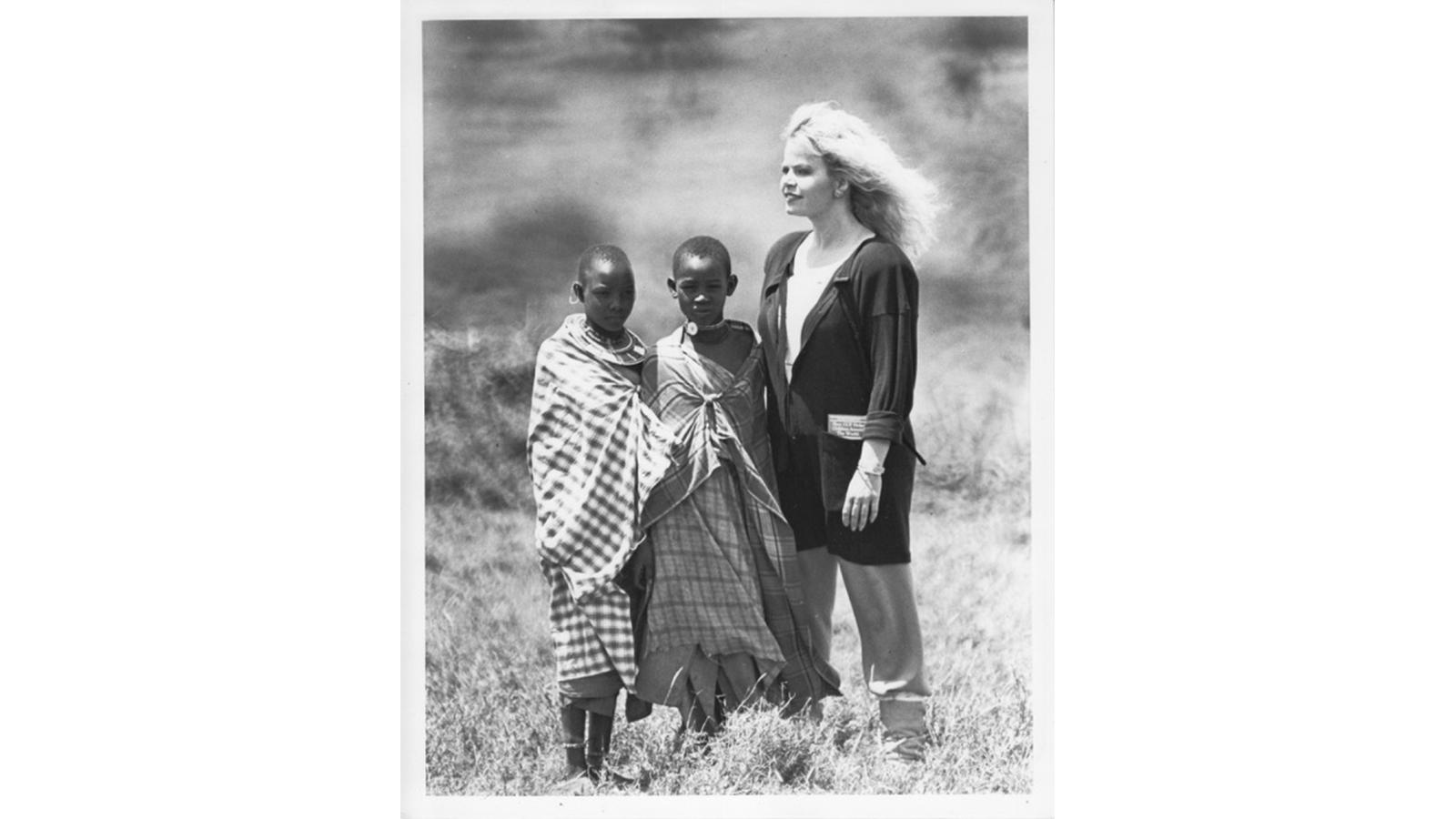 Struthers worked with Save the Children for 30 years before the traveling became too much for her and put her health at risk.
Grant alumna Sally Struthers was in seventh grade at Faubion Elementary School when she received her first acting award. Although she can't recall what the play – written and performed by her class – was about, Struthers had a lead role.
She remembers the plaque that was presented to her afterwards that read, "Best Actress in the 7th Grade Class Play: Sally Struthers."
"That was my first award," recalls Struthers fondly.
Struthers' close childhood friend, Linda Bennett, remembers what made Struthers such a talented actor, even as a kid.
"She was inherently funny all the time," says Bennett. "Even if she wasn't trying to be, she just always had amazing facial expressions that could just take you out of the gloom in a flash."
That play was the first of many Struthers would star in, and it was the beginning of a lifelong career that brought Struthers plenty more recognition.
Struthers' unique upbringing has set her apart from other actors. Her mother's depression caused Struthers to develop a sense of humor in attempts to make her mother happy, a trait that has helped her reach success in acting.
And her family's values toward helping people in need led her to become the spokeswoman for Save the Children, an organization that works to improve the lives and rights of children in developing countries.
"I grew up with a family that shared everything we had with the neighbors and other people," says Struthers.
Struthers' impressive acting career spans decades. She played Gloria Stivic in the 1970s hit TV series "All in the Family," was part of the cast of "Gilmore Girls" and acted in movies such as "Five Easy Pieces" with Jack Nicholson and smaller TV series, including "9 to 5" and "Gloria."
Now, at 69 years old, Struthers is still active in the industry.
"I thank my lucky stars everyday that I was on a show called 'All in the Family' that made me so well-known to the American public. I get all these offers, and that wouldn't have happened if I hadn't been on 'All in the Family,'" says Struthers. "I've been beyond fortunate."
Sally Struthers was born July 28, 1947, the second of two daughters to Margaret and Robert Struthers. She grew up in Northeast Portland in the Concordia neighborhood.
When Struthers was 7, her father left the family, and after that, she stopped seeing him on a regular basis. Her mother, Margaret Struthers, soon fell into deep depression after her husband left, and she was forced to find a job to support her daughters.
When Margaret Struthers found work at the Bonneville Power Administration as an accountant, family life became more stable. But Struthers says that her mother's depression made any interaction with her difficult. "She got the early shift where she would see the least amount of people, and she asked if she could turn her desk towards the wall so that she wouldn't be facing anyone," says Struthers. "My mother became a recluse."
She and her sister stopped inviting friends over to their house so they wouldn't disturb their mother, and they learned to accept her change in character.
"I think I became even funnier … I knew how to get people laughing. And I think that I became even more so because I just wanted to give my mother some joy, "says Struthers.
In 1961, Struthers started her freshman year at Grant High School. Over her four years there, Struthers threw herself into as many activities as possible. She became a cheerleader, club leader and she got involved in Grant's theater program.
"It was huge, it was bustling," says Struthers of Grant. "There were around 900 people in my class alone, and I liked everybody, I'm like a cocker spaniel – I just run up to everybody. "
After high school, Struthers drove to Pasadena, CA to attend the Pasadena Playhouse, a college for the theatre arts. The Pasadena Playhouse was competitive and intense, but Struthers remained upbeat throughout her time there.
Just a few years later, when Struthers was 20, her father died in a car accident. Long before then, Struthers had gotten used to his absence from her life. Even so, the loss was hard.
"When Sal's dad passed away," says Bennett, "her mom was just such a rock for her and … was always there for her."
Soon after Struthers left the Pasadena Playhouse in 1967, she was hired for her first commercial job.
Struthers worked for several years on more commercial acting roles, and in 1967, she began appearing on the Smothers Brothers Comedy Hour. After that, she landed a role in the 1970 drama "Five Easy Pieces" which starred Jack Nicholson. The movie received four Oscar nominations and four Golden Globe nominations.
At the same time that she'd been filming "Five Easy Pieces," Struthers regularly appeared on the Tim Conway Comedy Hour. But her role there didn't last long, and she was let go after six weeks. It was a tough blow, but shortly after, she auditioned for a new show called "All in the Family."
Struthers landed a role, and after a year of filming in Los Angeles, the first episode of "All in the Family" aired on January 12, 1971. Struthers remembers when the show's writer and producer, Norman Lear, met with the actors several hours before the episode aired.
"In the rehearsal hall at CBS Los Angeles, Norman Lear sat us down and said, 'One of two things is going to happen tonight. It's either going to be a big hit, and you will be recognized everywhere you go … Or, the public is going to be up in arms with the way Archie talks, with all his racial slurs, and it's going to be off the air after tonight, and we'll all be out of a job,'"says Struthers.
The first scenario came true.
That night after the show aired, CBS received calls from networks across the nation asking when the next episode would air. Struthers and the rest of the "All in the Family" cast were relieved.
Overnight, Struthers became more famous than she'd ever expected. People tried to follow her car from the CBS parking lot, so she began taking alternate routes home. She couldn't go out in public without someone recognizing her.
"Rob Reiner, who used to play my husband on 'All in the Family,' and I used to walk out of the back door of CBS 2-3 days a week and walk over to the Farmer's Market," Struthers recalls. "But then once the show hit the air, he and I couldn't go to the farmer's market anymore. Everyone knew us. Everything changed."
In 1971, "All in the Family" won a Primetime Emmy Award for Outstanding Series, and in 1972, it won the Golden Globe award for Best TV Show. It was unique in that it told the story of a husband and father figure, Archie Bunker, who has a daughter named Gloria, played by Struthers. Archie openly expresses his views on race and many of his lines include racial slurs. Throughout the series, Gloria and her husband are constantly reprimanding him.  
"They were trying to make a point," says Struthers. "And it was to shine a light on racism and bigotry and shine a light on the fact that someone doesn't necessarily have to be wearing a KKK sheet over their head to be a racist, that we can all hate. It can be a lovable father or husband type."
"All in the Family" continued to win awards each year. Struthers says she was "proud to have been a very small part in something so big in the history of TV."
"It was a phenomenon, we were on the cover of Time magazine, we were guests of Rosalynn and Jimmy Carter at the white house," Struthers said.
In 1972, Struthers was nominated for her first Emmy award. But at the time of the awards ceremony, her mother was very ill in the hospital. When Struthers left for the ceremony in Pasadena, she didn't know if she would see her again.
That night Struthers won an Emmy for Outstanding Supporting Actress in a Comedy Series for her role in "All in the Family."
"When they announced my name, I held that Emmy towards the camera and said, 'This is for you, mom. I'm doing this because you thought I could do it…' and then my mother did not die," says Struthers. "I took the Emmy award and gave it to her, and she kept it on her television set in her living room until she passed away."
It was around this time that Struthers started sponsoring children through the Christian Children's Fund. She decided that she had more money than she needed for herself.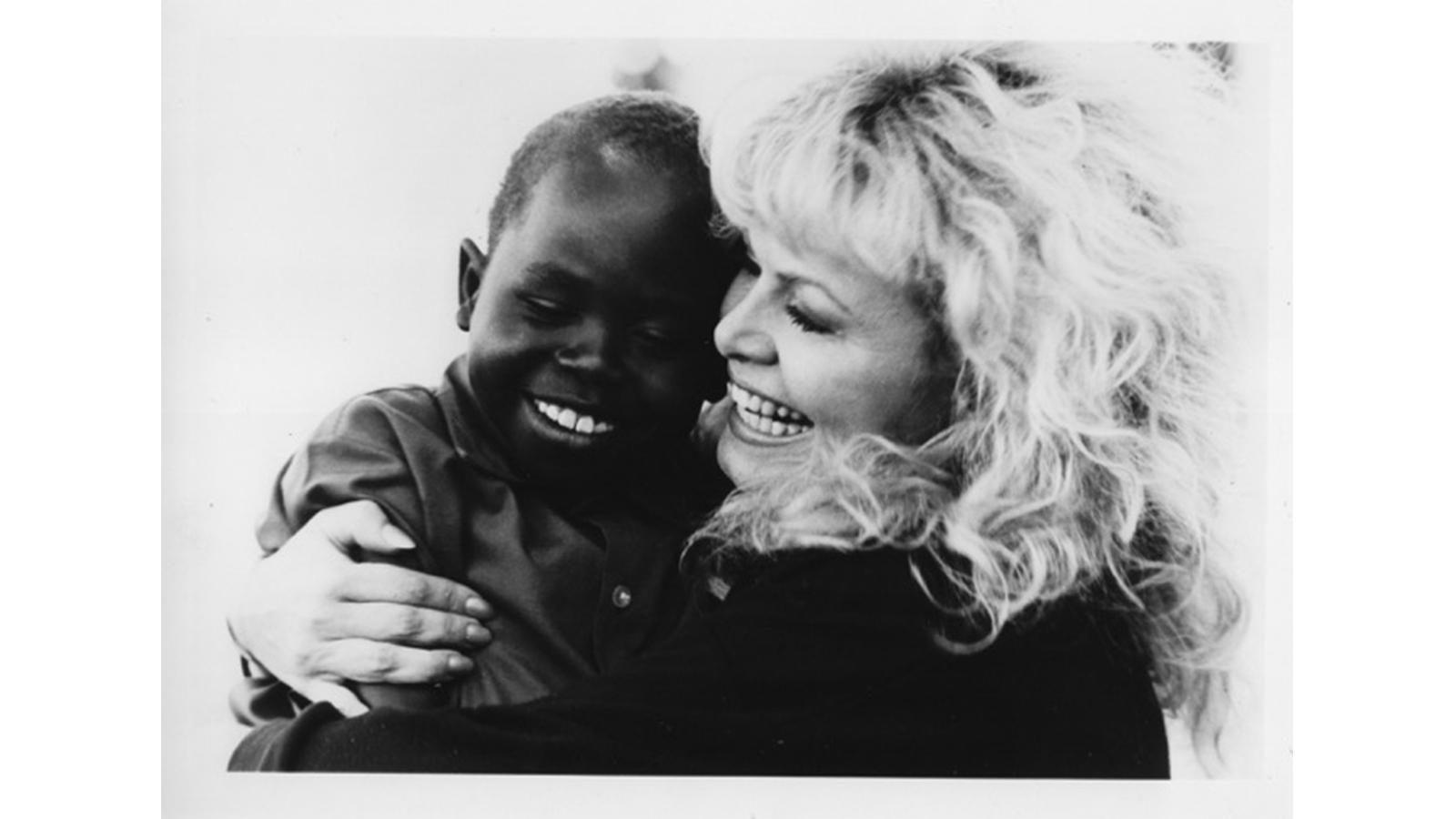 "My instinct when 'All in the Family' became so big was to share my money," Struthers says. "I realized I didn't need that kind of money, so I decided I'm going to share this and sponsor a little child."
Although "All in the Family" gave Struthers her path to stardom and made her a household name across the nation in the 70s, Struthers wasn't happy working there all the time. She felt that the writers didn't understand her talent and potential as a comedian. She remembers having only a few lines each episode.
"They didn't know my style of comedy, they didn't know that I could be hilarious too," she says. "I was just on the edge of all the scenes, or the reactor, and it was frustrating for me."
Struthers was getting offers to act in movies, but her contract with "All in the Family" prevented her from taking them. She felt trapped. After the fifth season, Struthers hired a lawyer and tried to leave the show, but leaving the show before her contract ended would cost more than she could afford.
Soon after, a new director and new writers were hired who wrote more lines for Struthers that gave her the chance to showcase her humor.
In the seventh season of "All in the Family," another actress was hired named Liz Torres. She played Teresa, a boarder in the Bunkers' house. Torres had seen Struthers perform on the Smothers Brothers Comedy Hour, and when she met her on the set of "All in the Family," she remembers Struthers' warm personality.
"When you're on a series, a lot of stars are very nice to the other actors, but they're not forthcoming," says Torres. "But Sally was very welcoming and very kind. She took me around and introduced me to everybody. I was so grateful because I was so scared and frightened to be there."
Two years later, in 1996, her mother passed away at 79 years old. Margaret Struthers had been diagnosed with Alzheimer's eight years earlier. She was depressed most of her life, but she had still impacted Struthers' life and the way Struthers made decisions.
Torres says that when she learned about Struthers' charity work, she knew they would become good friends. They stayed in touch after "All in the Family" ended and were reunited on camera when both were cast for the 2000-2007 TV series, "Gilmore Girls."
After years of acting in popular TV shows, Struthers is still surprised by the recognition she receives from fans.
"I'm still not used to it. I'm still Sally Struthers, I still come home to Portland and have sleepovers with my girlfriends, and I'm still that innocent wide-eyed person who is shocked that somebody famous knows me, when somebody wants my autograph."
She hasn't stopped working. She travels regularly for plays, most recently for the two-women musical "Always Patsy Cline." When she isn't on the road professionally, Struthers flies around the country to visit friends.
"No matter where we were, we stayed in touch," Bennett, Struthers' close friend, says. "When she's home in Oregon for the holidays, we get together. She's just like who she used to be. Always."
Struthers ended her role as spokeswoman for Save the Children after over thirty years there, but she plans to sponsor more children in the future. As for her acting career, Struthers hopes that part of her life slows down as well.
"I'm not a spring chicken, so I'm tired," Struthers says. "I would love to retire… I'm exhausted, waiting for a job that will keep me home so I can burn my suitcases. We'll see when I'm ready to do that." ◆