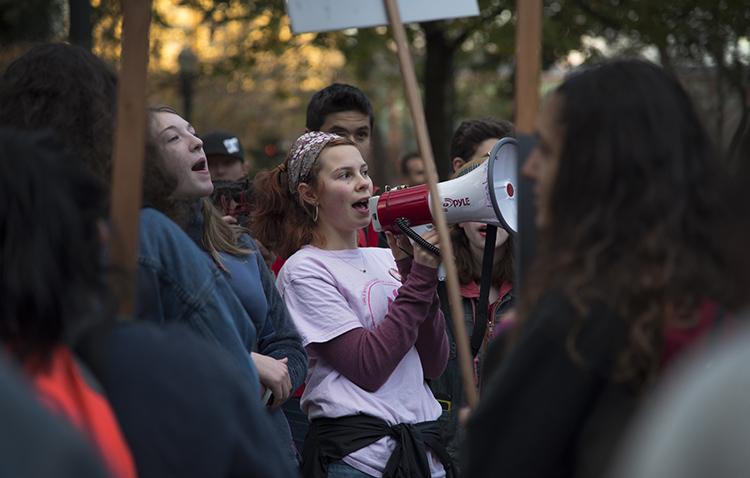 On a recent Wednesday evening in February, Nika Bartoo-Smith sits behind a table, facing a semi-circle of four Portland Public Schools board members in the District Office. She taps her foot nervously as she waits for her turn to talk, while reminding herself to pace her speech. There is a buzz in the room as she prepares to start her two-minute talk.
Bartoo-Smith leans toward the microphones and glances down at her papers. When she starts talking, the butterflies in her stomach vanish. "Superintendent Bob McKean, Chair Koehler and other board members, thank you for giving me the opportunity to speak tonight," she says. She introduces herself and then boldly states her claim: a need for menstrual hygiene products in all school bathrooms.
"Menstrual hygiene products are as necessary as toilet paper and should be treated as such. I wonder, if toilet paper were not provided, wouldn't that be seen as an issue?" she asks. "Menstrual hygiene products should be easy to access, especially in school … Please consider adding these products to the budget for next year." Her speech is met with a round of applause. Before leaving, the superintendent tells Bartoo-Smith that the board had started looking into the issue after they were flooded with emails through a campaign Bartoo-Smith led a few weeks earlier.
"It was really rewarding 'cause afterwards multiple people came up to me and were like, 'Thank you for approaching this issue and bringing it to our attention,'" says Bartoo-Smith.  
Since she was young, Bartoo-Smith was known as a leader. But several years ago, she started experiencing anxiety and severe panic attacks that made sitting through classes, spending time with friends and taking part in activism nearly impossible.
"(Working through anxiety) was really hard. It was a lot of being scared of stuff that I didn't feel like I should be scared of, like everyday things," says Bartoo-Smith.
But now, Bartoo-Smith is taking back her title as a leader. She's found her voice as an activist in a unique area: menstrual equity.     
Around the world, menstrual equity is a major issue, but it's rarely discussed. In many third-world countries, menstruators have to use old clothes, sticks or leaves to catch blood because they don't have access to pads or tampons. And in the U.S., hygiene products are classified as luxury items, leaving them inaccessible for those who are low-income or experiencing homelessness.
As part of her efforts advocating for feminism, Bartoo-Smith wants to empower other menstruators at Grant through leading Grant's chapter of Period., a global organization that works to provide period resources.  
For Bartoo-Smith forming an activist community has helped her work through anxiety.  
"I feel like I've kind of realized there's so many ways to be different than everyone else, and I feel like a lot of that is how politically aware and involved I am," she says. "By me going out and making a small difference, that's my way to relieve my anxiety and do something about what I'm feeling and put those thoughts and nervousness into action."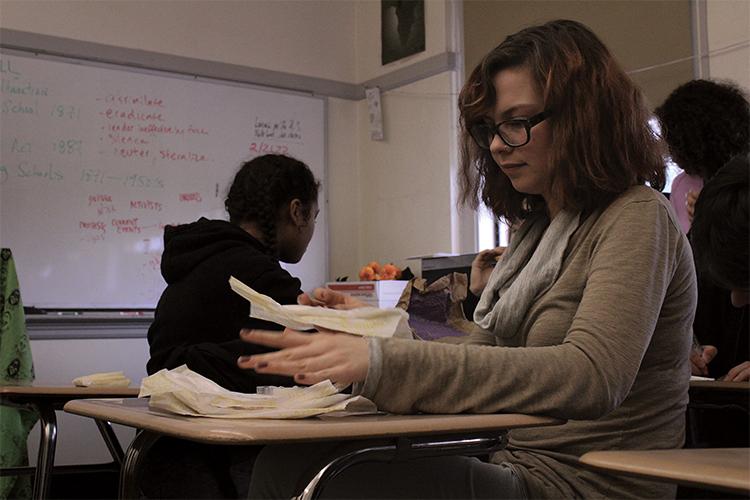 Born on March 6, 1999, Bartoo-Smith grew up with her younger sister, Sasha Bartoo-Smith and her parents, Mari Bartoo-Jacobson and Zeke Smith.  
From a young age, Bartoo-Smith was no stranger to the importance of equality. Her family frequently discussed issues surrounding racial equity and advocacy at the dinner table, something that Bartoo-Smith quickly took an interest in.
Bartoo-Smith's parents decided to send their children to Rigler Elementary School, a K-8  school at the time, instead of Alameda, the family's neighborhood school populated mostly by white students. "We wanted them to see a more realistic picture of the world," says Bartoo-Jacobson.
Upon entering Vernon K-8 in seventh grade, Bartoo-Smith started looking for ways to create change. Many young, middle class white families moved into the elementary school and started a PTA but failed to include the middle school.
Bartoo-Smith joined the parent group and attended meetings. When she heard a parent call the middle schoolers 'troublemakers,' she stood up for them and later brought the problem to the principal.
"She said to that parent, 'I really don't appreciate you talking about this when I'm here, and you're talking about me and my peers,'" says Zeke Smith. "She just really quickly started to think about, 'How do I disrupt behavior and actions in my community that don't align with what my values are?'"                                  
Although Bartoo-Smith stood up for her peers, she found it difficult connecting with kids her age, and she separated herself from her classmates. "I was always the nerd who liked to read … I didn't have a lot of friends, I had no one that I hung out with outside of school ever," says Bartoo-Smith.      
As these insecurities grew, she neared the transition to high school. The first week of her freshman year at Grant was no different than her middle school experience. Bartoo-Smith sat alone in the halls during lunch, often escaping the isolation by reading dystopian novels.
However as the year went on, she found new opportunities through Grant theater and the Multnomah Youth Commission, a program where young people provide a voice for the youth in the county and city's work. Bartoo-Smith joined the Youth Against Violence group, which works to change the way violence is handled at home and school.
"I kind of felt like I needed to keep busy somehow" – Nika Bartoo-Smith.
But when Bartoo-Smith took part in the school play, her busy schedule was too much, and she started experiencing severe anxiety attacks. "I was sitting in the room (during rehearsals) and I got this overwhelming dizziness, and I felt like I was going to faint. So I got up and left, " says Bartoo-Smith.
For the next two days, Bartoo-Smith stayed home. She stopped going to the Multnomah Youth Commission and struggled to focus in school. Many days, she stepped out of class multiple times to call her mom to help her calm back down. For the rest of freshman year, Bartoo-Smith started closing off from people. She headed straight home when school was over and hung out with friends less, scared she would get an attack while with them.
"It was kind of confusing honestly. There was never a specific reason," says Bartoo-Smith. "I think a lot of people are like, 'What was making you anxious?' and you don't always know. Sometimes it just happens."
Bartoo-Smith was prescribed a short-term anti-anxiety medication. "It helped in the moment when I was feeling most anxious, which was good, but it was hard 'cause I just remember the whole year being exhausted and feeling like I was never gonna get out of (my anxiety)," she says.
During her sophomore year, her anxiety increased to the point that her family had to help her stay calm through each day by taking walks, talking on the phone and watching movies.
"It was really hard my sophomore year 'cause I remember I had been super engaged with stuff, and then I was just constantly scared to do things," says Bartoo-Smith.
Her sister, Sasha Bartoo-Smith remembers the anxiety pushing her sister away from her at first. They clashed more, and she didn't know how to help.  
"She just was very unstable at times," says Sasha Bartoo-Smith.
Nika Bartoo-Smith was prescribed a new anti-anxiety medication that lessened the panic attacks and minimized her anxiety within weeks. She also started therapy, used essential oil diffusers and other homeopathic remedies.
"I had a lot of these social justice thoughts going on in my head, but I never knew how to express them or deal with them" – Nika Bartoo-Smith
After that, things quickly started looking up for Bartoo-Smith. Her anxiety, while still present, started ebbing away, and her active political personality resurfaced.
"Junior year, I feel like I started getting my political voice for sure," she says. "I started speaking up a lot in class and noticing people really listen to what I have to say."
Bartoo-Smith realized how finding a sense of community helped her overcome some of the insecurities that triggered her anxiety. "I think finding a sense of community has really helped with my anxiety a lot. Finding all these clubs … I see like-minded people doing similar things," she says. "I think I had a lot of these social justice thoughts going on in my head, but I never knew how to express them or deal with them."
Toward the end of her junior year, Bartoo-Smith heard about the organization "Period.," formerly known as Camions of Care, an entirely youth-run organization with school chapters across the globe. The focus of the group is to educate youth about menstruation, advocate for menstrual hygiene and distribute feminine hygiene care packages throughout the world to people in need.
The organization struck a chord with Bartoo-Smith.   
Starting in elementary school, she had noticed miseducation around periods. In 5th grade she remembers learning about periods in a sex-education class but never understanding why non-menstruators didn't learn about it as well.  
Later, in high school, she experienced teachers not letting students leave to take care of their periods, forcing them to stay and bleed through their clothes. On one occasion, she remembers asking to go to the bathroom multiple times, each time being told to sit back down. At the end of the class, Bartoo-Smith stood up and saw trails of blood down her jeans.
"I've heard boys say, 'Oh, can't you just hold in your period until you pee?'" she says. "So it became me wanting to work towards people talking about periods more and be okay with them."
Bartoo-Smith got in touch with Period.'s Portland leader and decided to open up a chapter at Grant, teaming up with junior Sadie Thorburn and teachers Lynn Yarne and Marta Repollet, who serve as the club's advisers.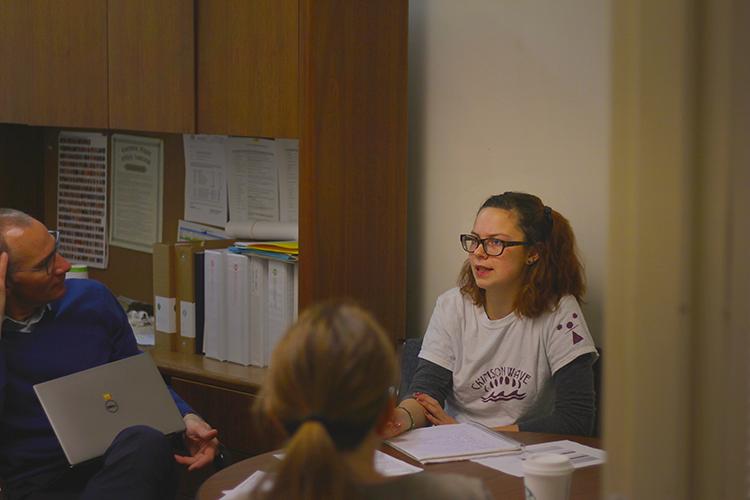 Since the beginning of her senior year, Bartoo-Smith and the roughly 20 members of Grant's Period. chapter "Crimson Wave" have held care packaging events and supply drives and watched films about how women experiencing homelessness deal with menstruation.  
"When I first heard about it, I went to the club fair in the fall, and it just seemed different than the other clubs around," says Juliette Simonds, a junior involved in the club. "It's about a topic that a lot of people try to ignore or push aside … and it just seemed like an important one to join."
After meetings with Vice Principal KD Parman in December, Bartoo-Smith started looking into approaching the Portland Public Schools district about getting feminine hygiene products in all bathrooms for every school.
Before meeting with the board, she rallied up members of Period., talked to peers and posted on social media, encouraging people to send emails to the district asking them to put menstrual hygiene products in the budget for next year.
On February 21,  Bartoo-Smith met with board members, and the response was positive.  
"It felt super empowering too, to be like, I just did this, and I just made a change for maybe all the schools in PPS," says Bartoo-Smith.
Her father says he's seen Bartoo-Smith move in her own direction as an activist. "It's made me really, really proud. I was just kind of taken aback with how she just had this sense of confidence about her. It was pretty amazing to see."
On top of leading the Period. chapter at Grant, Bartoo-Smith immerses herself in feminism through taking the senior English course, Feminism and Gender Studies and reading feminist literature. Every now and then she feels the anxiety come back, although the attacks are less severe. But she doesn't let it stop her from being a voice for others in her community.
"I see her doing all these things and putting herself out in the world and trying to be involved,  says freshman Kalia Storer, a lifelong friend of Bartoo-Smith and a member of the period club. "I just really look up to her."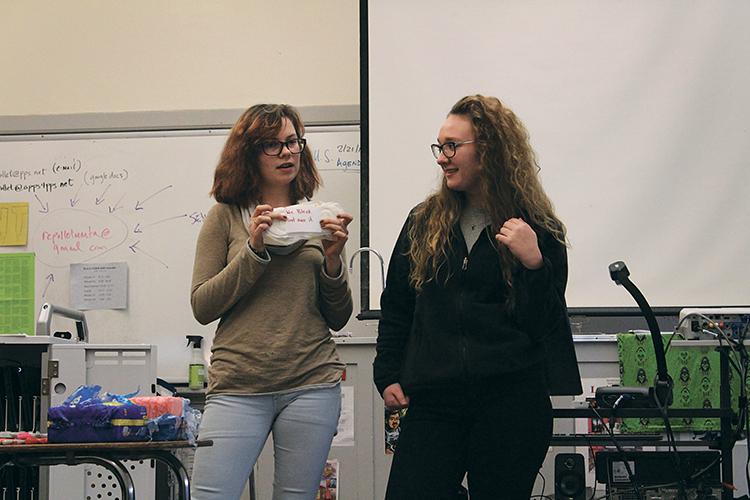 From March 8 to 17,  Bartoo-Smith led the first ever Period. week at Grant, a school-wide campaign to raise awareness and destigmatize the topic of menstruation. During the week, members of the club handed out donuts and menstrual hygiene products and sold t-shirts and buttons. The bathrooms at Grant during this week were supplied with menstrual products as well.
Club members went around the school posting pads with messages such as "We bleed get over it," and "Imagine if men were as disgusted with rape as they are with periods," along with educational posters on the walls.
Members of administration took down the hygiene products and posters, but Bartoo-Smith didn't let that stop her from putting more up and staying true to her cause.
"Overall, I have been really impressed by all the support we're getting, and we have gotten a lot of really positive feedback, and that's awesome," says Bartoo-Smith. But, she says, "I've been really disappointed with the administration and their reactions."    
As Bartoo-Smith approaches the end of her high school career, she's looking at opportunities for next year. Bartoo-Smith plans to work for Period. for part of next year as the new policy director. She also plans on travelling to Indonesia and other countries in Asia, throwing around the prospect of opening up more chapters of Period. as she travels.
"I think (anxiety has) made me realize that everyone has something that they're struggling with because I have points where I'm so depressed because there's so much wrong with the world," she says. "I've also kind of realized that it doesn't do anything to just sit around and watch what wrong is happening with the world. Instead, you have to go out and do something about it to change it. " ◆