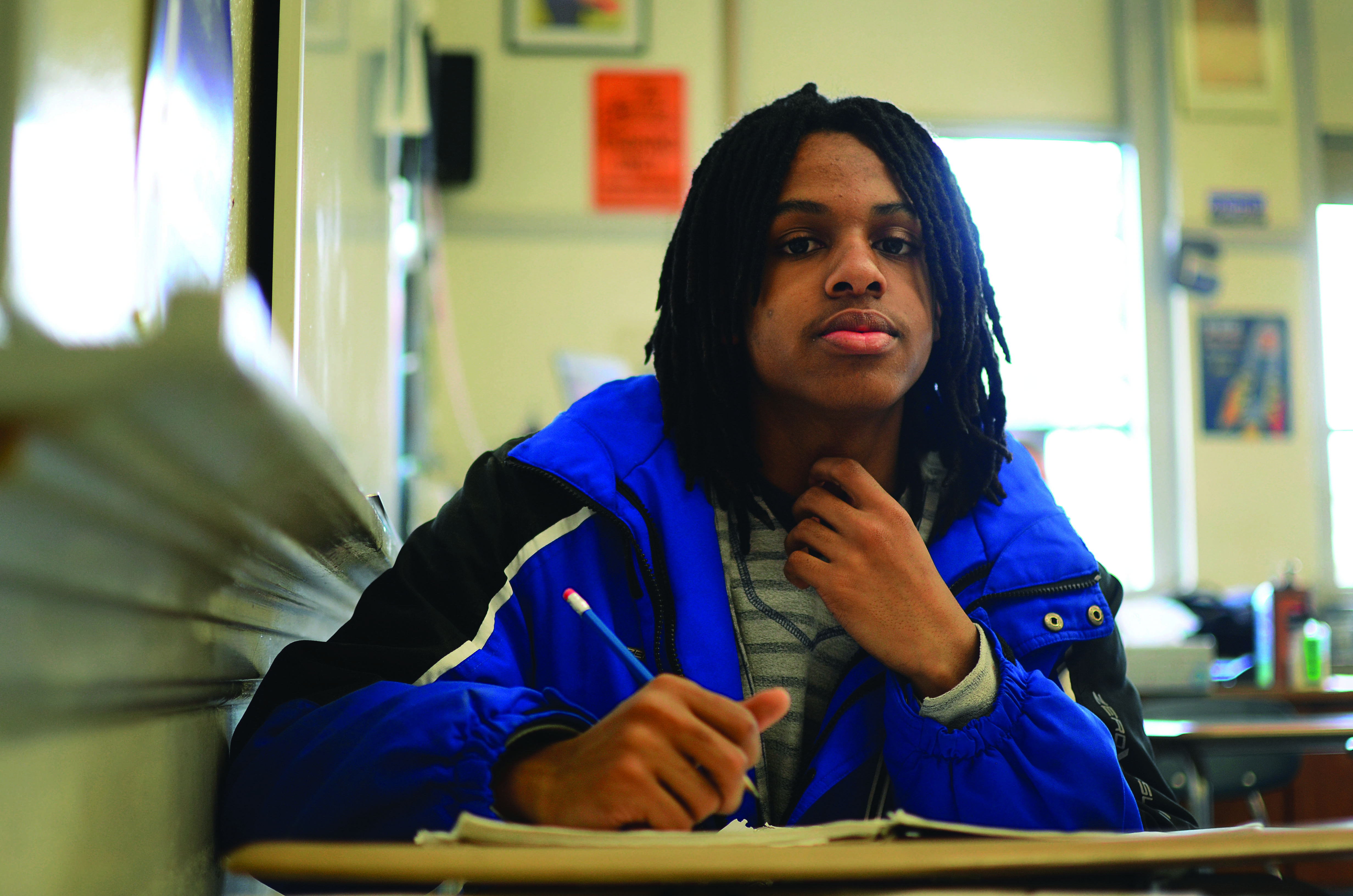 After the recent loss of his cousin, Taylor felt the weight of depression resurface. His rap, though, helped him find solace and a way for self-expression in that difficult time.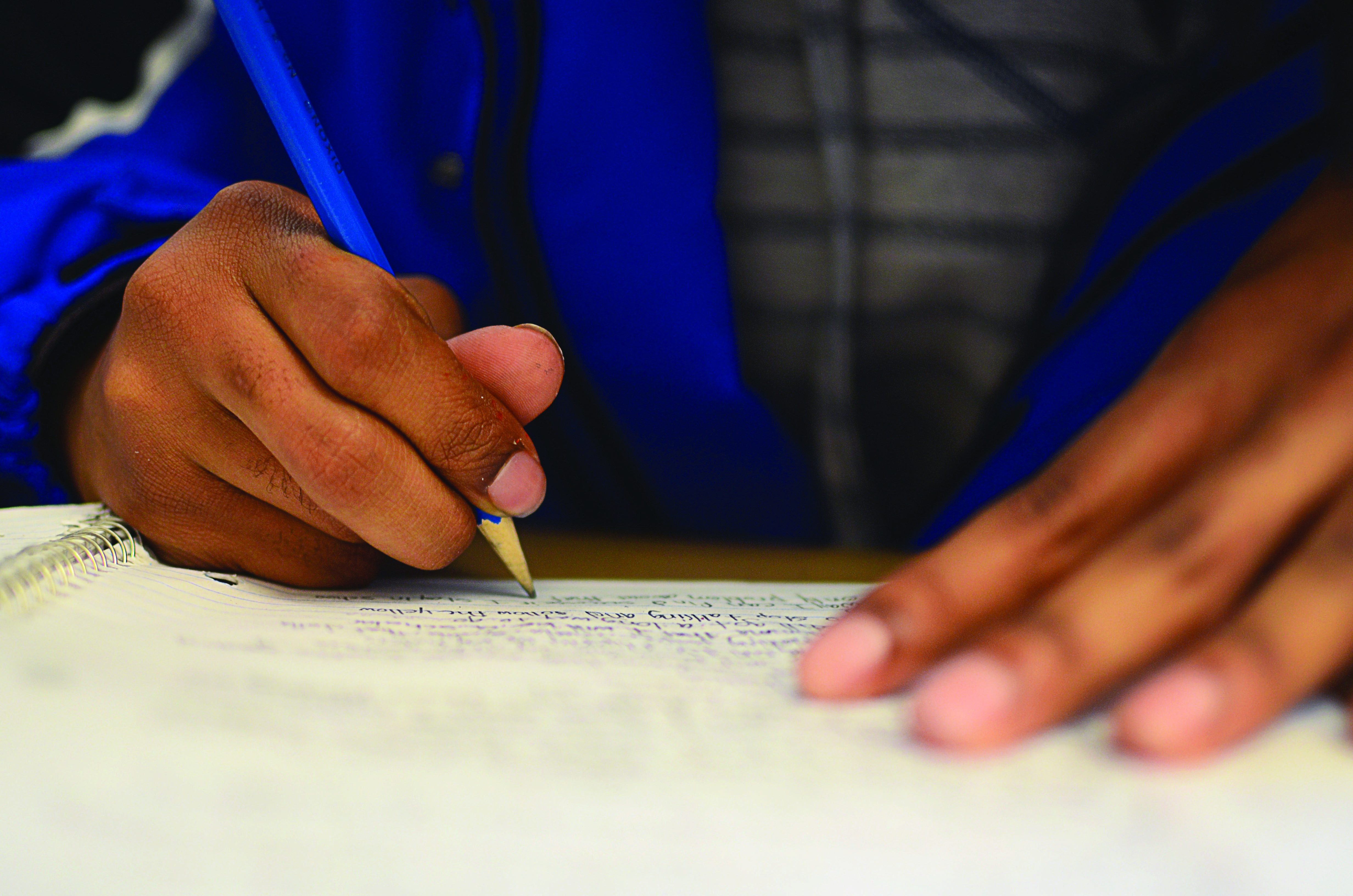 Taylor hopes that if he works hard enough, he can one day rap professionally, and share his story with people around the world.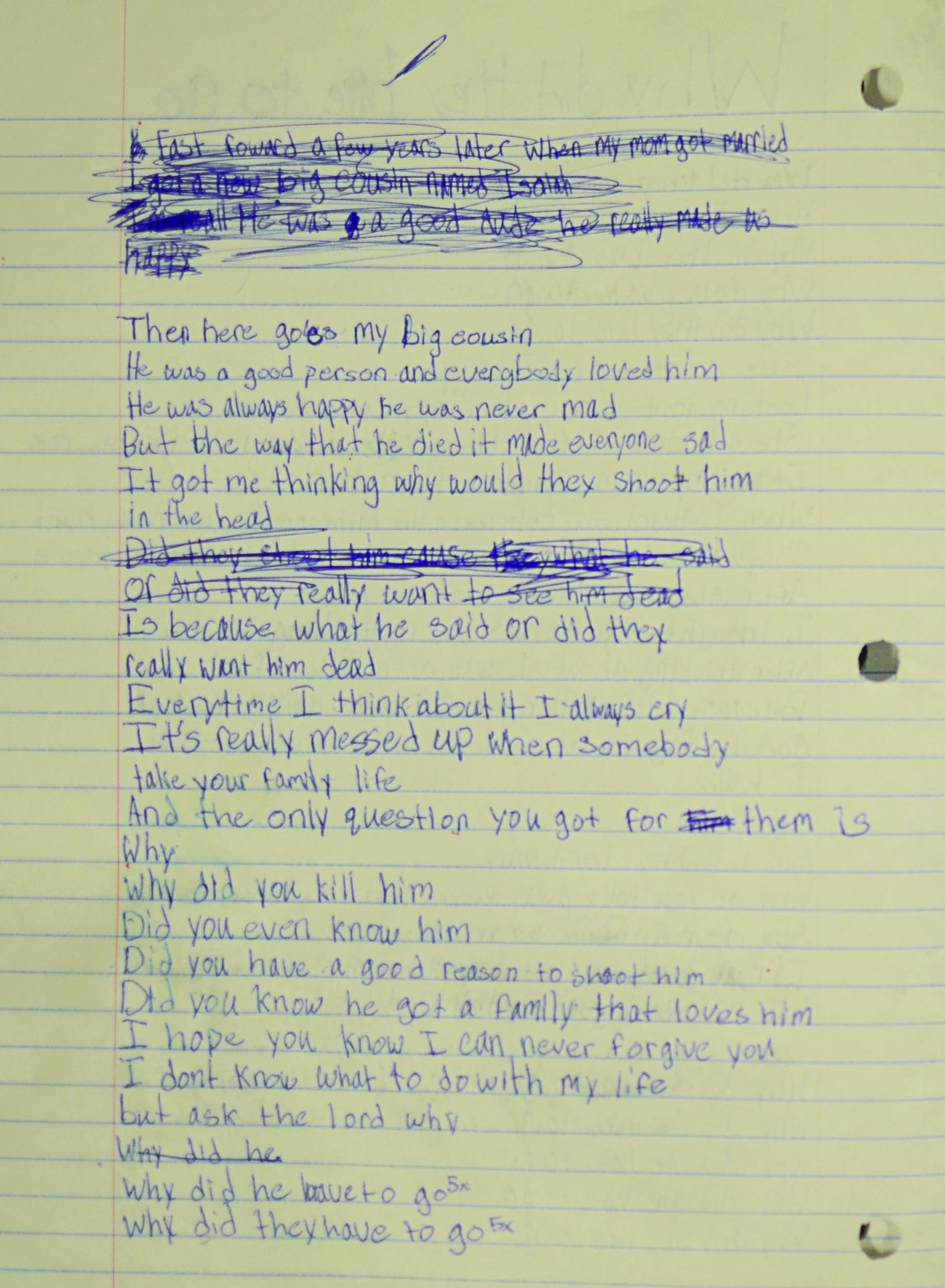 In this lyric, Taylor reveals his struggles with the loss of his cousin, and the confusion that he dealt with after the event.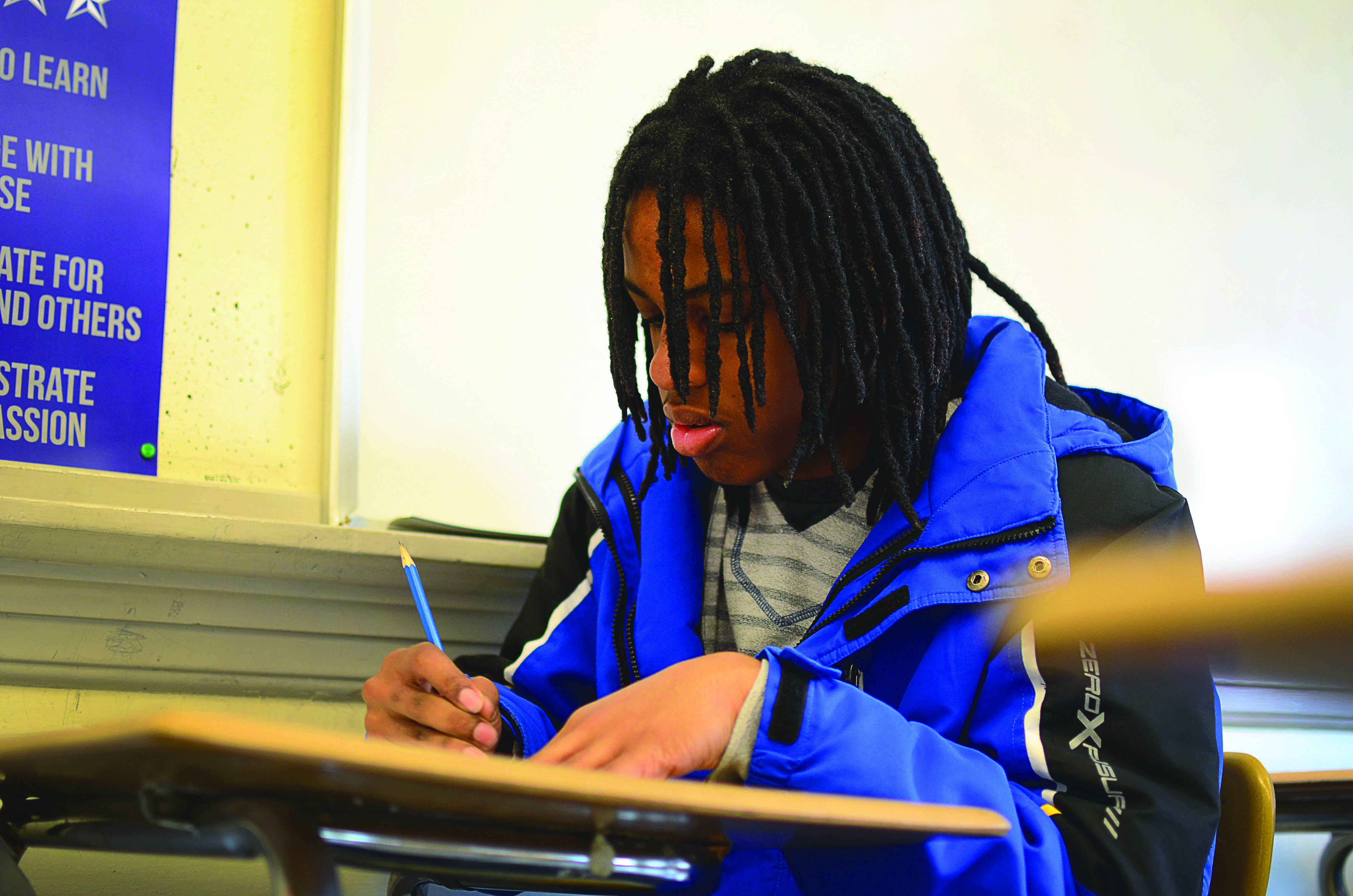 Taylor's preferred setting for rap composition is his room; writing with a notebook and a pencil, and editing with GarageBand. However, he says that he can write his rap anywhere, as long as he has a need for self-expression.
It's a Friday evening, and the sun is just starting to go down. DaMarhe'a Taylor lies in bed, his feet up on the headboard, with only a spiral notebook and a pencil in hand. He begins tapping a beat on the wall to get his mind moving. After about five minutes, his creative process is in full gear.
Using the tempo he creates, Taylor writes word after word, jotting down any rhymes or verses that come to mind. In this impromptu song, Taylor describes the struggles he's experienced after the death of his great-grandmother. For Taylor, the lyrics work best when they are from the heart.
When he has a draft of his lyrics, Taylor melodically repeats the words into a microphone attached to his computer. Using GarageBand editing software, Taylor edits the vocals and messes around with different beat mixes. After about an hour of working and setting the piece to a beat, Taylor has the beginning to a new rap.
For Taylor, composing his own music is a lifestyle.
In his early middle school years, Taylor hit a rocky stretch in his life. Dealing with the death of a close family member as well as constant bullying and abuse from his peers, his motivation and self-esteem dropped significantly.
But when Taylor started rapping when he was 13 years old, he found that for the first time in his life, he was able to express his emotions in a positive way. "Rap is my motivation," Taylor says. "If I am dealing with anything difficult, I know that I can put it into words and that I'll be able to push through."
Taylor was born September 11, 2001, in Northeast Portland as the only child of LaToya Moore and Traye Taylor. Taylor attended Sabin K-8 from kindergarten through the third grade.
Moore remembers that as a young child, Taylor and his father got along well. "Growing up, DaMarhe'a and his father were very close," she says. "They were best friends." Taylor remembers the long days spent playing one-on-one basketball and frequently going out to eat together. In his early years, Taylor would also watch his father's rap group record together, always taking a keen interest in the way they could string words together.
Despite his father's work with rap, Taylor thought composing wasn't for him. Instead, he spent the majority of his time listening to 2Pac and memorizing the lyrics to various hip-hop songs.
As Taylor grew older, though, time with his father became sparse. "He got into drugs, and things just went downhill from there," Taylor says. "He went to jail, and so I didn't see him anymore."
When Taylor turned 5 years old, his father left the family completely. "…It hurt so much," says Taylor.  "I knew that all of those experiences we had and the things we did together wouldn't be the same with anyone else."
With his mother finishing a medical coding class at University of Phoenix, an online college, and working part-time, Taylor needed another support system. His great-grandmother, Nannie Penn, became an important figure in his life. "She was one of the closest people for me to come to when I was sad," Taylor says. "I didn't have too many of those people, so she was really important to me."
Taylor found himself spending almost every day after school with Penn. But as they became closer, Taylor began to notice that he was not the only one who needed help. "My mom and I discovered that my grandma had a cigarette addiction," Taylor says. "So to help, we took away all the cigarettes in our house and her house."
One day in the summer before fourth grade, Taylor and his mother found Penn passed out on the floor of her bathroom.
While they were out, she had locked herself in the room and smoked a stolen cigarette. That same day, Penn passed away at 68 years old.
After the death of his great-grandmother, Taylor's life changed immensely. "I was feeling very alone," Taylor says. "I always talked to her, so when she died, I didn't know what to do."
Soon after, Taylor found himself with a lack of motivation, particularly in the classroom. It became hard for him to make it to school in the morning, and his grades dropped significantly.
In addition to his struggles with schoolwork, Taylor sunk into depression, eventually causing him to seek medical support. His doctor suggested that he begin taking anti-depressants to help with the illness, but the possible side-effects made Taylor hesitant: "I just said, 'No, I don't want any pills,'" recalls Taylor now.
Instead, he and his mother attended therapy sessions to help get through the loss, and, together, they started to see improvement. Taylor began to spend time playing basketball again, a sport he had previously pushed aside after his father left. He and his mother also found other ways to cope. "We made sure that we would talk about everything going on," Moore says. "We would visit (his great-grandmother's) grave so that we could be with her."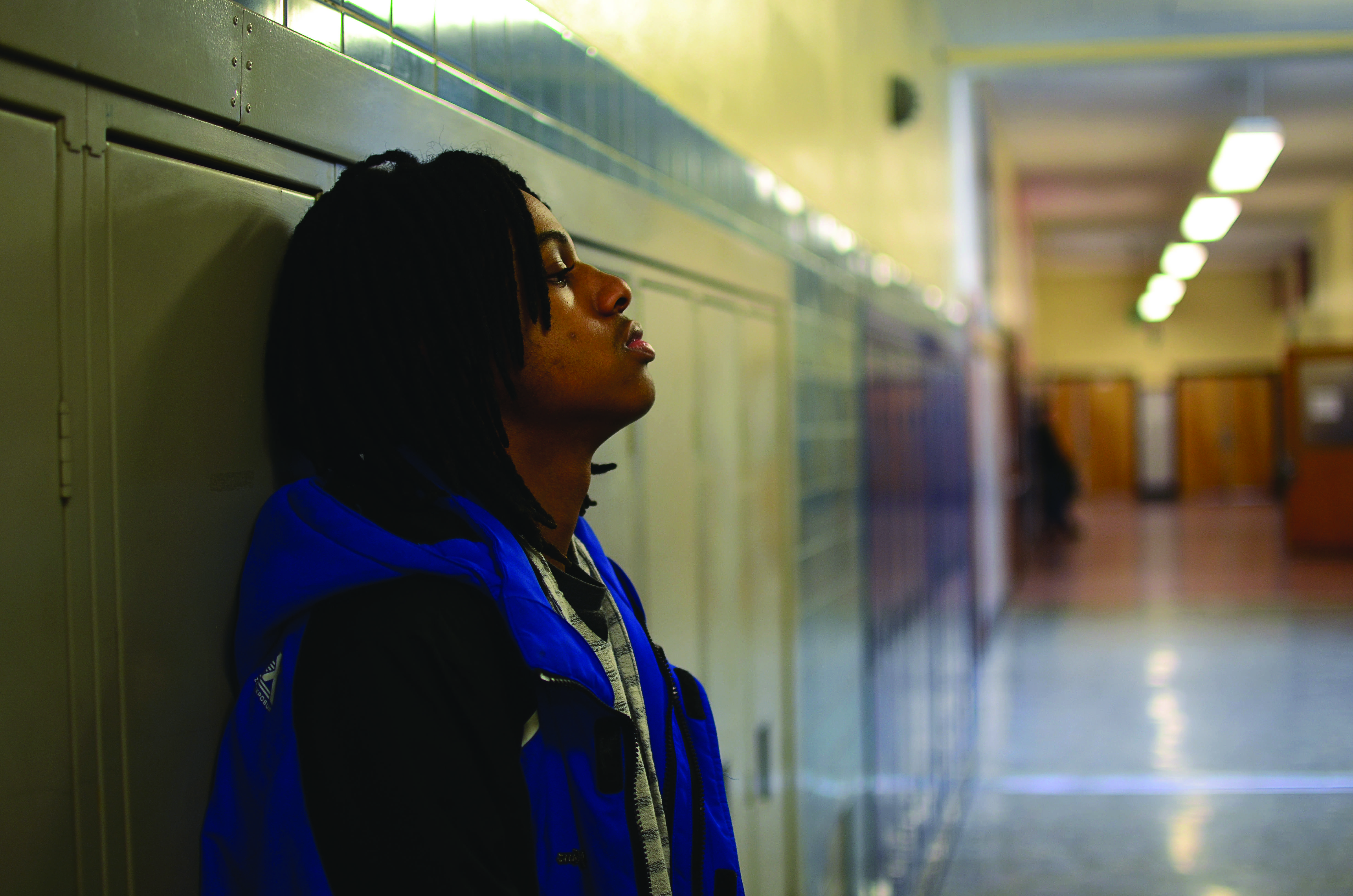 After moving houses in 2011, Taylor switched to Vernon Elementary (now K-8) for the fourth grade.
Taylor discovered that being the new kid at school wasn't easy. "I guess I was an easy target," he says. "All the bigger and more popular kids began to bully me."
Although it began as teasing, the harassment quickly escalated. Taylor ended most days stuffed into a locker or going home with a bloody lip.
Taylor vividly remembers the day a classmate shoved him against the wall, taking advantage of his small size. He says that he didn't understand why the kids chose him to pick on.  
Coupled with his depression, the bullying deeply impacted Taylor, remembers Brad Johnson, a middle school science teacher at Vernon: "DaMarhe'a was always so caring, sensitive and open to people, which is why the bullying hit him so hard," Johnson says. "I could clearly see that the happy, outgoing DaMarhe'a was changed into a quieter, more reserved kid."
Taylor found that the constant abuse and bullying put him "into a deeper depression," he says. "I started to get suicidal thoughts."
In the middle of his sixth-grade year, Taylor attempted suicide. "I thought that I didn't belong and that the bullying wouldn't stop," he says. "I thought that taking my life was the only option."
Despite the ongoing depression, his mother never saw the attempt coming: "I didn't see any signs of suicide," Moore says. "So once I learned of his thoughts, it was extremely shocking because I had no clue."
Right as Taylor was attempting suicide, though, his mother stopped him: "She helped me and took me to counseling almost right away," Taylor says.  
Taylor and his counselor, who worked with Moore as well, became close over the course of a few months. Their sessions together reminded Taylor of talking to his great-grandmother. However, the two of them determined that despite their weekly meetings, Taylor was not improving to the level that he needed to. Eventually, his counselor decided that in order to get better, Taylor needed to invest more time in outside activities.
"We talked about my interest in rap," Taylor says. "He thought it would be a good idea for me to explore it."
Taylor started to spend most of his time writing the lyrics to songs. His initial inspiration from his father's modern rap style, which focused on sex, drugs and alcohol, was replaced with a different theme in lyrics.
He wrote about his own problems and his past, using the songs to reveal his feelings. "I found that I could make a story out of it and put my own experiences in it," Taylor says. "It was a way to get my emotions through."
Taylor went on to write the rap "Truth Hurts" about the loss of his great-grandmother. The lyrics outline the close relationship Taylor had with his great-grandmother and the struggle of going through daily life without her: "We all miss you, and it's sad you ain't living no more/It's sad when you not around, because you was the only person who could calm me down," he wrote.
Though Taylor now had therapy and his rap as supports, the bullying didn't stop, even when he transferred to Franklin D. Roosevelt Middle School (FDR) for his seventh-grade year. There, he was constantly picked on by his peers and teased about his appearance.
His friend, Fred Simmons, a freshman at Grant who attended FDR with Taylor, remembers the bullying vividly. "The kids used to make up horrible stuff about DaMarhe'a," Simmons says. "He would be sitting in class, and they would just make fun of his hair and his dreads, so DaMarhe'a would leave."
As the harassment continued, Taylor decided to put his investment in rap into full gear. He contacted his uncle, Richard Hunter, who goes by his stage name, Risky, a known recording and composing artist in Portland. With Hunter, Taylor spent days on end working on new raps, which he wrote about his experience with depression.

"It's taught me to not be afraid… It's okay to express your feelings and to show who you are." – DaMarhe'a Taylor
"Working with Richard was really fantastic for DaMarhe'a," says Ivan Moore III, Taylor's stepdad. "It showed him that someone in his life achieved their dreams of rap and that he could eventually do the same."
Every day after school, Taylor would rush home to finish his homework so that he could work on songs to record in the studio with his uncle. "He was writing constantly and talking about how he wanted to do it as a career when he was older," Moore says. "It was always rap, rap, rap."
Over time, Moore noticed that Taylor gained more of an interest in his schoolwork and that his grades had improved. She credits his improvement to his time spent working on raps. "Without it, DaMarhe'a had no way to get the words or feelings out," she says. "With the music, it helped him not keep those thoughts in when he doesn't feel like talking to anyone."
Despite his tough past, Taylor is happy that rap emerged into his life: "It's taught me to not be afraid," he says. "It's okay to express your feelings and to show who you are."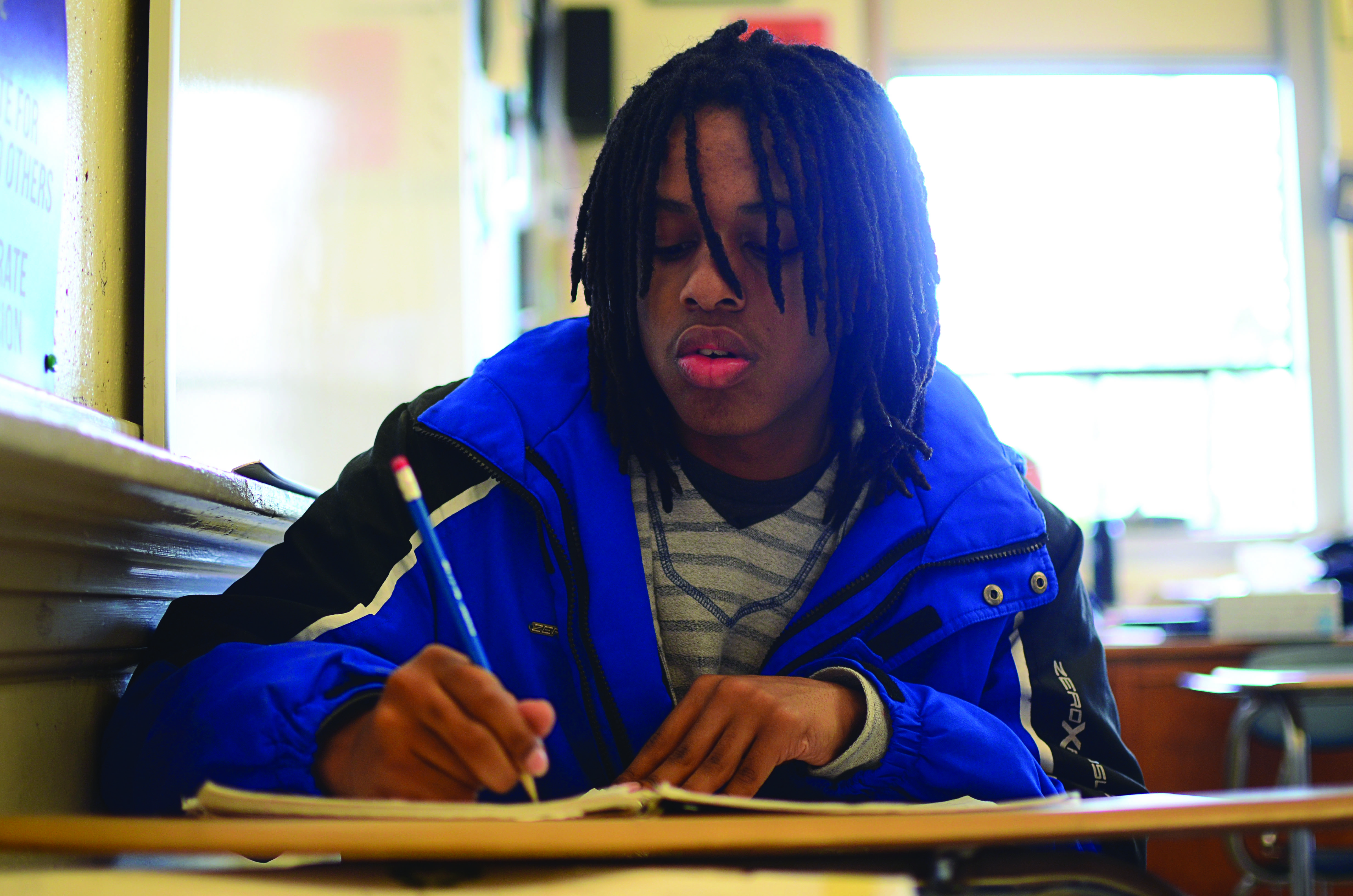 Now a freshman, Taylor continues to explore his passion, and he knows that while he may still hit bumps in the road, he now has something to turn to for support. "Even though I sometimes have breakdowns or feel sad in class, I know that I have rap to lean on."
Slowly, though, Taylor is changing the meaning he gets from rap: "Now, I rap about my experiences for other people," Taylor says. "For anyone else who is struggling with what I struggled with, they should know it gets better."
Taylor believes that, given his talent, it is his duty to provide a voice for those in his previous position. He hopes that one day, he can rap professionally for kids who have had similar experiences. If he reaches his goals of one day rapping on tour, he thinks that having other kids listen to his story will inspire them to share theirs.
During a recent lunch break, Taylor walks down the halls of Grant holding a stack of black and gold cards. He hands one to each of his friends that pass him, until he has no more left. Taylor's business card, engraved with the title "rapper" and his stage name, Marhe, is a way for him to go a step further in achieving his dreams.
Although Taylor's interest in rap is no secret to his peers at Grant, most of his friends and classmates have not seen his lyrics. "I still don't feel totally ready to share my rap," Taylor says. "I want to make sure I am presenting myself in the best way."
Near the end of the school year, Taylor plans to release a songbook with a collection of his own raps. He hopes that those who listen to the raps will not just listen to the music but also the message that comes with it.
Until he is ready to share his songs, Taylor says he will continue to focus on telling his story. "I'm still working on taking my story and expressing it," he says. "I still need to show who I am."