Quiandra Watson
Style: Alternative Singer-Songwriter | Age: 17 | Year: Senior | Soundcloud: @Quiandra Watson | Inspirational artists:  Lady Gaga, Matty Healy | Instrument: Guitar
"I usually come out here to write because I like being outside. It's nice to have fresh air. It helps me think. Usually when I come out here, it's like really, really early in the morning, like three or four in the morning, because it's usually when a song won't leave me alone, when I'm trying to sleep. I'll come out here, and I'll just sit and play with it for a little while and go back to sleep, then come back the next afternoon and be able to like finish it up. The thought and the energy of the place where I'm writing is very fleeting. It comes and it goes really fast, so if I don't get it down on paper, it will just turn to nothing.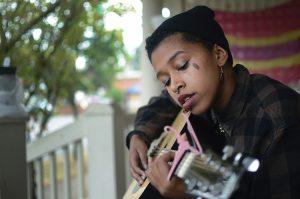 "All of my songs come from personal experiences, which is why it's really weird for me to play in front of people, and I'm like, 'Wow, this is like reading my diary in front of people.' Writing from a personal experience is very easy, but trying to write about something else that you saw from someone else's perspective is kind of an interesting thing to do. I appreciate people who are honest. I think that's one of the best things that a musician can be, even if it's not like from personal experiences, if it's someone else's experience like for them to be real and genuine. And that's what I want to do."
– Photos by Julian Wyatt, Interview by Finn Hawley-Blue
---
Ellory Schrepel
Style: Choral Arrangement and Singer-Songwriter | Age: 17 | Year: Senior | Soundcloud: @engrav_r | Instruments: Piano, ukulele, marimba | Inspirational composers: Stephen Sondheim, Jason Robert Brown
"I am a songwriter; that's my main thing. I write at least a song a week probably, just compulsively almost. You know, about all sorts of different things. I like to challenge myself with different styles. Sometimes, it's more jazz oriented. Sometimes, it's more instrumental. Sometimes … I wanna sing and play ukulele.
"I do arrangements for Hooked on Harmonics, so I like take a pop song and then make all the notes so that we can sing that in three-part harmony. First, I have to listen to the song a lot of times so that I can kind of understand what it sounds like. I transcribe the melody as is from the recording, so that has to be pretty much exactly the same. And then the instrumentation, anything that's in the background, drums, bass, guitar, piano, that has to be translated into single voice parts.
"It feels very intimate to make music with someone. To have that kind of give and take, and you know when you're creating music with someone what you're both doing becomes one. So it's a type of human connection that can be very personal, very vulnerable … hearing someone play music, I feel like I can understand the way they think and the way that they work a little bit better, singing especially. It's the closest form of expression to your actual soul."
– Photo and interview by Julian Wyatt
---
Ethan Hirsch
Style: Progressive House Music and Ambient | Age: 17 | Year: Senior | Soundcloud: @boosto | Inspirational artists: Nhato, Shingo Nakamura | Equipment: MIDI keyboard, Ableton Live editing software, computer
"Before school in the morning, I'll sometimes play piano. If I come up with something that I really like, I'll record it on my phone, and then after school, I'll put it into (Ableton) Live and then see what I can kind of build around it. And yeah, that's the main thing. It also leads to a lot of half-baked projects that I don't finish. For me, it's just like entire folders of four-bar loops that I never finish … It takes about three to four days, maybe like four or five hours (each day). It's kinda therapeutic for me. School is just kind of that environment; it wears me down fast, and I'm fairly introverted. So it's hard to do that for so long, and it helps to just listen to things."
– Photo and interview by Julian Wyatt
---
Flamanglebesh
Style: 90s Alt Rock and Grunge | Inspirational artists: Elliott Smith, Weezer, Led Zeppelin, Nirvana | Songs they like to cover: Backwater by Meat Puppets, Flagpole Sitta by Harvey Danger, Alex Chilton by The Replacements, In Bloom by Nirvana | Members: Koby Haigerty; Adrien Wright; and Irene Haigerty and Megan Rinker.
Koby Haigerty, 17, senior: "Our friend, Bob, he's been playing music since he was like 12 … He recently got diagnosed with ALS. That hit hard just because it's stopping him from playing, and that's like his one love. So recently we had a benefit concert with all the musicians that knew him. (We) played a bunch of songs … everyone loved it. And Bob was in like the front row, and he was nodding along the entire time.
"So music … really helped me be less afraid of people. I was absolutely terrified of any human interaction at all; I'm definitely still scared of people but a lot less. If I'm in the room with a stranger, I can now strike up a conversation."
Adrien Wright, 16, junior: "Music is probably my favorite thing to do, and if I can make a living playing music that would be awesome."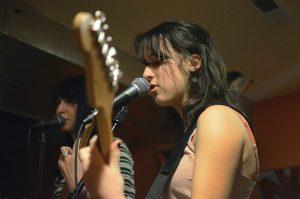 Megan Rinker, 15, sophomore: "Music in general is a more accessible form of release. Because, like I consider roller derby to be the best to calm me down, and I can't just go do that whenever, but I can pick up a guitar almost any time."
Irene Haigerty, 15, sophomore: "It's a great connection to be able to like feel the same when you're playing together. It's a different form of communication … You can like find yourself through music."
– Photos and interview by Finn Hawley-Blue