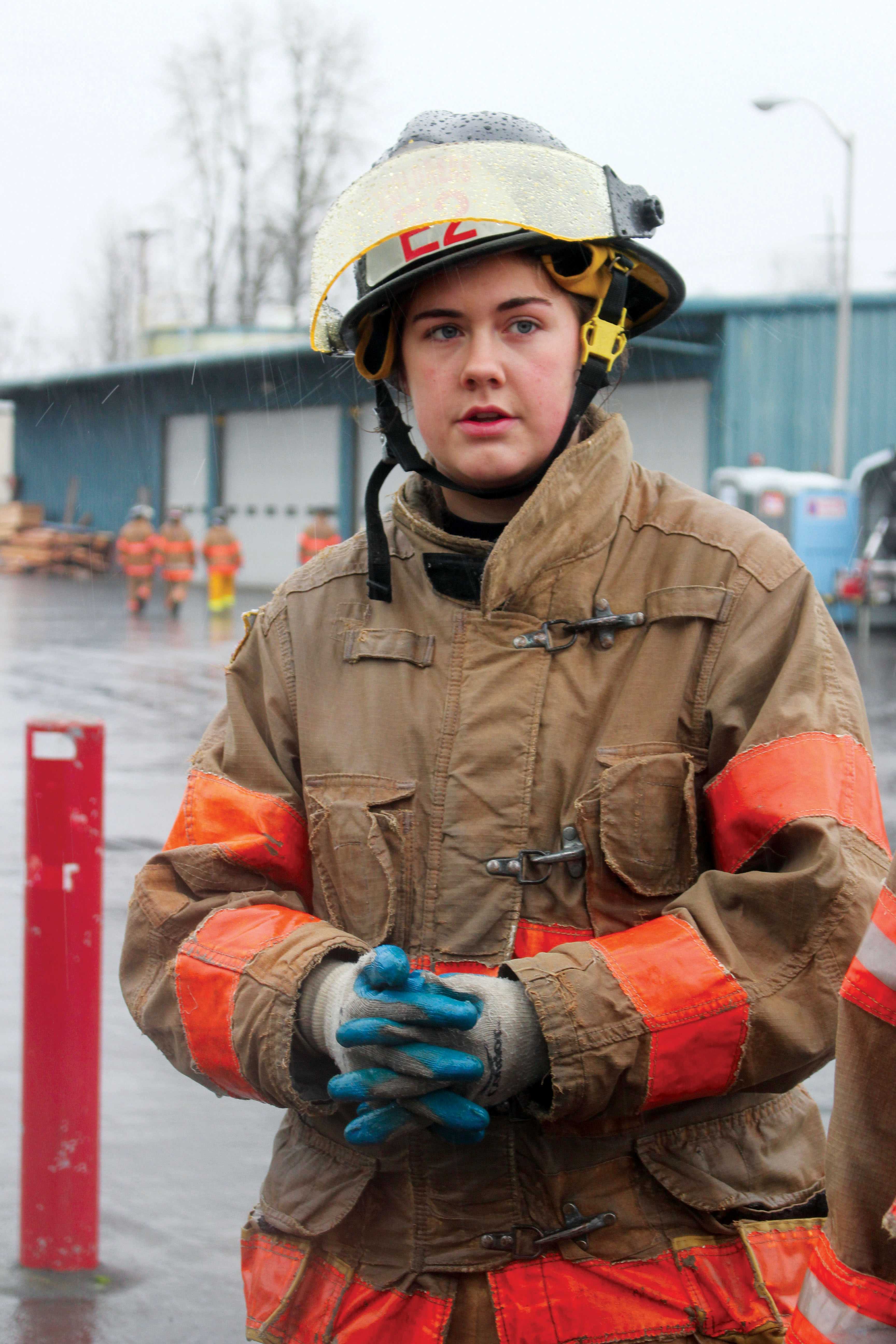 Grant senior Morgan Hieggelke knows what she wants to be when she reaches adulthood. But in a profession that is predominantly male, Hieggelke will have to jump some hurdles before becoming one of Portland's few women firefighters.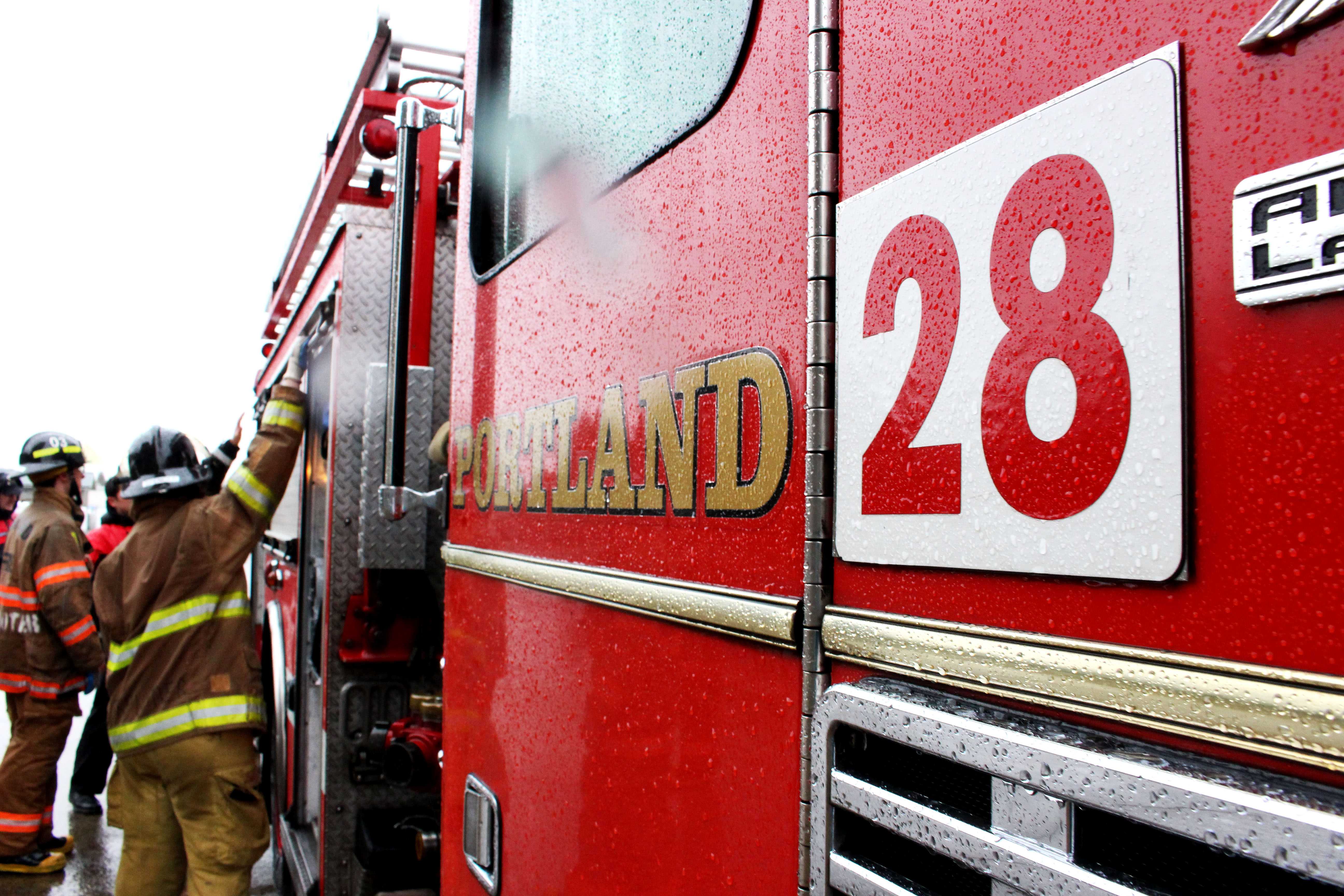 Of the 674 firefighters sworn into the Portland Fire Bureau this year, only 50 are women.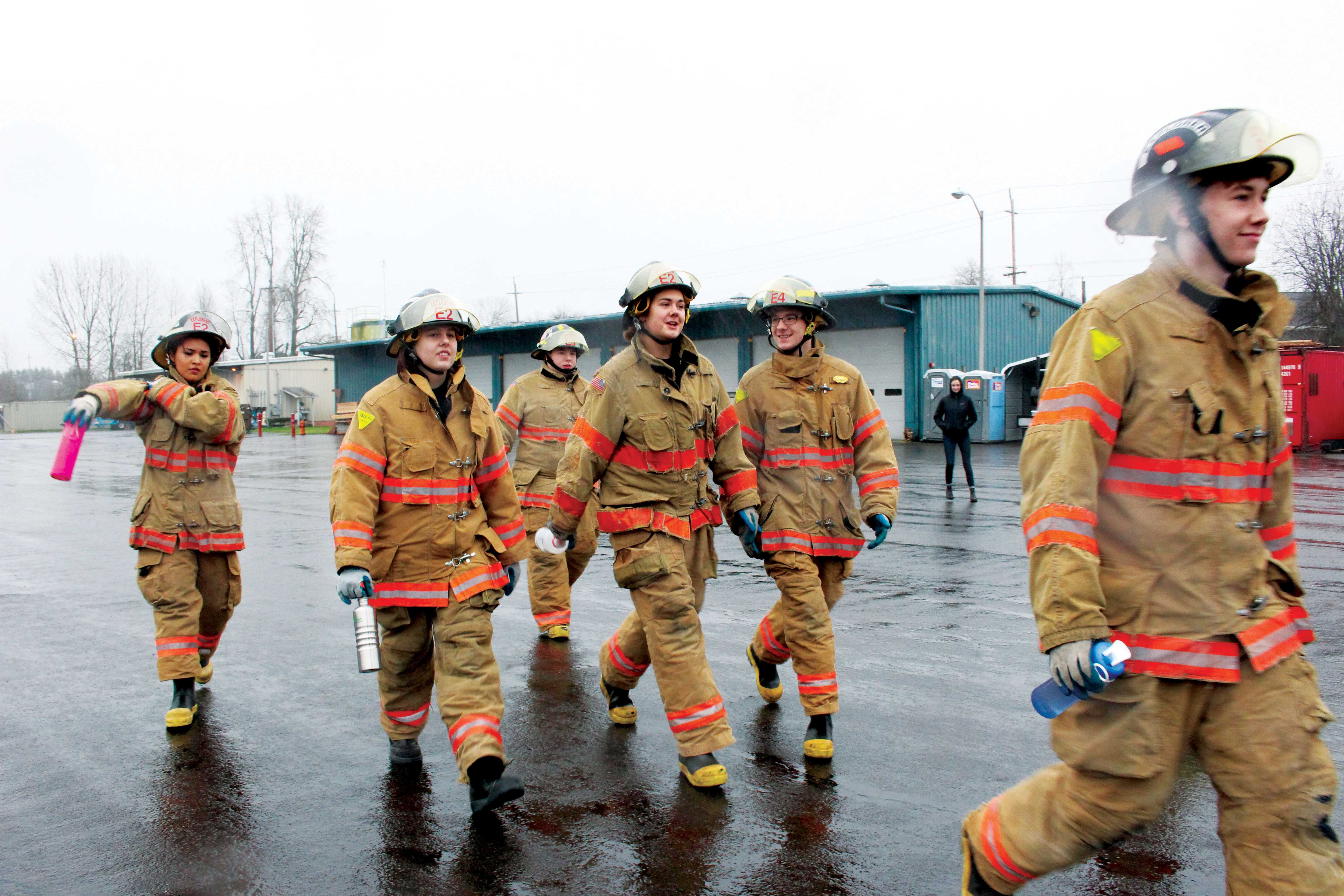 Despite the low ratio of women to men in Portland Fire Bureau, the Explorer Program is currently comprised of equal parts male and female students.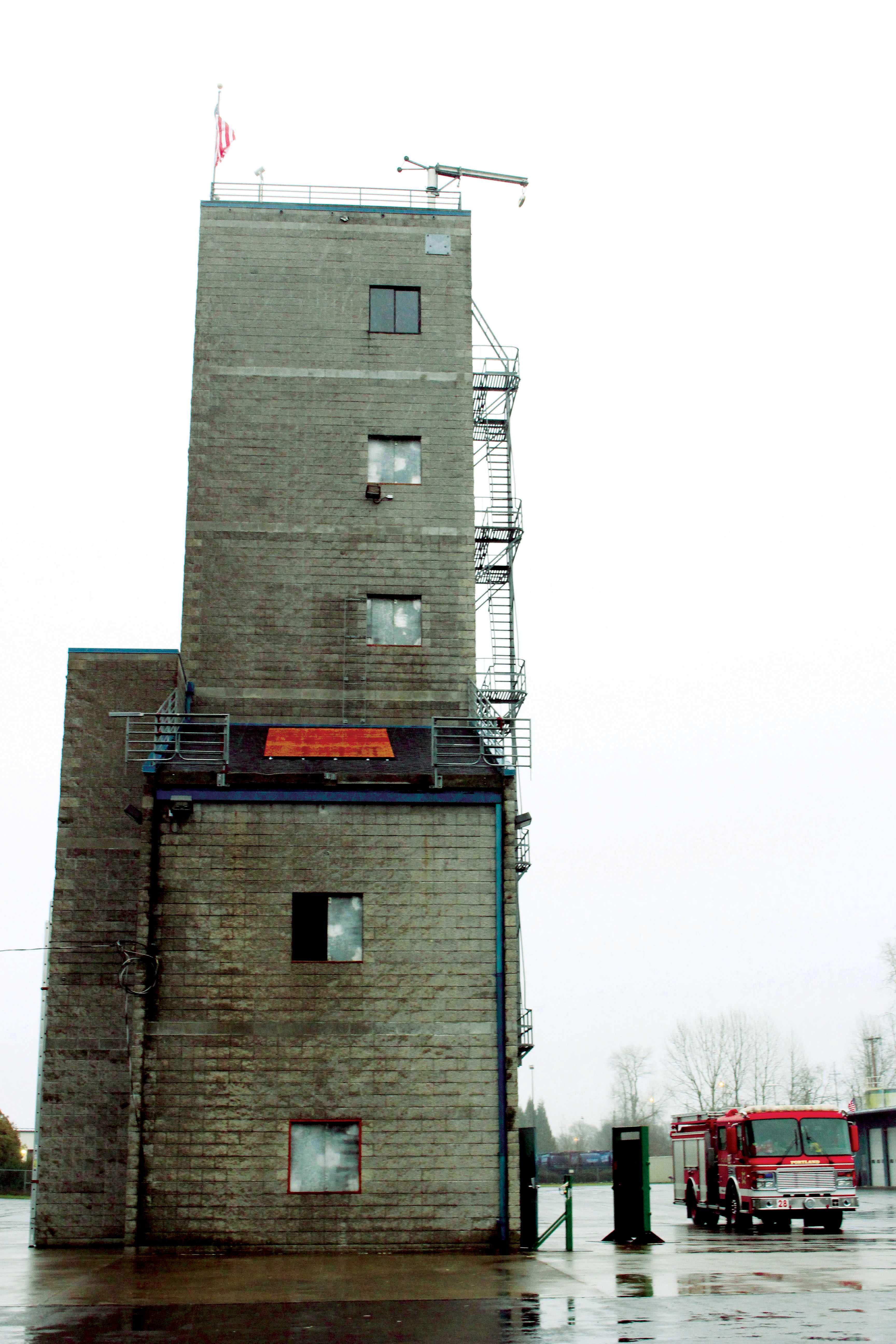 This five-story drill tower is home to Hieggelke and the other students of the Explorer Program ever Saturday morning.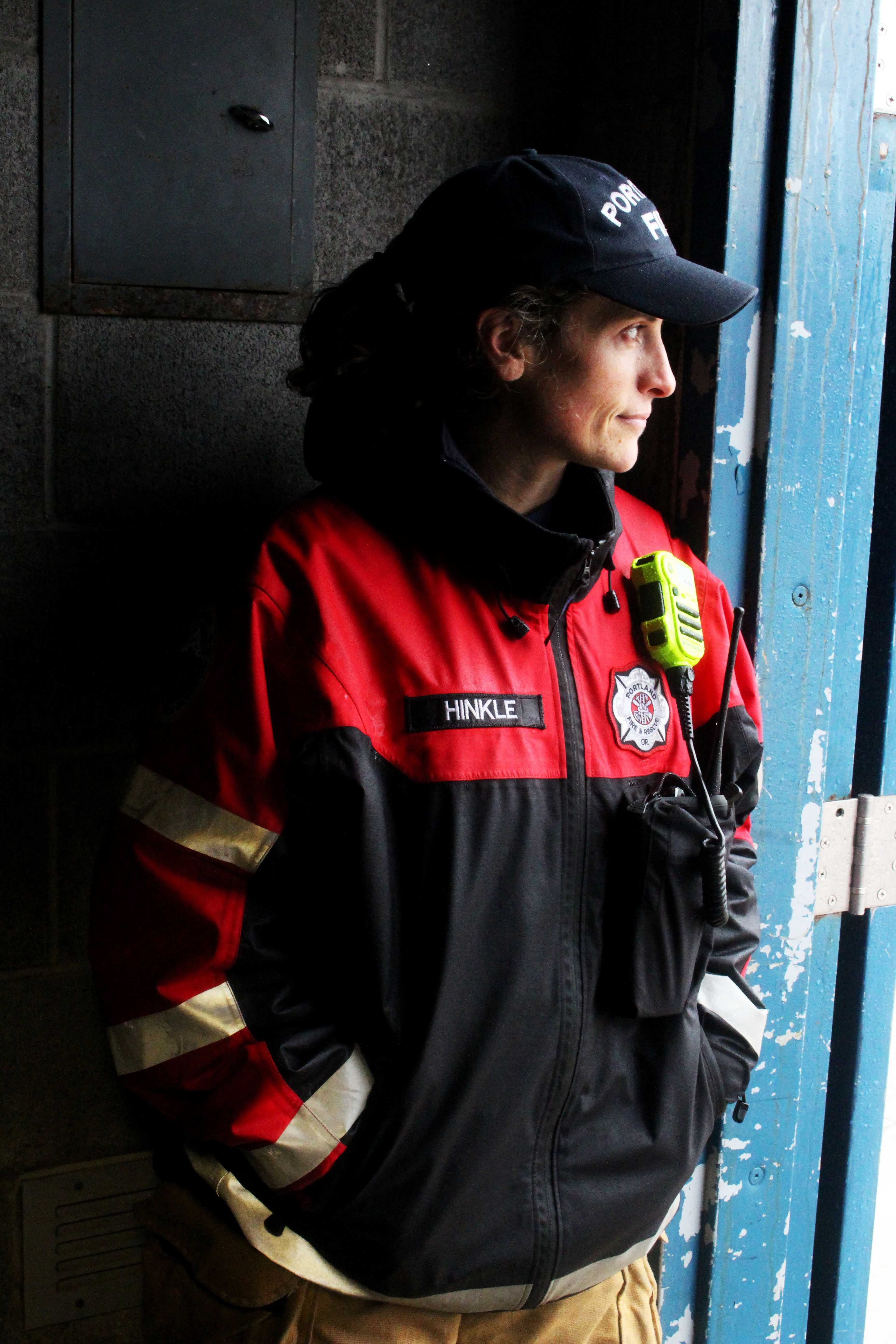 Erica Nelson has been in the fire service for 15 years. She has worked her way up to Lieutenant of Station 28 - second in command under the captain. "As a woman, you are going to be watched more and judged more," she says. "But if you pull your weight and you show you are capable of doing the job and being a team player, then that's how you will earn your respect."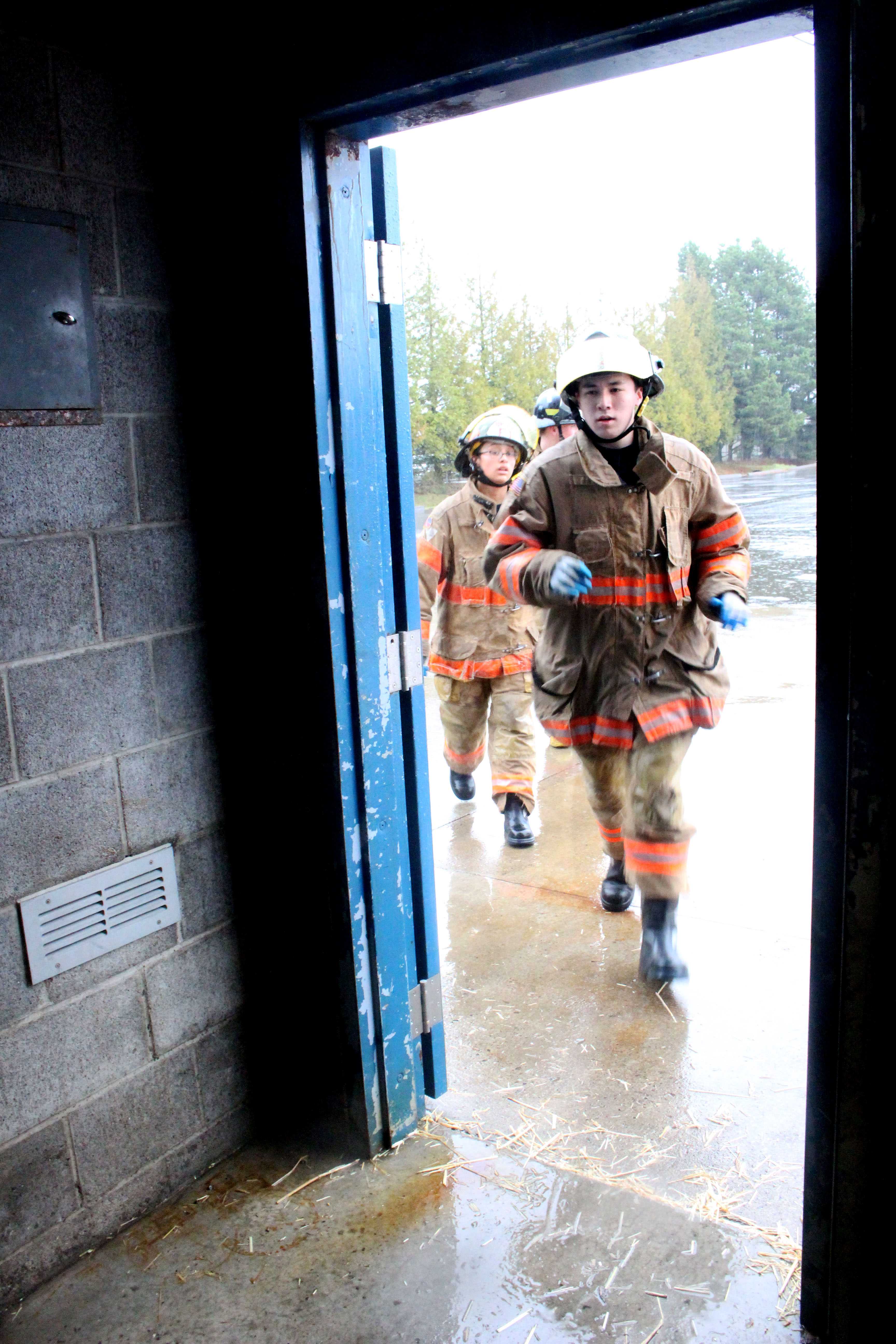 To push themselves through morning workouts, Hieggelke and her peers sometimes sing songs call and response style while running up stairs to take their minds off their exhaustion.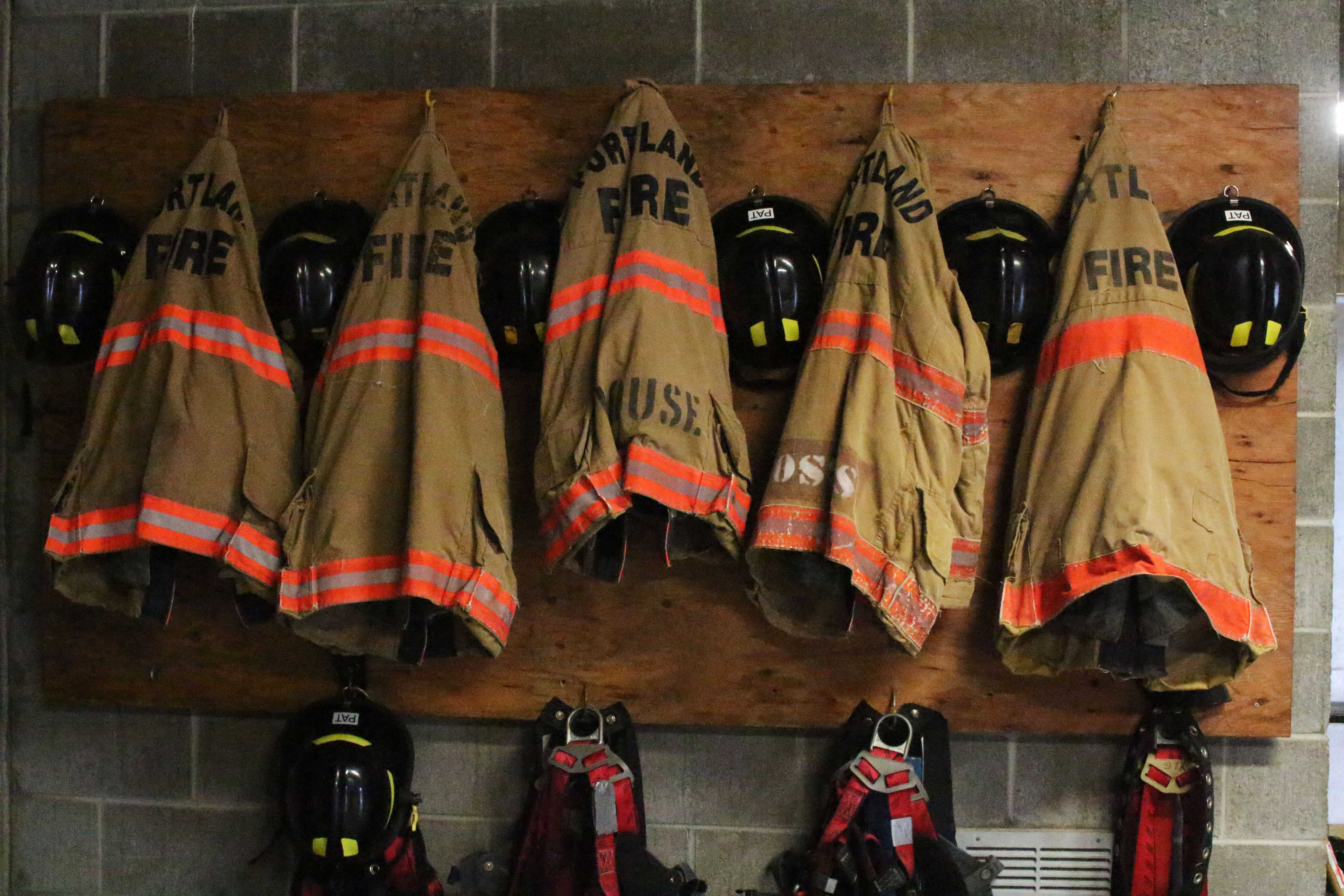 After Hieggelke finished her first ever firefighting training camp over the summer of 2014, she knew it was a perfect career fit. "I could not stop thinking about being a firefighter after the camp," she says. "I didn't want to wash my shirt because I was going to miss the smell of the turnouts."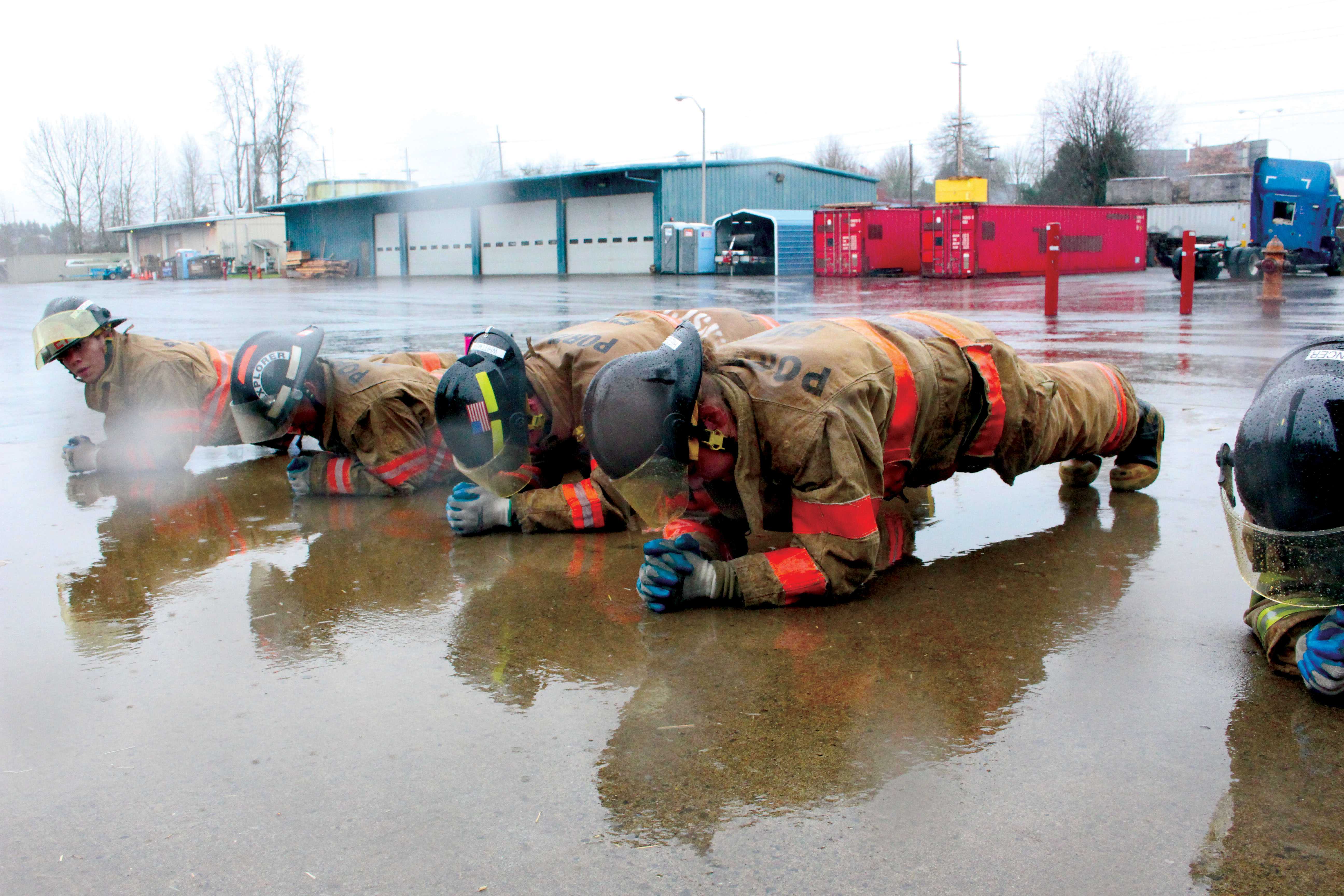 After graduating, Hieggelke is looking into programs both in and outside of Portland to continue her training.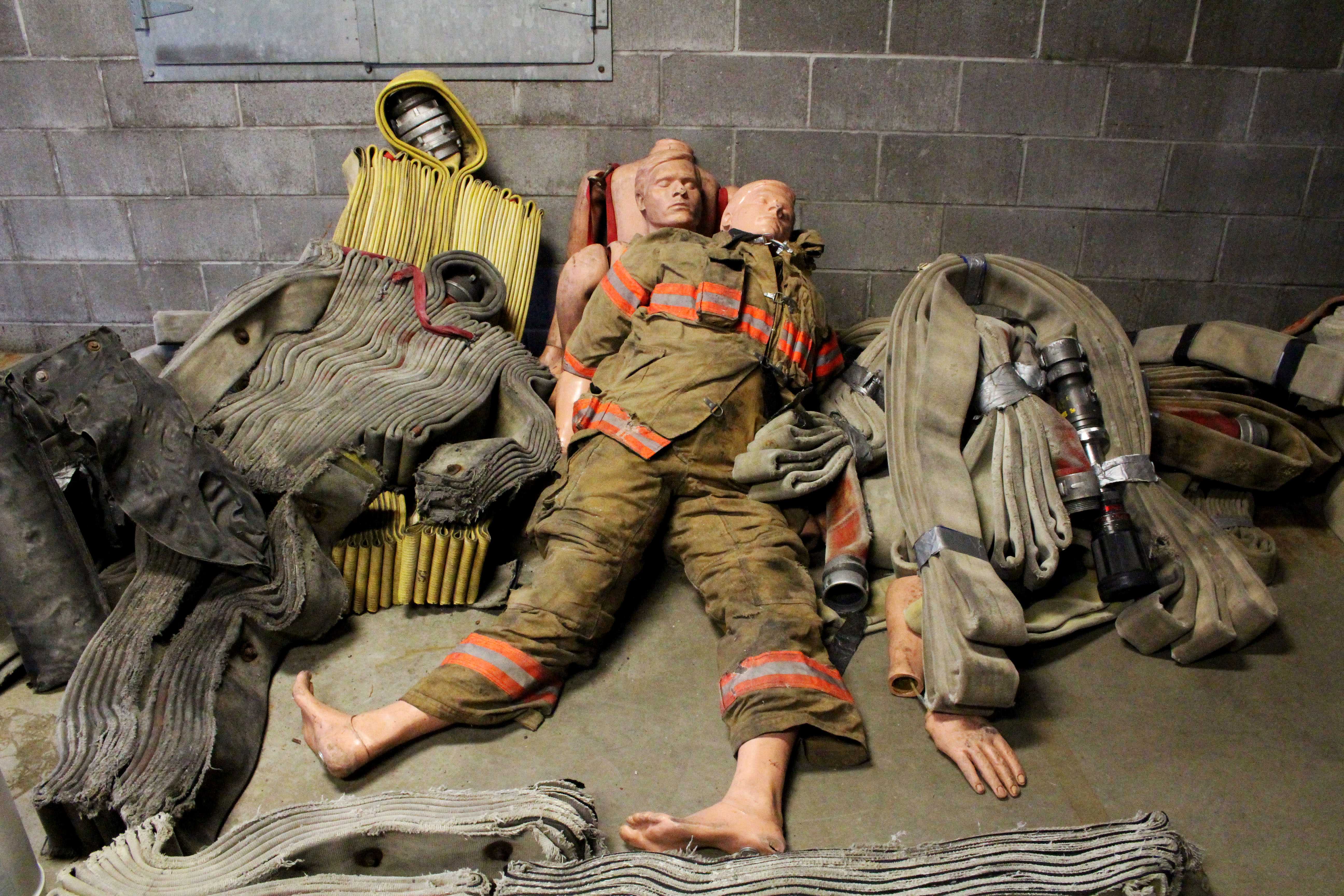 A typical day of training involves both physical and mental comprehension drills. The students become familiarized with standard first aid procedures as well as all equipment that they would be required to use if called out.
Nelson leads the students in a warmup routine before running drill towers.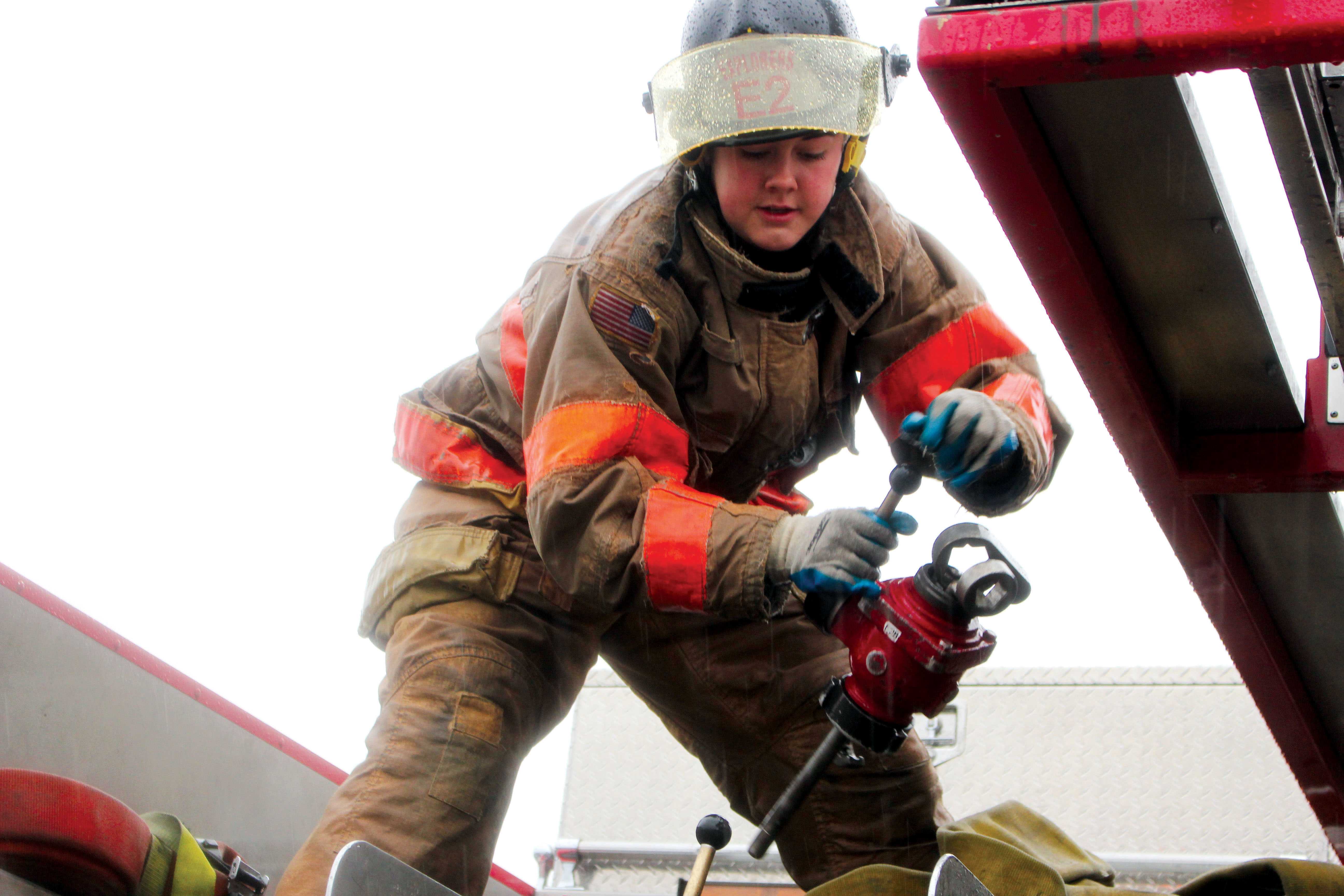 Within the Portland Fire Bureau, Hieggelke looks to certain female role models for inspiration. Nelson and Erin Janssens - who was sworn in as Portland's first woman fire chief in 2012 - are among such role models.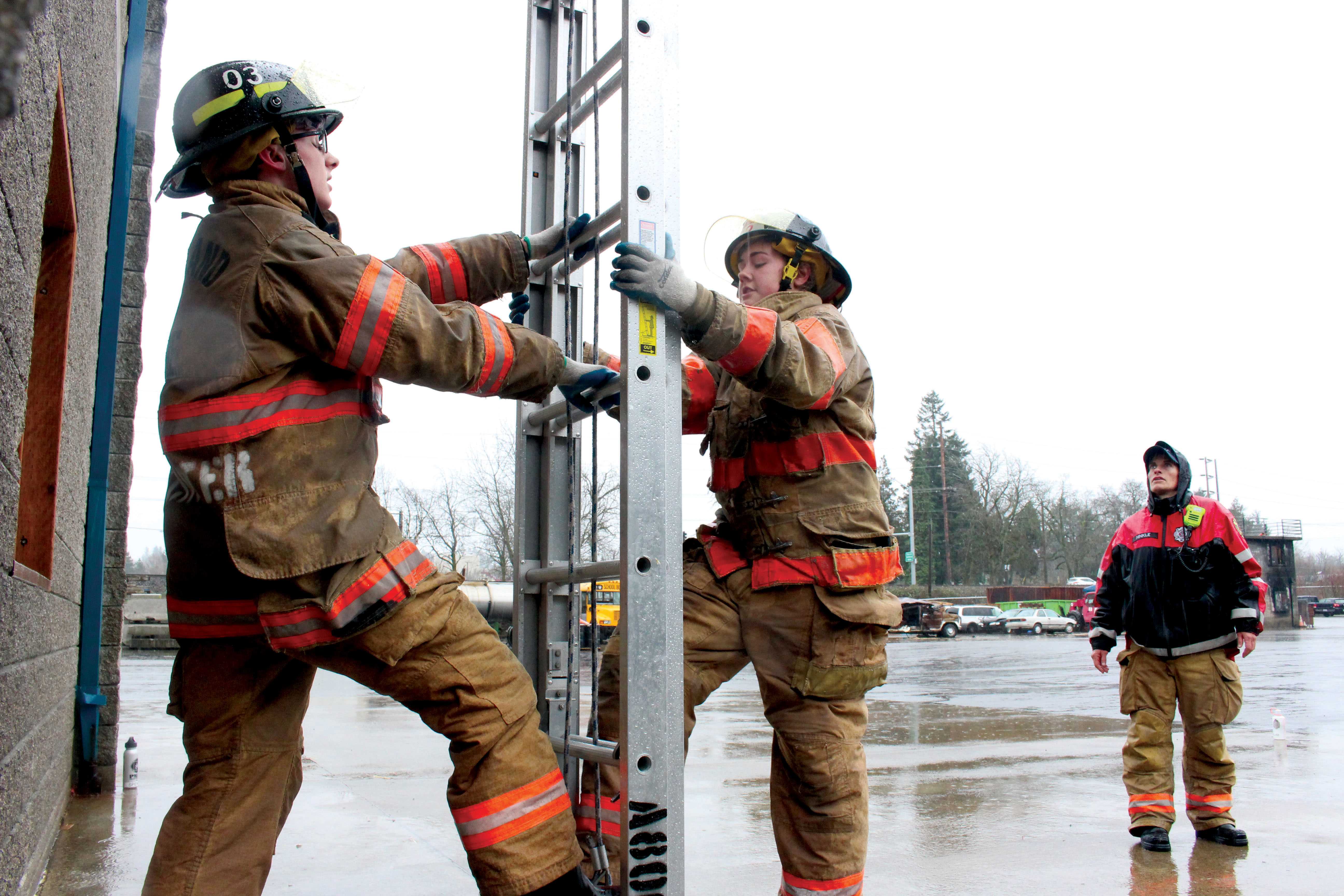 Jonathin Whittaker - another Grant student - participates in the Explorer Program with Hieggelke. He says he is proud to work alongside her. "Everyone is one big family, and Morgan's no exception."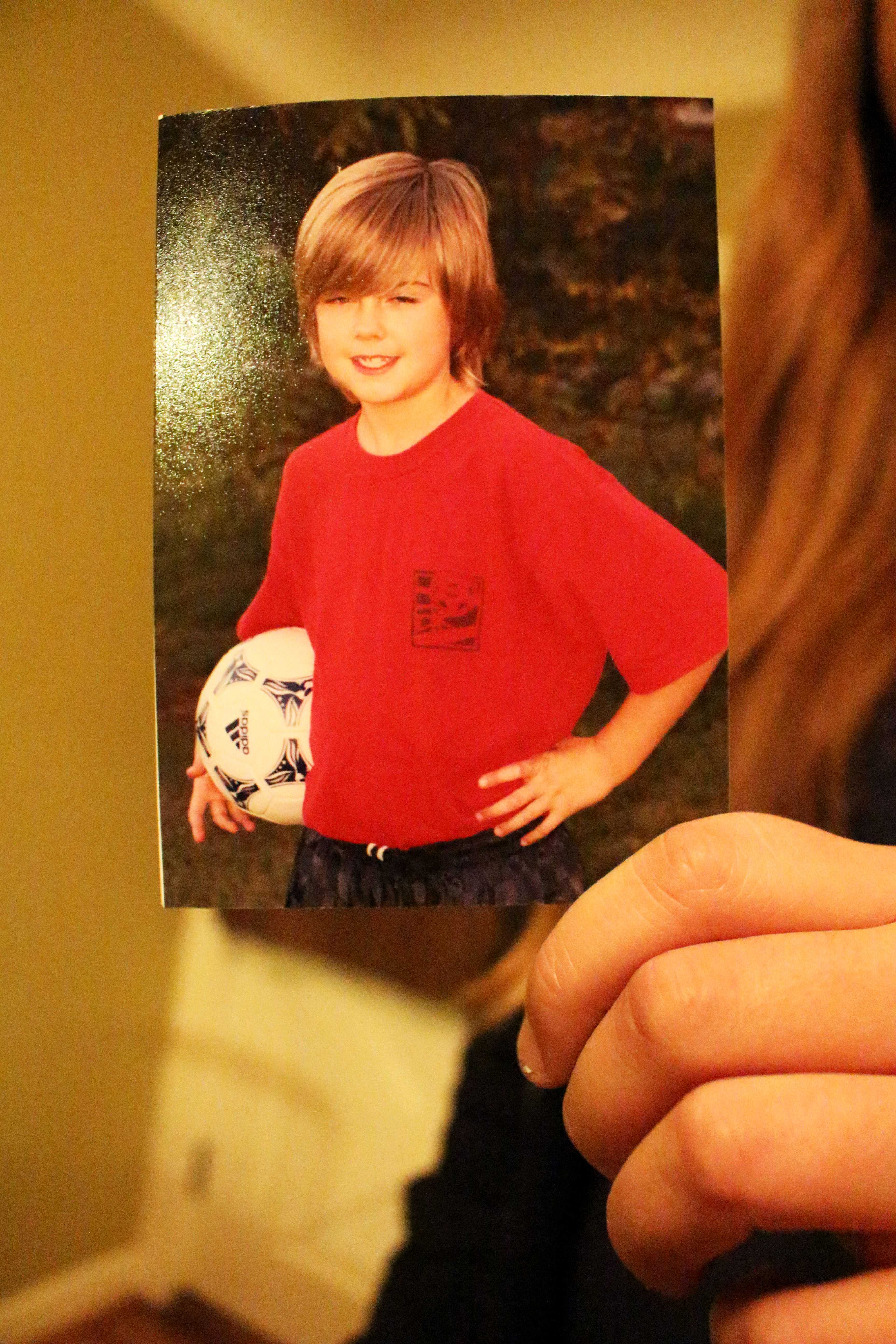 As a kid, Hieggelke filled her time with seasonal sports, often playing on co-ed or all boys teams. This background has helped Hieggelke adjust to the fast-paced atmosphere of her training today.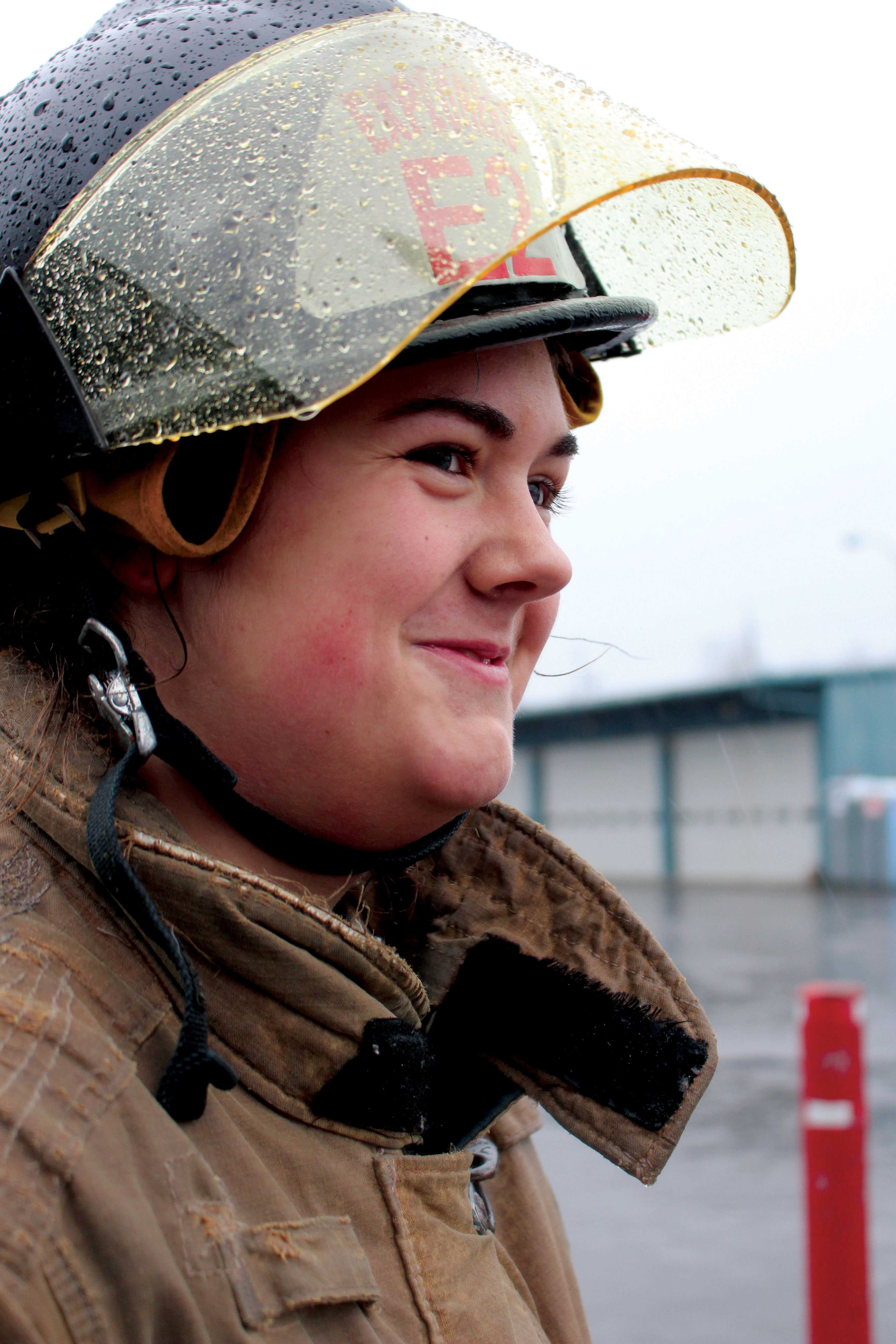 Hieggelke isn't discouraged by the low ratio of women to men within the firefighting profession. She says: "It doesn't matter what your gender is. This job is physically and mentally demanding, and if you work hard and put time into it, you can do it."
It's a Saturday in July 2014 and the temperature is 96 degrees. Morgan Hieggelke reaches the bottom of the stairs of the training tower and runs outside, eyes adjusting to the harsh light. She takes a deep breath, turns around and runs back in where she's met by utter darkness.
Grabbing the railing, she forces herself up the stairs. With each step, the weight of her ten-pound boots make her calves scream, and she's motivated to go faster only by the sound of another girl's boots echoing from below. The smoky smell from previous practices fills her lungs and they begin to burn.
One year earlier, Hieggelke attended a mandatory career fair with her sophomore class from Grant High School, without a clue as to which profession she was interested in pursuing.
As she walked around the fair, watching her classmates flock to the popular companies, Hieggelke spotted a table for the Portland Fire Bureau. A male firefighter greeted her and explained the profession, salary and work hours. Her interest grew. She had merely meandered over to fill time, but something clicked inside.
When most kids graduate from high school, they have no idea what they want to pursue as a career. But since learning about the profession, Hieggelke wants to find a spot on the Portland Fire Bureau. "I know this is what I want to do," she says. "I can't picture myself doing anything else."
But the numbers aren't in her favor. Out of Portland's 674 firefighters sworn in this year, only 50 are women. According to the International Association of Women in Fire and Emergency Services, women firefighters across the country have to deal with hostile behavior based on gender, a lack of public support for women's presence in the fire service and an overall skepticism about women's competence in the profession.
Nevertheless, Portland Fire and Rescue's Station 28 Lieutenant Erica Nelson says it all comes down to the work. "As a woman, you are going to be watched more and judged more," she says. "But if you pull your weight and you show you are capable of doing the job and being a team player, then that's how you will earn your respect."
With 15 years of experience under her belt, Nelson has seen a lot. She worked her way up to become second in command of a 12-person engine company where 10 of the members are male. But for young women like Hieggelke hoping to work in a fire department, the road is going to be anything but easy.
As a kid, Hieggelke was the epitome of a tomboy. She had short hair, wanted to wear boys clothing and had mostly male friends. "Morgan hasn't donned a dress since the age of 4," says her mother, Kim Sutton. "She was always on the move, always wanting to be doing things; which explains why as she has grown up, she's not happy sitting at a desk or working on papers, being sedentary."
To appease her young restlessness, Hieggelke cycled through a full-time sports agenda, playing on mainly co-ed or all-boys teams. Muddy soccer cleats consumed her fall schedules, moving indoors for winter basketball and finishing up with softball in the spring. This continuous loop of seasonal sports lasted through Hieggelke's eighth-grade year.
Sutton believes Hieggelke's early involvement in athletics will give her an upper hand with firefighting.
Nelson agrees, asserting that it's common among women firefighters. "The majority of the women – if not all of them – who come into this profession have a sports background," she says. "If being physical and active is part of your lifestyle from a young age, it can set you up for the lifelong commitment of staying fit for this job."
After her parents' divorce in 2000, Hieggelke and her younger sister, Greta, developed a stronger relationship. They would travel back and forth, alternating time between parents, and by the time Hieggelke reached her sophomore year at Grant, she had found a groove with her daily routines.
And yet, like most teenagers, Hieggelke didn't have a strong sense of what she wanted to pursue after high school. That changed when she attended the job fair. Her curiosity motivated her to look into it further.
But Hieggelke's newfound groove almost came to a grinding halt. Midway through her sophomore year, she began having sporadic back pains after sustaining a basketball injury. She ignored them and tried to push through the pain.
After no change, she visited her chiropractor and was diagnosed with moderate facet arthrosis, a degenerative condition that chronically deteriorates back tissue. She questioned how it would affect her ability to pursue firefighting.
"I thought about it and then I didn't because of my back, and so for a while I just thought I would just be a business major when I went to college," says Hieggelke. "But now a business degree has sort of lost its value because so many people have them, so I'm glad that I found firefighting."
Hieggelke began taking certain steps to beat her condition. With the help of a chiropractor, stretching routines and specialized inserts, it no longer inhibits her.
And yet, up until the summer between her junior and senior years, firefighting was not a full-fledged reality for Hieggelke.
In June 2014, Hieggelke's father set her and her sister up with a day job working for Urban Airship, where he is the chief marketing officer. She showed up at 1 p.m. and sat at a desk entering client names into Excel spreadsheets and watching the minutes tick by like hours. But she was only able to handle this in short increments before her restlessness consumed her, making it difficult to accomplish more than three hours of work a day.
After only completing three days of work in a two-week period, it was clear: any sort of job behind a desk was out of the question. She couldn't picture herself getting up in the morning and going to work just to sit down again, staring at a computer screen. She needed something more.
Desperate to find something else to occupy her time that summer, her mind wandered back to the career fair. She decided to look into firefighting opportunities, and when an emergency medical technician worker came to one of her softball practices and told her team about a firefighting camp for all girls, she didn't have to look any further. She sent a few emails, signed up and counted down the days until it came.
For three days during one of the hottest weeks in July 2014, she drove out to the camp on Northeast 122nd Avenue, unsure what to expect at first. Led by multiple women from Portland's Fire and Rescue Program, the camp was centered on empowering young women like Hieggelke so they would not be daunted by the stigma towards women that is embedded in the male profession.
The leaders emphasized the commitment and effort required of women firefighters. "It's important for young women to see other women doing the job," says Nelson. "I really believe in 'you have to see it to be it.'"
The camp was no breeze for inexperienced participants. Along with learning nutrition and interviewing skills, Hieggelke and her peers were not spared from the physical side of firefighting. They ran drill towers, hose operations and learned how to perform search and rescue tasks.
Hieggelke's sports background kicked in and she felt right at home. The 30-pound turnout gear made Hieggelke's muscles ache. But she was fueled by adrenaline, motivated by the female leaders and loving every burn. After the first day, she couldn't wait to return.
Hieggelke's family noticed her sudden spark of interest right away. "It's the most motivated I've ever seen her be," says her sister, Greta. Pictures were posted on the camp website and Hieggelke proudly showed them to her family. Sutton couldn't help but notice how happy her daughter looked in the photos.
"If a fire truck passed by Morgan when she was younger, she wouldn't say, 'Oh, I want to do that.' But now if we are in the car and a fire truck passes by, she gets excited and tries to figure out which engine company it is and if she knows any of them," says Sutton.
Once she got a taste for firefighting, Hieggelke knew she would do everything in her power to become one. "I could not stop thinking about being a firefighter after the camp," she says. "I didn't want to wash my shirt because I was going to miss the smell of the turnouts."
She wouldn't have to miss it much longer.
Shortly after completing the women's training camp, Hieggelke sought out other opportunities to gain experience. She enrolled in the Explorer Program – Portland Fire and Rescue's eight-month intensive training for 16- to 20-year-olds – and is currently halfway to completion.
Johnathin Whittaker, another Grant student in the Explorer Program and classmate of Hieggelke's, notices her comfort with the rest of the guys during training. "Everyone is one big family and Morgan's no exception," he says. "We all run towers together. We all hang out together. Nobody gets special treatment unless you are hurt in some way."
As Grant's second semester takes off and most seniors are busy wrapping up their college applications, Hieggelke's doing what she can to gain experience and form connections within the Portland Fire Bureau to pursue her dream career after graduating.
"I think I studied more to pass my firefighter final than my school finals," Hieggelke says of the exam she took and passed in late January that would determine her advancement to the next level of training.
After graduating, Hieggelke hopes to attend Portland Community College to take fire protection technology courses and earn her EMT-Basic – a requirement for all firefighters.
"I want to know all of my options," says Hieggelke, having extensively researched possible programs. "It's hard because it is such a demanding job and people don't think women can do it.
"You know when people say, 'Oh you're good – for a girl.' I just want to be good. When you're a firefighter, you're not just 'good for a girl.' You are obviously good enough to do the job if you are hired." -Morgan Hieggelke
It's 9:45 a.m. on a recent Saturday and rain is pouring down outside. Inside the five-story cement drill tower, heavy thuds can be heard from above as teams of teenagers begin their descent from the top, only to slap hands and turn around again.
A single voice takes charge and breaks the silence, singing out: "Whooaaaaaa! We're halfway there." There's a pause before the flurry of whoops that follow as the others pick up on the song reference and respond: "Whooooaaaa! Livin' on a prayer."
The chorus to Bon Jovi's Livin' on a Prayer brings a new surge of energy to the group as they stumble, laughing, onto the cement landing. They are reinvigorated.
Morgan Hieggelke jogs out into the rain, the plastic visor on her helmet streaming with sweat, and assumes a plank position, flanked by four boys. From inside the drill tower, Erica Nelson's voice can be heard pushing the remaining students to keep up the pace and finish strong. They're just getting started. ◊