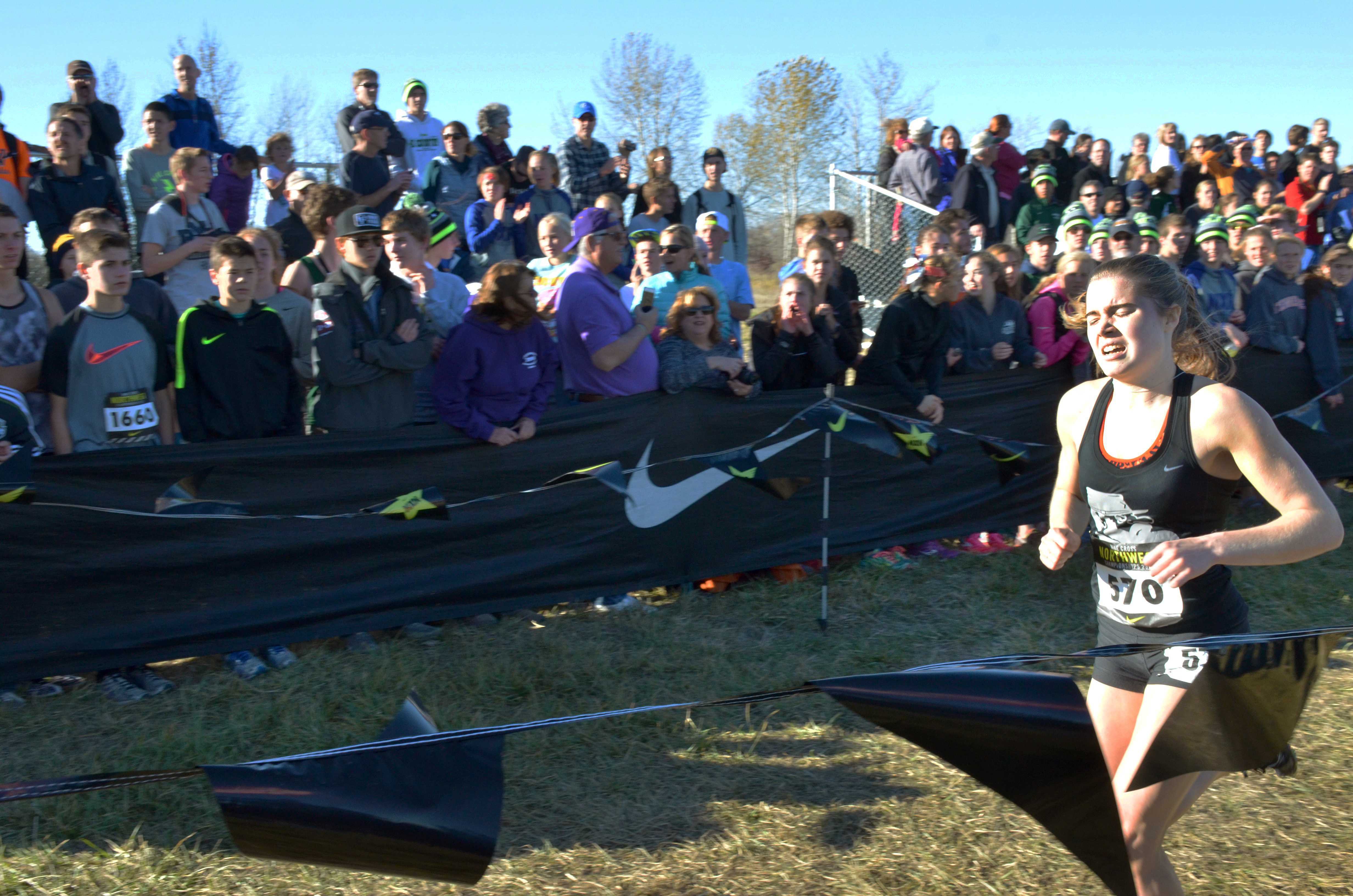 Donaghu just a few steps away from the finish line. "In terms of being tough, it was a great race for me, I was super tough," she says. "I just could've run a smarter race."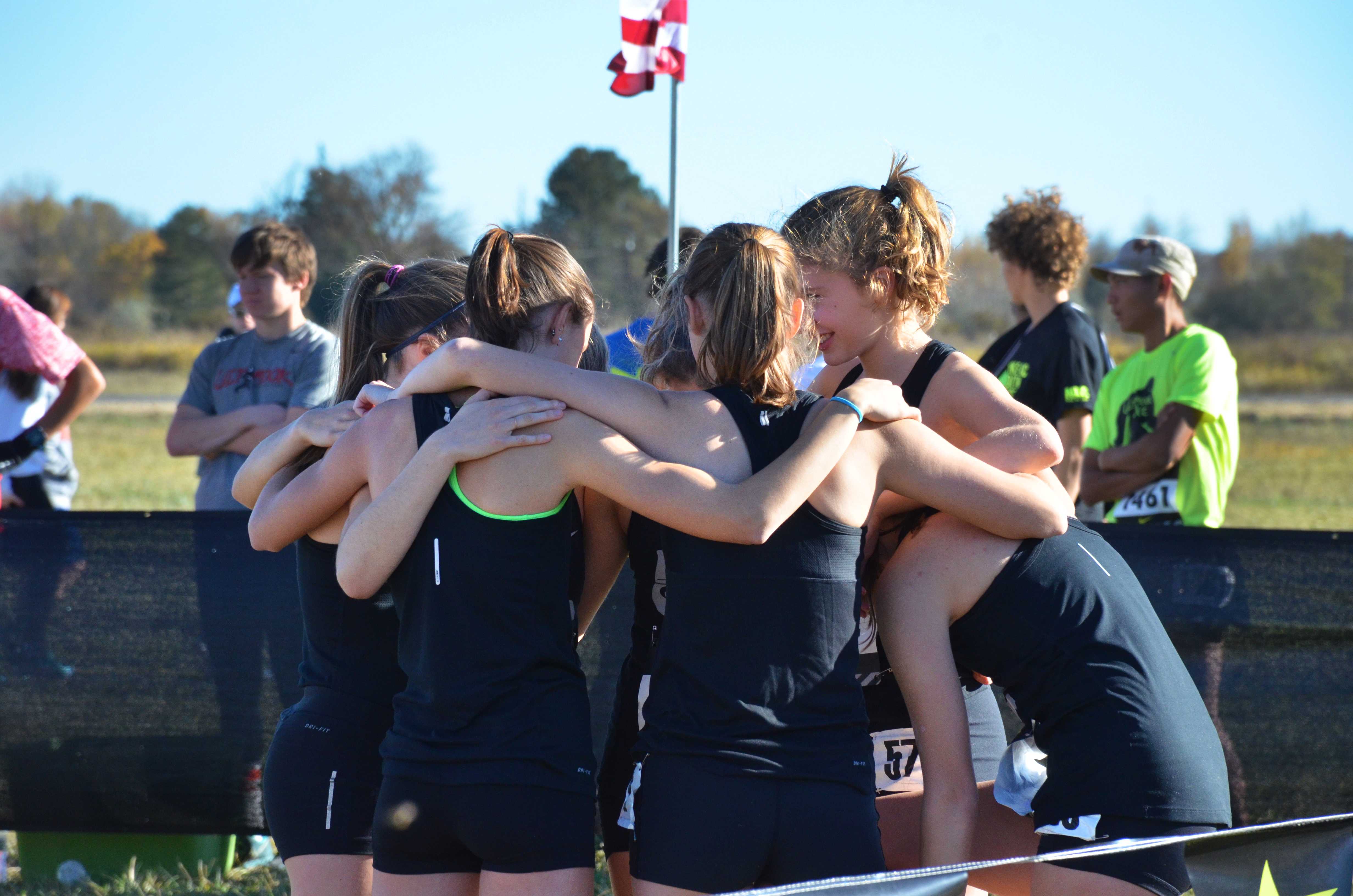 Ella Donaghu leads the varsity girls cross country team in a pep talk for the last time. For her, hyping up the team is a huge part of being team captain. "It was kind of bittersweet because it was the last time to run with the Grant girls but I think my four years at Grant running have been awesome," she says. "I've had great coaches, great teammates and so much fun so I think it will be an experience I'll never forget."
Donaghu and the Grant girls team leading off the start line, Donaghu says she get's nervous before every race but it all goes away when the starting gun goes off.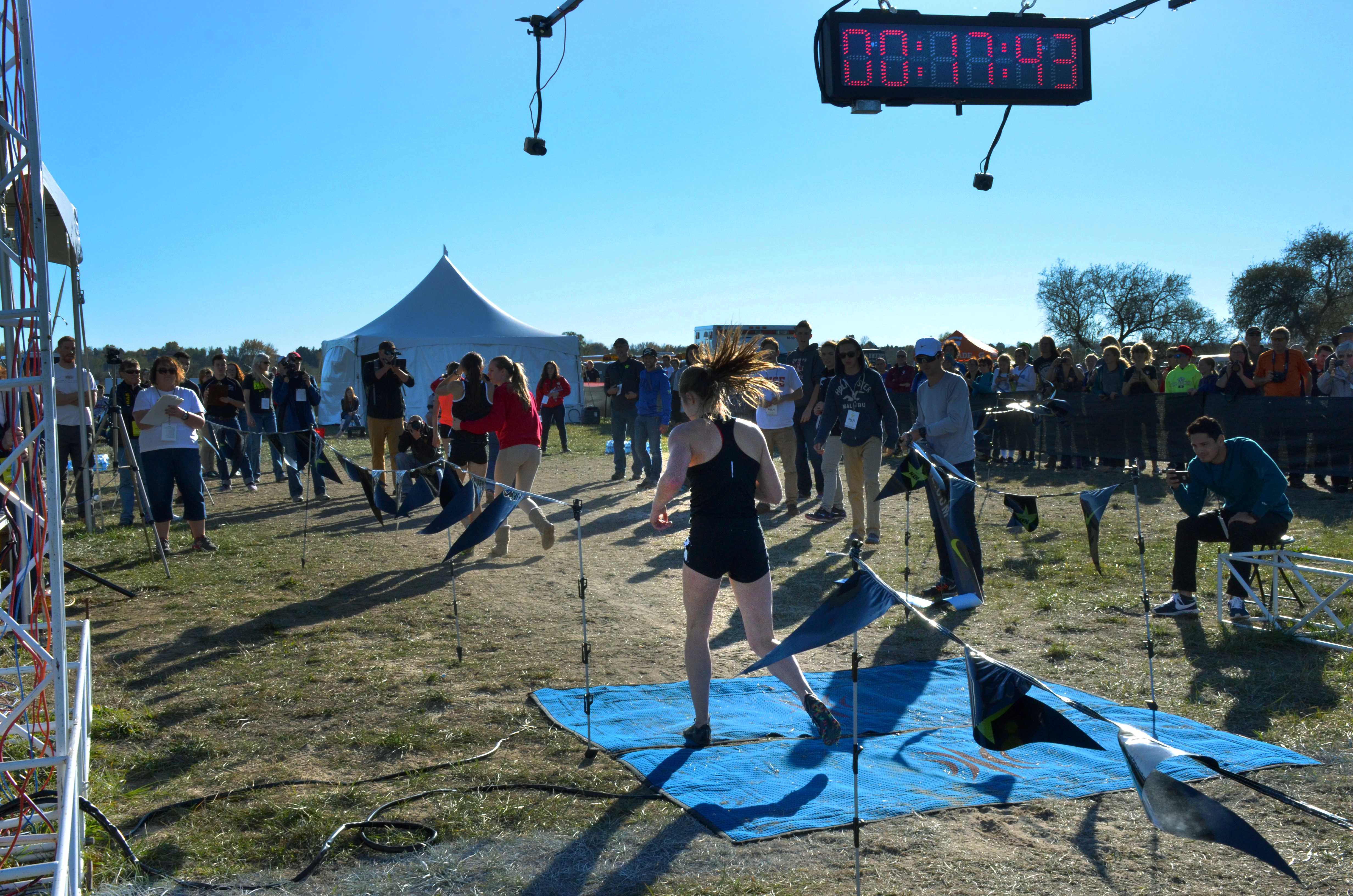 Donaghu as she takes the first step across the finish line,"I felt really good then but didn't really capitalize on feeling good," she said. "I kind of let the two girls in front of me get away a little bit in the last 800 of the race which was a little disappointing. I think if I'd moved sooner I might have felt better later in the race because I ran out of gas."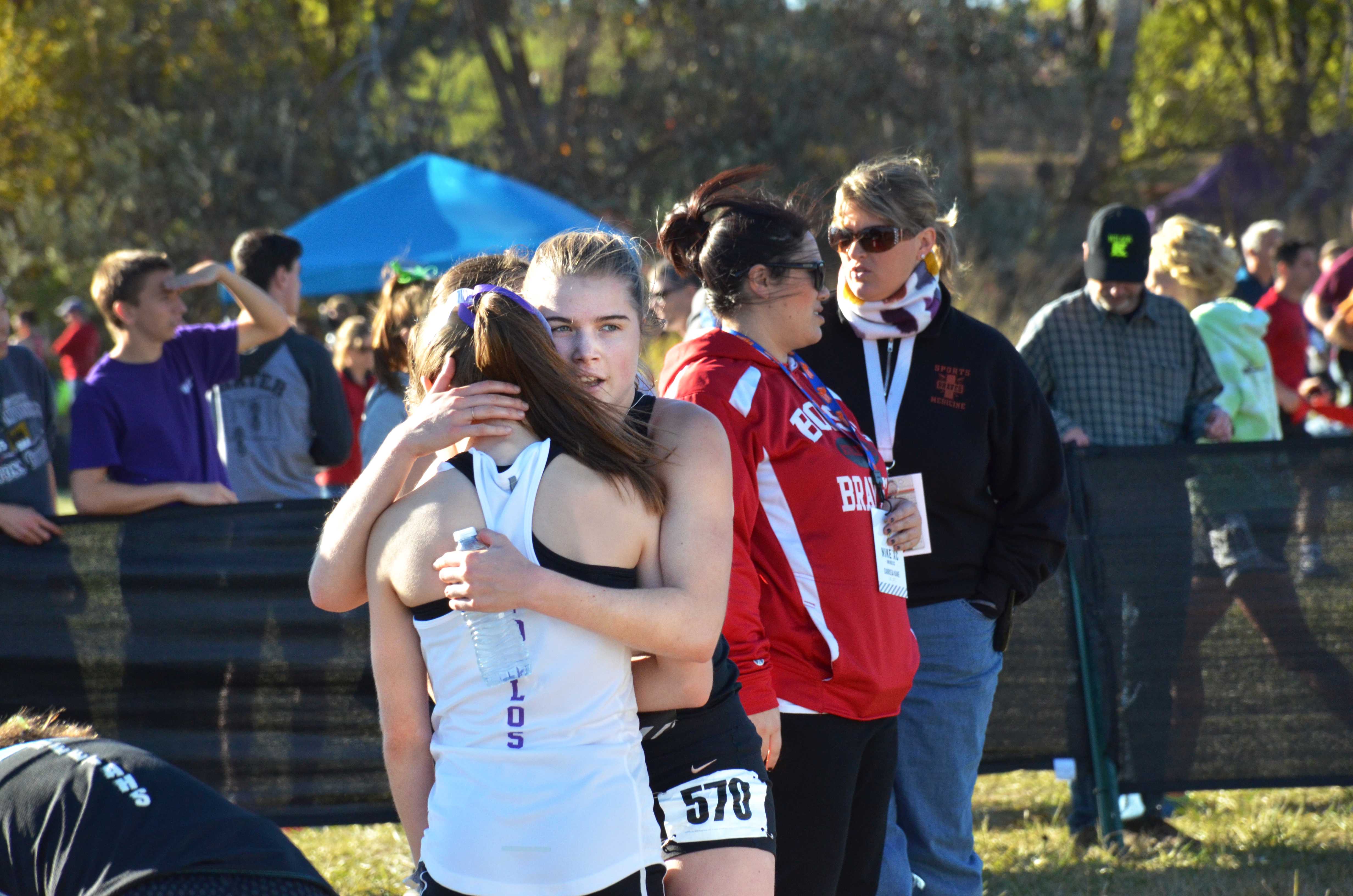 Donaghu embraces sixth place finisher Ember Stratton from Portland's Sunset high school just minutes after crossing the finish line.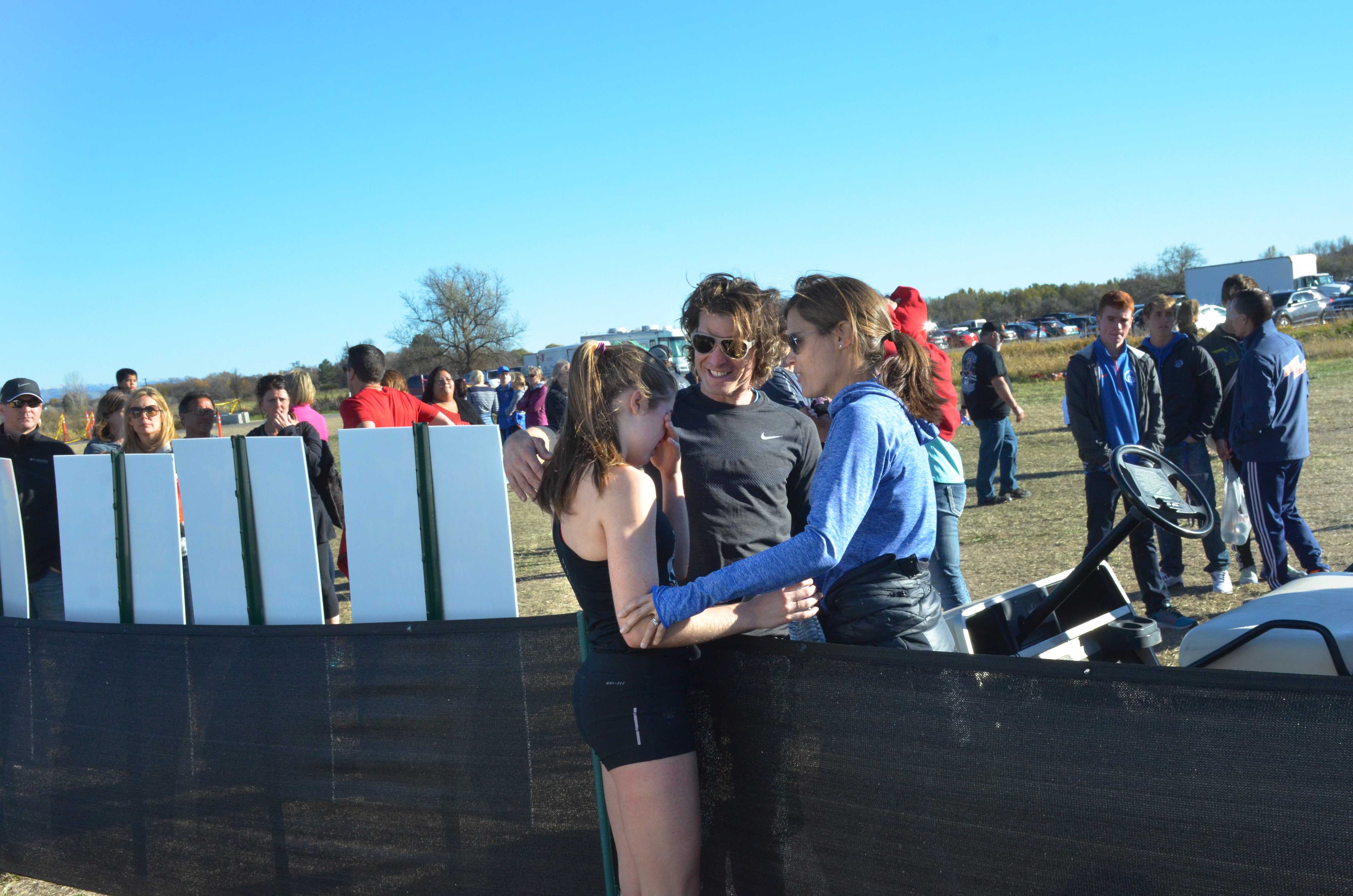 Donaghu lets go for a moment with her family, disappointed she could not defend her regional championship for another year, "I'm happy to go back to nationals but part of me really wanted to win that race. It leaves a little bit of a bitter taste in my mouth," says Donaghu. "But going forward I think it will be good for me."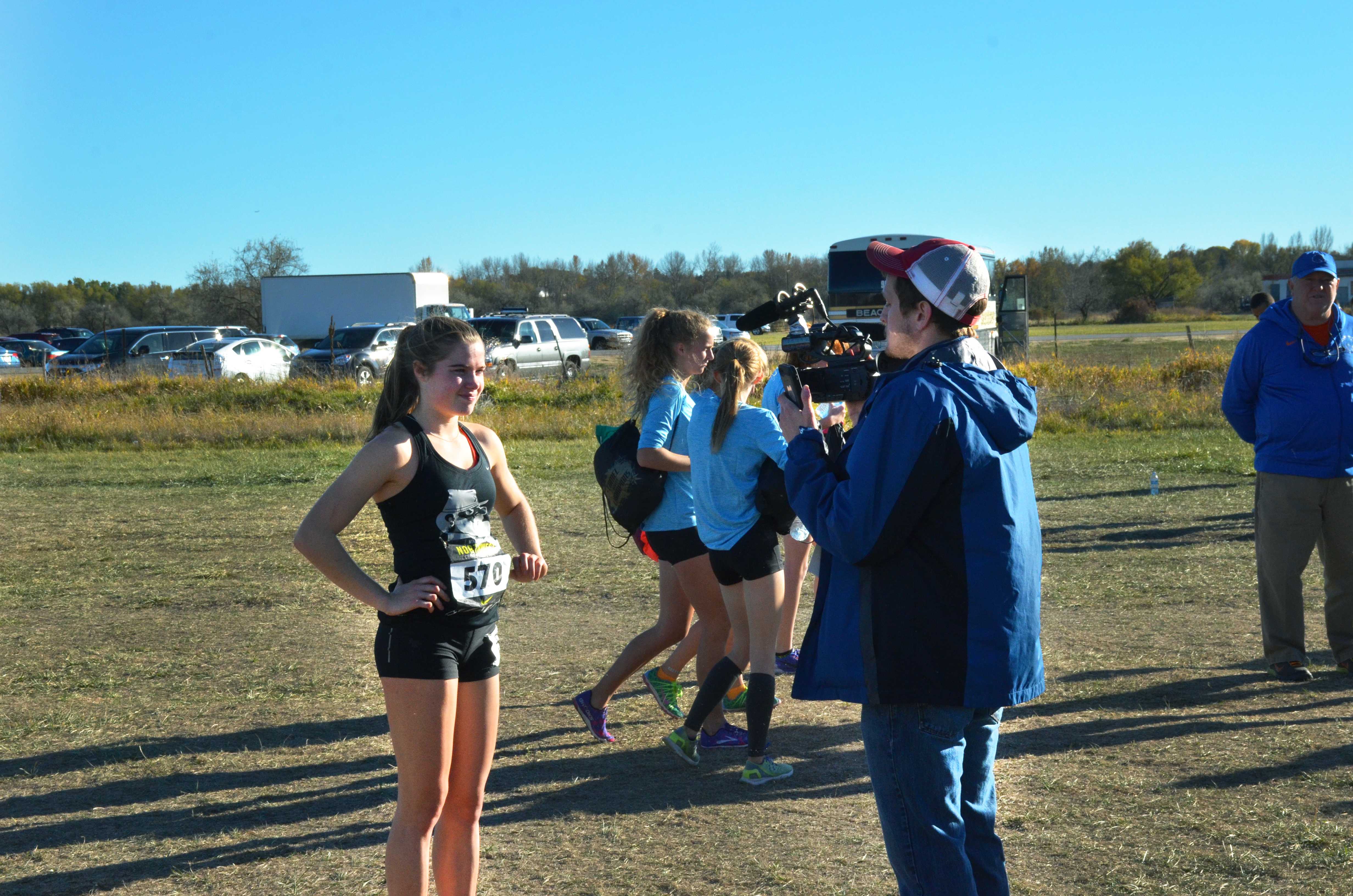 Donaghu puts on a smile for the camera as she undergoes another one of the multiple interviews she is subject to just minutes after her race.
Ella Donaghu, the Grant High School cross country phenomenon who won Oregon's state meet two weeks ago, captured third place in the Nike Cross Northwest Regional Championships in Boise, Idaho.
Donaghu, a senior, ran the 5-kilometer course in a time of 17 minutes, 43.2 seconds, and arguably becomes the most decorated cross-country runner in Grant history.
She finished behind two Montana runners – winner sophomore Annie Hill of Glacier High School (17:31.1) and senior Christina Aragon of Billings Senior High School (17:33.9).
Donaghu, who won the regional meet last year, said the competition was tough.
"I was pretty nervous before because I knew that race is always really just a tough course," Donaghu said after the race. "It is not only a really tough competition. I think it was an opportunity for me to finally not lead a race."
The meet featured top runners from Oregon, Washington, Idaho, Montana, Hawaii, Wyoming and Alaska. It was held at the Eagle Island XC Course and featured 166 of the top female high school runners.
Donaghu's performance qualifies her for the Nike Cross Nationals on Dec. 5 in Portland at Glendoveer Golf Course. The race will mark her third appearance in a row in the national championship.
Last year, Donaghu won the regional meet on a snow-packed course. This year marked a different story as the Grant senior focused on settling her nerves and keeping the race in perspective.
While the weather was much a nicer this year with clear skies and moderate temperatures, Donaghu said this race still didn't play out exactly as she had hoped.
The course, with tricky footing, multiple hills and a sandy beach section can tire the legs quickly if not ran strategically. The first 1½ miles of the race, Donaghu said she felt strong. She maintained a comfortable pace several steps behind the leader.
But during the last mile, she couldn't prevent Hill and Aragon from increasing their lead. Hill quickened her pace over the last 800 meters and Donaghu said she was too tired to catch up.
"I think if I'd moved sooner, I might've felt better later in the race because I ran out of gas. That was one regret I had," she said.
Still, she finished for the third year in a row in the top 3. While she didn't win, she was proud of her overall performance.
"I ran as hard as I could," she said. "I just made some tactical mistakes in the middle of the race, even though I know mentally I should've told myself to do things differently. But I ran as hard as I could and you can't really do anymore than that."
Head coach Doug Winn recognized her hard work as well, "She ran fiercely [at regionals].  Boy, you could see that on her face, and that she was really in the mix and giving it her all," he says.
Donaghu's dad, Mike Donaghu, has been a Grant cross country assistant coach since 2000. He was proud of his daughter's performance. "She would probably be called the best middle distance runner that Oregon has produced," he said. "Not to brag or anything, but that's amazing."
Individually, Ella Donaghu has made her mark in Oregon's high school running circles. She is easily the best distance runner the school has ever known and led the Grant girls cross country team to fourth place in the state championship meet on Oct. 31. She finished first in that 5k race in a new state-record time of 17:26.
The state title was her third in a row.
"It was a great season," Donaghu said. "We were fourth at the state meet. I think that kind of sums up the whole season, as a collective, how we came together. I think getting a trophy just represented how well we worked together and just how much we like each other, too."
At the regional meet in Idaho, Grant's girls team finished 12th. Grant's boys finished 10th in their race.
Though the season is finished for the rest of the cross-country team, Donaghu still has a few weeks of training ahead. At nationals, she will line up beside nearly 200 other runners from across the country for the national title.
Her experience running at nationals, she says, will give her an advantage over her opponents. Last year, she captured 10th place overall in the nation; the year before she took ninth place. This year, she plans to be more confident than she was as a junior and not shy away from the front of the pack.
"The key is to be getting out hard with the leaders and just covering every single move that happens in the middle of the race," she said. "So then with one mile to go, I'll be in a really good spot. I always (had) a good finish, so the key will be getting in the right position to do that."
Between now and nationals, Donaghu will continue training with her dad. "You need to be recovered and fresh," Mike Donaghu said. "The difference between finishing really well and just doing OK is very minor things at this level. We're just trying to help (her) get all the little things right."
Winn is beyond thankful to have had the opportunity to coach her throughout her years at Grant. He often times likes to name her the greatest high school athlete in Portland, "She is the captain of the team and she's made the team so much better," says Winn.  "The varsity girls are really bonded close. That's really Ella's doing, being captain of the team.  So that's been a great thing to see as a coach, that the entire team is lifted up by her."