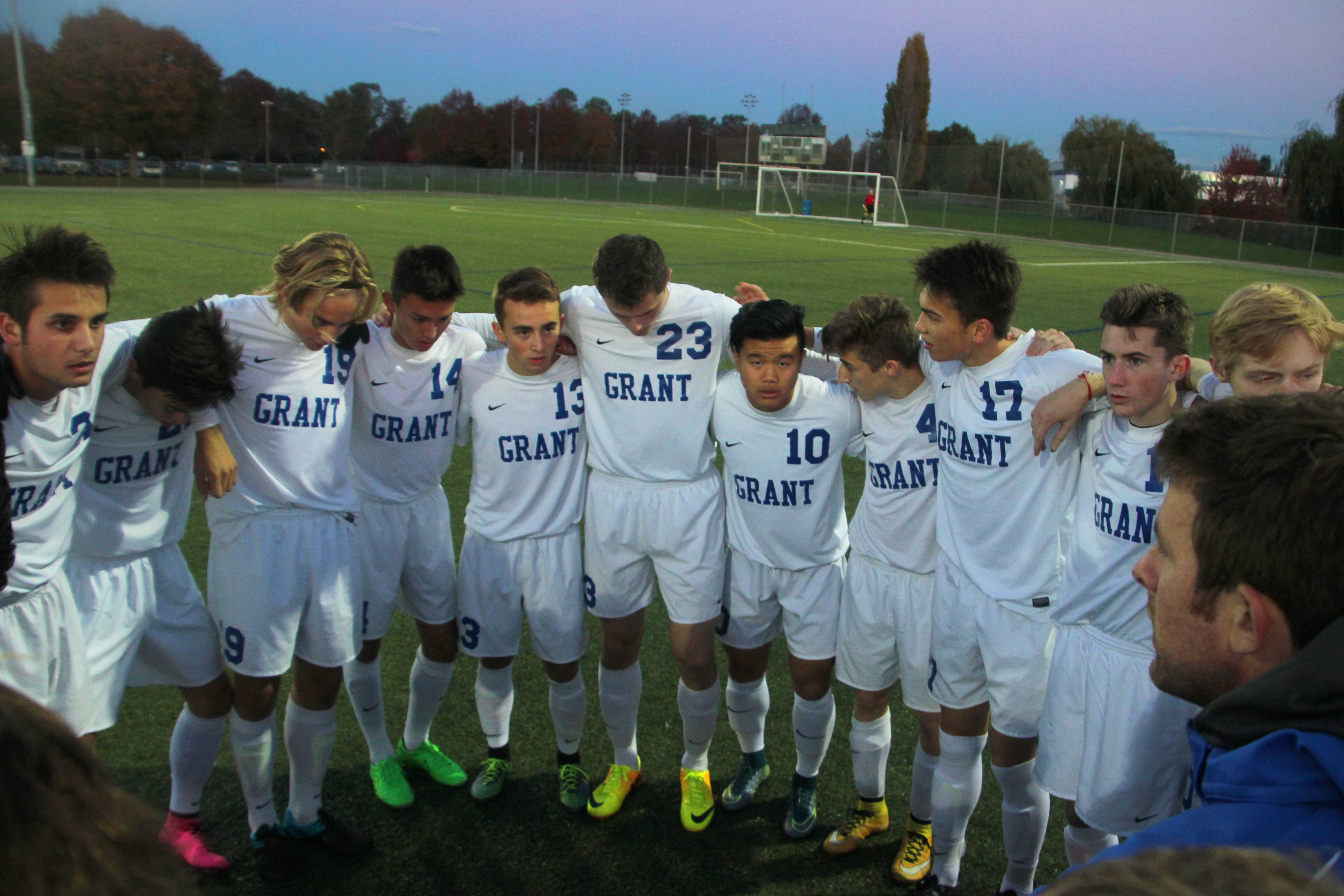 When the Grant boys' varsity soccer team gathered for a team dinner earlier this month, the goal was to quell nerves and keep spirits light the evening before their second-round playoff game against West Salem.
But the dinner took a turn when a white player used Snapchat to make a racist slur and played it for some on the team. Laughter followed and things continued, this time a group text with an image of a naked black athlete that was followed by derogatory comments.
Only one player, who is African-American, reacted negatively. He challenged his teammates' behavior but eventually left the dinner early because he felt uncomfortable.
It's not the first time something like this has happened within the Grant community. Last year, a group of white freshman boys posted a slew of racist and misogynist comments on social media that targeted fellow students and others. Grant's administration followed the district's discipline policies but shied away from the chance to encourage a schoolwide discussion about racism, sexism and homophobia.
This time, Principal Carol Campbell and her administrative team have decided to add another element to their approach. Instead of solely resorting to punishment and keeping the matter quiet, they are hitting the issue head on. It's time, they've decided, for the community to begin a comprehensive discussion about race.
"We haven't always handled these things well," said Campbell. "Last year, we should've prepared a little more for what we did in the classrooms. We kind of focused on the freshman but what we did with them, it wasn't well thought out and I don't think…it had much of an impact."
She's vowing that things will be different moving on. The results so far have been telling.
Campbell is working with the administration, and will pull in student groups, to develop a schoolwide assembly for students to discuss race. The plan includes bringing outside resources into all classrooms to facilitate dialogue with students and teachers.
"It's so much more than just the soccer program," said Vice Principal Diallo Lewis, who has been involved in planning the administration's discussion-based response that will follow. "I think what we would love for people to take away from this is that opportunity to grow and to value and respect each other's differences."
This new approach was prompted by soccer player Dylan Palmer, an African-American junior who initially challenged his soccer teammates before leaving the team dinner. After the incident, he talked with his family and brought the issue to the attention of the administration and coaches.
He told Campbell and the other administrators that he wanted what happened to be used as an all-inclusive teaching opportunity and not as a way to demonize specific players through discipline.
"If you just act with discipline, then it causes people to sort of not think about what they did wrong or what they could do better next time," said Palmer, who plays center back and swung up to varsity for the playoffs. "The purpose is not to make them angry. It's not to make them resent me or black people for standing up for what we believe. The purpose is for them to realize what they did wrong on sort of an emotional level and make them introspect."
Palmer says he's noticed that as a student of color in a school that is almost 70 percent white, discussions about race are often tiptoed around or not addressed at all.
He believes that the case with the soccer team serves as the perfect jumping off point for honest dialogue about race. The Grant community, he said, would be remiss if it ignores the opportunity. And given the history of incidents of a similar nature occurring at Grant in past years, administrators recognize the players' behavior can't be thought of as an isolated event.
Grant, like many Oregon schools, has had difficulty dealing with issues around race. That's because students, staff and parents often find it easier to avoid the issue despite the fact that incidents happen in the community on a daily basis. In the end, the lack of discussion hurts the community, according to Palmer, administrators and others.
Marty Williams, the school's restorative justice coordinator, said because students are rarely given a platform to voice their varying perspectives, the student body becomes segregated.
"If you walk through the school, it's divided," he said. "Black kids hang with the black kids; white kids hang with the white kids…It's easy to disconnect. It's easy to not talk to each other…It really hasn't been talked about until now."
Williams said many people are under the impression that "something negative has to happen in order for us to have these conversations about race." This, he said, should no longer be the case.
"It's simple: It needs to be put at the forefront of all of our students and every single kid and every single staff (member) at Grant High School. Because it is an issue," Williams said.
To address the soccer incident, Grant administrators and members of Portland Public Schools' equity and restorative justice teams met last week at the high school. They held mandatory meetings for players and parents to discuss the role race plays in sports and figure out how best to move forward.
While Lewis and Campbell, along with a facilitator from the district, met with parents in one room, Williams and the soccer coaches facilitated the players' discussion in another.
To start things off, Palmer read aloud a letter he had written to his teammates, giving his personal view of the team dinner. An excerpt from the letter said:
"What is your idea of a team? A team dinner especially is an event for everyone to get closer together and enjoy each other's company. But what was that? That was just an hour and a half of laughing at black people and the n word. Nobody stood up and said anything about the wrong going on in that room. Nobody. What you guys showed me that night is that you were in fact, not a team. Because a team has good strong leaders, a team has maturity, and a team has respect."
In the parent meeting, Palmer's mother, Julie Palmer, who is an equity specialist for high schools in the Portland Public School district, also read her son's letter to the parents.
"I can't speak for other people, but in terms of the reaction I received from some parents, I think that it had a positive impact," said Julie Palmer, who recognizes the difficulty some people have with talking about race.
"I hope coaches become comfortable with naming and talking about race," she added. "I hope teachers do. I hope students do. I hope parents do because even though it was socially constructed and we don't want to give it value, it does have an impact."
Head soccer coach Erik Miller said he was disappointed that his team's season had to end on this note. But it's pushed him to acknowledge the intersection of race and sports.
"It's not easy, but you know, it's unfortunately an ongoing issue in our society and even in our community," he said. "It's not easy to talk about, but it needs to be talked about."
Junior Mitchell Jillson is white and was the starting goalkeeper on the team. He was at the team dinner and said that the following discussion about race made him reflect on the events of that night. "Most of the stuff that happened I didn't see as wrong in the moment," Jillson said. "It was over quickly and there didn't seem like there were any repercussions instantly. But there were and I should have stepped up."
While players, parents and administrators said the discussions were productive, administrators say it's only the first step in the right direction.
"I always tell kids that the hardest thing you're ever gonna do is change," said Williams. "We have to get to a place to where we're willing to be available, or open to hearing different perspectives even if it makes us uncomfortable…If we're trying to get stronger as a group, we gotta tear something down."
Williams said the message needs to be heard by the entire community. "It's not just happening at Grant High School," he said. "If you look at the news and everything that's happening in different states, it's happening everywhere. So the question is, as far as our student body and who we are as Generals, what is it that we're gonna do to address the issue?"
Campbell and the rest of the administrative team are taking a proactive approach. "This is something that will make our entire community better as a whole," she said. "It's up to us to lead the way and we all are in this together."
Julie Palmer said she's eager to see everyone step up to the challenge of speaking up and talking about an important issue.
"I think we have this code of silence that exists – and it's not just kids, it's adults, as well," she said. "This is an opportunity to wrap your kids in love, to open up discussion and not have this be a one-and-done."
Campbell said the administration's first priority is creating a safe environment for the uncomfortable and oftentimes vulnerable discussions to take place. The first step to this, she said, is working with Grant staff in collaboration with Portland Public Schools' equity team and restorative justice program to train teachers on how to facilitate classroom discussions around race.
In the short term, the administration is planning individual classroom discussions facilitated by both teachers and district facilitators. That will be followed by a school-wide assembly in January or February, with possible guest speakers and an opportunity for parent involvement.
School officials are still in the early planning stages and Grant Magazine will post updates of the administration's plans as soon as details are available.
For the Grant administration, the hope is that a direct approach to deconstructing race-related incidents will be more effective than previous attempts.
"When our response is disciplinary and when it's punitive, it continues to paint a picture of people of color as victims," said Campbell. "I think this approach is a way to empower, to give voice and give space and time for people to talk…We are actually trying to change the entire way that our community thinks about race."