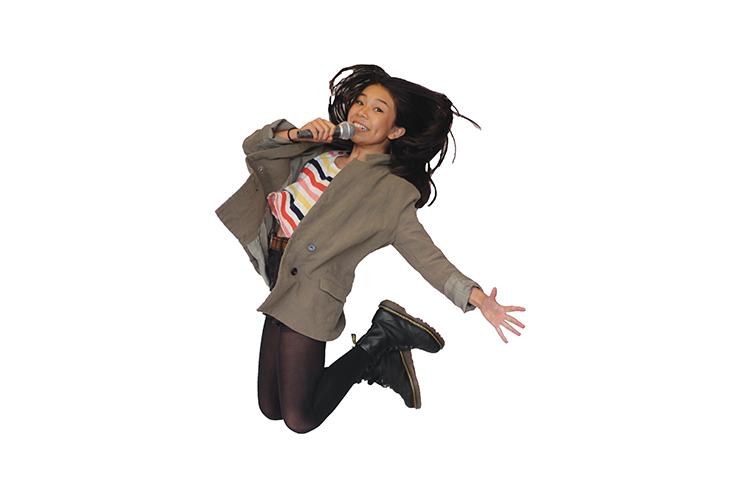 When did you first get into performing?
It's always kind of been a part of my life for some reason. It's been like breathing for me. My parents say I (sang) before I could talk. My mom would play musicals in the house, some of them not so appropriate. So when I was like maybe four I'd go up to people like, "You wanna hear me sing 'Les Mis'?" and then I would sing a lot of explicit content. If I was in choir I would be in the front, and I'd be the loudest one. Or if I was asked to read, like in kindergarten or first grade, I would read it like it was a shakespeare play. So I've always been super dramatic.
Which companies do you act with?
I act with Oregon Children's Theater, Northwest Children's Theater and Artist's Repertory Theater, which is professional theater. I just got into Oregon Children's Theater's teen theater company, and I was super excited, and I was finally allowed to say that to people.
What's hard about performing?
I have stage fright. Backstage I'll get really nervous and my stomach will hurt, or I'll feel sick before opening night or if I know someone really important to me is going to be there. But as soon as I step on stage it all goes away, and that's really magical. I actually think that nerves are really important. If you aren't nervous before a show, you don't care enough. But it helps for me to kind of jump into the role – it gives me so much energy on stage. I channel all the nervous energy into emotions and performance energy.
Do you have any hobbies aside from acting?
My sister, Mika, and I can ride unicycles. We used to go on unicycle excursions, just ride around … it was a really good icebreaker. We'd make friends over our unicycles. In fourth grade I started a unicycle teaching company. I called it BUTT – B-U-T-T: Basic Unicycle Teaching and Training … Yeah, the name was super intentional.
You did well in a national competition for young playwrights. What was your play about?
It was about religious hypocrisy, I guess, tolerance and acceptance within religion. I think that's really important right now – I didn't know how important it was going to be because I made it about a year ago. In my family, someone was, I guess, intolerant of the Islam religion … she'd say things and I was so confused by it, and I just kind of built off of that.
Have you won any awards for your performances?
I won a (Portland Area Musical Theater Award) for my role as Junie B. Jones and I was nominated for my role in Pinkalicious. I also won a Drammy for "Best Young Performer" which was for both straight plays and musicals. When they called my name for the PAMTA, I went into a little bit of shock, and everyone ushered me onto the stage, and I stood there behind the podium – which was a little bit taller than me – and I started thanking as many people as I could. Except for my parents, which I will never hear the end of. For the Drammy, I was so sure I wasn't going to win that I went to Hawaii during the ceremony. Because I was so sure. But then I got a text from my friend that said I won … and I was thinking, 'Who the heck is in charge here and how could they make this error?' But, I had won. And that was probably the only time I ever wished I wasn't vacationing in Hawaii.
How has being Asian American affected your experience as an actor?
There's like the stereotypes like the nerdy math geek or the sushi chef or the karate teacher or the tiger mom. And I hope that in the future there are roles that show the Asian artist like me, or the political activist like my mom, or the funny guy that everyone wants to be around like my dad … I like when directors are able to push the barriers. I was in "A Civil War Christmas" and the character I played was a wannabe confederate soldier. They did very alternative casting … That was the first show I did with Artist's Repertory Theater. They put a lot of actors of color into traditionally white roles, which was really really really great.