It's 5:30 a.m. on a cold autumn morning in Tigard. Duarte Papa-Vicente sits bundled up at the bus stop, J. Holiday playing quietly through his ear buds. When the bus finally pulls up around 6:45 a.m., he heads to the back where the heater is. He spreads his basketball gear and school backpack across the adjacent seats and gets comfortable.
The buses aren't always on time, which creates a predicament. As a member of the Grant High School varsity basketball team, he can't play if he's late on a game day. But the unreliable buses are the only transportation option he has.
For Papa-Vicente, 17, struggle has become a companion. He moved to Portland as a youth from Angola, with the potential to play basketball at a high level. But a series of social obstacles have slowed Papa-Vicente and he has lost the stability he needs to be successful.
Both of Papa-Vicente's parents live on the other side of the world. He's lived in more homes than his fingers can count and as a result he has lacked – until recently – a stable parent figure to guide him through his troubles. He's stuck between two drastically different cultures, leaving him aimlessly moving toward an uncertain future.
Papa-Vicente was born in Lisbon, Portugal on Jan. 12, 1996. He moved to war-torn, Portuguese-speaking Angola with his mother, Augusta Papa, and older sister, Marucina, at the age of one because his parents' families lived there. Later, his younger twin brothers, Dario and Denio, were born.
In 1998, Papa-Vicente's mother decided to move out of Angola with her four children. There was too much bloodshed and she didn't want her children to grow up in constant warfare. "She was saving us," says Papa-Vicente.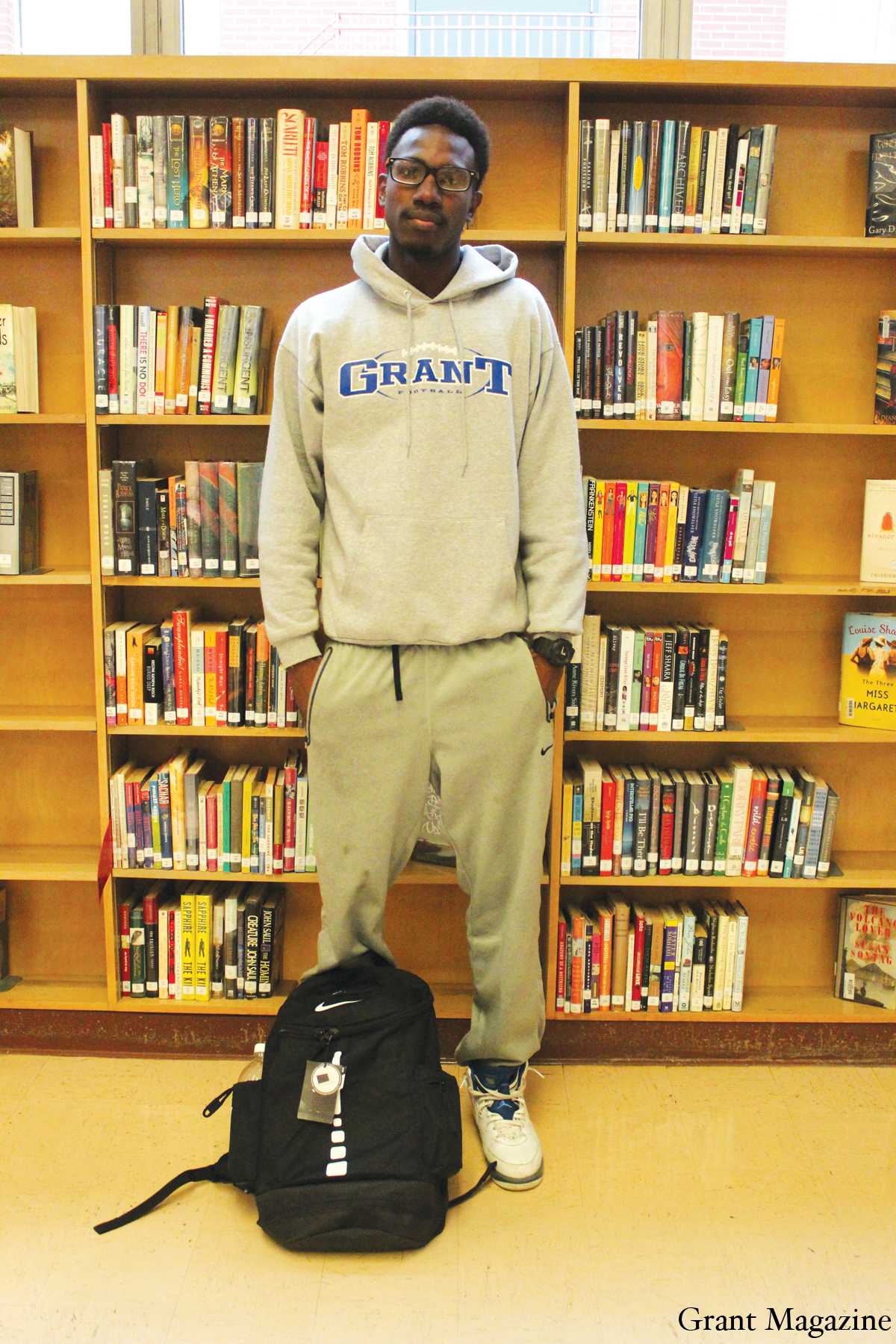 The family wanted to move to Canada where a relative lived. They landed at their layover in Portland only to realize, after a miscommunication, that they would be staying there.
After half a dozen phone calls, they found the Capuias, a Portuguese-speaking family who had room in their home for the Papa-Vicentes to stay. Estevao and Julieta Capuia became "uncle" and "aunt" for Papa-Vicente, and their son, Daniel, became like a brother.
Papa-Vicente remembers the extravagant parties they threw. Angolan music played loudly throughout the home and people came from across the Portland area to celebrate togetherness. Papa-Vicente remembers the food especially. "There was cake, fish with lemon, chicken, little doughnuts, salad, rice, potatoes, gravy, fruit, pies, anything went," he recalls.
The Papa-Vicente family didn't stay long. Papa decided she would take responsibility and raise the kids on her own, moving into a home in Northeast Portland.
But they didn't really stay very long anywhere. The kids lived in eight different homes between 1999 and 2008, as their mother would often leave for months on end, visiting her sick mother and husband in Angola.
In 2007, a couple took the siblings into their Portland home. The husband was a soldier and a heavy cigarette smoker who had a history of heart trouble. The wife had substance abuse issues, Papa-Vicente says. And their daughter, who was born with a health defect, also was involved with drugs and prostitution, Papa-Vicente says.
He had a hard time coping with the family's problems but remembers being good friends with the daughter. "She was nice and seemed normal," he says now. Often they would hang out together but Papa-Vicente's friends knew of her reputation.
"They would stay away from me and be like, 'Oh, look. Duarte's dating a prostitute,'" Papa-Vicente remembers.
Papa-Vicente stayed away from the drugs, the prostitution and the cigarette smoking because "my mom always told us not to go down the wrong road."
When he was 12, Papa-Vicente returned to Angola to be closer to relatives. But when he arrived, he got the news that the husband of the family he stayed with had suddenly died.
"I didn't break down crying, but it did hit me pretty hard," he recalls.
His sadness didn't last long. A few days after landing, Papa-Vicente met his father, Duarte Vicente, for the first time. "It was a lot to take in. He looked exactly like me," says Papa-Vicente. "It was like I was looking in a mirror. But when you discover your family, you also discover the issues."
Papa-Vicente says his father was a prosecutor. And he was also "a player. Well, not exactly a player. Let's just say he got around," he says now.
But Papa-Vicente tried to make the most of it. Living in an upscale neighborhood in a house with running water, a soft bed, and electricity, he found himself more fortunate than many of his Angolan peers.
He also began to play basketball at the club level and eventually at the national level for the under-16 team. He showed tons of promise and played in tournaments around the region, including one in Egypt.
He also quickly came to love the African culture: the women, the food and the hot weather. But there was one side of the culture that did not fit Papa-Vicente: men were not supposed to have feelings.
When his grandmother died, for example, he attended the funeral and was sad even though he didn't know her well. It struck him as odd, though, that other men at the event seemed unfazed. They were all jovial and were drinking and laughing afterwards.
Daniel Capuia can relate to the situation. An Angolan himself, Capuia says: "As an older brother, as a male, in Angola you are not expected to show emotion."
That was hard for Papa-Vicente because, as Capuia says: "He's Angolan but very much Americanized. His world view is seen through an American lens."
In 2011, the Papa-Vicente boys moved back to America for a better education. They moved back in with the Capuias and attended Jefferson High School, beginning halfway through the semester. Though his two younger brothers found they fit in at Jefferson, Papa-Vicente did not.
There were a number of things that weren't clicking. "I couldn't pay attention," he remembers. "Things were really loud. I just didn't feel like a part of Jeff."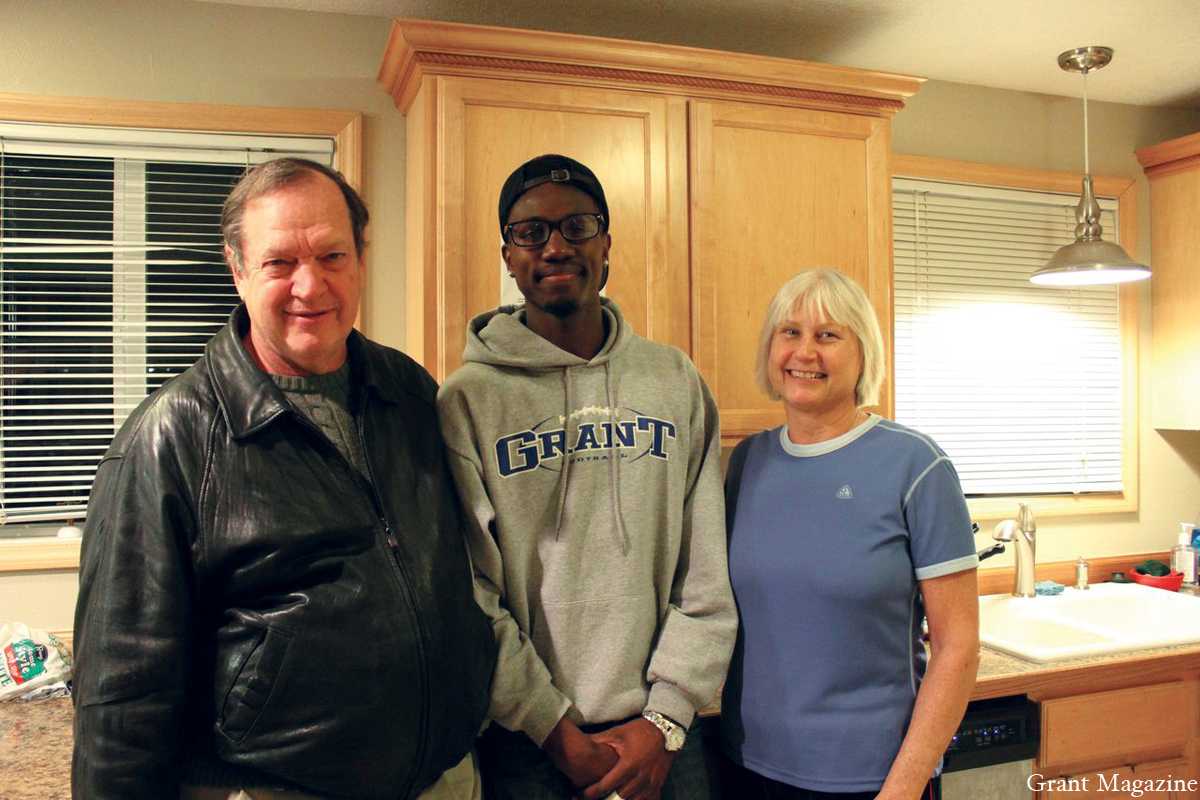 Most importantly, Papa-Vicente felt he had lost his basketball skill.
After his freshman year, Papa-Vicente decided he would transfer to Grant. Men's basketball head coach Paul Kelly had just taken the job and saw a lot of potential in the incoming sophomore.
But Papa-Vicente had problems with keeping his grades up and he was missing some credits. "We tried to get him on the court," says Kelly. "But I was disappointed, he didn't have a high level of maturity or responsibility. I was disappointed that he had some other things going on."
Today, Papa-Vicente is a junior at Grant and he's trying harder. But he's still having a hard time keeping up with his schoolwork. He acknowledges that he's turning his homework in late, or not at all, and his grades in most classes are subpar. He knows he has to improve his academics and admits: "I just need to do homework. It's just that I don't have a lot of time."
Grant English teacher Therese Cooper had Papa-Vicente in her Words of Warfare class last year. She thinks his upbringing may have led to his academic difficulties.
"Those years from 12 to 15 are some of the most important in the sense of a person's development," she says. "Duarte's formative years were in Angola, and now he has to write everything in English. It would be difficult for anybody."
Papa-Vicente's living situation is also in flux. In early October, Estevao Capuia kicked Papa-Vicente out of his house because he would often miss the bus home or be out with friends late, missing his curfew. To Capuia, that was a sign of disrespect. It happened too often, and along with a few other reasons, it ultimately led to his having to move out.
These days, Papa-Vicente has been splitting time in Tigard with Larry and Glenna Reese, his new guardians, and in Beaverton with his girlfriend, Alexus Thompson. Thompson and Papa-Vicente have been dating each other for more than a year. Says Papa-Vicente: "I'm strong for her and she's strong for me."
Thompson, a 4.0 student at Beaverton High School, often supports him and helps him with his homework. "They're connected at the hip," says Thompson's adoptive mother, Kris Kennet. "He's a fixture."
Larry Reese gives three reasons why he and his wife decided to take Papa-Vicente into their home. "One, I heard about his difficult situation. Two, that's what Christians are supposed to do. Three, I really care about him," Reese says. "Duarte needs stability. He's shuffled around so much, and my wife and I want to help him out, help him gain stability."
Reese recognizes Papa-Vicente's difficulties and knows what he needs to fix them.
"It takes a man to say, 'I'm going to be disciplined. I'm going to take responsibility.' And that's all he needs to do," he says.
Daniel Capuia says the most fundamental reason for Papa-Vicente's struggles is his distance from his parents in Angola.
"At the core of everything, he's living on the other side of the world from his parents," Capuia says. "We can consult him, but we cannot do what his family can."
Through it all, Papa-Vicente misses his family. "There wasn't a single Christmas in Portland that either of my parents were at," he says. "Everybody needs parents. Even the Bible says that you need the love of a mother and the care of a father. I looked normal but inside I was breaking down, asking myself 'Who am I?'"
If he can improve his grades a little, Papa-Vicente sees himself at a junior college. Once he gets comfortable academically, he sees a bigger, four-year school where he can play basketball in his future.
"He's going to need to work on some things," says Kelly, the basketball coach. "But the sky's the limit for him right now." ♦