During the holidays, many students fall into the trap of consumerism where the most important part of the season is receiving gifts. Some, though, remain true to their family traditions and focus on what is truly important around the holidays.
Whether it's carefully lighting each candle on a menorah, sharing stories with elders around a plate of new foods or committing to future goals with family members, the holidays become a piece of who we all are.
We talked to three students at Grant who celebrate things a little differently. Hanukkah. Kwanzaa. The Japanese New Year. These unique holidays help define the students and their families in a special way. And through traditions, they get passed along for generations.
Japanese New Year with Hitomi Tanizawa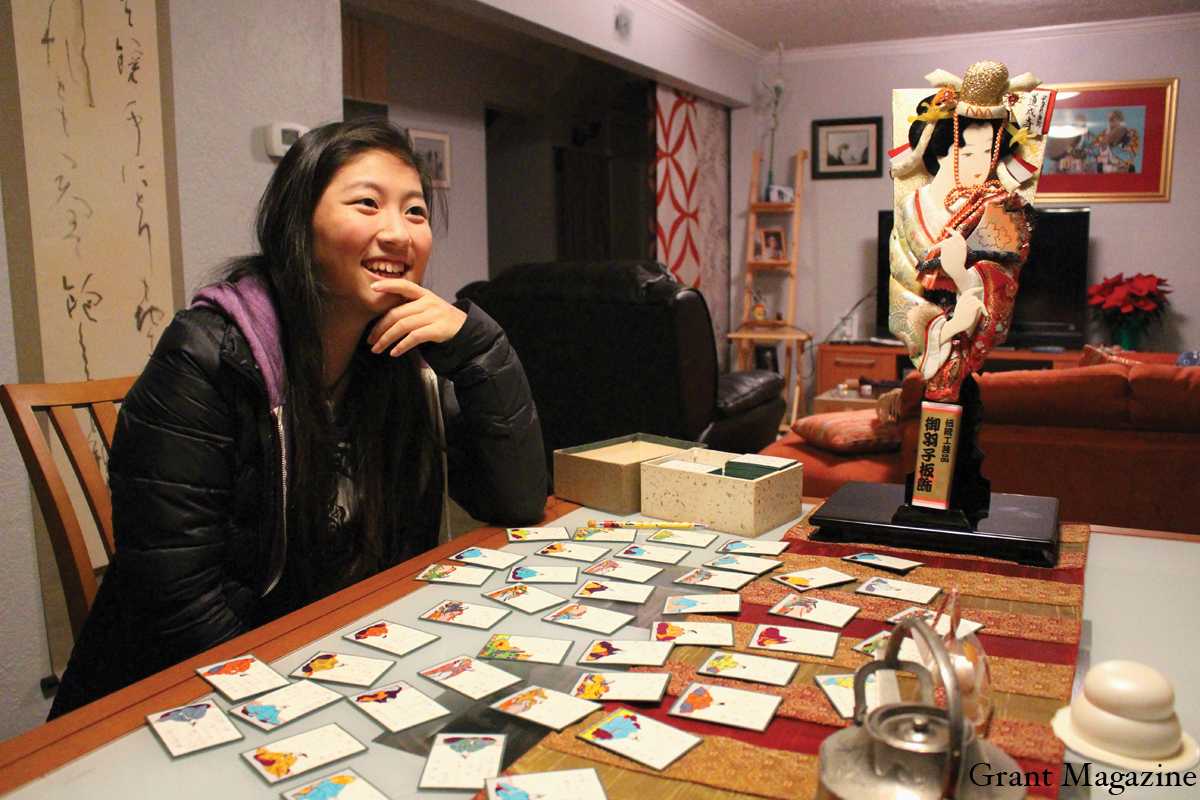 Hitomi Tanizawa remembers visiting a temple in Japan during Japanese New Year when she was three. She picked out a special wood slate to write her goals on for the upcoming year. "I probably wrote 'make new friends' or something," says Tanizawa, a 16-year-old junior at Grant.
Despite the wavering importance of her message, the Japanese New Year has always been a part of her life.
Tanizawa was born in the United States but moved to Japan when she was still a baby. There, she was able to experience the quiet Japanese New Year. It's unlike the festive and firework-filled time in the United States.
She often spent Japanese New Year with her grandparents, who would give her special charms symbolizing different accomplishments over the course of the year. "There are things like academics and health," Tanizawa explains.
She also played traditional Japanese games that she still fondly remembers. "It's just really special," says Tanizawa. "Being with your family and doing something unique and different than what all your friends are doing."
Although her family sometimes visits Japan around the Japanese New Year, Tanizawa acknowledges it's not the same because they're not there every year and they miss out on some of the traditions.
When her family stays in Portland, they celebrate by staying in on New Year's Eve and eating a special type of noodle called Toshikoshi soba, which means "the new year" or "the upcoming year." The next day, they have a feast that includes lots of vegetables and fish. "There's always this type of soup and mochi," says Tanizawa.
Although her family members can't visit a temple and announce their goals, they talk to each other about them while they eat. "The holiday is really meaningful because it really lets you think about what you need to do for the year around your family," Tanizawa says. "It has become a really important part of my life." ♦
Kwanzaa with Taylor Hall-Debnam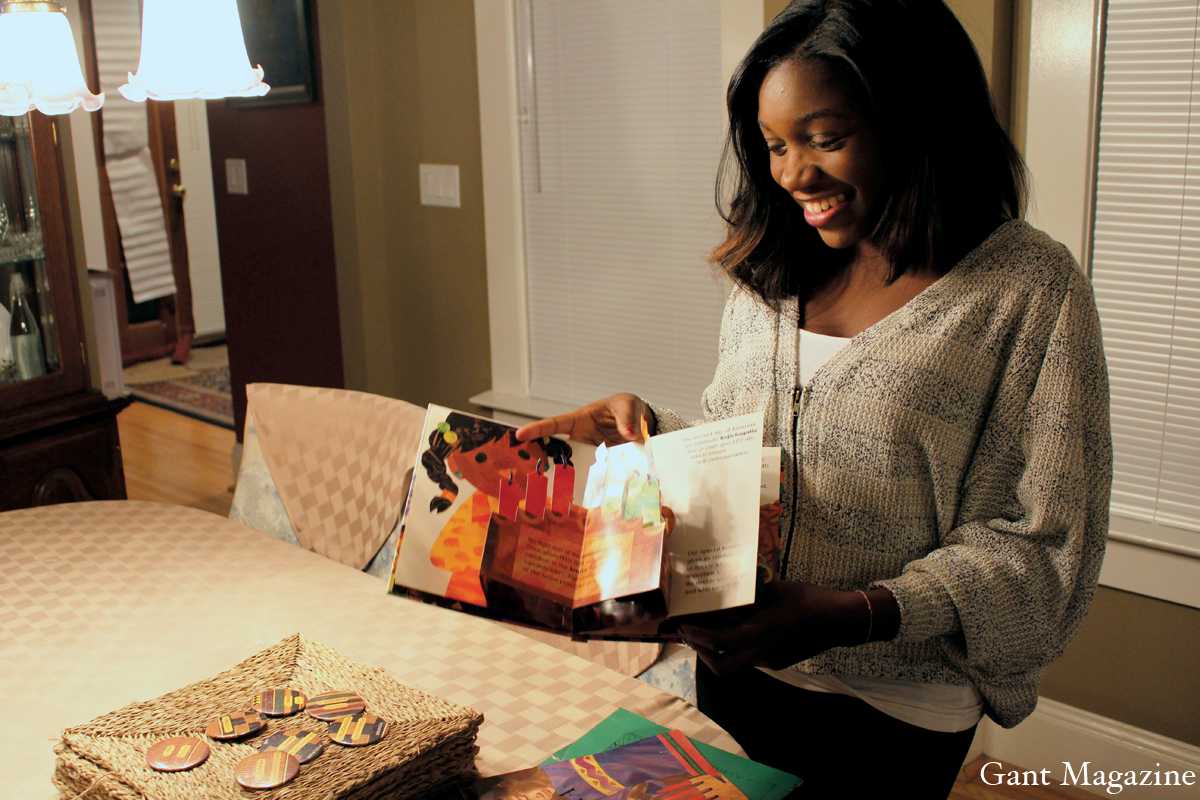 For many Grant families, the day after Christmas marks the end of the season of holiday cheer. But for senior Taylor Hall-Debnam, the festivities are just beginning.
Hall-Debnam, 18, and her relatives celebrate Kwanzaa. "It leads to seeing each other a lot over winter break," Hall-Debnam says with a smile.
Kwanzaa began in the 1960s when Maulana Karenga decided to bring the community together and share the triumphs of black culture in the past, present and future. The holiday lasts for seven days and celebrates the same number of driving principles for African Americans: unity, self-determination, faith, creativity, cooperative economics, collective work and responsibility, and purpose.
Hall-Debnam says the holiday plays a role in uniting the black community. "As a black community, there's nothing that really binds black people necessarily, except for the color of our skin," she says.
Hall-Debnam's mother, who used to be a third-grade teacher, got the family started on Kwanzaa when she was doing research for her students. Since then, winter break brings more than Santa Claus and reindeer to this family.
On the first day, the extended family gathers, plates of food in tow. The smell of yams and chicken fills the house and everyone pulls a name out of a hat to decide whom they will make a gift for. Six days later they re-convene for more food and exchange handmade gifts.
They also light Kwanzaa candles – three red, three green and one black.  Each candle represents a different principle. "That was always nice when you're little and you get to read the little passage," Hall-Debnam says.
Hall-Debnam says the gift exchange is fun for both kids and adults, but the principles of Kwanzaa are the key. "It's a celebration of the culture and how far we, as a community, have come," she says. ♦
Hanukkah with Abby Diebold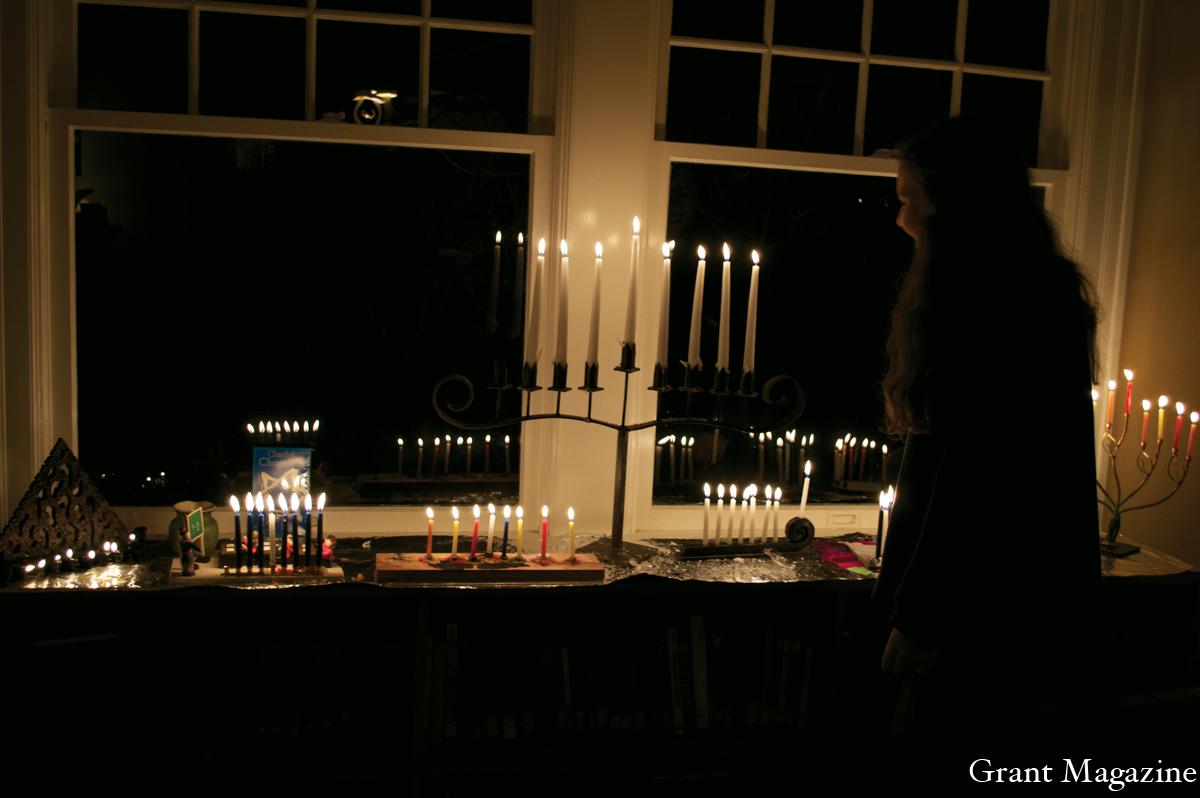 Hanukkah has always been very important to Grant junior Abby Diebold and her family. "One distinct memory I have is when I was eight and my grandma was in the hospital for Hanukkah," says Diebold, 16.
The whole family gathered in New York for the holiday and crowded into the hospital room. They said the blessings there and lit fake candles since the real kind weren't allowed.
Diebold's mother, Deborah Freedberg, also recalls the special Hanukkah that year. "Hanukkah is about spending time with family. That year, we just brought the celebration to her," says Freedberg.
Aside from the importance of that Hanukkah, Diebold's grandmother influenced how the family followed tradition. "My grandma was very involved with her Jewish faith," says Diebold.
She attended a conservative synagogue in New York for most of her life and she was one of the first women allowed to bless the Torah there. "She was given this honor in her 60s," says Diebold. "It was a huge honor and really defined her."
Her grandmother died a few months later, but Diebold feels her memory live on through a special menorah. "It's one that uses real oil," she says. "My mom used it with my grandma when she was little so it's really special that we are able to use it now. It's like the tradition is being passed down."
Every night of Hanukkah, the family lights the candles in the menorah and says the blessings before sitting down to eat a delicious meal. "There are usually latkes, roast chicken or chicken soup, and kugel," says Diebold. "The traditional Jewish foods."
They play dreidel, exchange gifts and spend time together. Her family has a diverse collection of menorahs. One is ceramic and from Israel. Another was a wedding gift from an uncle. But Diebold's favorite is still her grandmother's with its special meaning. "When all the candles are flickering and you're with ones who you care about, it just makes the moment really special," Diebold says. ♦