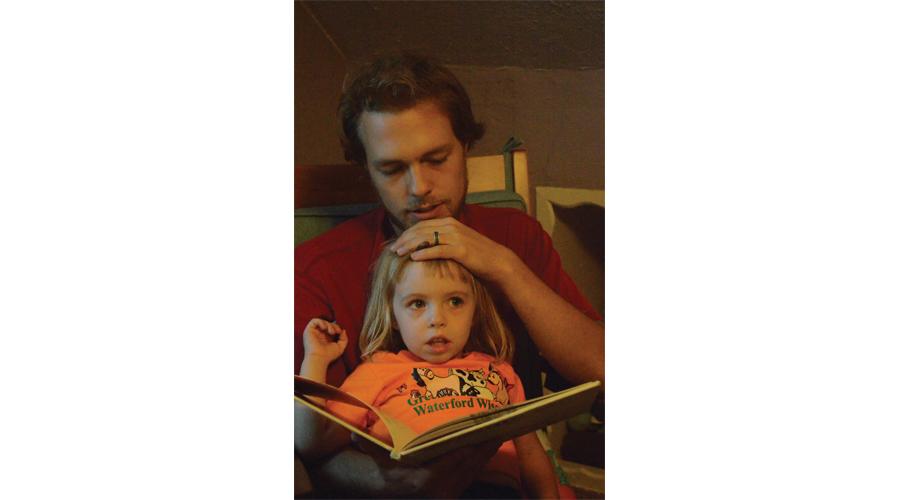 Wisher reads a book with his three-year-old daughter, Mirabella.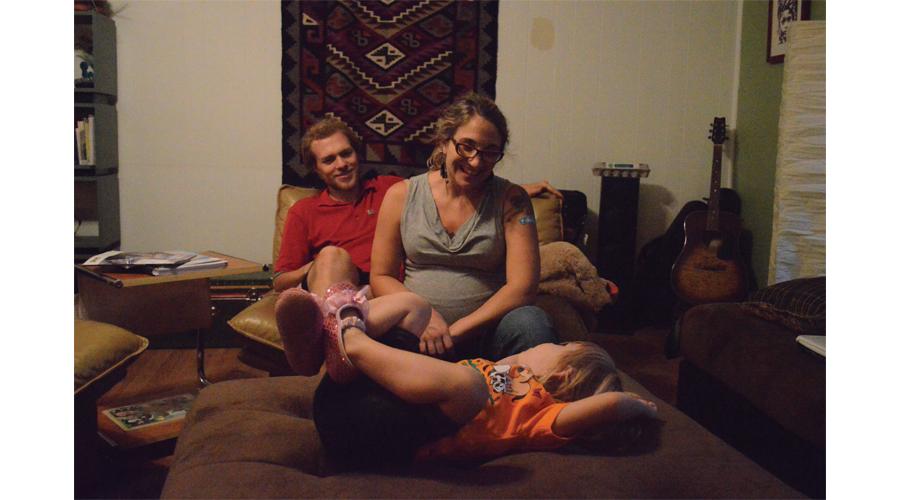 The Wishers "did it backwards"- they had Mirabella in 2011, bought a house in 2012, and married in 2013.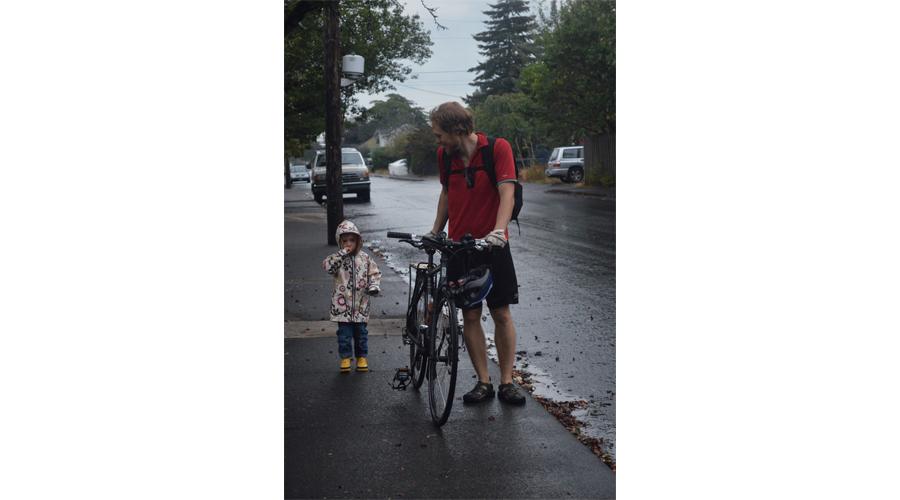 Wisher and Mirabella walk to their Southest Portland home in a rainy afternoon.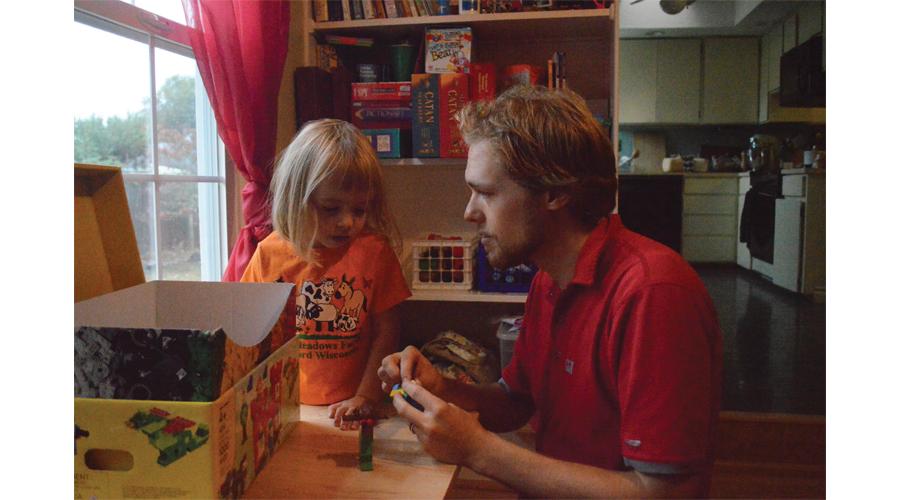 Wisher has always had a knack for fixing things. "That's always one of the perks," says Wisher, "Fixing things is very self-gratifying."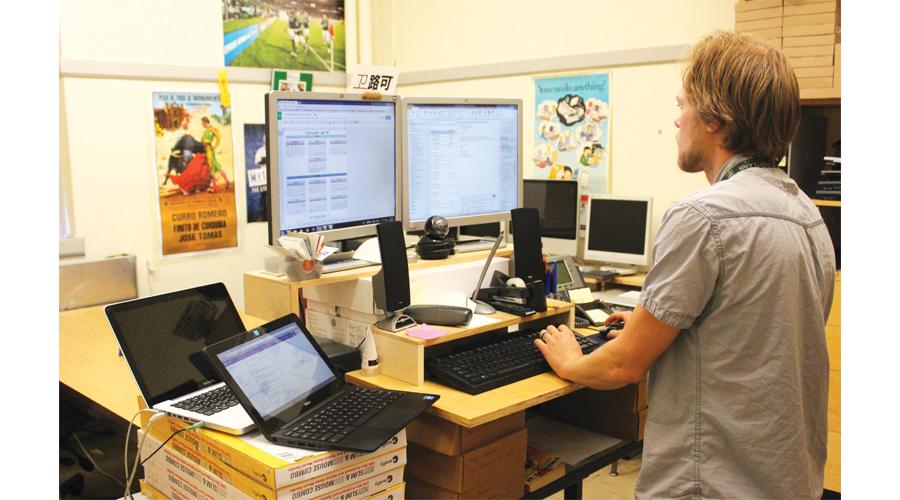 "One of the key things in my role is to always be looking for opportunities and always talk about what our school needs," says Wisher.
It's late afternoon in early October and Grant High School staffers Luke and Tracy Wisher are preparing to make dinner at their Southeast Portland home.
The couple's three-year-old daughter, Mirabella, rushes over to her father and yells, "Daddy!" She grabs him in a bear hug before he hustles her out to the garden in the side yard.
"Let's go get some chard for dinner," he tells her.
Mirabella grabs several leaves of chard, some basil, tomatoes and a carrot. As his wife chops, stirs and dices, Wisher, 29, looks through old family photos with Mirabella.

He is Grant's Information Technology specialist. For four years, he worked at Hosford Middle School, but jumped at the opportunity to work at a high school. If you were to picture the average tech guy, it's not likely that Wisher would come to mind.
He's athletic, active and social. And he doesn't consider his job as something that just deals with computers, wires and gadgets.
Rather, he wants to help get students in a better position to learn. He sees himself as a guide.
"One of the key things in my role is to always be looking for opportunities and always talk about what our school needs," he says. "The more I talk about it, the more it will spread."
Wisher was born in Coos Bay in 1985, the youngest of three children. When he was 5, his parents decided to move to Whitefish, Mont. They gave young Wisher a dog in exchange.
He wasn't excited about the move, but he adapted quickly. The 14-acre ranch they bought had all kinds of animals, including cats, dogs and horses. Mostly known as a ski resort, Whitefish had its benefits, Wisher recalls.
His mother, JeAnna Wisher, describes her son as "dependable, caring, and respectful." She says he was well behaved and always respected adults. "He worked really hard in school," she recalls. "He was a Boy Scout, he played on the Little League, he was the all-American boy."
One day, his mom, who was a business manager at a local elementary school, went out to buy a new computer so she could work at home. Wisher was immediately fascinated by it. The minute she was gone, he downloaded game software onto the computer and would sneak around to play it when his mother wasn't using it.
As a teenager, Wisher and his friends had an after-school ritual of grabbing a few Mountain Dews and heading down to the basement to play video games.
He and his tech-obsessed friends didn't stop at just the video games. They'd volunteer to help set up the new computers at their school, assisting with creating files and other aspects of the growing technology.
His mother remembers one of the only times Wisher got into trouble as a child. She received a phone call from his junior high school and administrators weren't happy. Wisher had found a way to access school records and was looking at his classmates' photos.
Wisher didn't know they were private. Administrators called him in and asked him to show how he gained access so they could prevent it from happening again.
"He just had this knack for computers," says his mom.
Wisher's interest only deepened when a fellow "computer geek" taught him the logistics to creating code and building computers. From there, people started asking him for help, he says.
"That's always one of the perks. Fixing things is very self-gratifying," says Wisher.
But Western Montana – filled with its majestic rugged mountains and cerulean skies – had an influence on him in another way. Wisher developed a love of the outdoors, from hiking and biking to snowboarding to camping and photographing all the wonders he saw.
After graduating high school, he had a summer job as a rafting tour guide in scenic Glacier National Park. Bears are plentiful in the area and Wisher remembers the warnings he gave his tour groups. "If you see a black bear, you should gather up in a group and make loud noises together to scare it away," he says now. "And if it's a Grizzly, whoever runs the fastest wins."
He recalls one particular tour when he and his fellow guide fell asleep only to be woken by someone who saw a black bear. Wisher and his colleague acted fast.
Wisher climbed atop the other tour guide's shoulders, trying to appear larger than the bear as they hollered at it. The guests joined in, clapping and shouting. "I'm sure we looked ridiculous," he says.
The bear took notice and stood up on its haunches, towering above them. It eventually got down and sauntered back into the woods. "Thank God it was just a black bear," laughs Wisher.
He remembers always having a camera and taking photos of landscapes, as well as animals. As his interest in photography continued to grow, he assisted the company in making photography a part of the business.
In 2004, he attended Flathead Valley Community College in Kalispell, Mont., where he earned his associate's degree in marketing and communications. He also started helping out with computer work at the school his mom worked at and continued playing computer games in his spare time.
In 2007, Wisher moved to Portland to help his brother, Paul, with his three young sons. One day, Wisher was sitting in his brother's living room, perusing Craigslist when he came across an ad. "Want to get paid to watch dodgeball?" the ad read. The job was for Recesstime Sports League, an adult league that sets up and supervises alternative games.
"He turned out to be very self-motivated and he showed a lot of enthusiasm," says Colleen Finn, the founder of Recesstime, which has more than 5,000 partcipants in Portland. "He had a lot of ideas no one else could have thought of. He thinks outside of the box."
It was because of Recesstime that Wisher found a path to his current job. Someone he met through one of the teams worked for Portland Public Schools. He told Wisher to check out the district's jobs website. Wisher got a job as an IT specialist at Hosford.
He started the Walk and Bike program to get kids to walk or bike to school. He also organized after-school activities for the students, like yearbook and garden club.
One day, he was called into a Spanish classroom to fix a problem with a computer. It was there that he met Tracy Kosmecki, the class's student teacher. She remembers thinking to herself: "That's the IT guy?" when Wisher entered the room. Once he left, the classroom let out a spontaneous "Ooooooh" after spotting the obvious chemistry between the two.
After Kosmecki finished her student teaching, Wisher called and asked her out. "It didn't really feel like a date," she recalls.
She remembers the moment she fell in love with Wisher. She and her friends decided to do the Naked Bike Ride and asked Wisher if he wanted to join in. He accepted the challenge. "After riding around Portland naked together, I knew he was the man for me," she laughs.
It was clear from the beginning the relationship would work. They had Mirabella in 2011. Then, they purchased a house in Southeast Portland a year later. When Wisher proposed to Kosmecki, he took her to Montana to see Glacier, his favorite national park.
The pair cross-country skied to a waterfall near Lake McDonald. Everything was covered in a layer of snow. When they reached the waterfall, Wisher proposed before they hiked back on snowshoes. They got married in 2013. "We did it backwards," jokes Wisher. The couple is expecting their second child soon.
Tracy Wisher, 34, had been working at Grant for nearly a year when her husband decided to apply for the job there. The previous IT specialist had accepted a job at the district office. Wisher had been offered that job first, but declined. Working in a cubicle and answering phones didn't appeal to him.
"I really wanted to see the fruition of my work, and be able to have the flexibility of doing grant writing and fundraising, and doing things I was passionate about," he says.
In March 2014, he got the job at Grant. He would like to get more kids involved in coding, a skill that can open up opportunities in nearly every profession, he says. He'd also like to bring the Walk and Bike program to Grant.
He captained the Grant Bike Commute Challenge team of 18 staff members. During the month of September, they biked more than 1,450 miles altogether. "He's really into creating community among the staff at Grant," says co-captain and history teacher Jeremy Reinholt.
"Luke's awesome," Reinholt adds. "He has a great sense of humor and he's super chill. He's really responsive. If you have computer issues and you email him, he gets back to you just like that."
Wisher couldn't be happier being part of Grant's community. He gets to work in the same building as his wife and he loves his job. "I'm looking forward to the challenge of working at a high school and bringing some new ideas to Grant," he says.