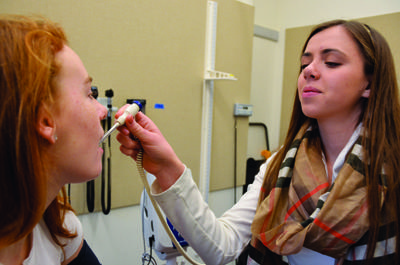 The first bell signaling the start of class rang through Clackamas High School. The wintertime weather clung to the air as students shut their lockers and hurried to class
But as students sat in desks and pulled out their textbooks, But fifteen students, including Alla Mikityuk all of Russian descent, were missing from their classes,. While those students' classmates began to work on assignments, they piled into each other's cars to drive to Mt. Hood to go snowboarding.
When Alla Mikityuk was in her first two years of high school, skipping school to go snowboarding or anything else was a usual routine.
"I didn't feel connected to school," Mikityuk says. "I had a lot of friends that were non-school goers."
Since Mikityuk knows what it's like to experience such scenarios as a high schooler, she now can relate and help students at Grant High School through her job as a medical assistant in the Multnomah County School Based Health Center.
"I understand the struggles that teenagers have, from being one," Mikityuk says. "Trying to fit in, trying to find a place, all the different pressures you have, finding your life."
The Grant health center is one of the thirteen in Multnomah County, and it offers everything that a regular doctor's office would for students ages 14 to 18. The health center allows students to take initiative for their own health care. In Oregon, to receive your own routine medical care without your parents in Oregon you only have to be 15.
But few of Grant's 1600 students take advantage of what the clinic has to offer.
"I truly think there are a lot of people that have no clue we're here," says Family Nurse Practitioner Suzanne Ahn, who works at Grants health center.
Mikityuk immigrated to the United States from Ukraine in May of 2001 with her four younger siblings and parents. After spending her freshman and sophomore year at Clackamas High School, she switched into a home school program in order to receive her diploma. She realized she wasn't going to graduate if she continued her high school career in the way she was so she decided to change the atmosphere of her education.
"That was my stuck point of what I was going to do next," Mikityuk says. "I had to have a new start."
Her fresh start came when she began working as a medical assistant WHERE?. Mikityuk's mother was the one that suggested the idea. When the family came to the United States, she MOTHER NAME went to college to study for a degree in medical assisting, and got a job at the Northeast Health Center. Five years after that, she was transferred into the School-Based Health Center program, and now works in the Franklin High School health center.
"My mom encouraged me a lot," Mikityuk says. "She was like 'you're going to love this job', and I do."
Mikityuk went to Pioneer Pacific college to acquire a medical assisting degree in 2010. She first worked for a year and a half on call for the school-based health centers, then began as a full-time medical assistant in October of 2012 for Grant.
The Grant health center opened in 1990, but most of the in-school health centers in Multnomah County were built in the 1980's, due to rising rates of teenage pregnancy and the need to spread awareness Since then, the services these health centers Provide cover more than just birth control.
"It's like standard medical- anything you would make an appointment for," Ahn says.
You can visit Grant's health center for things like sports physicals, blood pressure, immunizations, (such as flu or HPV shots), weight loss, nutrition advice, reproductive health and family planning, prescriptions and advice for anxious or depressed students.
"We're right here on site, the access is great," Ahn says. Kids can walk down the hall to make an appointment and can usually get one that day.
"You don't want to take time off of your AP calculus class to drive across town and sit in a waiting room for an hour to be seen. A lot of people see it as more accessible; people think it's friendlier, like 'oh, you get me,' because all we do are teenagers."
Also part of Grant's medical staff is Grant nurse Lue Ann Beck, who resides in the clinic but is employed through Portland Public Scools instead of Multnomah County
"I think it is very needed," Beck says of the health center. "Students get the right information they need."
Beck is a familiar face for with many of the students at Grant since she has worked in many of their other northeast schools like Beaumont Middle School, Alameda Elementary, and Irvington. It is easier for students to go to the nurse not only because she's walk-in, but because they see her in the hallways and you know who she is.
But for many Grant students, the health center is a safe and convenient place where they can go to get help for any sort of teenage health-related problems.
Junior Duarte Papa-Vicente is currently a junior at Grant. He came across the health center accidentally while he was looking for his third period U.S History class in September 2012, and now is a regular patient.
"They're here for you. They help you with anything," Papa-Vicente says. "They treat me so good. Like if I'm hungry in the morning and I need something to eat, [Suzanne] will be like 'oh here's something', like a granola bar or almonds or something like that."
Because he doesn't have another doctor, Papa-Vicente found out through Ahn that he has a high blood pressure, and he receives medical attention for that during his health center appointments. Ahn gives him advice to keep his blood pressure down, such as eating more chicken and less beef.
Papa-Vicente doesn't think the health center is recognized enough by many Grant students, mainly because a lot of teenagers take things for granted, such as health care.
"I don't think students are intimidated to go, they're just lazy," Papa-Vicente says. "They think it's not needed, or boring. They don't want to do it because it's not cool or something. It's more of a 'I'd rather be cool and be hurt than nerdy and healthy.'"
Many Grant students don't even know the health center exists.
"I've never been, I don't really know anything about it," says freshman Lena Bartels.
Many students adhere to the stereotype that the only reason kids go to the health center is for condoms or birth control. "They give out band-aids and condoms," says freshman Maddy Kuhn.
"Kids are like, 'oh, I can't be seen going in there, people are going to think I'm going to get birth control," Beck says.
"When people see other people going into the clinic, that's one of the top things people worry about," Ahn says. "Like, 'oh my god, they're going to think this about me.' And that is one of the tough things we have to deal with."
The health center does offer these services if students need them.
"Friday night, before the clinic closes, guy rushes in 'oh my god, I'm going to have sex this weekend, I need a condom'- I would certainly hand them over," Ahn says. "I'm trying to prevent STDs as much as I possibly can."
Female students use the health center more often than men. Jill Daniels, the health centers' program manager, estimates it's about 60% female and 40% male in the Grant health center.
"Sometimes [guys'] girlfriends make them come here," Ahn says. "A lot of times they're here for a sports physical."
Senior Avalon Reynolds-Brice and her sister, sophomore Haven Brice, are two female students that discovered the health center. Reynolds-Brice decided to do the summer abroad program AMIGOS her sophomore year and needed to have certain vaccinations to protect her from foreign diseases in Costa Rica. Back then, the family didn't have a regular doctor.
"The health center is a great opportunity if you don't have a physician or health insurance," Reynolds-Brice says. "It's even easier than going to the doctor."
Many of the health center patients how found out about it through their friends or from health class. Jeff Washington, Multnomah County's Community Health Educator, is responsible for making sure students know about all the clinics have to offer by doing health presentations in PPS health classes.
"The goal is to make sure we have an even playing field; that everybody at school has some sort of knowledge about how to protect themselves, and why they need to be concerned about it," Washington says.
Adults like Washington understand that teenagers need to be treated like adults, because that is what high school is supposed to be preparing you for. He remembers his teen years and recognizes that every single person went through that age.
"Twelfth graders are months from going out into the world, and being in many ways considered an adult… But never having been treated like an adult," Washington says.
Washington makes clear he is not around to tell students what to do, but provide the information that is beneficial to have for when certain times arise. As a health educator, he notices what works and what doesn't work for teenagers.
"I hear this 'just say no' idea, and I think we need to do better than that," Washington says. "It didn't work for my generation, it didn't work for the one before me, and it's not going to work for this one."
The health center exists for more than just the services it offers, it's a gateway for students to start taking initiative for their own personal health.
"I understand the struggles that teenagers have, from being one," Mikityuk says. "Trying to fit in, trying to find a place… All the different pressures you have. All the services we can provide, we do, so they can succeed."