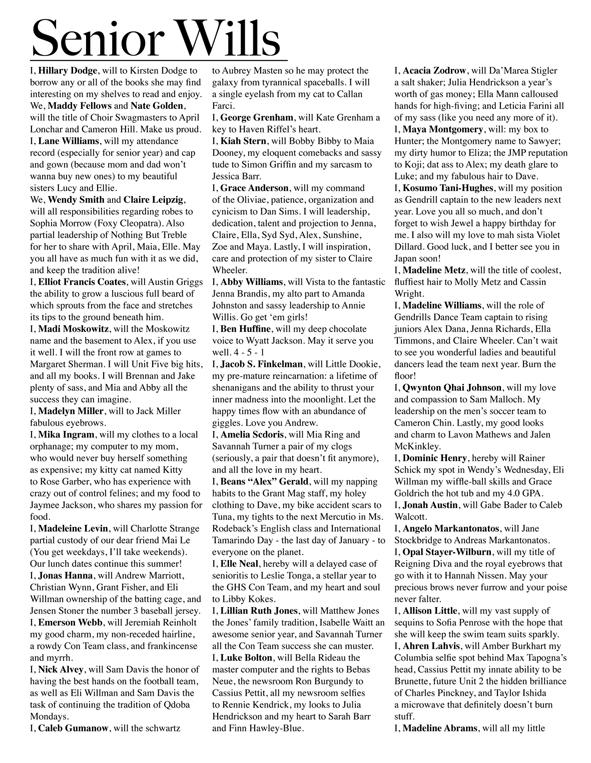 I, Hillary Dodge, will to Kirsten Dodge to borrow any or all of the books she may find interesting on my shelves to read and enjoy.
We, Maddy Fellows and Nate Golden, will the title of Choir Swagmasters to April Lonchar and Cameron Hill. Make us proud.
I, Lane Williams, will my attendance record (especially for senior year) and cap and gown (because mom and dad won't wanna buy new ones) to my beautiful sisters Lucy and Ellie.
We, Wendy Smith and Claire Leipzig, will all responsibilities regarding robes to Sophia Morrow (Foxy Cleopatra). Also partial leadership of Nothing But Treble for her to share with April, Maia, Elle. May you all have as much fun with it as we did, and keep the tradition alive!
I, Elliot Francis Coates, will Austin Griggs the ability to grow a luscious full beard of which sprouts from the face and stretches its tips to the ground beneath him.
I, Madi Moskowitz, will the Moskowitz name and the basement to Alex, if you use it well. I will the front row at games to Margaret Sherman. I will Unit Five big hits, and all my books. I will Brennan and Jake plenty of sass, and Mia and Abby all the success they can imagine.
I, Madelyn Miller, will to Jack Miller fabulous eyebrows.
I, Mika Ingram, will my clothes to a local orphanage; my computer to my mom, who would never buy herself something as expensive; my kitty cat named Kitty to Rose Garber, who has experience with crazy out of control felines; and my food to Jaymee Jackson, who shares my passion for food.
I, Madeleine Levin, will Charlotte Strange partial custody of our dear friend Mai Le (You get weekdays, I'll take weekends). Our lunch dates continue this summer!
I, Jonas Hanna, will Andrew Marriott, Christian Wynn, Grant Fisher, and Eli Willman ownership of the batting cage, and Jensen Stoner the number 3 baseball jersey.
I, Emerson Webb, will Jeremiah Reinholt my good charm, my non-receded hairline, a rowdy Con Team class, and frankincense and myrrh.
I, Nick Alvey, will Sam Davis the honor of having the best hands on the football team, as well as Eli Willman and Sam Davis the task of continuing the tradition of Qdoba Mondays.
I, Caleb Gumanow, will the schwartz to Aubrey Masten so he may protect the galaxy from tyrannical spaceballs. I will
a single eyelash from my cat to Callan Farci.
I, George Grenham, will Kate Grenham a key to Haven Riffel's heart.
I, Kiah Stern, will Bobby Bibby to Maia Dooney, my eloquent comebacks and sassy tude to Simon Griffin and my sarcasm to Jessica Barr.
I, Grace Anderson, will my command of the Oliviae, patience, organization and cynicism to Dan Sims. I will leadership, dedication, talent and projection to Jenna, Claire, Ella, Syd Syd, Alex, Sunshine, Zoe and Maya. Lastly, I will inspiration, care and protection of my sister to Claire Wheeler.
I, Abby Williams, will Vista to the fantastic Jenna Brandis, my alto part to Amanda Johnston and sassy leadership to Annie Willis. Go get 'em girls!
I, Ben Huffine, will my deep chocolate voice to Wyatt Jackson. May it serve you well. 4 – 5 – 1
I, Jacob S. Finkelman, will Little Dookie, my pre-mature reincarnation: a lifetime of shenanigans and the ability to thrust your inner madness into the moonlight. Let the happy times flow with an abundance of giggles. Love you Andrew.
I, Amelia Scdoris, will Mia Ring and Savannah Turner a pair of my clogs (seriously, a pair that doesn't fit anymore), and all the love in my heart.
I, Beans "Alex" Gerald, will my napping habits to the Grant Mag staff, my holey clothing to Dave, my bike accident scars to Tuna, my tights to the next Mercutio in Ms. Rodeback's English class and International Tamarindo Day – the last day of January – to everyone on the planet.
I, Elle Neal, hereby will a delayed case of senioritis to Leslie Tonga, a stellar year to the GHS Con Team, and my heart and soul to Libby Kokes.
I, Lillian Ruth Jones, will Matthew Jones the Jones' family tradition, Isabelle Waitt an awesome senior year, and Savannah Turner all the Con Team success she can muster.
I, Luke Bolton, will Bella Rideau the master computer and the rights to Bebas Neue, the newsroom Ron Burgundy to Cassius Pettit, all my newsroom selfies to Rennie Kendrick, my looks to Julia Hendrickson and my heart to Sarah Barr and Finn Hawley-Blue.
I, Acacia Zodrow, will Da'Marea Stigler a salt shaker; Julia Hendrickson a year's worth of gas money; Ella Mann calloused hands for high-fiving; and Leticia Farini all of my sass (like you need any more of it).
I, Maya Montgomery, will: my box to Hunter; the Montgomery name to Sawyer; my dirty humor to Eliza; the JMP reputation to Koji; dat ass to Alex; my death glare to Luke; and my fabulous hair to Dave.
I, Kosumo Tani-Hughes, will my position as Gendrill captain to the new leaders next year. Love you all so much, and don't forget to wish Jewel a happy birthday for me. I also will my love to mah sista Violet Dillard. Good luck, and I better see you in Japan soon!
I, Madeline Metz, will the title of coolest, fluffiest hair to Molly Metz and Cassin Wright.
I, Madeline Williams, will the role of Gendrills Dance Team captain to rising juniors Alex Dana, Jenna Richards, Ella Timmons, and Claire Wheeler. Can't wait to see you wonderful ladies and beautiful dancers lead the team next year. Burn the floor!
I, Qwynton Qhai Johnson, will my love and compassion to Sam Malloch. My leadership on the men's soccer team to Cameron Chin. Lastly, my good looks and charm to Lavon Mathews and Jalen McKinkley.
I, Dominic Henry, hereby will Rainer Schick my spot in Wendy's Wednesday, Eli Willman my wiffle-ball skills and Grace Goldrich the hot tub and my 4.0 GPA.
I, Jonah Austin, will Gabe Bader to Caleb Walcott.
I, Angelo Markantonatos, will Jane Stockbridge to Andreas Markantonatos.
I, Opal Stayer-Wilburn, will my title of Reigning Diva and the royal eyebrows that go with it to Hannah Nissen. May your precious brows never furrow and your poise never falter.
I, Allison Little, will my vast supply of sequins to Sofia Penrose with the hope that she will keep the swim team suits sparkly.
I, Ahren Lahvis, will Amber Burkhart my Columbia selfie spot behind Max Tapogna's head, Cassius Pettit my innate ability to be Brunette, future Unit 2 the hidden brilliance of Charles Pinckney, and Taylor Ishida a microwave that definitely doesn't burn stuff.
I, Madeline Abrams, will all my little freshmen my sass and inability to be on time to class. To Eli Hacker I will my Pooh Bear Pillow Pet and to Emilija Thorburn I will my love for Mary Rodeback.
I, Demitra Mallos, will the Mallos name to my baby sister, Eleni. You are the last Mallos to roam these halls – make us proud!
I, Sara Onitsuka, will my room and math notes to Connor Onitsuka, my fabulous name to The Collective Sara, and many well wishes to the new/returning Royal Blues.
I, Abby Hauth, will to my little sis Sophie Hauth, super cute outfits forever AND her own locker for the next three years.
I, Javon Carter, will my confidence to Sam Butler, my good looks to Max Tapogna, and charm to Justin Robinson. Lastly, I bequeath my singing talents to Dea'aira Willingham.
I, Leah Epstein, will Lily Epstein my car, clothes and coolness. Also all my lesson cards this summer.
I, Mary Osborne will Anna Shaff the duty of yelling "clear eyes, full hearts, can't lose" before the second half of lacrosse games.
I, Graham Harris, will my Unit 3 Consitution knowledge to Jake Faha.
---
I, David Austin, to the seniors of Grant Magazine, hereby leave the following sage advice:
Luke Bolton – Never use the phrase "The Wooooorst" when you are at college; keep in mind that you belong at the top when you are at Pratt; stay at the front of the line because you belong there; and continue to lead like you led Grant Mag this year and you will go far.
Alex Gerald – Keep the 'fro, 'cause it's in our genes; get your dress game on for NYC; never forget how you guided people in magazine as it was always marvelous to watch; know that your written and spoken words should give you major swagger; and my family will always have a place for you on the couch.
Rachel Germundson – Leave the horse at home because I know you can do it on your own; find your confidence and keep it centered; have lovely conversations and the world opens up; and remember to never be scared of taking on new things.
Ahren Lahvis – If you ever stumble, remember what you did in your time on Grant Mag; talk more because what you have to say matters; walk with a swagger; and think about coming back to help teach some profile writing to future Grant Mag kids.
Madeline Metz – Don't ever let your hair go flat; do NOT procrastinate ever again; keep sharing your wisdom; keep in touch with your sister so she can survive Grant Mag; and ALWAYS be good to your mom.
Maya Montgomery – Always trust your core group because they care deeply; stretch yourself and talk to people – they will listen to your wisdom and could probably use it; find a good boat to bloody your knuckles; truck someone at Hamilton just for the fun of it; and remember that home is in the newsroom atmosphere you helped create.
Zoey Neville – Remember that 15 minutes early is on time; continue to be tenacious; never give up on a story that you know is good; please send baked goods to the Grant Mag newsroom once in a while; and remember to get in a routine that you own once you're at college.
Kosumo Tani-Hughes – Speak up so the world hears what you have to say; know that when something is uncomfortable for you that's a good thing – it will bring out a new side of you; and do what makes you happiest.
You guys are great and we got out all eight. Easily, they are the best ever in Grant Mag history. Go forth and do your best.
Oh yiiiiii!