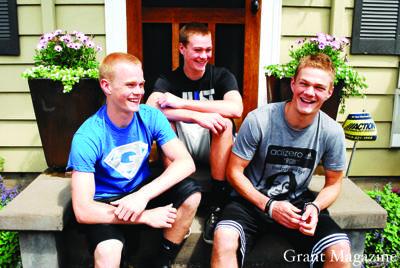 Whenever senior Emily Richardson passed her sister, Cory, in the hallway, she usually wasn't even acknowledged with a glance. It's probably a common scene for many siblings at Grant High School.
But soon Emily Richardson will have her bags packed and ready to go off to college, leaving behind her sophomore-turning-junior sister to carry on the family's name at the school.
When older siblings leave, the separation can come with a new level of stress and adaptation to their new lives at home and school. Laurie Cox, a licensed clinical social worker in the Portland area, often sees teens and their families experience such changes.
She says how siblings interact when they're at the same school can depend. "Families with competition creates stress between the siblings because they have different interests but they'll push each other due to the competition," Cox says. "It's most helpful if parents can recognize each child as individuals and support them. Categorizing them is just a shortcut in life."
Cox says when older siblings move out, something else can happen. "Some kids may feel deserted without immediate access to their sibling," she says. "Others get to be the only child for the first time and like it."
Grant Magazine sat down with three sets of siblings to address competition, love, anxiety and how they will deal with the changes that lie ahead.
The Richardson sisters: Shared space, strong connections 
With two queen beds, two dressers and a stereo squeezed into a dining room, Emily, 18, and Cory Richardson remember spending a summer during middle school crammed together while their house was being remodeled.
"It was horrible," says Cory, who is 15. Sleepovers became awkward and fights escalated quickly as their bedroom became the entryway for guests who stopped by. Stuck in the small room, their summer that year was filled with the sounds of Hannah Montana and the song "Everytime We Touch" by Cascada.
This year at Grant, the two had their own space within the walls of the school. "We never communicate," says Emily.
But while their relationship appears distant, they constantly talk over each other and compete to finish stories that range from their childhood memories to last week's ride home from dinner. Their time spent together never dwells on important things like "our schedules, days or sports," says Emily.
"It's awkward sometimes when we're in the car and the radio isn't working and she's like 'So how was your day'," says Cory.
From the beginning, the Richardsons were completely different people. While Emily sports jeans and flannel shirts, Cory opts for lacy skirts and colorful tops. When they were younger, the two competed for parental attention. "In all of our home videos, it's all competition for screen time," says Cory.
Emily is a self-described band geek and has participated in soccer, frisbee, rugby, dragon boating and softball. On the other side of the spectrum, Cory was a varsity cheerleader and takes the occasional tumbling class.
What brings them together is their studious sides. Emily will attend Worcester Polytechnic Institute. Both girls excel at math and are ahead of most Grant students.
Emily says she doesn't feel the need to give Cory advice about studying because "she's already smart enough."
Like any siblings, they argue over bedroom space and the closet between their two rooms. They've set up bookcases to separate the closet although Cory complains her portion is much smaller and that she "obviously has more clothes."
What does Cory covet most when Emily leaves? Getting the whole closet and the car. She admits, though, that "yeah, I'll probably cry" when big sis leaves.
She points out that "Emily will cry, too. She'll be like: 'I miss Cory so much' every night."
TaeVeon Ashley and Le'Varre Franks: Looking out for each other  
Grant senior TaeVeon Ashley, 18, draws a card from a deck. It's a nine. Nine pushups later, he draws a new card while his brother, Le'varre Franks, a 16-year-old Grant sophomore, attacks his own deck of cards.
The two continue to see who can make it through an entire deck of cards first, each card representing the number of pushups they have to do.
Despite the fact they don't live in the same house, Ashley and Franks see each other on a regular basis. "We always look out for each other," says Franks.
They are two of seven siblings in a blended family.
TaeVeon has noticed that having family around helps him stay focused in school and make good choices. His family tree at Grant isn't limited to Le'Varre. Student support and restorative justice administrator Marty Williams is also a distant relative. "It's good knowing that people have the best intentions for you," says TaeVeon.
TaeVeon says he'll miss having family around when he leaves for Southern Oregon University in the fall. He hopes to visit Portland on a regular basis and continue to have a connection with his brother. He wants to make sure Le'Varre takes care of himself. "He's a giver and sometimes he tries to please other people before himself," TaeVeon says.
Le'Varre says he'll miss the advice he's received from his brother over the years. "He taught me how to keep out of trouble and be on time for school," he says of TaeVeon.
He tells Le'Varre: "Just keep working. Stay on top of studies, try hard and pay attention."
The Davis family: Togetherness
Luke Davis, 14, remembers discovering a junkyard full of glass bottles and broken televisions with his two brothers, Quinn and Sam, last spring while visiting their grandfather's Texas ranch.
They raced back to the house on a four-wheeler, grabbed some pellet guns and hurried back to shoot and shatter hundreds of glass bottles.
For the Davis family, togetherness is the key. "We have a lot of interaction, a lot of fun," says Quinn, who is 18 and will graduate this year.
Sam, 16, will be a junior next year and Luke will be a sophomore. Brother Quinn is heading to college in Texas or at the University of Oregon, where his sister, Claire, goes to school.
When Quinn leaves, his younger brothers will be prepared. "It will be harder in some ways and easier in others," Luke says. "There will be two gone now. I mean, last time it was my sister but now I know what to expect."
Sam now realizes how much Quinn has been there to share his experiences. He says he will miss "having an older brother who is there for advice and having another person in the house that's fun to hang out with. Also, losing a family member, even if he's just a little ways away. It's hard for however long they're gone."
When their sister comes home from Oregon, Luke says it feels like old times. When she is gone the boys still have each other, but Luke says: "Whenever she leaves it kind of feels a little bit empty again."
Quinn says he will offer advice while he's still in town. "Don't care too much about what people here think. Just focus on what you need to do in terms of getting ready for college," he tells his younger brothers. He also hopes they will choose their friends wisely although he believes they have already done a pretty good job in that category.
They'll all miss the basketball games outside their house with the hoop they've had since they were little. Although the games can get competitive at times, more often they bring the family together.
"Since we're all similar, it's not just brothers. It's like having friends in the house," Quinn says.
Luke Davis appreciates the relationship he shares with his brothers. "I see some of my friends treat their younger siblings a lot worse than my brothers do. They always include me in things so I never really feel left out," says Luke. ♦