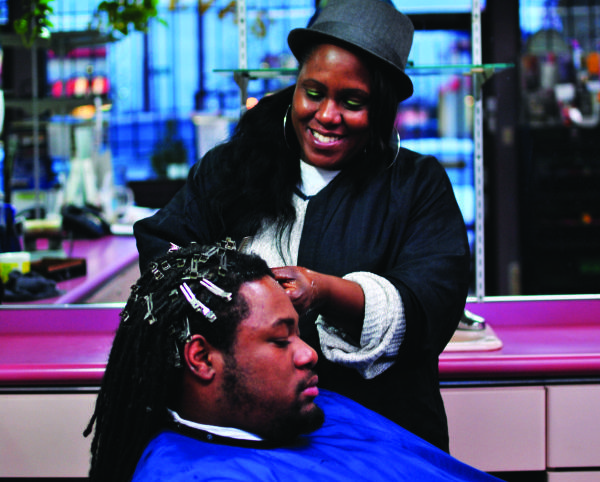 If you were to walk down North Mississippi Avenue 30 years ago, you would be hard pressed to spot a white person. African-American-owned businesses dominated the landscape. Record shops, barbershops and churches lined the street. The smell of southern style barbecue hung in the air.
Now, fashion boutiques and gourmet ice cream shops saturate the neighborhood. Street fairs in the summer yield an impressive turnout. But most people in the crowd are white, many unaware of the turbulent history set in the very ground they walk on. Most are unaware of the pain endured by Portland's black community.
When Anita Keller's family moved into their house on Northeast 14th Place and Alberta Street in 1979, the neighborhood was predominantly black. "There's two original black families left on the block," she says now. One of those two families is her own.
The influx of white middle class families to traditionally working class neighborhoods is commonly called gentrification. But that is a loaded word. It masks the true story of what has been happening as Portland's inner city changes.
As a tribute to Portland's African-American community, the portraits of five black Grant alumni are being displayed in center hall. These are their stories.
[grantmag_gallery ids="4586,4585,4584,4583,4582″]
The baton spun frantically through the air, landing in Jimmy Walker Friday's outstretched hand as he marched confidently forward. His psychedelic pants complimented the fringe jacket that was flapping in the breeze.
Directly behind him, an impressive lineup of 125 students blasted James Brown's "Say it Loud, I'm Black and I'm Proud" on their instruments as they marched down Sandy Boulevard in the Junior Rose Parade. It was 1968.
Friday has always had a knack for music, and his mother pushed him to explore his talent while he was at Grant. By the time he graduated in 1970, he'd mastered the cello, piano and every type of horn there is. "That's what carried me through Grant," he says of the baritone horn.
Friday also organized a pre-funk band with some of his friends in his time at Grant, playing trumpet and the organ, along with doing vocals. They called themselves the Cavaliers Unlimited. In 1966, the same year they started up, the band landed a deal with Century Records for their hit songs "The Nasty" and "Soul Vein", the latter named after a vein on Friday's forehead that appeared when he got angry. This was when music was played on vinyl records.
Today, the 60-year-old Friday operates an Internet radio station called Sabin CDC. Since falling in love with radio at Portland Community College in the 70s, Friday has been on four different regional stations, making his name as a DJ.
He's also a pastor at Bright Star Ministries in Northeast Portland, giving sermons every Sunday. Between his work at church and in the studio, Friday is constantly connecting with the black community in Portland.
"I'm nothing without the people," he says as a Grant neighbor taps his shoulder at Starbucks. The man recognized Friday's voice and recounted to his daughter how he would blast Friday's station in the park during the summers of his youth. "I'm a community nut," Friday says.
His family moved to Portland from San Antonio when Friday was 16 months old. They settled in the Irvington neighborhood, which was at the heart of the black community at the time. Friday remembers walking down Knott Street to school every day. Someone he knew would always pick him up on his way there, driving him the rest of the way to Grant. Now, most of the faces on his childhood street are white and unfamiliar.
Michael "Chappie" Grice also lived in the neighborhood. He was on Grant's drum roll, playing his part in making the GHS marching band the "hottest band in Portland at that time." Grice remembers parading down the street behind the other marching band members, tapping out beats on his snare drum. "We played…as funky as we could be with our cadence," he says. "We made it as high step as we could."
The band of 125 high school students was a sight to behold, especially because it was all white except for the drum roll, which only had black students. "That dynamic was interesting," Grice says today.
But the racial contrast in the marching band was not planned to be that way. It just happened. In fact, race wasn't even on Grice's mind in high school, even though the Civil Rights movement was in full swing. "We weren't really race conscious at that time," he says. "We knew things were going on across the country, but it wasn't touching us here so much."
Grice remembers hanging out with both black and white kids, not thinking about racial pressure. "I had a good mix of friends," he says.
Eddie Lincoln had a different experience at Grant. From the first day of school, he knew he was not going to be accepted by everyone. "When I was at Grant I was called the N-word several times," even on orientation day, he remembers. "That was the welcome wagon."
Lincoln established himself as a talented track runner. He long jumped and ran the hurdles and the relay race. By his senior year, Lincoln was an all-city track star and was second in the state with the Grant varsity basketball team. Two of his six brothers were all-state athletes also, so it's no wonder he excelled. "Sports was kind of a family thing," says Lincoln.
Athletics were a large part of his high school career, but Lincoln also participated in a work study program at Tektronix, then a test and measurement company based in Beaverton.
But Lincoln wasn't into technology. "My interest was money," he says. Growing up in a family with eight kids definitely played a part in that. Lincoln's mother was a cafeteria worker at Reed College and his dad worked in a steel mill. The household was relatively stable, and there wasn't a lot of drama from Lincoln's point of view. "I was kind of a low key guy," says Lincoln, who graduated in 1971. "Not too involved in the streets." But he did know a lot of people who were gangsters. Crips and Bloods didn't even exist in Portland when Lincoln was at Grant. The bangers of his day were "folks trying to imitate Superfly," a film depicting a successful drug dealer in New York City. A lot of kids got caught up doing the wrong thing, according to Lincoln.
Grice sees the same type of thing happening today. He is involved with numerous community organizations and has seen many inner city kids head down the wrong path, embracing the street gang culture that made its way up Interstate 5 to Portland in the late 80s. "Just know that when you hear that knock on the door," he says, tapping thrice on a wooden table, "it could be 'The Man.'"
Something else Grice observes in today's black youth is a lack of hope. "Now you have African-American students who have been convinced to a disproportionate degree that the future is a crapshoot and that college is a pipe dream," says Grice.
When Deborah Berry, Grant Class of 1970, was in school, conditions were similar. Counselors essentially had no expectations for students of color. Berry says teachers never even mentioned college. She noticed that most black kids were placed in the same classes, regardless of their academic ability. "It wasn't based on skill," she says. "It was based on race."
As one of the first black families in her neighborhood, the Berrys faced some resistance in their early years in Portland. "Dead birds and other things would end up in our yard," she says, remembering the indirect threats that pestered her family.
Portland didn't have the intensity of the open racism present in much of the country at the time. But "there were subtle things that let you know you were black," says Berry.
Her previous home was in Alabama, where she visited her extended family almost every year during her childhood. There, she didn't have to worry about hidden social prejudice. It was much more straightforward. "In Alabama, you knew exactly where you stood," she says. "There were signs that told you."
The United States has always had issues with race. For the first hundred years of this country's life, it was supported by institutionalized slavery. That gave way to Jim Crow discrimination in the South just after the Civil War, which persisted through the 1960s. Under this system of legalized discrimination, blacks were denied basic civil liberties and segregated from white America.
Oregon was not immune to the racist mindset that hovered over most of our country. Up until 1927, there was a clause in the Oregon State Constitution that banned African Americans from moving to the state and owning property. Thirty more years passed before Oregon's "Sundown Laws" – unofficial ordinances that prohibited blacks from being in the state after dark – were lifted.
Even after the Fair Housing Act of 1968, white America continued to force blacks into certain areas with social segregation, public threats of violence, and discriminatory lending practices. Realtors, bankers and speculators would systematically de-value housing in order to exploit black communities and maximize profits, while also appeasing white neighborhoods by keeping African Americans away.
Because of segregation planned and executed by the real estate industry – often referred to as redlining – Portland's black community was concentrated in the Albina District, a section of inner Northeast Portland encompassing nine different neighborhoods. It's the only place realtors would sell to African Americans.
Albina was largely ignored by the city government post-World War II. Housing deteriorated quickly, and some portions of the area fell into slum-like conditions. House abandonment was common and lenders often cheated residents out of homeownership with deceptive contracts.
In the 1950s, hundreds of houses and businesses were demolished throughout Portland's black community to make way for "urban renewal" projects. As the I-5 freeway and Oregon Highway 99 were erected to accommodate the growing number of cars on the road, residents in the area, primarily African-American, were forced out of their homes with minimal compensation.
The new freeways cut straight through the established African-American community, displacing hundreds of households and obliterating the livelihoods of every family that owned a business there.
The Memorial Coliseum came next. Before construction started, nearly 500 homes were razed. The building stands like a fortress in a sea of parking spaces today, a stronghold built on the ashes of a lost culture.
In the 1970s, Legacy Emanuel Hospital expanded, again wreaking havoc on the Albina community. The residents pushed out of the neighborhood were not consulted in the process. This ugly portion of Portland's history is unknown to most.
The late 1980s is when the demographics of the area really began to shift. In 1970, 84 percent of residents in the Boise neighborhood were black. Today, Boise's African-American community is less than half that and steadily decreasing. Older homeowners in the neighborhood are being pushed to the outskirts of the city by rapidly rising real estate prices.
Friday has seen the change firsthand, watching entrenched families in the community uprooted and relocated to the fringes of east Portland. "It has hurt so many senior citizens and displaced so many people," he says.
Today, the black community in Northeast Portland is a fraction of what it once was. The smell of barbecue has been replaced with the aroma of creatively topped waffles. Festivals celebrating art and culture take place in the summer, but participants are often unaware of the heritage that has been buried by years of neglect and gentrification.
"They're handing me hot dogs and a balloon, welcoming me to what I already know," says Friday. "I find that an insult." ♦
Christopher Johnson contributed to this report.