On a humid Tuesday morning in mid-July, Karl Acker talks expressively to a group of incoming freshmen looking to be on the Grant High School football team.
It's the second day weeklong drills that Acker, the head freshman coach, leads every year at the school. The would-be football players listen intently as Acker explains a "lesson in patience."
The 45-year-old Acker watches closely, keeping a constant dialogue going with his young charges. Throughout the two-hour practice, his energy level never dips.
"My most satisfying moment is when an athlete…gains an advantage or a win or a strong working knowledge of what it is we're trying to accomplish," Acker says. "That just sends me through the roof."
Acker is clearly enthusiastic about athletics. He's the roaring voice cheering on athletes during a track meet or on the sidelines of a football game. He's the one who refers to his players as "baby." He almost always has a smile plastered on his face, revealing his white gold-capped front tooth.
But he's also an important figure in the swirl that is the Grant student body: a mentor to those who struggle or to anyone in need. Acker's experiences as a kid growing up in inner-city New Orleans – including reaching success in sports and school despite challenging factors – all shaped him into the person he is today. Says Acker: "I think it all kind of ties together in some kind of way to authenticate the man I turned out to be."
That man is someone who – as a father, a coach and a mentor – always manages to put others ahead of himself.
Says former Grant High School principal Vivian Orlen: "The man does double the hours that he's paid for…because it's the work he loves to do."
Karl Acker was born in April 1968 to Dorothy Butler in New Orleans. He was the youngest of five children. Butler was a single mother who worked as a lunch lady during the school year and a lifeguard during the summer. When Acker was young, he and his family moved frequently, often settling in low-income housing projects.
"You kind of develop a system for it," he recalls of the moves. "Initially, I think the toughest part is dealing with the reasoning for it, you know, whatever it is. Most cases, it's because mom has fallen on hard luck of some kind."
Because of the frequent moves, it was difficult for him to play organized sports. Despite this, Acker and his siblings were very athletically active as children. During the summer, while Butler worked at swimming pools, her kids spent lots of time in the water. Back at home, they played baseball, basketball and football or "whatever's in season," Acker recalls.
He remembers how he and his friends would "play football every day, everywhere: streets, parks, anytime we got a ball and enough guys to play it."
Although sports were a major part of Acker's childhood, he doesn't feel they defined him.
"I think my personality, my confidence in who I am, and the way I carry myself – I was taught to deal with other people and respect other people – those are the things that made it easier for me to transition from place to place," he says.
Acker went to L.E. Rabouin High School, a trade school where students focus on a particular skill. Freshman year, the students were introduced to each trade. The remaining years students focused on one trade they would pursue as a possible career.
At first, Acker chose woodshop and construction. But he was forced to move to the printing class after the woodshop teacher got his fingers cut off. In his new class, Acker quickly fell in love with the different fonts.
After designing a trademark for a school project, Acker gave himself a tattoo of it on his calf and hand. At L.E. Rabouin, he made the honor roll every year.
The school started its athletic program his sophomore year and he went out for track in the spring – the first time he'd ever participated in organized athletics.
He also took a position as an intern at a print company his junior year. He took classes at school until lunchtime and then worked at his internship for the remainder of the day. Then he headed straight to track practice, as well as working weekends.
For Acker, a busy schedule "wasn't so much of a problem as it was a solution," he says. "It helped me to kind of stay grounded and stay out of trouble."
On the track, Acker was a competitor. The coach tried him in the long jump, and both the 100- and 200-meter dashes. He was strong and high energy, with an admirable work ethic. He recalls going on eight-mile runs with the distance runners and sprinting to the finish, beating the entire pack.
In his junior year, the coach decided to put him in the 800 meters. "Coach just said, 'Hey, go out there and see what you can do, and we'll build from that, and if you make it all the way around twice, then you're our 800 guy,'" Acker recalls.
He won his first race with a fast time and later went to the state championships in the event, placing second.
Acker suffered from injuries throughout high school because of poor training conditions at his school, located in downtown's business district. The school had a field barely the size of a basketball court and lacked practice facilities. Instead of training on a track, Acker and his teammates ran on the sidewalks or hallways.
By the time state came around senior year, he was suffering from shin splints, a painful inflammation of the shins. But that wasn't all. "I had pulled hamstrings in both my legs and I had pulled a left quad," he remembers.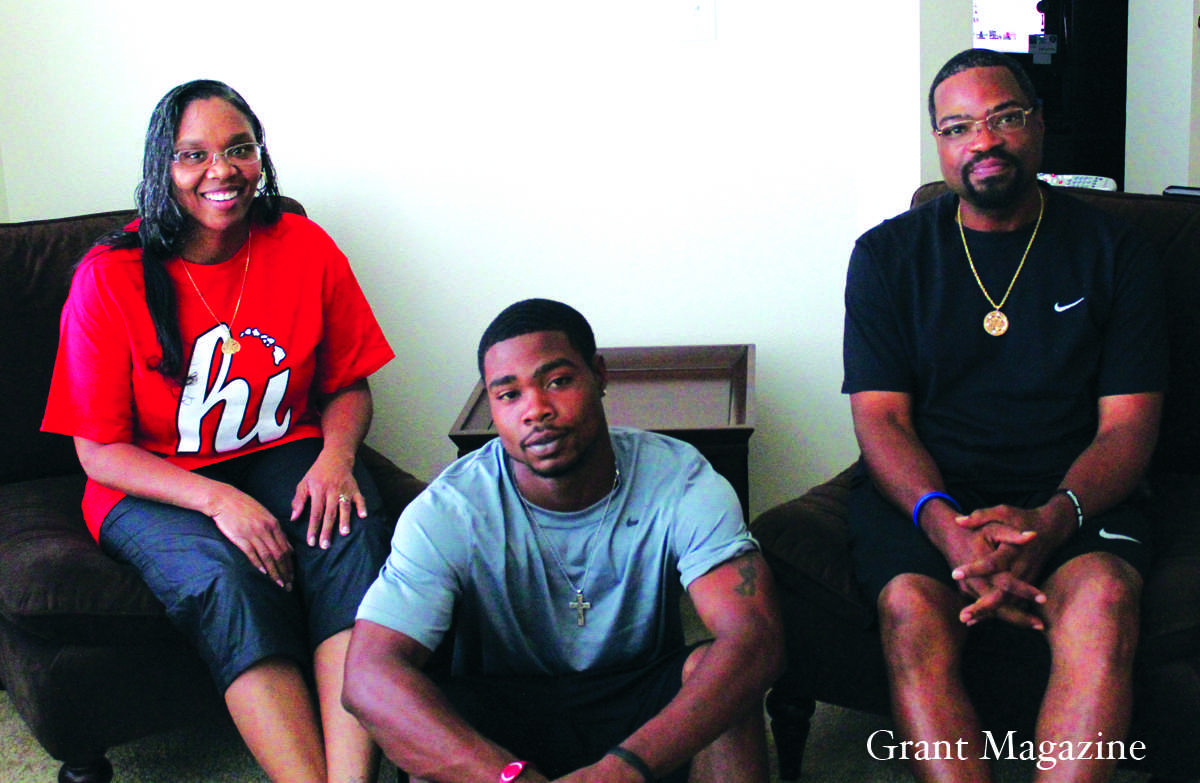 Acker could barely walk. In fact, "for the trip to state my senior year, I didn't walk," he says. He remembers being carried around by his teammates to dinners and team events so he could stay off his legs completely.
He had run with pain before and he wanted to finish his high school career on a high note. And he didn't want to let his coach down.
Acker admired the man who had so much devotion to his team that he drove his athletes to meets whenever he could and even spent money out of his own pocket for them.
At state, Acker opted out of one of the relays and focused on the 800. He had the fastest time and was predicted to win.
His girlfriend watched from the stands. But his parents were absent. The race ended in a photo finish, with Acker and another runner finishing so close together that the photo had to be analyzed. When it was determined that he had won, Acker became the first state champion to come out of his high school. He also ran on the 1,600 relay team, passing six runners as the anchor leg to win the race.
Looking back, Acker doesn't revel in his victories. Instead, he looks to what he took away from the experience. "It was good I was a pioneer for my school and all of that stuff, but the lessons that I learned in terms of understanding my body and the values of competition, the discipline involved, those were the things I take from it," he says.
After high school, Acker attended Bethany Community College in Lindsborg, Kansas, and became the first person in his immediate family to ever go to college.
He was offered a partial track scholarship, and the rest of the tuition was paid for by financial aid and academic achievement. Moving to Kansas was a "challenging cultural experience" for Acker, who had never been out of New Orleans.
It didn't last long. At the end of the first semester, Acker was offered an opportunity to get back into the printing business as a supervisor in New Orleans. With the tantalizing option of becoming a manager in a field he was passionate about, Acker chose work over college.
Now, as an adult, Acker wouldn't recommend leaving college – even though it worked out for him.  "I don't want to glorify it," he says.
Since his senior year in high school, Acker had been in a relationship with then-girlfriend, Tina Griffith. Even though they came from different backgrounds – Tina living downtown and Acker uptown – the couple had a deep connection. Says Tina: "We were really close friends and we still are best friends."
When Acker returned to New Orleans, he proposed. Tina, who was still in high school, jokes about the abnormality of their circumstance. "I started planning my wedding while I was still in high school," she recalls. "That is not normal. Most people don't do that. I was more excited about planning my wedding than I was about going to the senior prom."
Both sets of parents thought the couple was too young for their relationship to succeed. Despite this, in 1989, after Tina's graduation, the couple married and started a family.
The summer of 1990, while Tina was pregnant with their first son, Karl Jr., she visited Portland to break the news to Acker's family in person. Three of Acker's siblings and his mother were living in Portland at the time. Tina Acker quickly fell in love with the city.
She returned to New Orleans and raved to her husband. That winter, a few months after Karl Jr. was born, the young family packed up their things and moved to Portland. Acker had never been to Oregon before but he OK'd the move based on Tina's word.
In Portland, Acker and his wife had their second child, Kenneth, in February 1992. Acker worked in the print business while his wife attended college. To pay for her education and allow her to spend time with their young children, Acker pulled "crazy hours," and worked weekends, Tina Acker recalls.
"It was really important to him that I had that time with the boys and not try to work and go to school and raise a family," she says.
Acker continued to work in the printing field until the early 2000s when he quit to become "a full time husband and father."
Tina Acker had finished school, became a teacher and later was hired as a school administrator. "The boys weren't lacking because I was away from them more," she says. "But they needed (their father's) guidance more at that time than mine."
In the meantime, Acker was heavily involved in coaching youth football. The support he gave players from the sidelines and during practice caught the eye of Grant head football coach, Diallo Lewis.
Lewis had heard of Acker's successes with youth teams. He offered him the job as head coach of the freshman team. He also coaches sprinters on the track team.
Shayla Noil, a Grant junior, moved from Louisiana to Portland last year. When she first met Coach Acker, he was dressed head to toe in New Orleans Saints gear.
She felt an instant connection.
"He'll push you to do stuff you'll never think about doing, and then when you do it you're like, 'Oh, I really can do that,'" Noil says.
Jay Kindred, a Grant alum, bought a house in the Grant neighborhood just so his son, Noa, could attend the school and play for Acker.
"His life is the way he coaches." -Jay Kindred
"I think he's a great individual. Football just gets, you know, a little bit of a spotlight because he's involved so much with the sport."
Acker continues to maintain a close relationship with his two sons, Karl Jr., now 23, who recently moved back to Portland after graduation from Louisiana State University, and Kenneth, 21, who's starting his third year as a star football player at Southern Methodist University.
At school, Acker put so much energy into his job and connecting with students that a year ago, then-principal Vivian Orlen put him in a student resource specialist position. His job is to work with a targeted group of students and help them stay on course, giving support where it is needed.
Acker gives himself unconditionally to students and community members. "I see it as somewhat of a payback," he says, "because that's the type of support I received to help me become the man that I am."
Recently, a student was experiencing great emotional hardship and was contemplating suicide. Acker intervened and got the student the help he needed. Afterward, Orlen remembers getting a letter from the student's mother talking about how every student should have someone like Acker in their lives.
According to Orlen, Acker is someone who always sees the glass half full. "I think he really understands adolescents and I think that he really cares for adolescents," Orlen says. "He really wants to help students who are struggling to get to a better place. I adore him." ♦