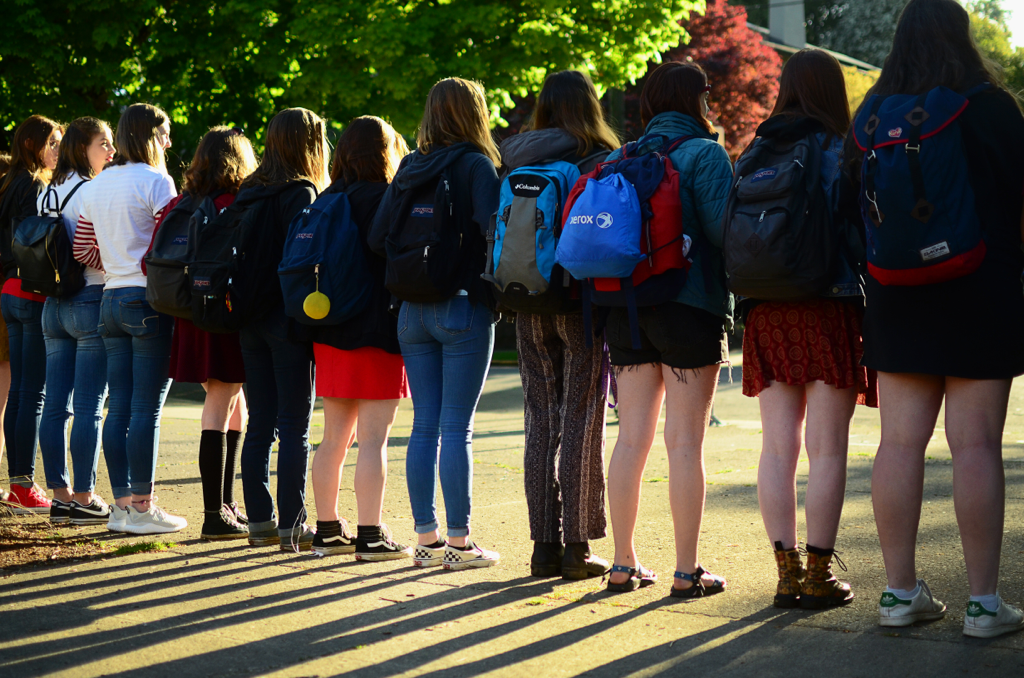 Grant High School students and staff gather in front of the school Monday morning clad in red honoring survivors of sexual assault.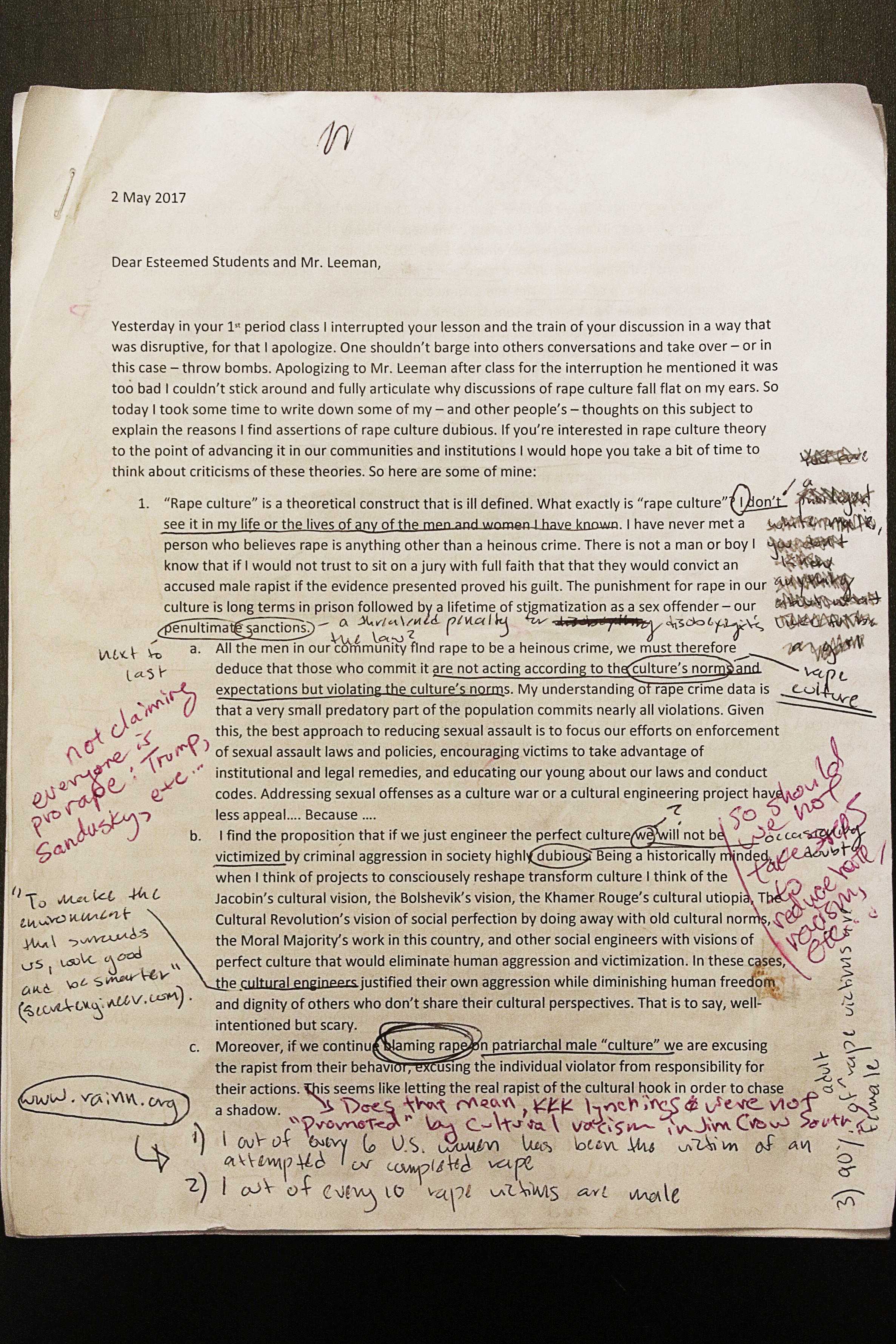 When freshman Chloe Ford, a student in one of David Lickeys classes, saw the letter she immediately printed it out and marked it up. And then, on Wednesday after school she, along with two of her female friends Ali Woodyard and Izadora Nowina-Sapinski, discussed the letter with Lickey.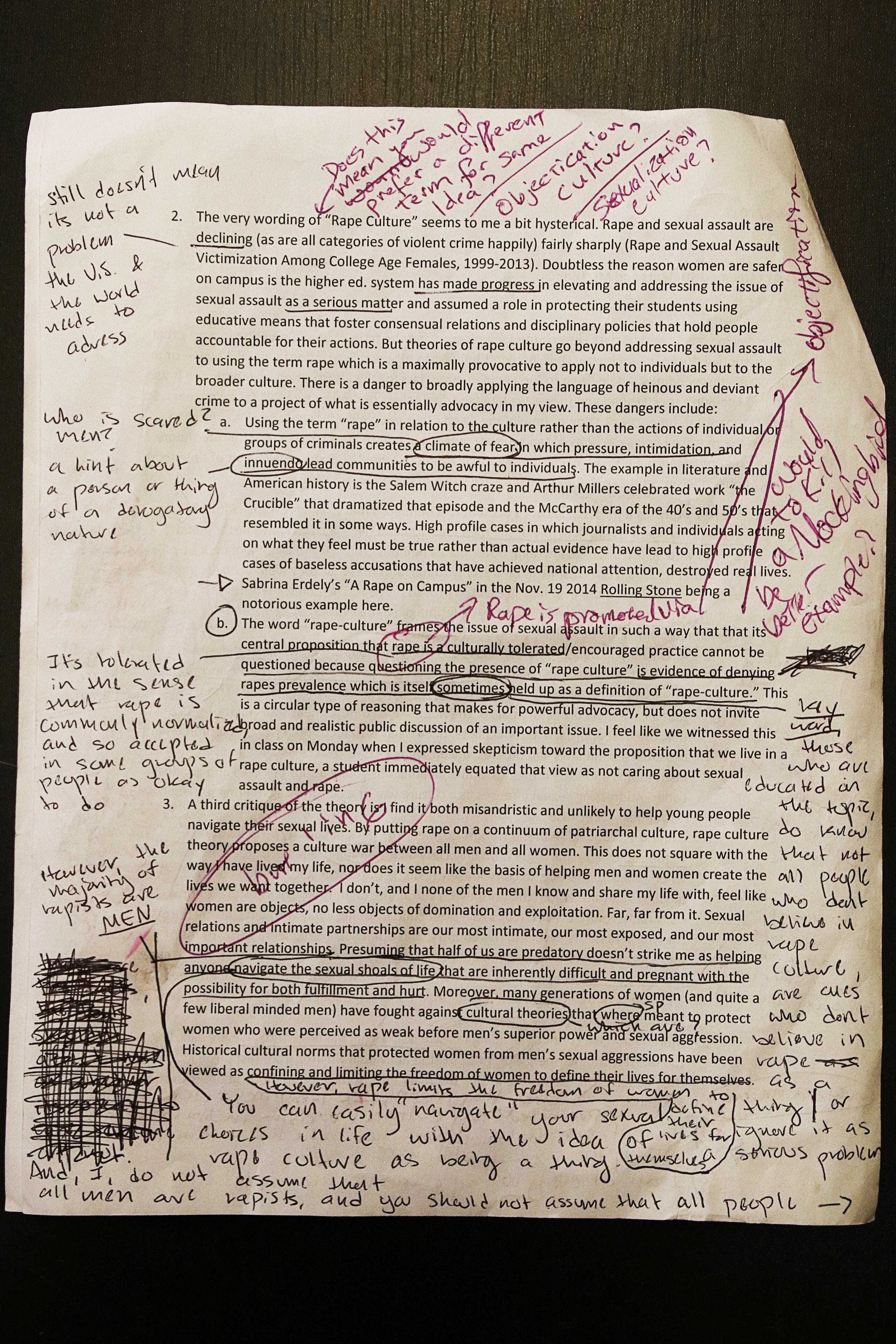 "I started off talking about the second sentence which is the most problematic which is 'I don't see it'", says Ford. She then promptly told Lickey that she experiences rape culture "everyday".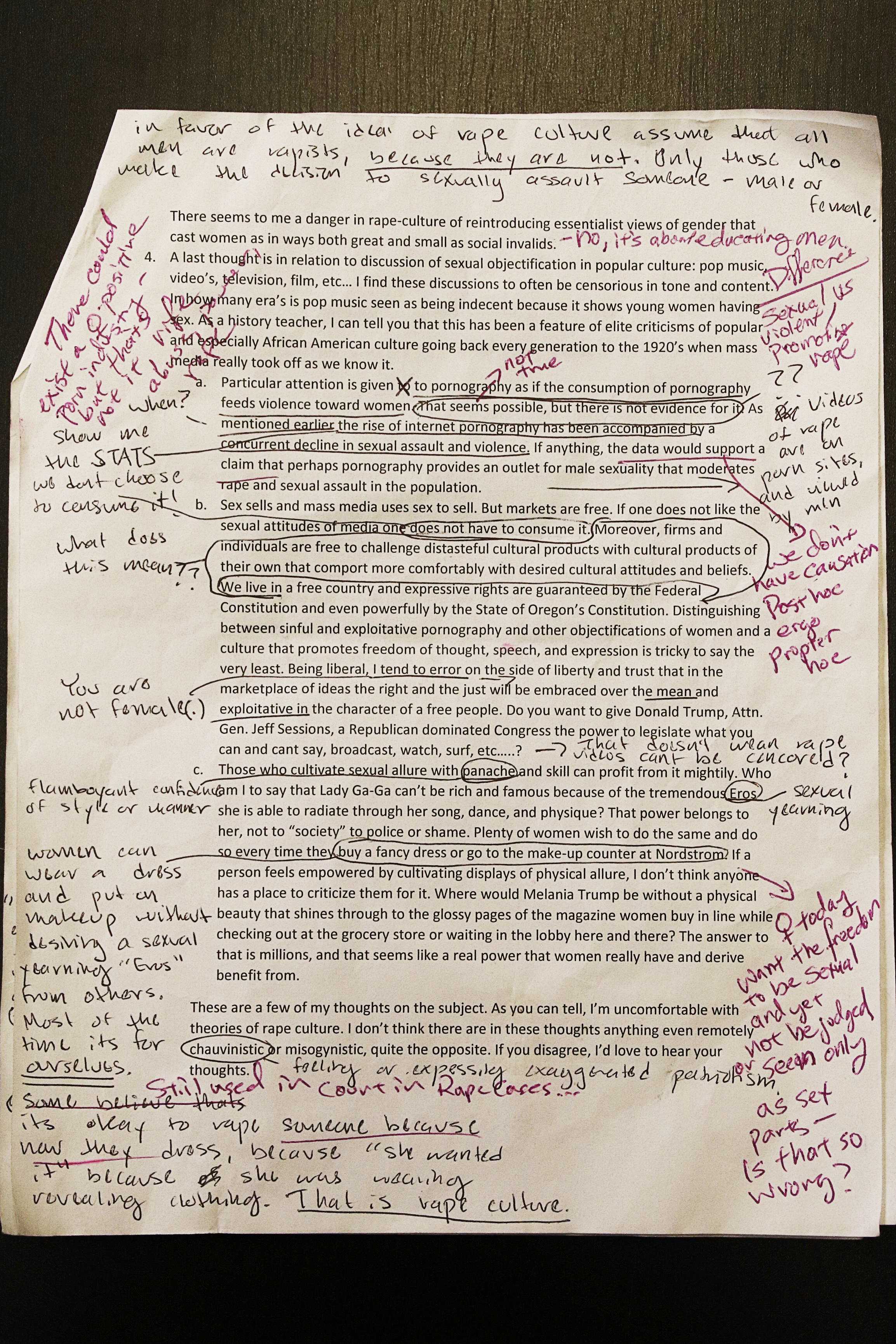 "He kind of stuttered he was at a loss of words," says Woodyard about the moments following Ford's assertion. "He was just like speechless, he was quiet for a second because the fact that you said I see it everyday, it is true, I do to," says Nowina-Sapinski.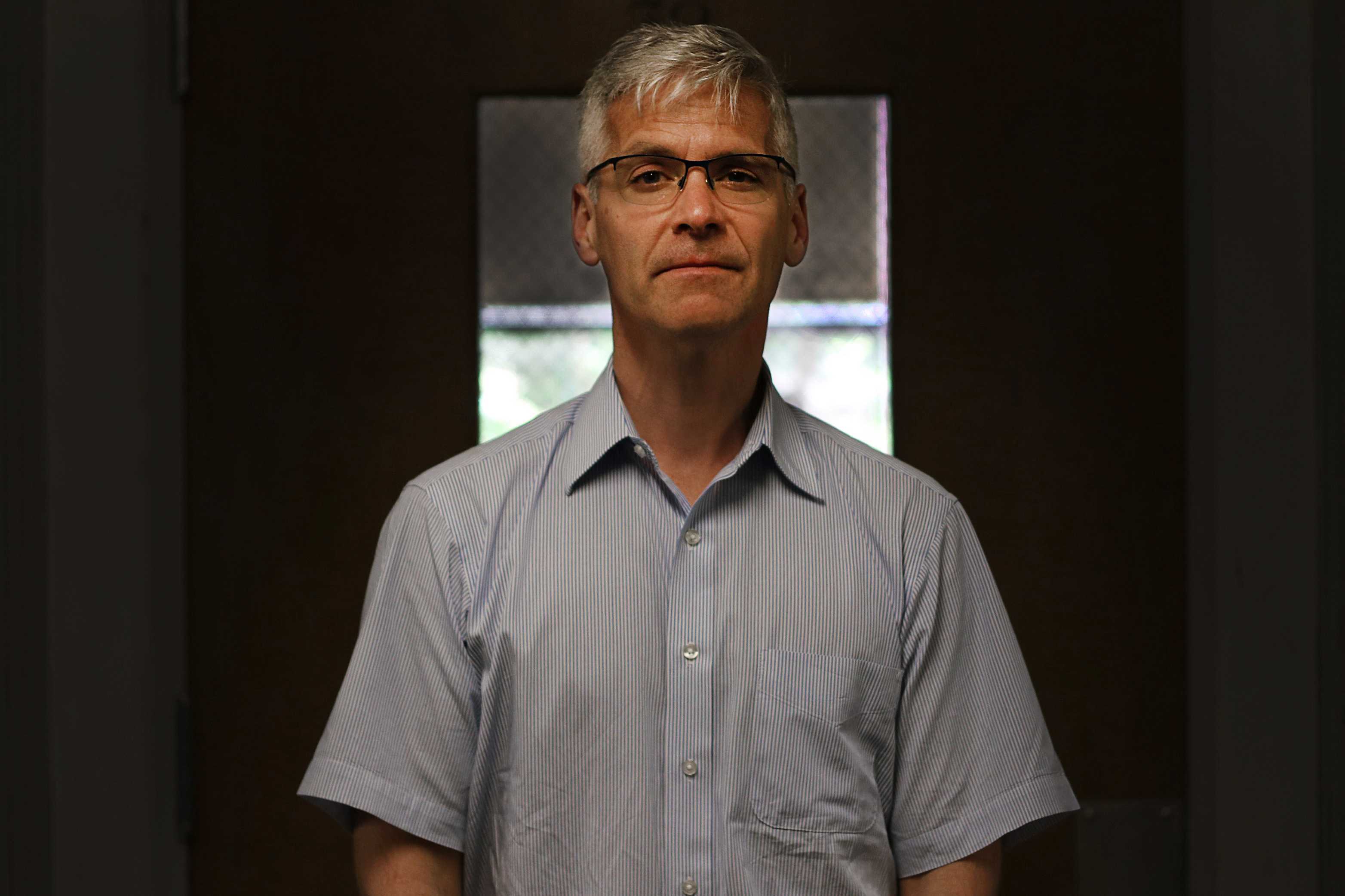 David Lickey, standing outside his history classroom. "'I don't see', if I could ever take back three words," says Lickey about the second sentence in his letter stating he has never seen rape culture. "I have read heart rending stories of sexual assaults and how that has altered people's lives, people from across the country, staff members and that's left me, I think a changed person."
"I think it promotes unity and kind of a support system, spoken and unspoken," says junior Elise Abrams on why it's important to come together after events like these.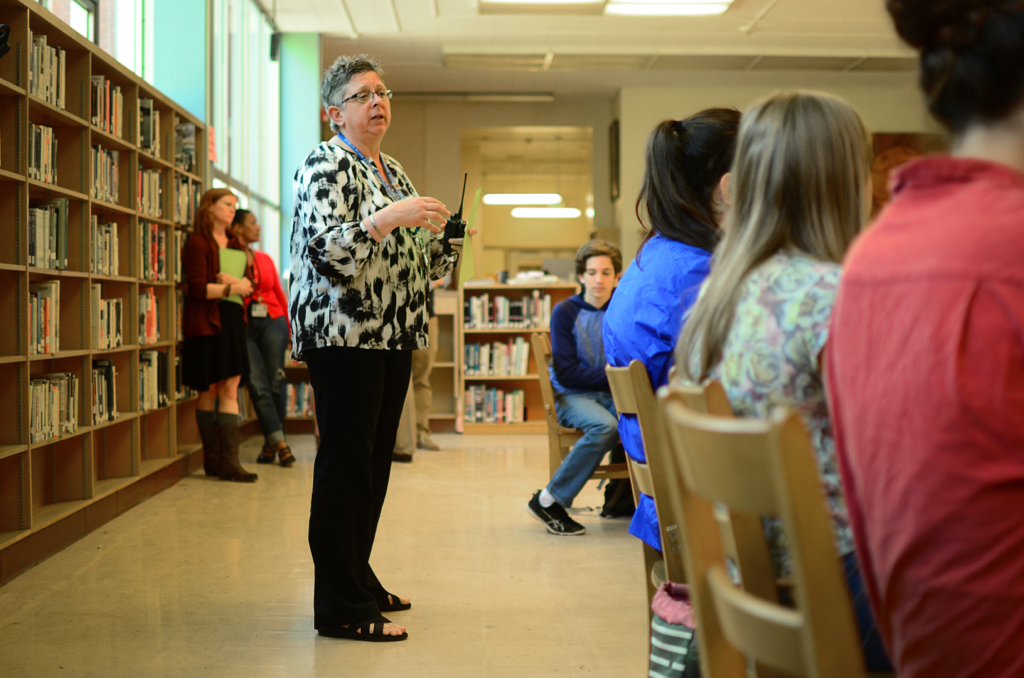 Community members convene in the library during lunch on Monday, a space they say is meant to provide a platform for further discussion and healing.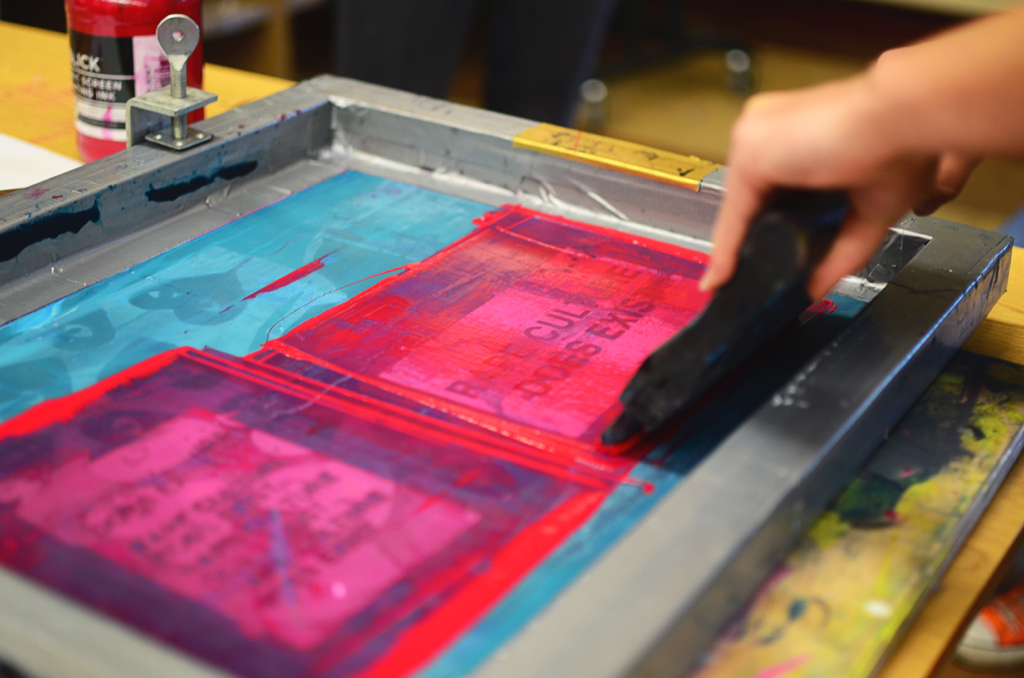 Students in the Digital Media and Pop Culture class at Grant created prints with the message "rape culture does exist."
On Monday, May 1, Dylan Leeman, a freshman English teacher, held a class discussion on rape culture as part of his unit on gender. Initially, the discussion was slow and forced, as many freshman class discussions go, says Leeman.
But, when Grant history teacher David Lickey entered the classroom to make copies of some papers for his own class, he decided to add his own stance to the conversation. He told the class that he had never seen rape culture before.
"I think for a few seconds, it was stunned silence," recalls freshman Hana Miller, a young woman in Leeman's class that day. "You could pretty much see the steam coming out of most kids' ears."
When he walked out a few minutes later – after a few heated exchanges with some of the students in the class – the conversation became vibrant, says Leeman. "It immediately transformed into some of the most dynamic conversations I've ever had with students," he says.
Leeman told Lickey he wanted him to finish explaining his thoughts. Two days later, Lickey answered with a letter outlining exactly why he thought rape culture – an environment that normalizes sexual assault or rape – didn't exist at Grant or beyond. Leeman shared the letter with with his class over Google Classroom and that Friday, he held a socratic seminar with his students that focused on the merit of Lickey's claims as well as other articles the class had read on the topic.
By that afternoon, the letter had been shared around the school and on Facebook. It immediately sparked outrage among students, parents, alumni and outside community members.
One excerpt of the letter reads: "Rape culture is a theoretical construct that is ill defined. What exactly is 'rape culture'? I don't see it in my life or the lives of any of the men and women I have known.'" Another excerpt states: "The very wording of 'Rape Culture' seems to me a bit hysterical."
"Honestly, I was disgusted … I was reading it, and I had to stop reading it because I was getting so mad," says Olivia Haspais, a freshman in Leeman's class who was present when Lickey first interrupted their conversation on rape culture. "I experience it everyday, my friends do too … I was so offended because I know there is a rape culture."
By Tuesday evening, at least 10 publications, from Oregonlive.com to the Daily Mail – a media company based in the United Kingdom – published stories on the incident.
But for the Grant community, the letter is more than just a headline.
A 14 minute response video to the letter by Grant alumna Madison Moskowitz of the University of Oregon has garnered more than 14,000 views on Facebook
Back on campus, current students and staff showed their disdain for Lickey's sentiments. On Monday, students organized a day of solidarity for sexual assault victims, donning red clothing and lipstick to show their support. Many teachers, including English teacher Susan Bartley, brought signs to school that were written with messages such as, "You can't teach the history of Western civilization but deny rape culture."
Bartley shared her perspective on the issue in solidarity with several other female staff members. "I think that the dynamics expressed in the letter is totally antithetical to the stories that we need to be telling about the past," she said. "Since the beginning of Western civilization, you simply can't tell that story and deny the legacy of rape and violence against women," she said.
During lunch on Monday, roughly 150 students met in the library to reflect and discuss the content of the letter. The event was meant to create a safe space for those impacted by the letter. Groups of students crowded around tables, and a handful of staff members stood in the back. Two Portland Public Schools TOSAS (teachers on special assignment), Julie Palmer and Kathleen Paradis, helped facilitate the discussion.
Principal Carol Campbell offered opening remarks, addressing the student body for one of the first times since the incident.
"I'm here as an ally, for anyone who was harmed, was hurt by the letter. I'm here to support you," she said, adding: "I'm still processing and reflecting all of this."
Students had the opportunity to write their thoughts on paper before Palmer asked students to share their thoughts to the entire group.
"I just want to say that I'm kind of thankful that he wrote this, and it went out, because I mean, we wouldn't be talking about it, ever," said Eleni Mallos, a female senior.
Others agreed that the past few days have been a stark reminder of how important conversations on sexual assault and rape culture are for the community.
"I think we really need to focus on how we let sexual assault – and what that is – be a part of the conversation and in curriculum for teachers and for students," says senior Hazel Frew, a young woman who was present at the meeting. "I realized when this came about how easy it is to be ignorant of this … it just needs to be part of the conversation."
In the past few days, Lickey has received hundreds of emails in response to his essay from current and former students, parents in the community, alumni, staff members and citizens from around the country. He says the massive amount of attention placed on him has forced him to think about an issue that he has never acknowledged before.
"The trauma and prevalence of sexual assault is here at Grant. That alters and damages people's lives, but I was just unaware," he says. "I have read heartrending stories of sexual assaults and how that has altered people's lives, people from across the country, staff members, and that's left me, I think, a changed person."
Although the school year is winding down, Grant administration and staff plan to continue discussing the impact of this incident. During next Monday's staff meeting, time will be allotted for debriefing and reflecting on the letter and planning for further education on rape culture for both students and staff.
Lickey says he wants to continue to address his shortcomings at Grant.
"I've got a blind spot. People talk about privilege, well, here's an example. I've had the privilege of having a good life that is free of that kind of pain and hurt, and so I was blind that it existed in others and makes them suffer," says Lickey about rape culture. "I played games with people's wounded selves. I did a lot of damage."
For many Grant staff members, the issue goes beyond Lickey's letter.
"My base concern is safety and care for students," says Courtney Palmer, a teacher at Grant who is teaming with Bartley and other female teachers to support students affected by the letter. "Finding a way to build a better culture and remove this element of rape culture and misogyny and patriarchy in general from the conversation and from the environment that we teach in, is where we need to start."