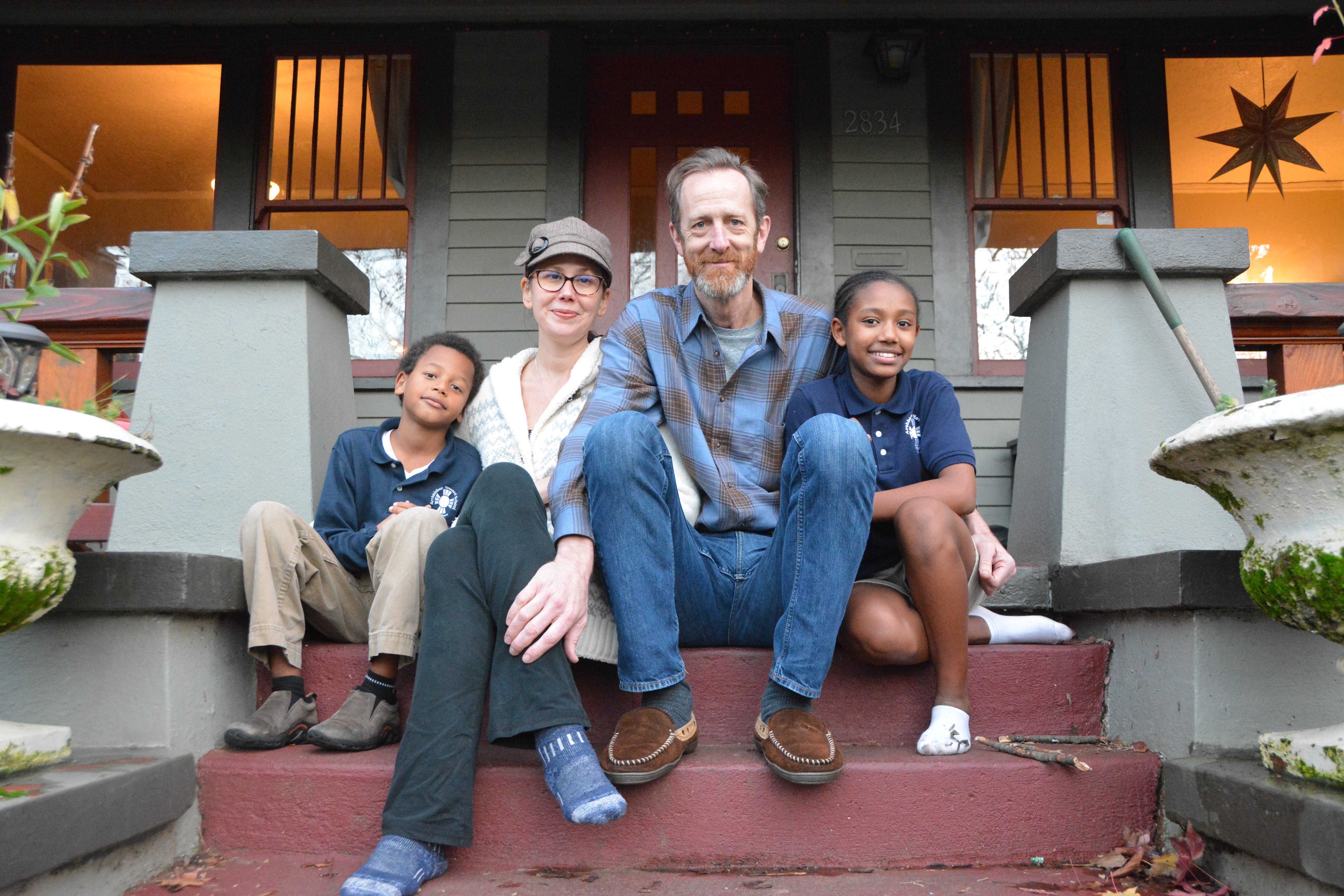 Ted Rooney still remembers being on the set of the hit TV show "Seinfeld" in the CBS Studio Center in Los Angeles, Calif. in 1997. Several hundred people had come to watch the filming of an episode and sat in rows of chairs in front of the stage.
The Grant alum watched as Jerry Seinfeld introduced the show and each cast member. When Seinfeld called out Rooney's name, he knew he was living out his dream.
Almost 20 years prior, as a near failing theater student at Grant, Rooney never would have suspected that he would end up as a guest star on "Seinfeld."  
Rooney's success came as a surprise to many. In high school, his teachers and peers discouraged him from pursuing acting. He rarely got a role with more than a few lines in Grant plays. But now as a professional actor, he has proved them wrong time and time again.
Rooney has landed roles in TV shows like "ER," "Gilmore Girls," and "Boardwalk Empire" and created his own acting studio in Portland.  He says his work ethic and Christian faith inspired him to fight past years of discouragement.
"Something I've learned as a Christian is that striving for things and security can't be someone's hope. We all have weaknesses and blind spots, but one thing I feel blessed with is that if I know something is right, I'm not afraid to take the risk to do it."
Even though it took some time to reach success, Rooney has always known acting was his passion.
"I was fascinated by the way stories were told and acted," says Rooney. "I always felt that I just wanted to be part of that kind of storytelling and that I belonged there. Subconsciously, I always knew it."
Ted Rooney was born Sept. 22, 1960, in Portland to Ed and Dolores Rooney. He was the seventh of nine children. With so many siblings, Rooney made himself stand out as the goofball of the family.
"I suppose one of the reasons why I ended up being an actor was because, in my family, if you're not outstanding, then you get lost in the shuffle," says Rooney.
Rooney's big family life was chaotic. He remembers playing sports with his siblings and having enough people to form two teams.
Rooney's father worked at Grant as a basketball coach and math teacher from 1959 through 1975, and he later became a Grant counselor. Rooney says it was nearly impossible for his father to provide for the family of eleven on a teacher's salary. So Rooney became used to paying for things on his own. Throughout his childhood, he delivered paper, worked in restaurants and made $2-3 a day picking berries.
"(We) learned how to work at an early age because you couldn't get new clothes unless you paid for them yourself," remembers Rooney. "I was waking up at 3:30 in the morning at nine years old, delivering papers and then getting ready to go to school every single morning for six years."
If he wasn't working, Rooney was daydreaming and coming up with stories in his head. He remembers getting home from school an hour later than his brother some days because he would get distracted thinking of stories. "Once, a friend of our family saw me on my way home from school and said I was underneath a bush, singing, pulling flowers out. That was me – I was a dreamer," says Rooney.
"We all have weaknesses and blind spots, but … if I know something is right, I'm not afraid to take the risk to do it" – Ted Rooney
In middle school, Rooney saw the Grant Theater Department perform "Bye Bye Birdie,"  a play about a rock and roll star named Conrad Birdie who is drafted into the United States army. Rooney dreamed of playing the lead role.
Then in eighth grade, Rooney had his first chance to act in a play when his class performed the "Taming of the Shrew." He auditioned for one of the main roles but was given the smallest part possible.
"I was completely showing off, and it must've been a farcical. And I thought I was really good, and then I got one line, which was, 'Yes sir.' That was my first loss of confidence."
Despite this, Rooney was eager to act in as many plays as he could when he started his freshman year at Grant. Even though he auditioned for Grant plays each year, Rooney never got any big roles. That made his confidence drop.  
"In high school, I had been swimming in a sea of, 'Who am I? How do I behave?' And I hadn't found it. I still had a lot of insecurities," Rooney remembers.
Being cut from the basketball team his sophomore and junior year only added to his insecurities. He made varsity his senior year but played very little. Then for his senior theater project, Rooney performed a scene from the play "Death Knocks" with a close friend. They spent hours outside of school perfecting the act. But they received a "D."
"They didn't hand out "F's," so getting that grade was like them saying, 'Please don't continue acting.' I remember looking out the window of the bus and crying all the way home," says Rooney.
Rooney's teachers discouraged his class from pursuing acting professionally, claiming the acting business was too competitive and unsteady.
So after graduating from Grant in 1979, Rooney quit acting and hitchhiked across the United States, Canada and Europe, visiting friends at colleges and picking up random jobs along the way. When he returned to Portland, the basketball coach at Mt. Hood Community College invited Rooney to play on the team because he said he needed a tall player. Two years later – after committing himself to the sport – Rooney went to Lewis & Clark College and played as a starter on their basketball team.
Rooney had improved enough as a basketball player to move to Europe in 1984 after talking to a basketball coach in Germany about playing there. He played professional basketball in the country for almost two years.
But playing basketball overseas was more of an item to cross off on a checklist than a dream for Rooney. During his time in Germany, acting was still on his mind. Rooney says his faith pulled him back into the world of acting and allowed him to be less worried about failing.
"Since we can't hang onto life, and we can't hang onto stuff, living for things you love, that's most important," he says. "If I'm (acting), then I'm going to be much happier than if I worry about security and whether I can make it as an actor or not."  
When he returned to the United States in 1986, he worked with a children's theater in Seattle for over a year and then applied to several graduate programs to get his Master's of Fine Arts in acting. Rooney later moved to Philadelphia to attend Temple University. After graduating, he moved to New York, where he worked as a substitute teacher and actor.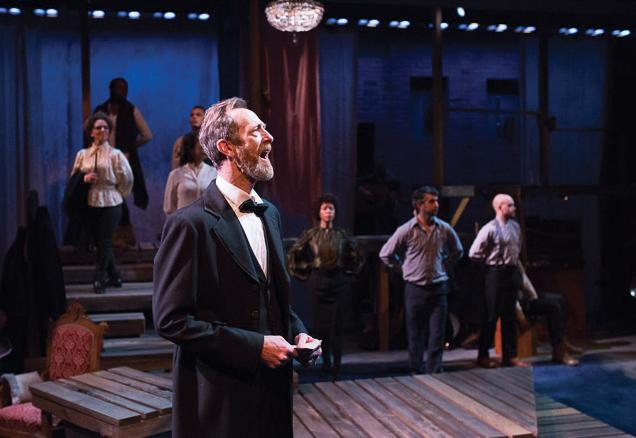 After living on the East Coast for ten years acting in plays, several commercials and a movie called "Celtic Pride," he longed to return to the West Coast. When an opportunity came to move to Los Angeles, Rooney jumped at it. But the heightened competition in L.A. wasn't easy on Rooney, and it was difficult to find work.
"I remember one day driving up to San Gabriel Mountain off of Highway 2 and just yelling out to my creator, 'What am I doing? Why am I here?'" says Rooney. "After that I decided to hire an agent."
After hiring the agent, Rooney started to find success in the city – acting in commercials, TV shows and some movies.
Nan Schnebly was one of the first actors that Rooney worked alongside in L.A. Schnebly knows firsthand how hard it is to be successful as an actor in Hollywood.
"Something that I think kept Ted from giving up was his connection to faith," says Schnebly. "Because of his spirituality, he's able to put aside what people say about him and set his mind on doing something because he wants to."
After moving to L.A., Rooney's goal was to guest star in "Seinfeld." He even sent an email to his family and friends about his career titled, "The Road to Seinfeld."
Rooney was in Las Vegas with friends when his agent called him back to L.A. for an audition.
"I got to the audition and said to Jerry Seinfeld, 'Hey you know you made me leave my friends in Vegas, but getting on Seinfeld has been my number one goal since coming from New York. So I'm here, baby,'" Rooney says.
He got the part, and played a character named Crichton in an episode of the ninth and final season.
"I was with the cast the whole week, so that was really cool to get to know the cast," says Rooney. "It was incredible."
It was also in L.A. that Rooney began acting in "Gilmore Girls" as Morey Dell in 2000. In the show, his character is married to Babette Dell, played by Sally Struthers. The All in the Family star is also a Grant alum who was taught by Ed Rooney during her four years there.
Although he enjoyed acting with a fellow Portland-native, Rooney says that because he played a small role and wasn't on the set as much as the actors, he felt left out of the "acting family."
"Initially we were supposed to have a larger part in the show, but that didn't happen," Rooney recalls of his and Struthers' husband-wife role in "Gilmore Girls." "That's very common in Hollywood  –  to be told you'll get a good part and then get disappointed by what actually happens."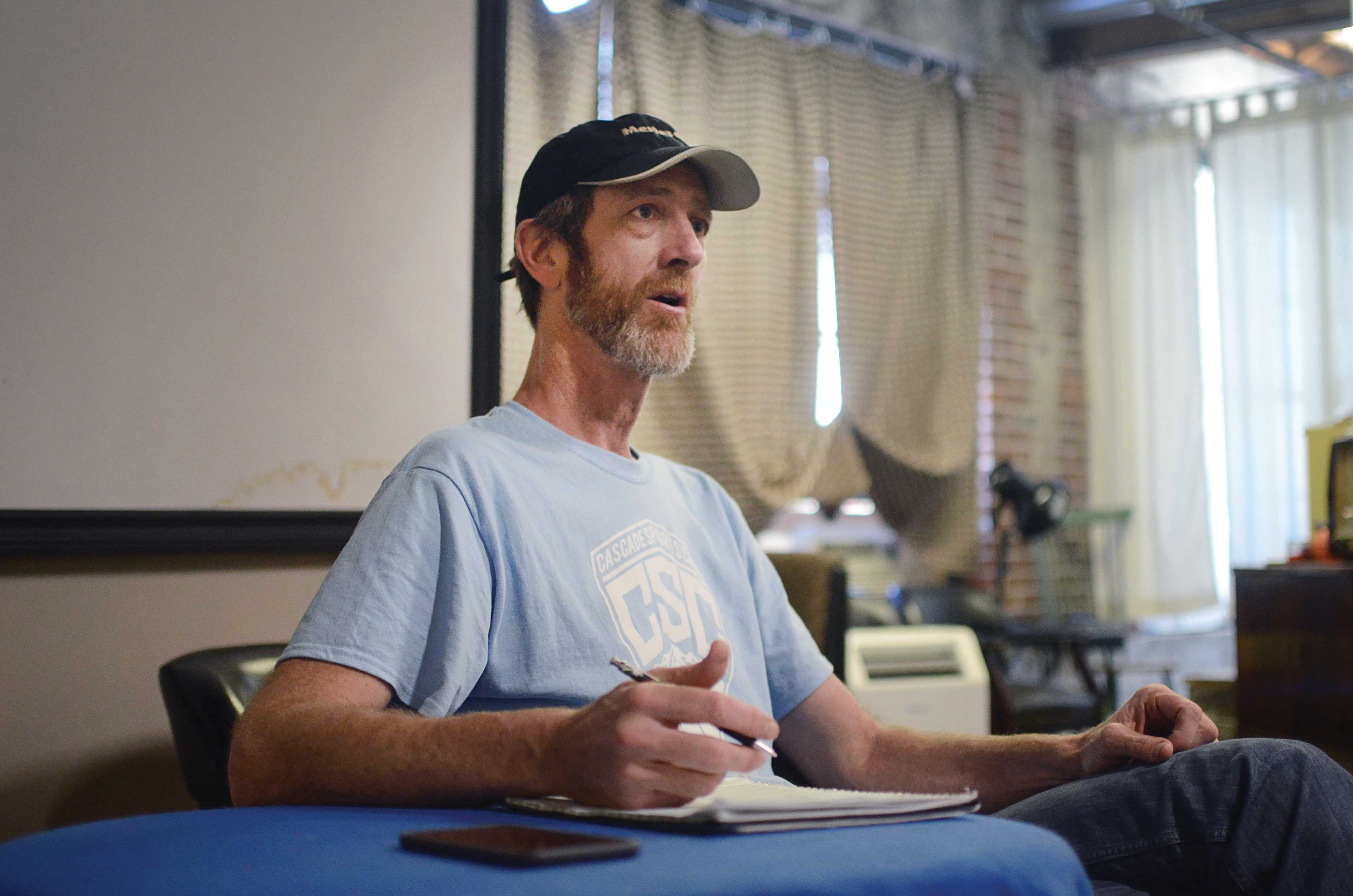 In 2003, Rooney met Lori Berkemeyer, a Mississippi-native that was working as a teacher in Czechoslovakia, on an online dating site. They met face-to-face for the first time in Memphis in 2004 and then married that same year in Portland. Lori Rooney remembers falling in love with the city.
After living together for six years in L.A., they moved back to Portland in 2008.
Just months after their wedding, Ted and Lori Rooney flew to Ethiopia to adopt a nine-month old boy named Abenezer. And three years later, they returned to Ethiopia to adopt a five year-old girl named Betlehem.
At the time, Rooney was frequently flying from Portland to L.A. for acting jobs. But having doubled their family, Rooney and his wife agreed that it would be too expensive to continue flying to L.A. for jobs. So Rooney opened the Rooney-Blanche On-Camera Acting Studio in Southeast Portland.
"Teaching has turned out to be a really positive thing," says Rooney. "I'm very passionate about it and … there is a need for on-camera acting coaches in Portland."
Rooney offers two ongoing group classes, private coaching sessions and a variety of one-time workshops. Since the studio's opening in 2010, Rooney says he has coached around 1,000 actors. And three years ago, Rooney started teaching acting classes at Portland State University. Teaching local actors has also given him the chance to connect with the community.
"I always felt that I just wanted to be part of that kind of storytelling and that I belonged there" – Ted Rooney
Although Rooney maintains a busy schedule with acting classes and taking care of his two children, he still does guest appearances on shows. He flew to L.A. to film an episode of the "Gilmore Girls" revival season, which was released on Netflix on Nov. 25, 2016. Rooney often appears in "Grimm," "Portlandia" and "Librarians" as well.
He also tries to stay involved in theater acting. In the play by the Artists Repertory Theatre, "A Civil War Christmas" that opened Nov. 26 and runs through Dec. 23, Rooney plays Abraham Lincoln.
"I hadn't acted on a stage for eight years when I got casted for this play," he says. "I was really excited about it. We rehearsed for four weeks, worked 40 hours a week, so it's been a full-time job."
As a Grant student, Rooney never would have suspected that he would end up where he is today.
Ken Woods, his longtime friend from high school, says Rooney has stayed humble through all his success.
"I often turn the TV on these days and just coincidentally, I'll see Ted on there," Woods says. "He plays some pretty strange roles, he was a child abductor on Grimm once. But it's always the same old Ted. He hasn't changed a bit."
Rooney's dream now is to follow in the footsteps of character actor James Cromwell, whose acting career launched after his appearance in "Babe" late in his life.
Thom Babbes, another close friend and actor Rooney met when he moved to L.A., doesn't think this dream is unrealistic.
"I can absolutely see his career really taking off like Cromwell's because there is nobody like Ted Rooney," says Babbes. "He knows where he is going, he knows the business and he knows the craft."
But Rooney says that he isn't too insistent on making this happen. With steady acting jobs in Portland, the acting studio and his acting classes at Portland State University, Rooney is content.
"I just want to keep getting better and be a good example for my students," he says.
"I don't have great ambitions as far as career goes, but if that movie comes along and it's my big break then that would be exciting. But that's not my one ambition because right now, I'm happy." ◆