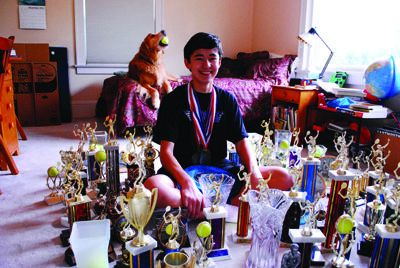 Dylan King tosses the ball above his head, watches it fall, and WHACK.
The racquet smacks the ball, which flies across the court. He waits for it to return with fixed eyes. His body makes a speedy, expert move and his arm quickly swings to smack the ball again.
"Tennis is my top priority," he says.
Last December, the 6-foot, agile Grant freshman faced off in the singles and doubles tournament in Tucson for the 16-and-under Winter Nationals. King, who is ranked number four for his age group in the Northwest, often represents the Pacific Northwest in competitions around the country.
He's an all-around athlete who has previously pursued soccer, baseball and basketball, but during middle school he dropped those to focus on his tennis talents.
"I play tennis because of the competitive nature of the game," King says. "It's unlike any other sport because it's individual. You only have yourself out on the court and it's really mentally tough because there's a lot of pressure. If you mess up, it's your own fault."
For King, tennis brings many opportunities to travel around the country. Each year, he competes at tournaments in places like Las Vegas, Colorado Springs, Tucson, Palm Springs and Seattle. With matches occasionally on Fridays, King is sometimes forced to miss classes. "It's kind of a hassle now," King says. "The high school teachers are a lot more strict about late work."
He makes time to get all of his homework done on Sunday after all of his tournaments.
Close friend Shanti Dubey describes King as a calm and funny individual. Dubey says King is a unique tennis player because he is left handed. "Being a lefty helps a tennis player a lot because people are used to playing against righties. It's different," Dubey says.
King says being a left-handed tennis player puts a different spin on the ball, which can throw people off. He finds himself every so often looking up to Rafael Nadal, a top-ranked player and an Olympic gold medalist, because he is a great athlete and, like himself, left handed.
King first started playing tennis when he was seven years old along with his twin sister, Emily King, who also attends Grant. Taught by his father Steve King, Dylan began practicing three to four times a week. "I was pretty into the game when I first started" he says.
King's mother, Amy King, remembers when her son first started playing tennis competitively. She found herself shocked at the perseverance her young child showed on the court. "He was a sweaty mess," she says. He would play a match with other young tennis players for up to three hours. With no subs, the kids would show great determination. "It takes a certain personality to not give up," Amy King says.
Steve King says tennis has been in their family for generations. From Steve King's grandfather, the tradition of tennis had been passed down the family. His father began teaching him at the age of eight.
Steve King grew up in Corvallis and competed in the Northwest Junior circuit. He played through high school and received a scholarship for a year to play for the University of Portland. He suffered multiple injuries and quit playing tennis for 22 years. When his kids were old enough to start to learn the game, Steve King decided to try tennis again.
Dylan King and his dad have a lot of fun playing tennis together. "It gives us a good connection, a good connection through sports," says Dylan King. Emily King sees them having a great time bonding. She says she often finds them having long conversations with each other about tennis.
After he first started playing, Dylan King remembers crying after a bad match, and the ride home with his dad would be silent as he sat convincing himself he was bad at tennis and struggled with blaming his dad for his mistakes. Once he got older, he learned to not let the losses affect him as much. When he loses a match, he says, "I will be angry for a few hours but then I'll just realize there are going to be a lot of really good matches and a lot of really bad matches so I don't get too caught up on one match."
Today, Dylan King, now 15, is excited to join the tennis team at Grant this spring. Already, King spends up to two hours six to seven times a week practicing his tennis skills and an hour of fitness training afterwards with other juniors or trainers. Because of the amount of time he spends practicing, King doesn't get to see his friends outside of school or tennis that often, even though he wishes he could.
Dylan and Emily King don't see each other very often at school but when they get home they have a chance to help each other with homework and improving their athletic talents. "It helps because we are learning the same things," says Dylan King.
Unlike her brother, Emily King decided to focus on playing basketball and softball instead of tennis for her freshman year. "He really focused in on tennis as his main sport and he just loves it with this great passion," Emily King says about her brother.
King is truly looking forward to the opportunities that high school tennis can bring him. "You don't get to play on a team usually with tennis, so this will be different," he says. King is looking forward to playing with the members of the Grant team, saying that some of the players would be great competition.
King received the Althea Gibson Leadership Grant in February. The Grant is in honor of Althea Gibson, a tennis player who won the first 10 consecutive nation championships in 1947. One of the requirements for this award is to be ranked in the top 100 at the national level for tennis. King won this award after submitting an essay and letters of recommendation from some of his teachers and coaches. He received a merit based grant of $2,500. He is planning on using this grant to pay for some of his tennis expenses.
Most weekends, you can find Dylan King competing in tournaments with his doubles partner, Andrew Newell, a freshman at Jesuit High School. Like King, Newell is also ranked in the top ten for his age group and is ranked in the top 70 for freshmen in the country. Although they don't get to practice together often, their similar talent levels make them a good match.
"Dylan's really supportive, I really can't say enough about him because he's been a great partner to me," says Newell.
Newell appreciates how King can pick him back up from a bad day or even fire him up with his positivity. Newell hopes to continue playing competitive tennis in college and would love to play professionally if he was presented with the opportunity.
This February, King and Newell won a level four national tournament together in Roseburg, Oregon. "That was probably one of our best wins," says King. They exchange high fives with each other after each point. King says it's the chemistry that really works well between them.
King practices at the Irvington Club and the Multnomah Athletic Club in addition to travelling an hour away every week to Sherwood to practice with one of his favorite coaches. He enjoys seeing the rewards of his dedication, and after his success at the Winter Nationals says, "I was proud of myself, my hard work had paid off."
For this coming school year, Dylan King is hoping for the Grant tennis team to do well. "Eventually I want to win state."
When it comes to college, he hopes to attend an Ivy League school and compete on a tennis team. For anyone watching King, it's obvious he exerts great force with every swing of his racquet. Occasionally, King comes home with shoulder and elbow pains after a weekend of matches.
On days when he has a bad match he finds himself wondering why all of his hard work isn't working. But he tries not to let it affect him and gets over it.
King says he has learned great discipline and focus from tennis. "Never give up," he says. "If you're down you always have the chance to come back."