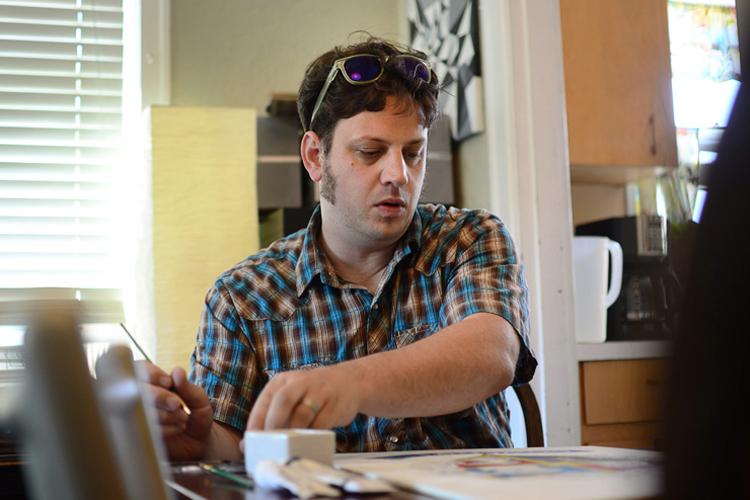 Grant's new Digital Photography and Printmaking teacher spends his free time making various pieces of art.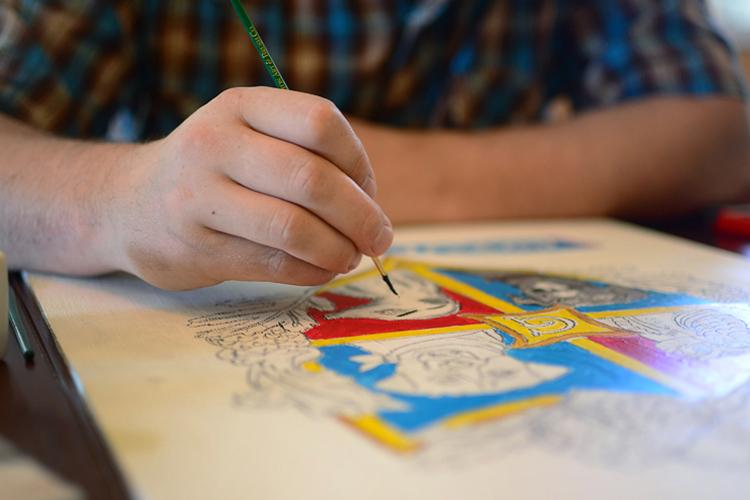 Kelly Merrill paints a family crest for his friends' wedding.
A spaceship crash-lands on the campus of Room 9 School in Shoreline, Wash. Then aliens emerge and begin teaching students how to levitate objects. The young children are curious about the supernatural visitors, though they know it's only their classmates dressed in black outfits with antennas strapped to their heads.                                                                
The aliens touch down as part of a production put on by a group of then fourth-grade students. A fishing pole and wire dangle a book into the view of the VHS recorder. Behind the camera is 9-year-old Kelly Merrill, who watches as part of his directing role.
The movie, "Return to Enin Moor" – the name of Merrill's school spelled backwards – was one of the annual Halloween productions the students created at the alternative school.
The curriculum, which was based around the students interests, was a good fit for Merrill, who often struggled to stay focused in class. For him, art was a way to concentrate his energy and stay engaged.
Throughout his working life, Merrill has drifted from screenwriting and animation to video editing and illustration. His focus has always been widespread across his interests.
But now, as Grant's new digital photography and printmaking teacher, he's ready to settle down into a long-term position and concentrate his focus. "I kind of wanted like a solid career… something that was a little more grounded, and I felt like I could build something," he says. "That was sort of what drew me to teaching."
Just months after completing his master's in education, Merrill hopes to use his background in various subjects to lay a concrete foundation of core concepts in digital media. In short, he wants to help students find their voices through a creative outlet.
Born in Kirkland in 1979, Merrill grew up exploring the world of fantasy through writing short stories and making videos with his older brothers, Jason and Justin.
He remembers watching the movie "Young Frankenstein" as a 4-year-old. He was instantly immersed in the world the writers had created, sparking his interest in storytelling. "I basically didn't want that world to be over," says Merrill. "I was invested in this world, so it really frustrated me that there was an end to it."
During elementary school at Room 9, one of Merrill's teachers influenced his interest in filmmaking as she taught students the basics of creating films. "From then on, in the summers, even during the school year, we'd make short little movies with our video camera," says Merrill.
And his mother, Melanie Merrill, remembers them well. "The joy of my work week was to see a film they made," she says. "I still watch them."
During his years at Shorewood High School, Merrill honed in on the arts. On the weekends, he and his friends formed a group to express their creativity and love of filmmaking. They called themselves "the good time boys" and made videos of themselves running around the neighborhood, climbing buildings and high-fiving cashiers.
At school, he explored the arts through sculpture classes, where he built clay figures and busts. It was this interest that led him to Western Washington University. However, after a displeasing conversation with the program's lead instructor, he decided to transfer to Shoreline Community College to save money and complete his general education requirements.
At the same time, he worked at Meadow Brook Daycare in Seattle, where he taught kids how to draw and paint. It was one of his first experiences in the classroom, and since then, the idea of becoming a teacher lingered in the back of his mind.
Going into his junior year in college, Merrill transferred again to The Evergreen State College to focus more on digital media and animation. For one of his final projects, he created a film called "Phantom Zero" with a few of his classmates. The film was based off the disappearance of Edgar Allan Poe in the last few weeks of his life.   
"Kelly's always been really good at getting people interested in the projects that we're doing and … giving the people drive to accomplish what needs to be accomplished," says Merrill's friend, Mike Wallace, who also worked on the Poe movie.
The film went on to win an award from the Seattle Experimental Film Festival.
"It encouraged me to pursue film, so I can create something and win an award, and so what else can I build off of that?" says Merrill now.
Soon after, he graduated from Evergreen with a degree in art with a focus in film and animation.
He moved back to Seattle and picked up a job as a production assistant on the set of the film "Police Beat," which followed a week in the life of an African bicycle officer in Seattle.
On the set, he was exposed to the many dimensions of the film industry. From running errands between locations to helping with camera equipment and lighting for producers, Merrill says he filled in wherever he was needed to move production forward.
"You kind of get to do a lot of what the director does," says Merrill. "You're kind of interacting with the lighting, camera, the production team and you kind of just learn all the little bits and pieces."
In 2003, he moved with some friends to Portland. A year later, he met Jaime Ausborn on MySpace. The two began messaging back and forth and connected over similar interests in music. A few months later, they started dating.
For the next two years, Merrill worked various day jobs. He delivered newspapers for the Portland Mercury, was a DJ at high school dances and weddings, framed artwork for Pearl Gallery and Framing and worked at Imago Théâtre.
By 2005, Merrill had landed a job at Wieden + Kennedy, a Portland based advertising company. He worked as a member of the audiovisual department and helped catalog commercials or media that Wieden + Kennedy produced. He also edited together videos and created mock commercials for creatives and copywriters.           
But after nearly five years, he was ready for a switch. He was burnt out doing advertising and was looking to get back into the film industry.
Merrill moved back to Seattle and got a job at Microsoft. There, he took old seasons of TV shows and edited them, fixed any problems and wrote code to convert video files from TV to Xbox. Although he wasn't making films, getting to immerse himself in the film industry was refreshing.
Kelly and Jaime decided to pack up and move back to Portland again when Jaime got a job within her career of interior designing.
Leaving Microsoft behind in 2013, Merrill passed the days doing freelance video projects and editing for Adidas and Portland State University. And it was during that time he began entertaining the idea of teaching.
In June 2014, Merrill dove into the world of teaching and began taking classes at Portland State University for his master's in education. "He's become more entrenched in his determination to do something that is creative but is also serving the community," says Melanie Merrill.
When Kelly and Jaime Merrill married in 2013, they wrote a skit for their wedding. "We actually made masks out of papier-mâché and chicken wire," says Jaime. "I was an owl, and Kelly was a fox, and we made this little, like, story about how they met and fell in love."
In October 2015, Merrill and his wife had their first child, a girl they named Juniper. "Learning to raise a child, I think a lot of that relates back to being a teacher, so my home life kind of connects to what I want to do," says Merrill.
While taking courses for his master's, Merrill filled his time out of the classroom as a tutor for the Advancement Via Individual Determination program at Tualatin High School.
For the first time, Merrill was pushed outside of his comfort zone in the world of digital arts, film and illustration and had to work with students on math, chemistry and language arts. But that didn't throw him off course. It wasn't art that was driving him; it was teaching.
"To me, it was kind of a good trial to see even if I was teaching something that may not interest me as much, I still enjoy breaking down information and creating some sort of logic for students to have to build on their previous knowledge," he says.
Earlier this year, while a student teacher at Benson High School, Merrill learned about the Career Technical Education programs that helps students learn skills for future careers. He was intrigued by the idea and wanted to be a part of that program to teach students about digital arts.
In June, he got his degree and blanketed his applications for jobs in teaching digital media across the city. Just a few weeks later, he interviewed and accepted the position at Grant.
As the school year begins, Merrill hopes to create a curriculum with different approaches and choices for students, so they can see the range of skills that are needed in digital arts to prepare them for the future.
"I think doing CTE is really a cool thing for me because it represents what drew me to teaching," he says. "I learned what it's like to work at an ad agency, what it's like to work at Microsoft… now it's exciting to bring that to a high school level." ◊