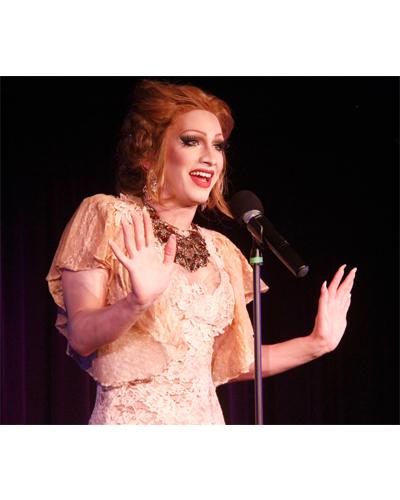 During the day, Jerick Hoffer (Grant Class of 2006) likes to walk around Seattle, play video games and cook extravagant meals. By night, he becomes someone else: Jinkx Monsoon, "America's Favorite Narcoleptic Jewish Housewife," a label Hoffer appointed himself.
Narcolepsy? Yes, Hoffer has that. Jewish? He discovered Jewish ancestry in his family a couple years ago. Housewife? Well, he's a drag queen.
Monsoon is the sassy persona Hoffer created to put on a wild and unfiltered show in nightclubs and drag venues – initially in Portland, his hometown, and later Seattle, where Hoffer currently lives.
The difference between Hoffer and Monsoon is sharp. Hoffer is quiet, quirky and very sweet, people who know him say.
Trisha Todd, his former theater teacher at Grant, says: "He was the most happy-go-lucky guy, always so kind and considerate."
Monsoon? Not so much. "I try to make her the universal depiction of a cougar," says Hoffer. "Someone's drunk mom who wants to be everyone's best friend."
Hoffer was born on Sept. 18, 1988 in Portland. He's the oldest of three kids – all boys, all J-names: Jerick, Jeremy and Jacob.
When Hoffer was a kid, he "never identified as a typical little boy," he says. Watching TV shows about drag queens with his mom, Deanne Hoffer, at age four was his first experience learning that sexuality and gender can shift.
He played the role of big brother quite well. "He was just a normal older brother," says Jacob, 16. "He gave me noogies, took me to the movies, and was always really supportive of anything we did."
As a youngster, Hoffer took part in almost every theater opportunity that came his way and gave him a chance to be onstage. He performed drag for the first time at age 14, donning a plastic blonde wig and a flurry of his mom's green eye shadow.
His high school look made a statement, as well. Grant choir teacher John Eisemann, also a graduate of 2006, recalls Hoffer's patched and baggy pants and hot pink hair with a mix of bewilderment and admiration. "He was both loud and quiet at the same time," Eisemann says. "He would draw attention to himself, but offstage Jerick is very thoughtful and introspective."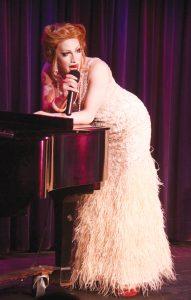 Theater teacher Chris Lane remembers the plucky freshman who rehearsed a loud fighting scene from his favorite film, Death Becomes Her, outside his classroom – with real shovels.
After Hoffer graduated, he headed to Seattle to attend Cornish College of the Arts. He pursued nothing but acting and performing, and worked as a full-time actor in various Seattle theater productions.
He knew he was a good performer and a glamorous drag queen before he auditioned for RuPaul's Drag Race, a reality TV show where the best drag queens in the country battle it out to be on top.
Drag Race host RuPaul Charles paints the show like this: imagine America's Next Top Model, Project Runway and American Idol combined. Contestants have to make their own costumes, sing and perform comedically. Sprinkle in a dash or two of extra sass, and that's the show. These queens ain't afraid to tell someone their wig looks bad.
Last May, Monsoon started off as a dark horse in the show's fifth season. At one point, she found herself in the bottom two, facing elimination, and the only way to save herself was to "lip sync for your life." The contestant who performed better would stay on the show.
Hoffer said a prayer to his nana and uttered his mantra at the time, "water off a duck's back." Then Monsoon knocked the classic musical number "Malambo No. 1" out of the park.
Drag Race is a fast-paced show, a hustle of singing, dancing, acting and being fabulous. And Hoffer had to face some other snarky queens. In the whirlwind of glamour, it can be hard for contestants to stand out.
But Monsoon made it to the finale, where she stood next to the two other queens in a hushed auditorium. Her eyes were shut with excitement as Jinkx Monsoon was announced the winner. Then, with a large, curly platinum wig, soft yellow gown and a winning smile, Monsoon strutted up and down the stage's runway, bowing to the crowd, before announcing, "It's Monsoon Season!"
"I couldn't believe it was true," says Hoffer. "Winning Drag Race was a pipe dream that I never thought could come true. This is all I've wanted since I was a child." ♦
Check out the first installment of a Jinkx Monsoon documentary series called Drag Becomes Him.