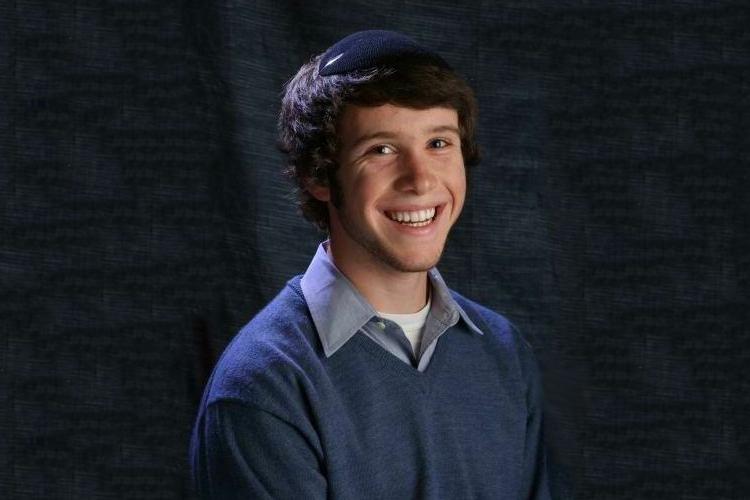 This is it, Ilan Swartz-Brownstein remembers thinking. He recalls taking a deep breath and walking onto the enormous stage of NBC's "America's Got Talent," alongside his partner, Josh Leviton.
The lights are blinding. Swartz-Brownstein remembers that he could hardly make out anyone in the audience other than the celebrity judges in front of him: Howie Mandel, Mel B, Heidi Klum and Simon Cowell.
Based on the pair's clothing – dress shirts and pants, yarmulkes and traditional Jewish fringes called tzitzit – Swartz-Brownstein and Leviton appear as if they are about to recite passages from the Torah. But they have a surprise in store.
Swartz-Brownstein and Leviton begin singing the words to Meghan Trainor's "All About That Bass" before launching into a remixed beatbox version of the pop song. The audience erupts with applause. The judges are equally as pleased, sending Swartz-Brownstein and Leviton on to the next round.
A 2012 graduate of Grant, Swartz-Brownstein, 22, is an Orthodox Jew. In 2010 as a high school junior, he took a hard look at his life and realized it lacked deep purpose. Becoming Orthodox allowed him to see the world in a whole different light.
"Being orthodox is much more than just keeping the rules," says Swartz-Brownstein. "Being orthodox is recognizing the meaning and holiness within everything."
His religion has empowered him to embrace his authentic self – part of which includes beatboxing. As an Orthodox Jewish beatboxer, he's gained national attention on this season of "America's Got Talent."
But for Swartz-Brownstein, it's about more than the recognition. It's about showing members of the Jewish community how to be true to themselves.
Swartz-Brownstein was born in Ketchikan, Alaska. Growing up, he was close with his twin sister, Lieba, and older brother, Natan. They called themselves the Brownstein explorers, often adventuring off trails together during family hikes.
Their parents, Linda Brownstein and Stan Swartz, who are both Jewish, wanted their children to be raised as such. But Ketchikan lacked a Jewish community and the family was left wanting more.
So when Swartz-Brownstein was 5, the family relocated to Portland. "I wanted my kids to follow their tradition," Linda Brownstein says.
Swartz-Brownstein attended Portland Jewish School for kindergarten through third grade. Then he went to Laurelhurst and Sunnyside Environmental School before reaching Grant.
At Grant, Swartz-Brownstein was a self-described class clown. He would do anything to make people laugh, no matter whose expense it was at. "Looking back on my high school experience, I had a lot of fun, but I was missing direction," Swartz-Brownstein says now.
Freshman year, Swartz-Brownstein started running cross country and joined a Jewish youth group called the National Conservation of Synagogue Youth. Aside from weekly meetings, the group attended weekend conventions with inspirational speakers and educational programming focused on understanding Judaism.
He remembers walking away from those conventions feeling invigorated and inspired.
During his first two years at Grant, Swartz-Brownstein was active in the Grant social scene, going out with friends on Friday nights. He has fond memories of making late-night excursions, but near the end of his sophomore year, he started to question his choices. Was this really what life was all about? Was this who he wanted to be?
One day at cross country practice, Swartz-Brownstein posed a question to a fellow runner. "What do you think the meaning of life is?" he asked.
"To have fun," his teammate responded.
Swartz-Brownstein decided he didn't like this answer. "It felt like that was a very shallow reason to be alive, to just have fun," he recalls. "And it was at that point when I started to become more religious."
Junior year, Swartz-Brownstein became strictly observant in his Judaism. His two siblings were also transitioning to an orthodox lifestyle, and they drew inspiration from one another. As an Orthodox Jew, Swartz-Brownstein would have to adopt dozens of practices to observe his newfound religion, such as only eating kosher foods and attending synagogue. He also had to keep shabbat, meaning he had to adhere to a series of expectations around being orthodox.
"Being orthodox is much more than just keeping the rules, being orthodox is recognizing the meaning and holiness within everything" – Ilan Swartz-Brownstein
Keeping shabbat proved to be difficult for his social life. The Jewish Sabbath occurs weekly from Friday evening to Saturday night and is a designated time of rest for Jews – they are not to drive, use cell phones or do anything strenuous. Swartz-Brownstein could no longer go out with his friends on Friday nights.
He remembers picking up his phone after shabbat to see dozens of texts from his friends, asking him to hang out. As time went on, Swartz-Brownstein stopped being invited to social events and ended up losing many friends.
"I thought it was sad that a lot of those relationships were based on whether I could hang out with them on a Friday night," he says now.
His mother was also not accepting at first. "It took a while for me to understand all the nuances of all they were and all they were taking on," she says.
But Swartz-Brownstein didn't sway from his decision. He was dedicated to the core – on Saturday mornings, when driving in cars was not allowed, Ilan and Lieba walked for three hours to their synagogue on the other side of Portland, nine miles away.
The siblings had little to do during the walks – no phones or music are allowed during shabbat. So Swartz-Brownstein started beatboxing, imitating drum sounds with his mouth.
"I thought it was so obnoxious," Leiba Swartz-Brownstein says.
But he got better with practice and research. He spent hours perusing YouTube, learning new techniques and styles. He was particularly inspired by another Orthodox Jew beatboxer, Leviton, who called himself "The Orthobox."
After graduating from Grant in 2012, Swartz-Brownstein traveled to Israel with a Jewish study program called Yeshivat Netiv Aryeh. For a year and a half, he studied Jewish law, history and philosophy in a temple-like stone building across from the Kotel – a sacred wall from an ancient temple in Jerusalem that is considered to be one of the holiest places on Earth for Jews.
One day while visiting the wall, Swartz-Brownstein saw a man he thought he recognized. "I saw this really tall guy with a black kippah and glasses, and he looked just like the guy from the videos," he recalls.
It was Leviton. Swartz-Brownstein walked up to him and asked, "Are you the Orthobox?"
The two struck up a conversation, did a bit of beatboxing together and exchanged contact information. Days later, Swartz-Brownstein and Leviton performed for the first time at an outdoor shopping center bustling with tourists.
After their time in Israel, Swartz-Brownstein and Leviton went their separate ways. Swartz-Brownstein began attending Yeshiva University, a private Jewish school in New York City, while Leviton returned to school in Maryland.
But the pair remained in contact, and when Leviton moved to New York City in 2015 – less than a block away from Swartz-Brownstein's dorm – the pair jumped at the opportunity to share their talents with the world.
In November, they submitted an audition tape to "America's Got Talent." Three months later, it was confirmed – they were going to be on the show.
For the first round, the duo stunned the audience with an unexpected performance. But in the next round, Swartz-Brownstein and Leviton's performance fell short in the eyes of the judges, and they didn't move ahead.
The disappointment was crushing, but Swartz-Brownstein realized the performance meant more to them than just cheering fans. For them, it was the interactions backstage – sharing Jewish culture with other contestants – that they felt most proud of. Now, Swartz-Brownstein is in his senior year at Yeshiva University. He's travelled all across the country with his school's A Cappella group, The Y Studs, performing at bar mitzvahs, concert halls, fundraisers and more.
He plans to graduate with a degree in marketing, then study to be a rabbi, though he doesn't plan on holding a position at a synagogue. "It's a strong foundation for beginning the next big stage of my life," he says.
Since their appearance on the show, the beatboxers have become celebrities in the Jewish community. Throughout everything, though, he has stayed true to his morals. "We always think it's going to be this big, grand, exciting thing that everyone's going to see," he says. "But the biggest impact I think, is the one we can make offstage." ◊