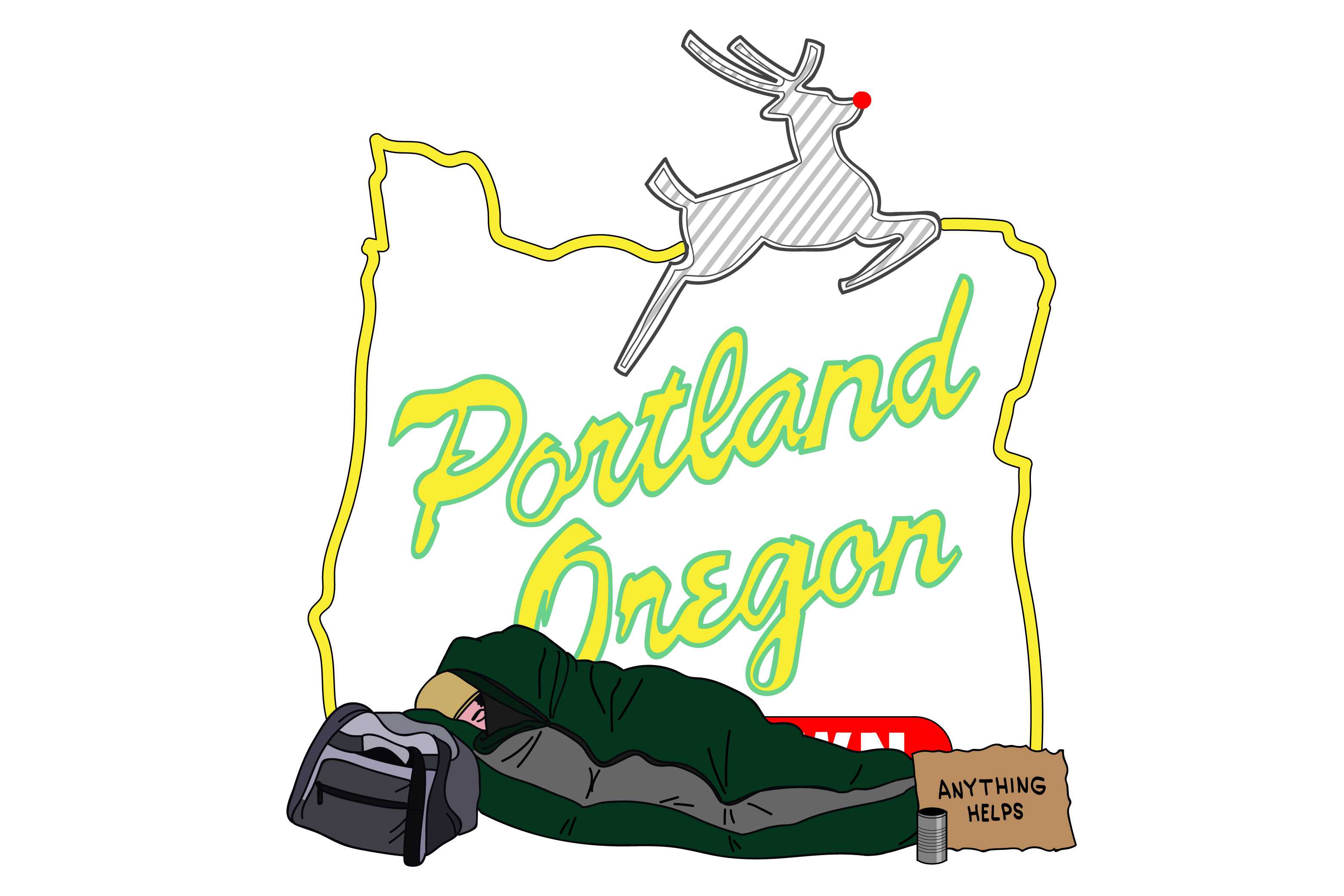 When nearly a foot of snow hit Portland in early January, Mayor Ted Wheeler called a state of emergency for the city. The freezing temperatures became a life or death situation for those living on the street.
As a result, the Portland Building in downtown opened as a warming shelter, and several dozen people experiencing homelessness packed into the second floor of the building at night.
One woman who entered the shelter a few days before had struggled with homelessness for years. She had been sleeping in shelters across Portland or crashing on a friend's couch when she had the opportunity. Another man had a nice home last fall before he was diagnosed with a serious illness, consequently lost his job and was evicted a couple months ago.
Everyone in the shelter that night had one thing in common: They were there because they couldn't afford permanent housing in Portland, and few solutions were in sight.
Homelessness is a serious issue that has plagued Portland for decades. According to a report by local governments and the coordinating board of A Home for Everyone, in 2015 alone there were an estimated 15,800 people experiencing homelessness in Portland and Gresham. The issue is possible to fix, but it's going to take effort from all of us.
While there are many problems contributing to homelessness in Portland, it ultimately boils down to the reality that there isn't enough affordable housing. As the cost of rent skyrockets, and people from California and other states flood to our city, Portland residents are left unable to afford their homes, forcing them out onto the streets.
Citizens who struggle with addiction, mental health and other disabilities often find themselves struggling to maintain a job and pay the rent. On top of that, homelessness can spur addiction, mental health issues and physical disabilities, creating a vicious cycle.
Perhaps the scariest facet of homelessness is that it can happen to anyone. Karen Batts, a Grant High School alum who graduated in 1982, died from hypothermia in January, just months after being evicted from her apartment. And experts say homelessness affects current students, including those at Grant.
"Grant High School is a big school, and I'm confident that there are many students at Grant who have been touched by homelessness either personally or in their families," says Marc Jolin, director of Portland and Multnomah County's Joint Office of Homeless Services. "It's an issue that reaches many people in our communities."
It won't be long before Grant students find themselves looking for a place to live, and with the average price of rent increasing to more than $1,500 a month in Portland, many will not be able to afford living here.
We must empathize with the victims of Portland's housing crisis, and then all of us must confront the issue head on.
The first step in combatting homelessness is recognizing that it is a systemic issue. We need to acknowledge that homelessness is a solvable problem and get rid of the stigma that blames people experiencing homelessness for their condition. It's time to start doing research, informing ourselves and having conversations with friends, family and peers about this issue.
Unfortunately, the new presidential administration has ushered in many unqualified policy makers. That includes Ben Carson, a retired neurosurgeon with no experience in politics, who is now running the federal Department of Housing and Urban Development. A key value of conservatism that Carson supports is private ownership and minimizing government assistance to citizens. Contributions from the federal government to help solve the issue of homelessness are likely in jeopardy.
That's why we must take action in our own community.
In Portland, there are a plethora of organizations that work to fight homelessness by providing affordable health care, shelters and affordable housing for people experiencing homelessness, including veterans. But even with the help of these organizations, there are still hundreds of people sleeping on the streets of the city each night. If we feel any sense of connection to this community, then it is our duty to go out and get involved.
We can volunteer for local organizations or donate money, clothing – including socks, underwear, and coats – blankets and hygiene products. We can demand that the government confront homelessness in Portland by writing letters, calling our legislators and planning demonstrations. We can vote for politicians who aim to dismantle homelessness and support policies that also work to combat the issue. We can educate our peers on the prevalence of homelessness and how to take action.
We can also do something as simple as acknowledging people experiencing homelessness by saying hello and starting up a conversation. Gestures like these seem small, but they go a long way for a population that is so often ignored and pushed to the sidelines.
The death of Karen Batts hit close to home in the Grant community. Let's act now before something like this happens again. ◆
To read more about Karen Batts go to grantmagazine.com/karen-batts.