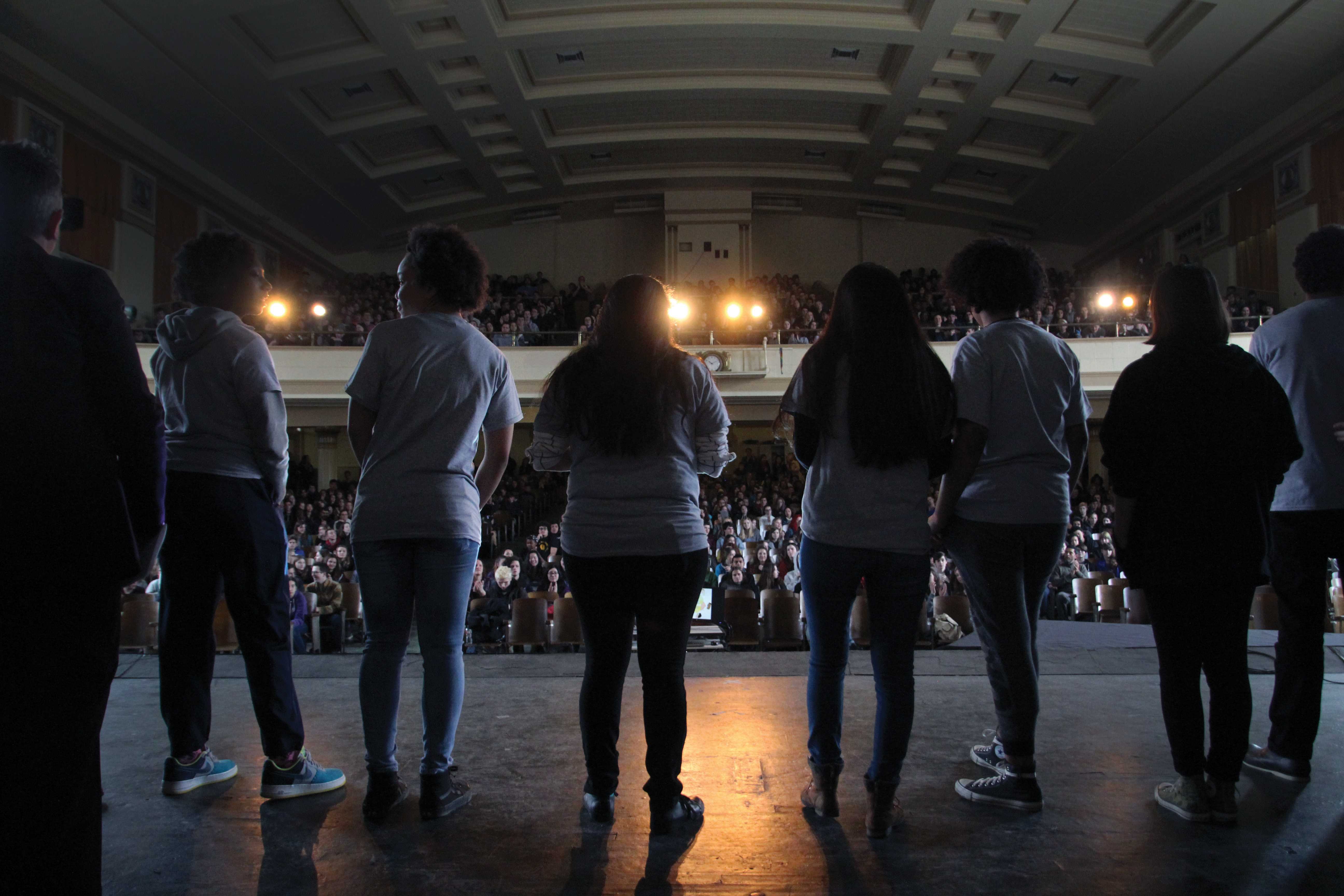 The school-wide race talks were followed by an assembly; at the assembly, student advocates for equity came together to share their stories and the message behind the event. | Photo by Finn Hawley-Blue
Junior Khiarica Rasheed performing a poem about race in today's society. | Photo by Finn Hawley-Blue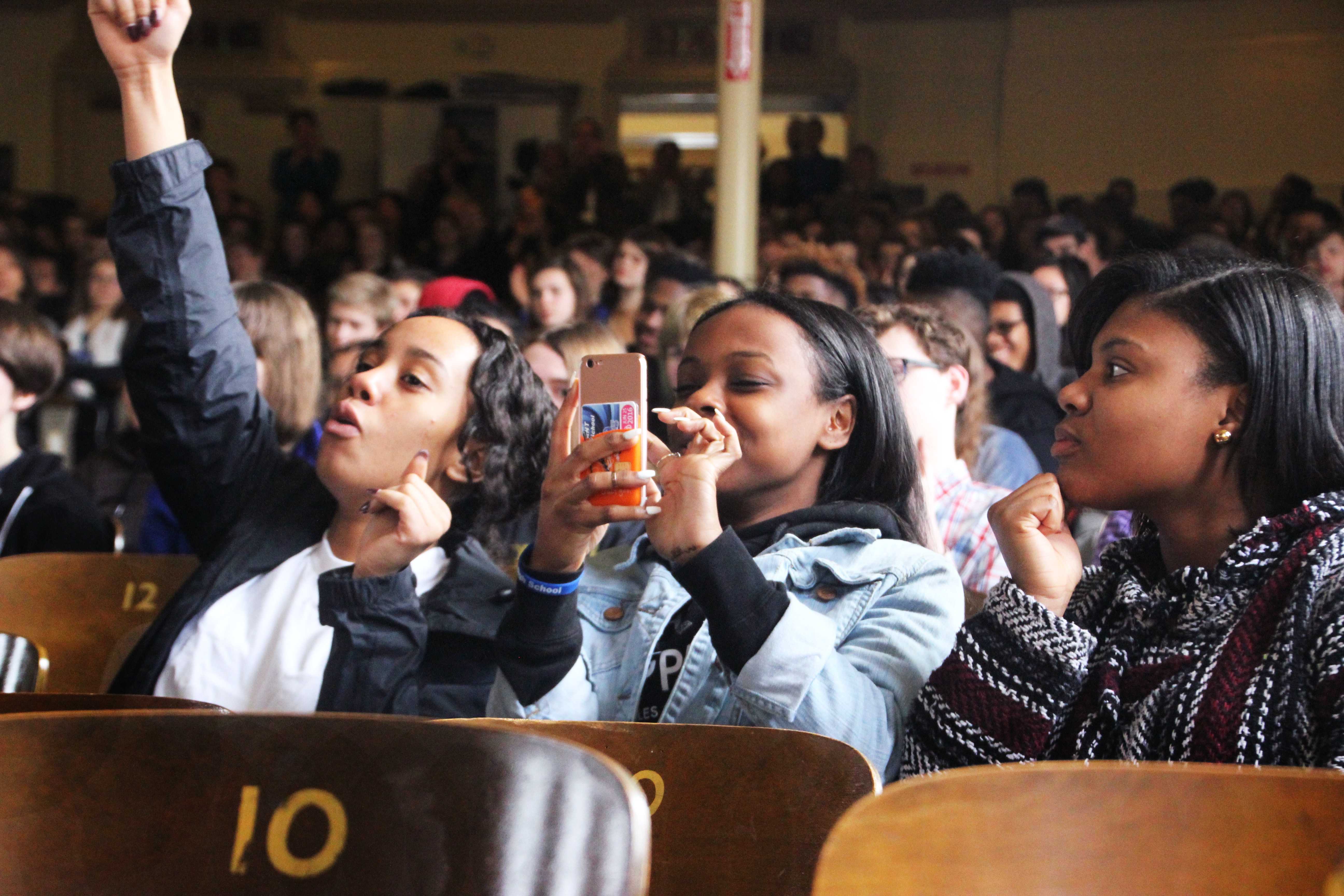 Students react to Rasheed's poem. | Photo by Cassius Pettit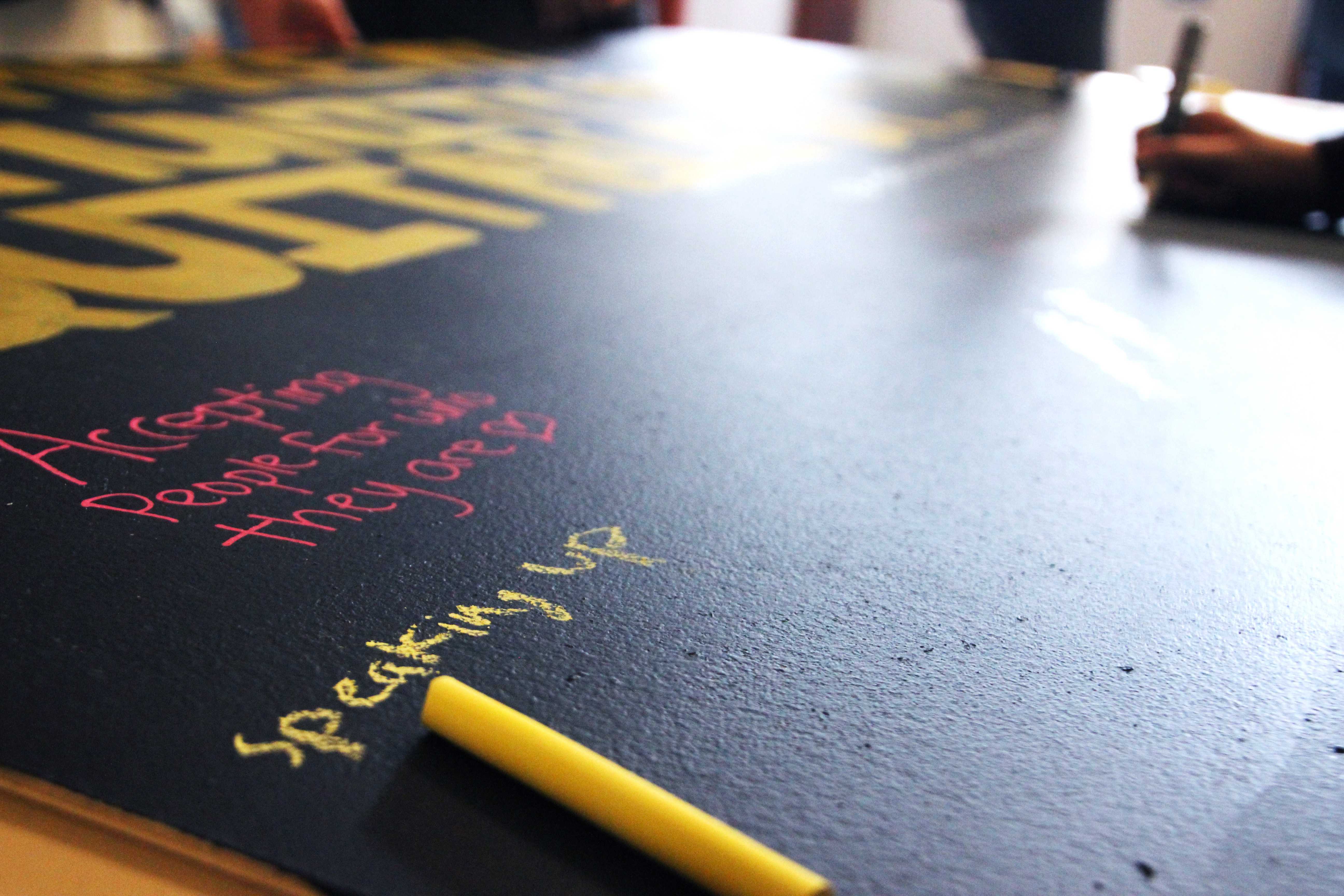 A word wall made by Art Teacher Lynn Yarne and the student body advocates for the equity committee to help student reflect on the race talks. | Photo by Cassius Pettit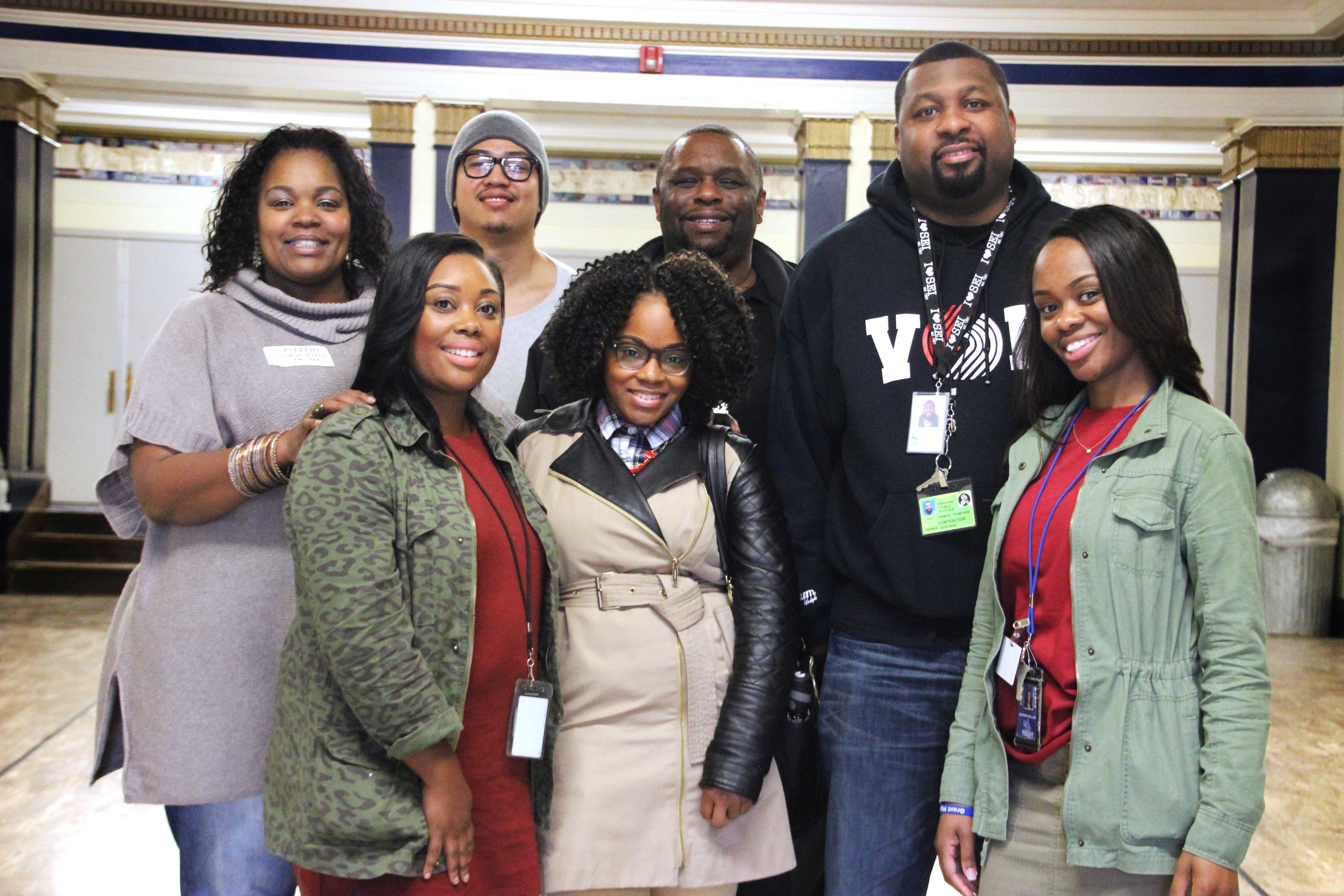 Facilitators came in from various schools and programs to help spur discussions in the classroom. | Photo by Cassius Pettit
On a routine Monday morning when most secondary schools were in the midst of regular classes, Grant High School fell silent. Few people roamed the hallways. Instead, in an unprecedented move, Grant students and staff sat in sixth-period classrooms, participating in the Portland Public School district's first school-wide discussion on race.
Dubbed "Race Forward," the event comes after months of internal meetings between Grant administrators, students and the district's equity department. The result was an 90-minute structured conversation that focused on personal experiences about race, followed by a 25-minute assembly that synthesized the topics discussed.
These talks – which drew 30 outside community members, including 20 from the district's equity team, to help facilitate – were prompted by several racist incidents at Grant in the past year. Those included freshman boys posting racist and misogynist rants on social media and boys soccer players using the N-word to taunt a teammate during the fall state playoffs.
The goal of Race Forward was to talk openly and honestly about race in a focused classroom environment.
"It wasn't what I was expecting, it was more about talking about your experiences," said freshman Amelia Ernst, who is white. "I thought it was interesting to have everything out on the table and to have it just be there, not necessarily figure out how to fix it."
Many students, teachers and administrators found the conversations to be productive. Still, many believed they should merely serve as a jumping off point for future events.
"I think for a first step, this was really enlightening and…well put together," said Grant counselor Tearale Triplett, who is black. "If we could have made sure that every student participated, just to gain the perspective of those who, for whatever reason, didn't want to speak…I think that's going to provide for more discussions in the future. I think that's where you would build on what happens next."
In each classroom, the discussions were introduced with a video, made by Grant Magazine staffers, which prompted the question: Why does race matter to you? With this, students and facilitators delved into the conversations with a combination of oral and written responses that covered everything from the Grant community to race in the media.
When was the first time you were aware of race?
How do you observe race in the media? Our community?
How has race affected your lived experience?
"I'm always interested in hearing points of view and in the end how is it going to help me to be a better teacher and a better person," said Susan Shea, a Grant math teacher who is Japanese. "Hearing other people's stories I think was important for other people to hear."
Many students agree.
"I'm hoping for people to start understanding what it feels like to be a person of color in those classes. Just not isolating me or other people of color or yelling or attacking and dismissing because it's really hurtful and I don't think they understand the impact," said Eileen Conley, a junior who is half Japanese.
Freshman Marquis Penn, who is half black, said: "I thought it would be quite awkward, that me and my fellow African American or black students would be the only ones talking. And I thought it wouldn't change anything, that it would go back to the way it already was."
But, he said that wasn't the case. "I feel like it was very helpful because I feel like everyone is aware now of what they say or what they do," he added. "They're going to be much more conscious about what they're saying and what they're doing. As it keeps moving forward, we won't feel uncomfortable talking about race anymore."
Still, not everyone gave the discussions a chance. A number of students skipped the event. Tess Kelly, a white senior, said: "I feel like the assembly wouldn't teach me a lot and like it's kind of unnecessary."
Triplett says, though, that for the kids that did go and participated it was beneficial. "I felt the kids were getting away from the fact that this is not just an issue in places like the south," he said. "People feel like by ignoring racism that they're actually being a champion of it which is, I think the exact opposite. If you ignore it and don't address it, then it can become more of a detrimental aspect to building relationships than anything else."
Grant principal Carol Campbell, who is white, says she hopes the discussions will affect the entire student body. And, she said, we can't stop now. "We want to be so that when you come here as a freshman, you are instantly part of talking about how race impacts the world and how it impacts individual people here at Grant," she said. "More than just acceptance and more of advocacy for everyone."
Following the school-wide assembly Monday afternoon, each facilitator gathered in the Grant library, along with Campbell and vice principals Diallo Lewis and KD Parman, to quickly debrief on the day's events. They shared varying perspectives on what went well and what didn't.
Samuel Thompson, Grant's coordinator for Self Enhancement Inc. who identifies as African American and served as a facilitator during the talks, made sure to address the need to continue having a structured dialogue around race, in and out of the classroom.
"The conversation today was good but it didn't allow them to really dig deep and get deeper into the issues that are here at Grant High School," said Thompson of the students in his group. "It left me thinking…what are they talking about? What do they want to talk about?"
Many facilitators agreed the recent race talks were a step in the right direction towards creating a more racially conscious community, but only that. They emphasized many things could be happening that aren't currently implemented in curricula across the country when it comes to race, and that actions to resolve this should be included in everyday dialogue between educators.
Hector Roche, the senior equity manager for Portland Public Schools who is Latino, believes discussions like those recently implemented at Grant should appear much earlier in the educational process. "We really need to start having these conversations in grade school," Roche said. "There's research that shows that by the fifth grade, students have already pretty much decided what the racial world looks like…so how you craft those conversations, or what you do in elementary school is important."
Campbell said she recognizes discussions about race are apart of an ongoing process. "I don't think you're ever going to be like, 'Oh, we solved this and we don't need to have these conversations anymore,'" she says. "I think we will always have to have these conversations."