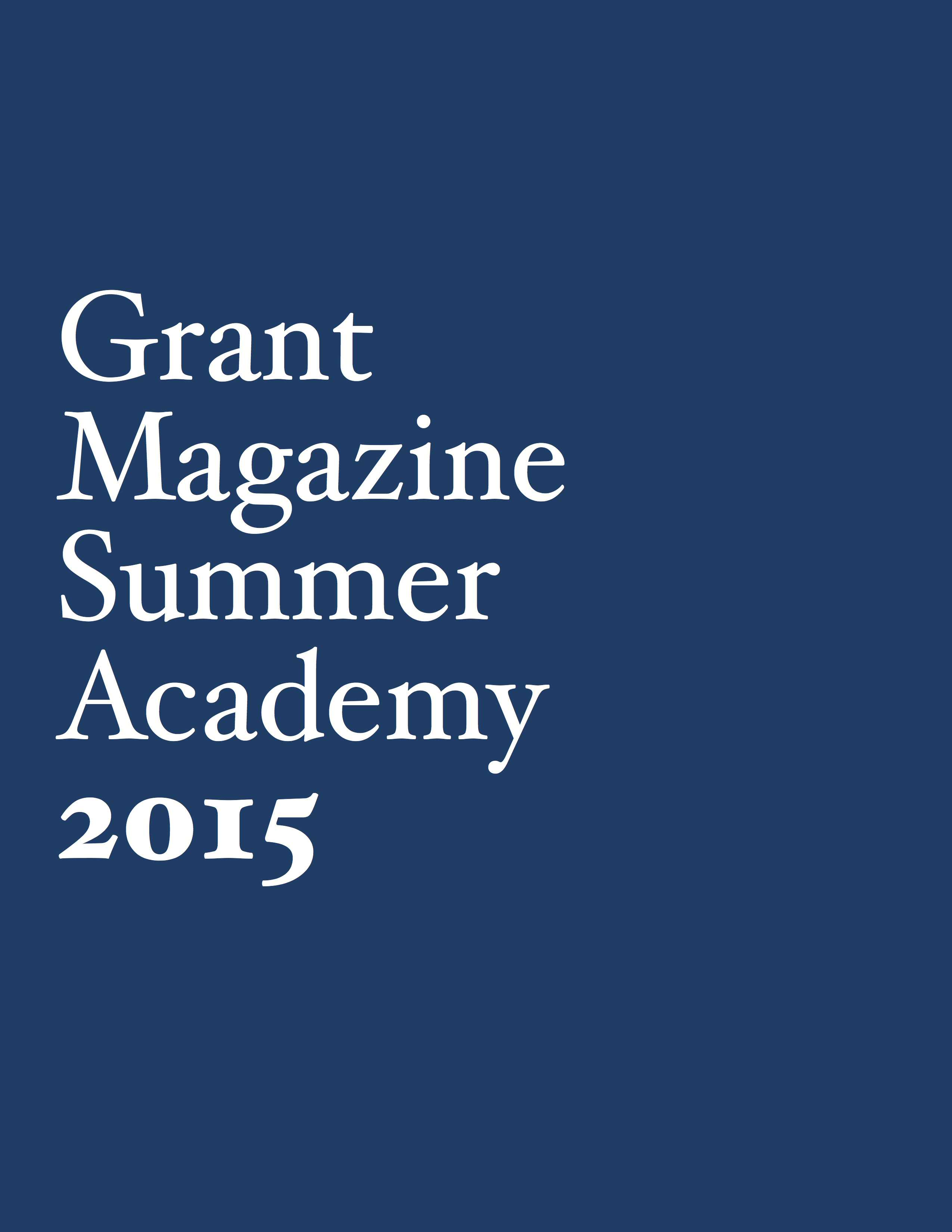 Every summer, the Grant Magazine staff holds a journalism camp for rising seventh through ninth graders. Their stories are posted here, on the Grant Magazine website.
Children shriek and splash. Sunlight splays off the translucent water. Blue and yellowbanners flutter over the pool. A warm breeze billows through open doors, smelling of fresh buttered popcorn, sunscreen and chlorine.
This is Grant Pool at the peak of summer, where Benjamin Kim has found solace in the constant whirlwind of activity and the youthful atmosphere, as well as working his job as assistant manager.
Kim has rejected conformity and social hierarchy his whole life. Living in South Korea during part of his childhood, he found it too restrained and conformist. After settling in the United States, Kim searched for years to find a career that satisfied both his passions and morals. Now, he believes he found his calling in aquatics.
Born in Seoul, South Korea in 1974, Kim moved to the suburbs of Philadelphia at the age of four-and-a-half. When he was 10 months old, Kim's parents wanted to make it on their own in America and left him under the care of his grandparents so that they could establish a new life.
Though his mother and father both graduated from distinguished Korean universities and came from upper middle-class families, in the U.S. they were working at sweatshops and were treated like second-rate citizens.
A few years later, Kim was brought over to the U.S. Although he was born in South Korea, Kim feels that he has developed more as a person in the U.S., which left him more connected to American culture. "I would get up Saturday morning to watch cartoons, and wore Underoos and stuff, like Spiderman Underoos," he says. "And so, like my identity was more American."
Because of this, the move back to South Korea at the age of 11 in search of better job opportunities was rough. Being a newcomer wasn't hard because he made friends easily, Kim says. But it was difficult to be thrown against Korean ideals.
"There's quite a bit of emphasis on wealth and reputation and it kind of fits in with our Confucianist ideology," Kim says about Korean society. Coming to America, he hated the conformity that was embedded in everything: school, self-expression, life. Korea, he says, was too focused on enforcing social order based on age and position.
"So many people were very materialistic and they tried to distinguish themselves over petty little things like, what kind of shirt do you wear today or what kind of sneakers you're wearing," says Kim.
However, his younger sister is the opposite, says Kim. Born in Philadelphia and moving to Korea as a small girl, she identified more with her second home. "To this day, she's like, all her friends are Korean… and she watches like a lot of Korean shows." Kim says that his sister's and parents' shared connection with Korea brought them closer together, excluding him.
At 17, Kim begged his family to let him move back alone to the United States to attend boarding school in St. Johnsbury, Vermont. Kim wanted to go to a liberal arts college and at this boarding school he could enroll into the right classes for acceptance. Kim was glad to return; school in America offered relief from the conformist nuances of Korean education.
"The object wasn't to actually learn how to think or view the world or-it was about memorizing stuff so you can score well on an exam, and go to a more competitive university…that stuff just kind of ate my soul."
As he became old enough to work, Kim found his first job washing dishes for a restaurant. After a summer of sweaty, underappreciated labor, he decided to look for other options.
"The school I was going to at the time…they were offering a lifeguard class as one of, like an after school elective for, like, one credit or something like that," he says. Kim took the class and became a lifeguard for the remainder of high school, saving up money for college.
Literature had always appealed to him, so Kim attended Lewis & Clark College, eager to major in English. "Even when I was in college, like, writing was kind of like a real arduous process for me, like it took a long time to do," Kim says. "But that's what I was passionate about, like I was passionate about learning about world, the world and humanity outside of, like, my own little oyster shell."
Though he wanted a higher education, he says he was naive and romanticized college in believing that it would be a progressive environment of people who only wanted to better the world. "There was a lot of like, competitiveness and like, things about social status and, again,like, trying to make more money than your next door neighbor." This realization, along with a shortage of money, influenced his decision to drop out of college.
Kim's next step was to join the United States Navy because he was offered a college bonus. Kim signed a four-year contract with the Navy. In times of peace or a flourishing economy, the military strains to enlist enough soldiers to uphold the U.S. Army.
A friend from Lewis & Clark, Alex Reagan, remembers being surprised when Kim joined. "He seems, you know, like a guy who, you know, likes to talk about books and politics."
Kim found the navy to be reminiscent of South Korea. When he joined, he knew what he was getting himself into-that he wouldn't enjoy many angles of military life. "I didn't like it at all, it was too regimented for me. And, yeah, I didn't necessarily agree with the the politics of it all," he says. "Military force is necessary for defense but often times things get messed up and it's not just about defense."
While in the Navy, Kim worked primarily as a gas turbine electrician, maintaining the ship's engine. His secondary duty was as a search and rescue swimmer.
Kim recalls one instance when he had to save a man from drowning. "If the water's calm, then the captain decides to drop the anchor and people just kinda jump off and go first," he recalls. "And this one guy jumped off the ship and, but he didn't know how to swim so I don't know what he was thinking, so had to go kinda fetch him and put him on a raft…"
After his four required years were up, Kim tried to live with his parents in Maryland, which was a challenge because he hadn't lived with them since he was 17. "They're kind of like old-fashioned Korean parents," he says, explaining that Koreans are very nationalistic and he disliked their belief that Koreans were a pure, superior race.
Kim lasted six months before moving to San Francisco and graduating from San Francisco State University.
In San Francisco, Kim felt like he had finally found a home among the open-minded people, weather and politics. "San Francisco is one of the most liberal or is ranked the most liberal city," he says.
He loved the food. Kim considers good food to be integral to happiness: "It ties you to other people, you share the meals, you know, and it ties you to, gives you a bigger, a better appreciation of where the food comes from and our farming practices, you know. You also have to slow things down a little bit."
Kim began in a teacher's certification program after graduation and was on his way to getting a California teacher's license in English. "I kind of gave up on it because I didn't think I could handle all the standardized testing stuff that the teachers were being forced to adhere to," he says. California teachers go through a two-year probation period before they're hired permanently.
In those two years, the novice teachers are expected to comply with whatever they're told to teach. "And I didn't think I could do that," Kim says.
While in college in San Francisco, Kim had started working as a lifeguard again. After he decided to stop working to become a teacher, aquatics became a full-time gig. Already certified from his high school days, Kim remembers how much he enjoyed working at the pool.
"I really liked teaching swimming lessons, that's what kept me coming back, it's one of the things that, makes me happy…I could also teach, you know, so I started teaching other people how to become swim instructors and certifying them in that, so, teaching was a main component, but also, you know, it's a rewarding job in that you're preventing drownings in the community, and also, looking around, so many people have fun."
Kim's jobs weren't nine-to-five. You don't build pools to make a lot of money, he says. They're more of a service to a community. It was his jobs at the pool, along with gardening for wealthy San Franciscans, that supported him in the Bay Area.
But during the tech boom of Facebook and Google, people began to flock to San Francisco and prices rose from expensive to overwhelming. Kim was edged out of the market and moved up to Portland in the late summer of 2014, leaving behind a close-knit group of friends and a home of fourteen years.
Unimpressed by Portland's food scene – "There's a lot of mac-n-cheese and tater tots," he says – and finding the city much less diverse than San Francisco, he found a job in November working for the city's pools.
Kim met his current partner, Angela MacWhinnie, in the holiday season of 2014. She worked for a union of city workers such as himself and he first met her at an orientation. When they connected on OkCupid, an online dating website, they realized they had met previously.
"It's one of the things I like about him. I am a community and union organizer so I also have quite a lot of critique," MacWhinnie says about his dismissal of trivial standards. "I think really both of us really enjoy eating out at great meals… And, I think, just enjoying the parks, the outdoors of Portland," she says. Kim and his partner are expecting a child this September.
For the summer of 2015, he was assigned to Grant Pool. Kim can tell how important Grant Pool is to the neighborhood, from the hordes of excited children to a staff of smiling Grant teenagers.
"People are great here. The community's great. It's really kind of pleasant to see how
supportive the community is at this pool," he says. "I'm kind of at the center making sure things
are operating smoothly from different elements…so just making sure that we're keeping the pool open and that things are safe and pleasant for patrons."
Preventing drownings is an important part of the job, one that he approaches very seriously. Kim has implemented a safety discussion before swim lessons to inform young swimmers about the hazards of the pool.
Kim's resolve has been noticed by his colleagues. "He obviously really cares about teaching lessons and providing a good experience more than any other assistant manager I've had," says lifeguard Chandler Willison, who's been working at Grant Pool for four summers. "He really just, like, takes the initiative."
At the pool, Kim has finally found a way to channel his inner educator without risking conformity. He feels right at home surrounded by the energy of aquatics. "Well, yeah, I mean. Kids are, kids… Teaching swimming lessons to kids and working with a younger crowd kind of keeps me sane."