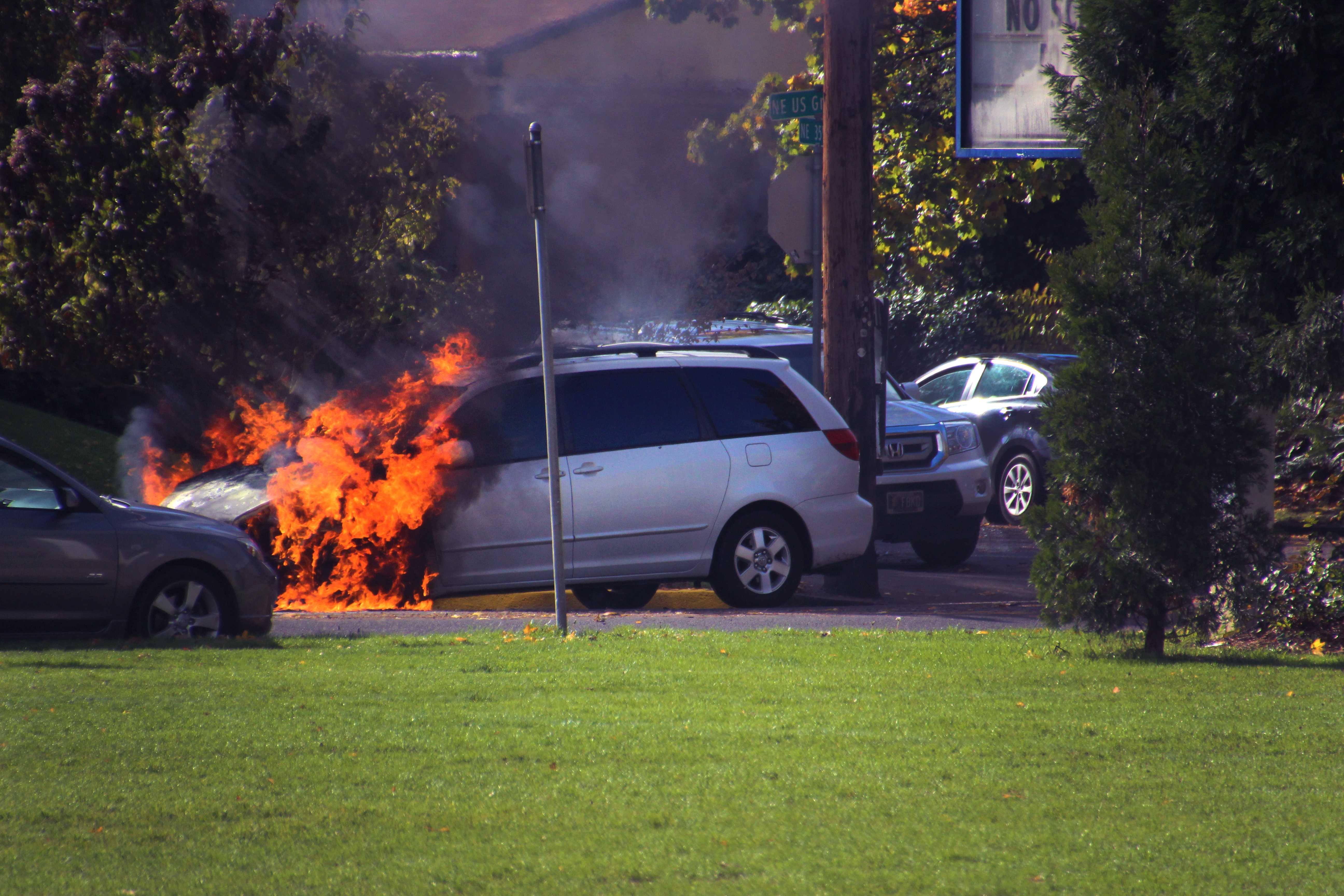 A vehicle fire outside of Grant created a commotion Tuesday morning. Firefighters arrived quickly to extinguish the blaze.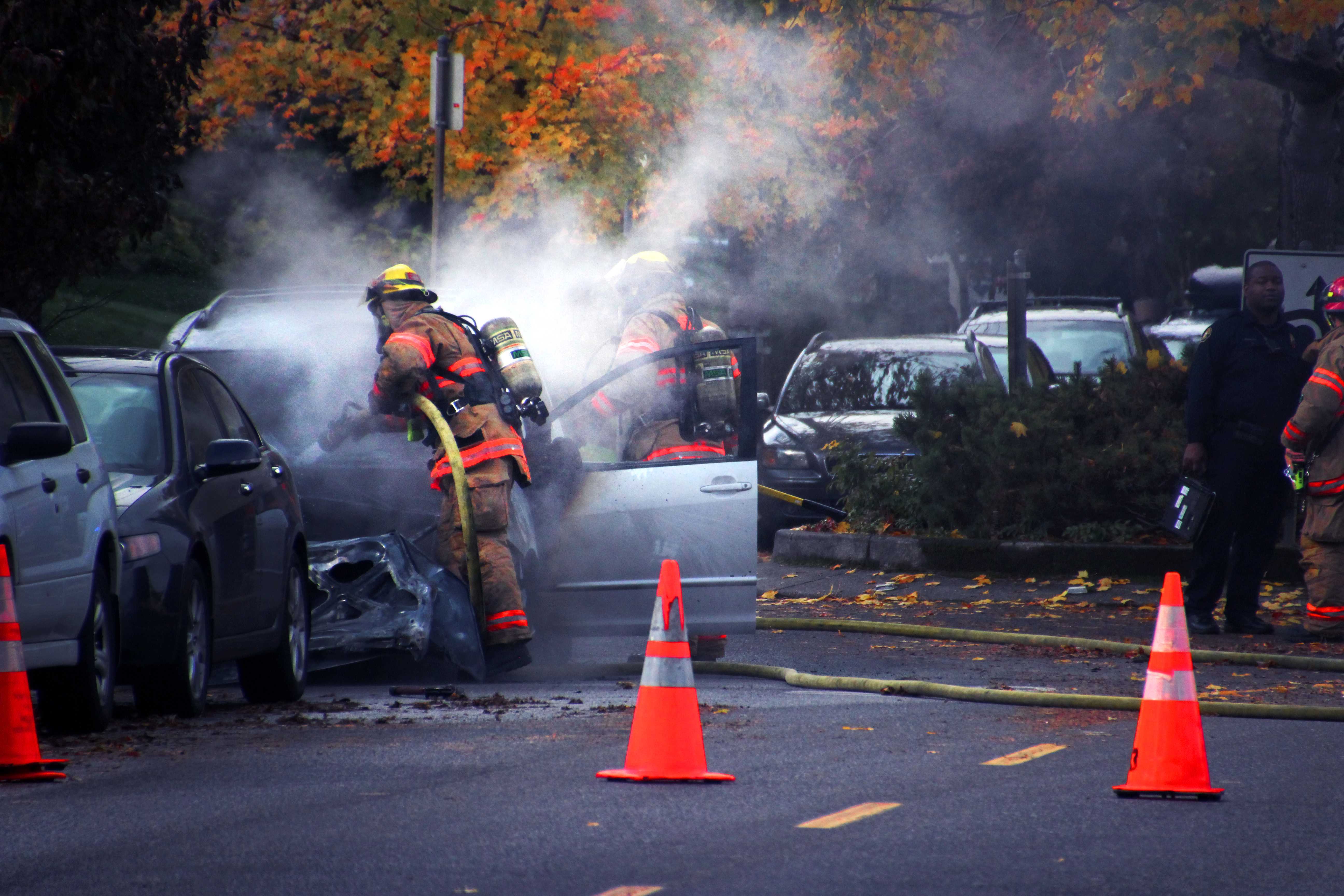 Firefighters talk to witnesses to find out what happened, as one firefighter makes sure things are safe.
The man driving the minivan that caught fire, pictured left, declined to give his name. He told firefighters he was driving along U.S. Grant Place when he smelled smoke. He pulled the van over and the engine erupted. Lt. Ryan Sutton, pictured right, asks the driver a few questions after the incident.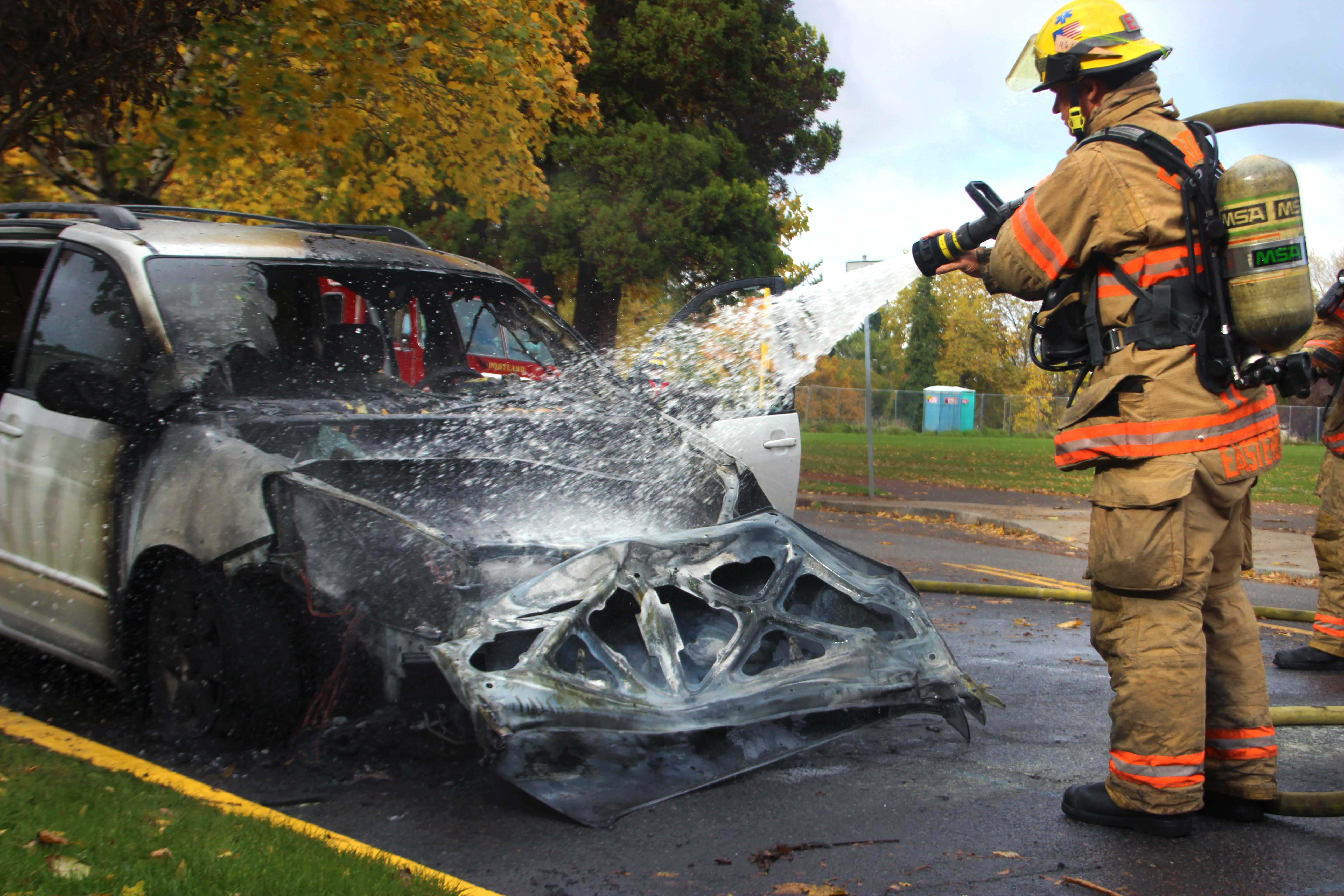 Members of the Portland Fire Bureau work quickly to put out a fire that erupted in a minivan near Grant. No one was hurt in the blaze.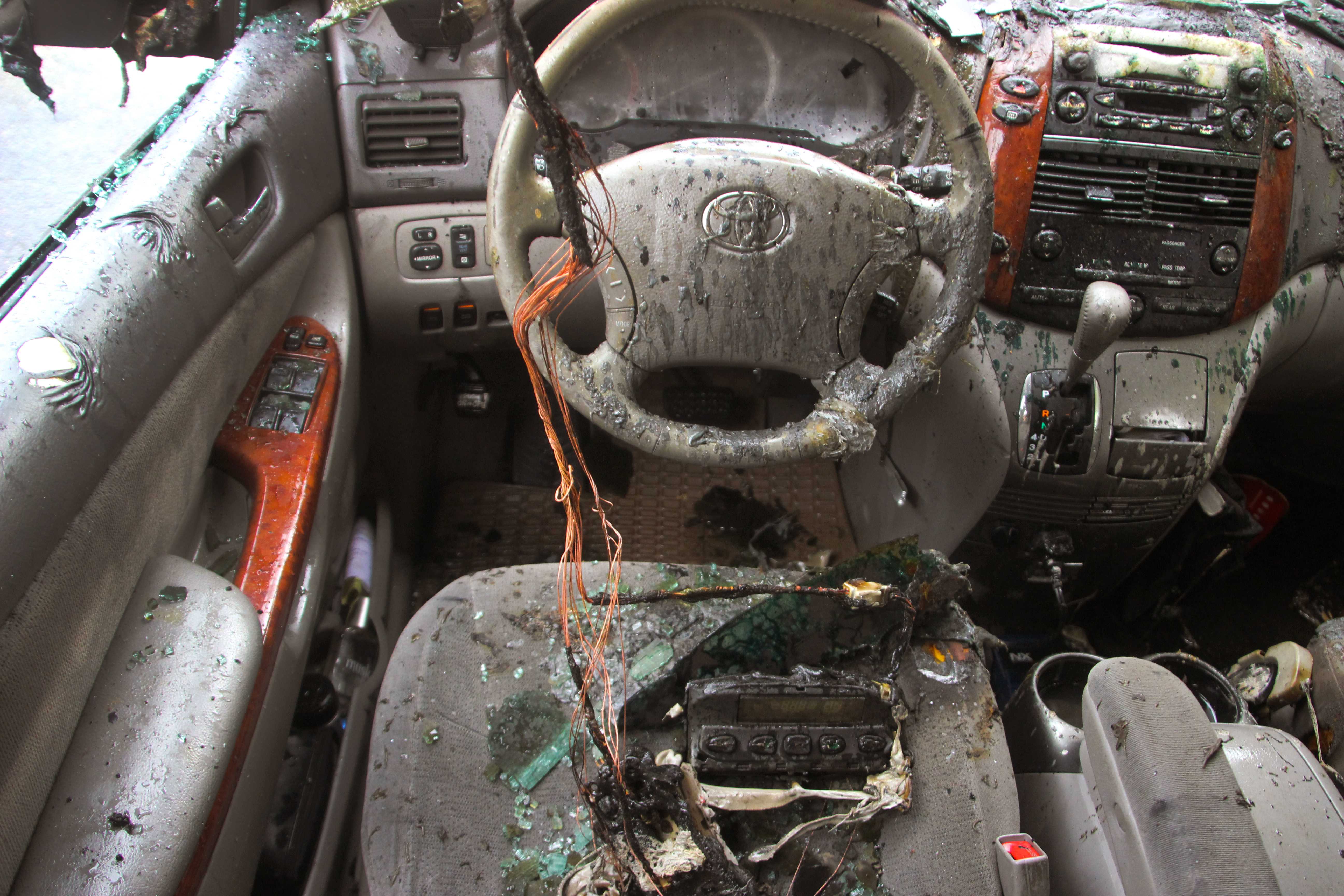 The driver smelled smoke in the van and pulled over. Flames and water damaged the interior of the vehicle.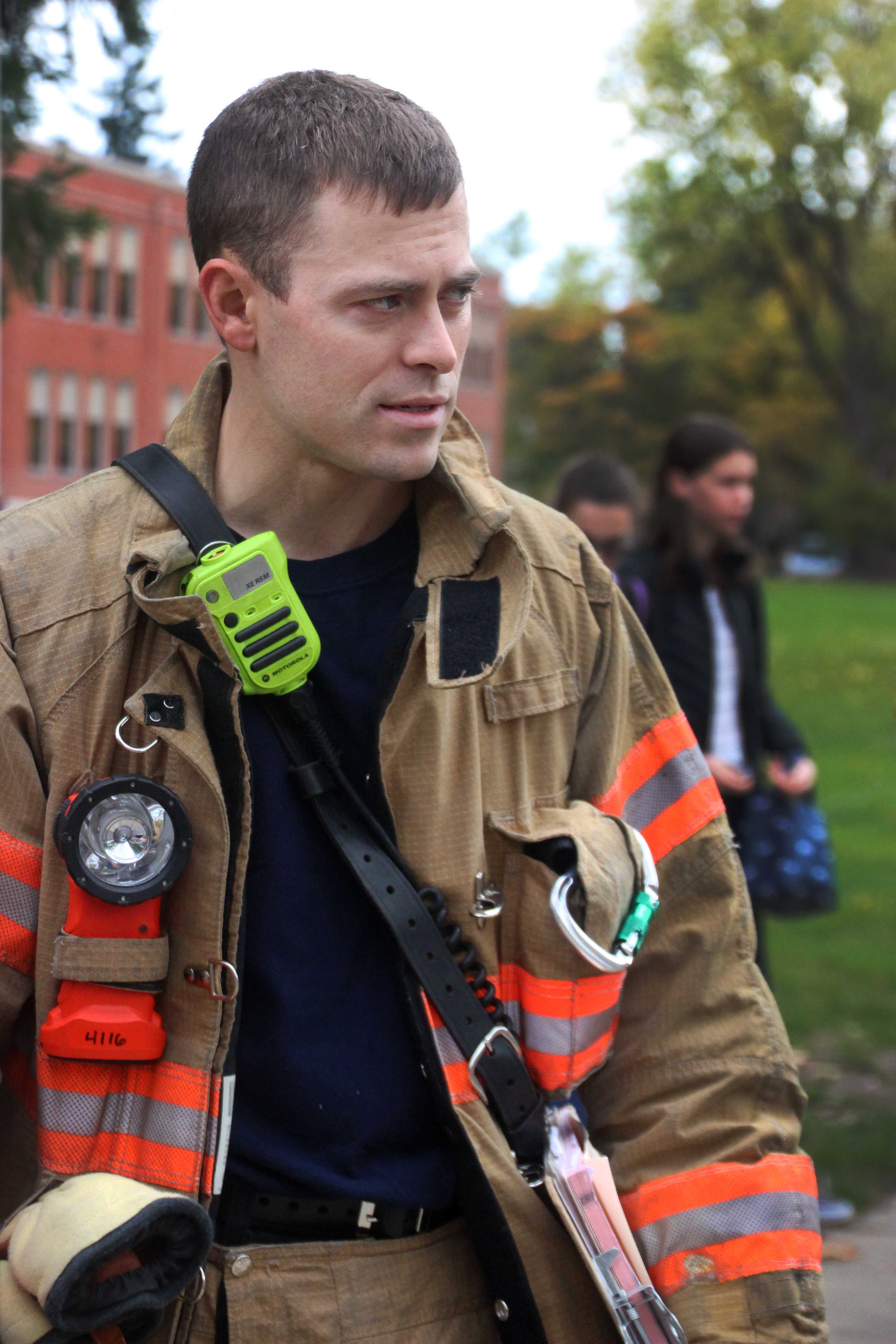 Lt. Ryan Sutton says firefighters make quick work to ensure other fires can be put out elsewhere in the city. Engine 13 was in and out of the scene in less than 45 minutes.
An automobile fire just outside Grant High School billowed smoke into the air and drew the attention of firefighters Tuesday, as students stuck their heads out of classroom windows and snapped pictures for social media.
Firefighters from the Portland Fire Bureau's Engine 13 company responded within five minutes to the scene at Northeast 35th Place at U.S. Grant Place, where flames engulfed a light colored minivan and extinguished the blaze quickly.
The driver, who is not connected to Grant, asked to have his name withheld. He was headed east on U.S. Grant Place shortly before 11 a.m. when the smell of smoke prompted him to pull over. When the driver opened the hood, flames were visible near the car radiator.
Engine 13, located at Northeast 9th Avenue and Weidler Street, arrived at the scene at 11:02 a.m. "We are trained to work efficiently and safely," said Lt. Rich Tyler, the public information officer for the Bureau. "So we're not going to hang around and cause other issues."
Tyler said car fires are a common occurrence, but today was unusual for a different reason. "Actually, today was rather unique," he said. "We had, I believe, three different car fires throughout the city."
In less than 45 minutes, Engine 13 cleared the scene. "We try to have a really quick response time in the city of Portland," said Lt. Ryan Sutton, one of the firefighters on scene.

After investigating, Engine 13 determined the fire was not started maliciously and a fire investigator was not needed at the scene. The fire was reported to have started in the engine compartment of the car. No one was injured.
Finn Hawley-Blue contributed to this report.