As summer ends, athletes at Grant High School prepare for a new season.
Football
Randy Heath, head football coach: "I have always taken summer as we want to teach basic concepts. I never want to be as good as we are going to get in August. I've coached against a lot of teams who got everything in August and they don't get any better. I want to keep adding to what we are doing. We have a good basis right now to work with."
Quarterback Luke Davis, 17, senior: "You know, it's my senior year and possibly my last year ever. I haven't decided if I want to play college ball or not. I've been playing football since third grade and so it's a good way to kind of end my career. It's huge for me. You know, I think we could really do some big things this year and I'm excited to get started on that. I want to surprise a lot of people…I think being a senior and one of the few returning varsity guys its just kind of been placed on me, and I've realized that's where I'm needed the most and something I can take on."
To see more photos and the football schedule, click here.
Volleyball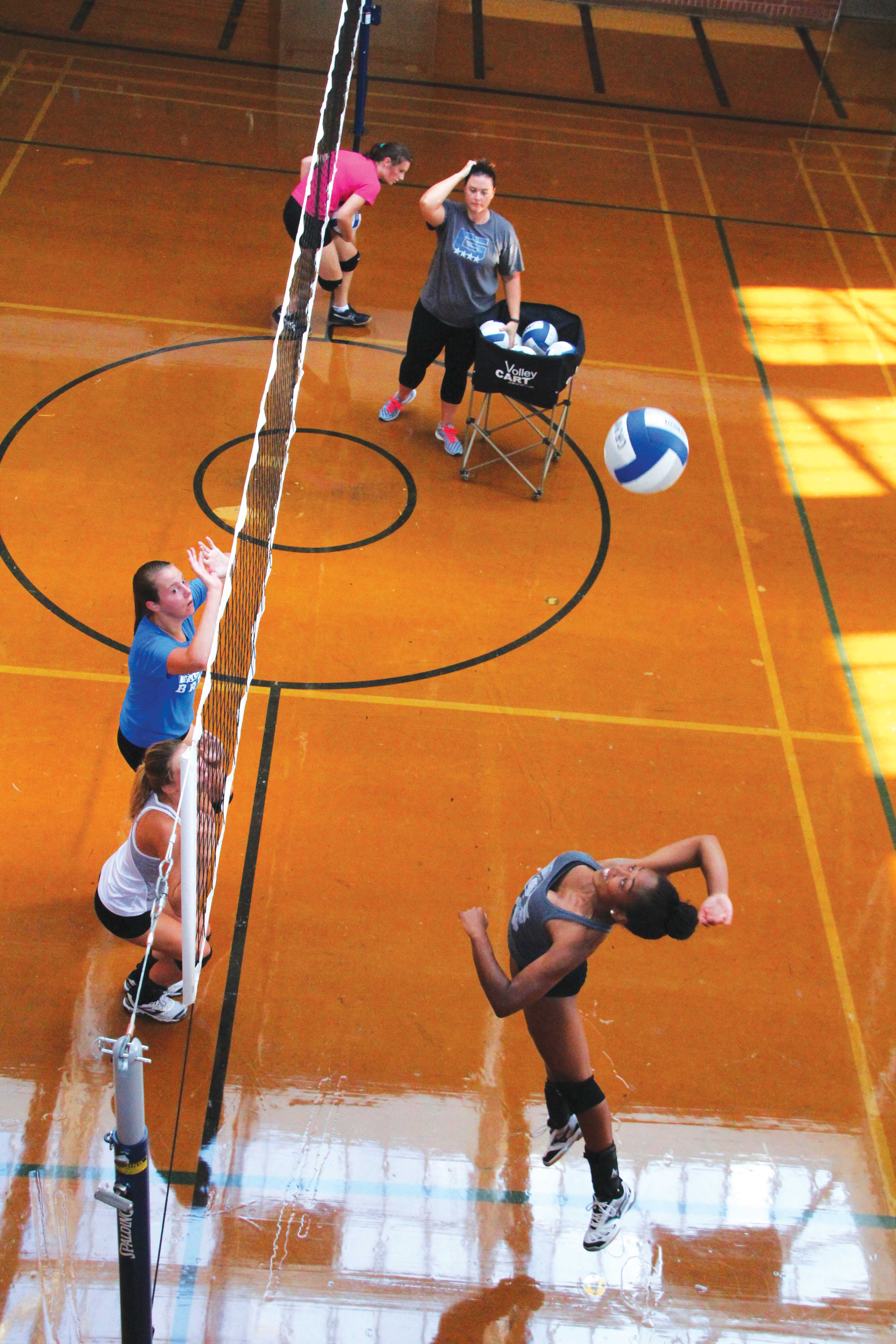 Kennidee Teal, 17, senior: "I love the sport. It's literally been with me since I was itty bitty. So I put my all into it. It helps me release a lot of stress. I just feel good out there. As a player, I'm really aggressive. I like to go for everything. Like in my head, nothing drops. I feel like I have a big role in keeping the team together and just being dominant on the court and knowing what I'm supposed to do and helping others to know what they're supposed to do. When I'm on the court, I feel like I celebrate a lot especially when something amazing happens. I get hyped."
To see more photos and the schedule for volleyball, click here.
Men's Soccer
Kento Oudomphong, 17, senior (with teammate Kazuma Fujiwara): "Since this is my last season, I'm trying to take everything in and like really cherish the moments with all of the other guys on my team. We all kind of grew up playing together and I think just being around the guys is what I'm looking forward to. We are all just like brothers, like a family, and we all get along really well. Throughout tryouts, I'm in a very serious mood and so is the whole team. All of us guys are really focused just because how well we did last year, and how we were so close."
To see more photos and the schedule for boy's soccer, click here.
Women's Soccer
Goalie Rosey Sams, 15, sophomore: "When I'm playing, it's just soccer. I forget about everything else in my life and it's just soccer. I think that's partly why I like it so much because it can just take me away from everything else. I don't feel any pain really unless I get scored on. They can kick me in the head all they want or whatever. I don't really care as long as I come up with the ball. Usually after a loss, I don't talk to anyone. A win is what I expect."
To see more photos and the schedule for girl's soccer click here.
Cross Country
Doug Winn, head cross country coach: "We are going to challenge other schools big time. We are going to contend at any level with our girls. They're seasoned veterans. It's not like they'll get derailed by any challenge. They know how to get mentally equipped, and they are physically really strong. I'm looking forward to a really good outcome. Nobody's thinking we are going to win the state championship but we are going to contend and we are going to be in there in the top group, for sure."
Ella Donaghu, 17, senior: "They're the best training partners I could ask for. I'm super, super blessed to have them running with me because running by yourself is super hard. I feel like I'm one of the guys now. I couldn't tell you one thing that I focus on during a race…It's really in the moment. You know, just planning your next move or reacting to what everyone else around you is doing. Last year, we didn't have any freshman or sophomores…in our top seven, which was kind of concerning for the future. But now we have a lot of sophomores and freshman. I think this year we could be really good, but that just kind of depends upon how much people really want to go for it."
To see more photos and the schedule for cross country click here.