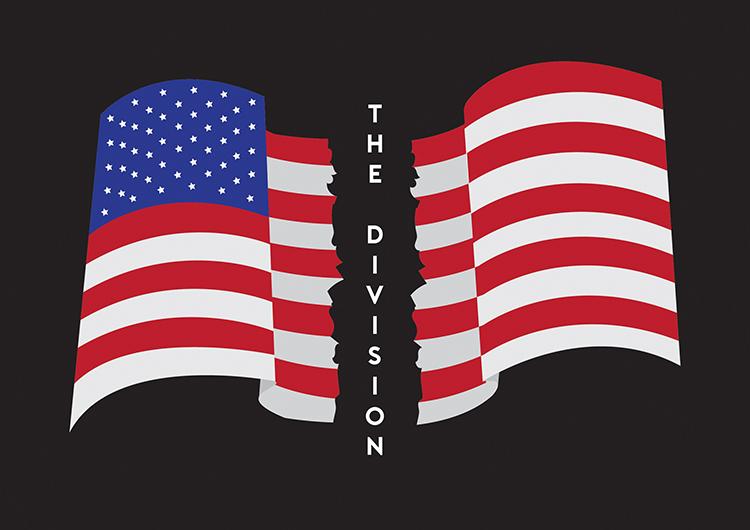 It's been more than six weeks since Donald Trump was elected as the 45th president of the United States. The ensuing weeks have been an odd whirlwind of heightened emotions and victory shouts across the country.
At Grant High School, the tone has been – for the most part – somber. From parents crying at parent-teacher conferences to candlelight vigils and student-led protests, the Grant community has made its stance on the election clear.
Cristy McCarty, a photography teacher at Grant, says the scene at the school the day after the election was nearly post-apocalyptic. Almost every parent she talked to at conferences that day couldn't make it through the meeting without breaking down.
"The closest thing I felt to that is 9/11," she says. "That kind of being scared and the unknown and 'What just happened?' It sounds really messed up to compare those two to each other, but that was the closest emotion, the scared feeling, the 'What's going to happen next?'"
Trump's win not only shocked the majority liberal Grant neighborhood but also most of the country, as almost all major polls predicted a Hillary Clinton victory. Trump has also sparked a revolt against the traditional image of a presidential candidate.
With sexual assault accusations, a $25 million settlement in a series of lawsuits against him and the release of a recording of him talking about groping women, Trump has led anything but a normal campaign.
But his scandals didn't stop him from gaining support in droves or from making promises and proposing policies that most politicians would consider political suicide.
He has called to ban all Muslims from the United States. He wants to deport millions of illegal immigrants from the country and appoint Supreme Court justices who would overturn Roe v. Wade – the landmark ruling that gave women the right to choose to have abortions.
"I would emphasize that in the days after the election, he has done nothing to give you a sense that he's moving off of those positions or is going to surround himself with people who will moderate those positions," says Ian McDonald, a political science professor at Lewis & Clark College. "So I think (minorities) should be very troubled and upset."
Grant Magazine set out to find the voices behind the fear and satisfaction surrounding the upcoming presidency to understand how people plan to move ahead in the coming years. From immigrants to people who identify as LGBTQ+, as well as those who support him, students and faculty at Grant share their take on the impact of a Trump presidency. ◆
On a recent Monday night, Grant senior Naa Amorkor Quaye walked down the streets of downtown Portland with a crowd of nearly 150 other Portland Public School students at her side. A line of cops on bikes and motorcycles blocked off the busy streets during rush hour traffic.
Quaye, a  Ghanaian immigrant who arrived here six months ago, repeatedly shouted her message with passion: "Say it loud, say it clear, immigrants are welcome here!" For her, protesting the election of Donald Trump was a cathartic way to process her fears surrounding his presidency.
"As an immigrant … even though we have citizenship to stay, Trump is so anti-immigration, I can't just sit down and watch myself and my family and all that we've been through here just go away," she says. "I'm motivated to go protest for my rights because it's my right, so no one or Trump can take that from us."
Trump has caught criticism for his promises of deporting all illegal immigrants. While Quaye and her family of 12, all immigrants from Ghana, have legal citizenship and are not concerned about being deported, they worry about the people espousing anti-immigrant ideologies who've been emboldened by Trump's campaign. The fear of a Trump presidency has resonated in their home.
"I do feel the fear," says Harriet Lamptey, Quaye's mother. "He can stand in front of millions of people and say that (he wants people deported), and people voted for him. Then you can see how many people want immigrants to be out of here."
"You get up every day going to work or your kids are going to school, and you don't know what's going to happen … if you were in my shoes, trust me, you would be scared," she says.
Quaye says she can't risk underestimating Donald Trump.
"For someone like us, who no matter what has a debt against them … this is reality. It's not like we are being too sensitive or something. It's reality. You are scared," says Quaye. "You cannot just calm down and expect something. You must be ready for (a Trump presidency)."
While protesting was her immediate response to the election, in the long run, Quaye wants to make an impact by becoming a public defense lawyer. Protecting the rights of those who have less is her ultimate goal.
"I cannot sit down and fold my arms and watch other people suffer," she says. "I just feel bound to help people, that's why I feel that is my call. I can't see myself doing anything apart from that."
– Story and photo by Blu Midyett | Video by Mackie Mallison
Courtney Palmer remembers sitting in the front room of her house eating pizza with her 10-year-old daughter, Regan, who is a student at Capitol Hill Elementary School, on election night. Sensing the night wouldn't end the way she hoped, Palmer sent her daughter to her room for bed at 8 p.m. and went to sleep shortly after. The next morning, she woke up to a text from her daughter.
"Mama, Trump won," the text read.  "And mama, now I'm afraid to be a girl."
The words hit Palmer hard.
"As a parent, that's devastating to hear. The last thing I want is for my daughter to think that she's in danger because of the way she was born and that anything is out of her ability to achieve because she's a girl," says Palmer. "She was upset. She was scared for herself and scared for me and scared for her family."
The text message solidified a fear that's been brewing in Palmer since the beginning of the election season. When it comes to a Trump presidency, women, she says, have reasons to be fearful. For Palmer, Trump's rhetoric and interactions with women make it easy for others to make room for sexism in today's society.
"All of a sudden, it's OK because the top position in the land has made it OK, has said terrible things about physically violating women, has repeatedly talked over women and not allowed them to say anything," she says. "When that position of power starts to say those things, it makes other people more comfortable saying the same kinds of things, and that terrifies me."
Palmer, who identifies as queer and describes herself as a "massive feminist," has been an advocate for LGBTQ+ and women's rights since she was young. Her daughter is already a champion for women's rights – she stood by Hillary Clinton from the beginning – and Native American rights, as her father is Native American.
The pair kept up with the news throughout the presidential campaigns, listening to NPR in the car and watching debates. The two took notice of how Trump interrupted Hillary Clinton and called her names, leading Regan Palmer to declare that Trump "doesn't like women."
Regan Palmer also wasn't oblivious to the headlines claiming that Trump groped women and was accused of sexual assault.
Courtney Palmer worries about the safety of outspoken women in the future. She hopes to eventually take her daughter downtown to watch protests and help her find other ways to make change at the local level.
"I think it's important," says Palmer, "for her to understand how our country functions and why things are different for different groups of people and how we try to avoid that."
– Story by Sophie Hauth,  photo by Finn Hawley-Blue
On election day, freshman Essence Taylor lay on her stomach on the bed at her grandmother's house, her hands propping up her head as she watched the polls come in during the presidential election. Her mother and grandmother watched from the living room.
Taylor decided to watch by herself because she didn't want her family to see her emotions. "I could feel the tension and anxiety in the air," she says. "I was beyond nervous – I just wanted it to be over already."
By the time the results came in and Donald Trump was elected president, Taylor was left speechless. "I couldn't comprehend what was going on for a little bit. I even went to bed thinking 'Oh my gosh, is this really what we've become? Did this really happen?'" she says. "I was disappointed in this country. I honestly believed that we had overcome a lot … For him to become president ruined that thought for me."
Her mother, who is West Indian Catholic, and her father, who is Middle-Eastern Arab Muslim, separated when she was two years old. As a child, Taylor grew up learning and experiencing the two cultures and religions that her parents exposed her to. "Although it's part of the reason my parents aren't together today, I feel that it has allowed me to connect with many different people of different cultures," says Taylor.
Growing up, Taylor spent time with her grandparents learning Arabic, how to make luqmats, an Arab version of the donut, or Arabic belly dancing with her cousins. Occasionally, she'd also go to a Catholic mass with her mother.
But sometimes there's a disconnect between Taylor and her parents. "It still gets hard though, when you have two different parents with completely different views on life and how they want you to live yours," she says.  
President-elect Trump has previously called for a ban on Muslims entering the United States and has perpetuated negative stereotypes of Muslim people. Taylor is angered and upset.
"It makes me completely afraid knowing what Trump has said about Muslims. It makes me think that it will be easier for others to make bad comments about all of the Muslims in the world because our President-elect has said them," says Taylor. "I know for a fact that it hurts some of my family members – whether they mention it or not. It has made me very protective of them."
Looking forward, Taylor's not sure what will happen with immigration or what the future will look like for Muslims in America. "(Donald Trump) being elected was just a big shocker for everyone," says Taylor. "I honestly just hope for the best."
– Story and photo by Molly Metz
In the Portland bubble, Trump support often seems like an anomaly. InMultnomah County, only 17.6 percent of the general election vote went to Donald Trump, the lowest for any county in the Pacific Northwest.
At Grant, Trump support has been seemingly even more dismal, at least on the surface. Brothers Vinnie (at left) and Zach Leonard say they've refrained from speaking up about their political beliefs in fear of being ostracized by the community. But now, they want to share their reasons for their support.
"A lot of the Republicans I know would never voice their opinion," says Vinnie Leonard. "When Trump got elected … I felt like they felt proud to be a Republican or a conservative. In Portland, you're alone if you're a Republican."
The brothers say they identify as moderate conservatives and were originally not in support of Trump, but that changed when they were left with only two options for president. For them, it came down to economics and trust.
"A transparent government with someone that you could trust and doesn't have a record of just lying to the people, I feel like I could get behind that a lot more," says Vinnie Leonard.
Gun rights were also a big turning point for the two. When the National Rifle Association endorsed Donald Trump, the brothers' choice was set.
"I hunt, and my family owns guns, so a lot of people have the fear of their guns being taken away," says Vinnie Leonard. "I feel like that was also one of the bigger deciders, having a president that aligns with my gun views, my second amendment views."
When Grant students led a protest a few days after the election to stand in solidarity with the marginalized groups they believed would be most affected by a Trump presidency, Vinnie Leonard walked with them. He says he wanted to understand what the protests were about. But still, for the brothers, social issues were not the major influence.
Zach Leonard says that while many of Trump's proposed policies and statements are unrealistic and sometimes blatantly offensive, the media and many Portlanders focus too much on the idea of political correctness. He says it distracts from the bigger issues at hand, illegal immigration being one of them.
"We do have a lot of illegal immigrants that come here, but they don't necessarily bring any particular skill," Zach Leonard says. "If they don't speak English, for example, that doesn't really benefit the country."
"I'm not saying that 'Oh, they steal jobs,' but they're just unskilled laborers, and they're coming into the low-income bracket, and it burdens like a lot of taxes that need to be funneled to welfare."
Ultimately, the brothers say their support for Trump is centered on the betterment of the country, and they feel others should accept the outcome of the election.
"He is going to do the best for the country, and I feel like in four years we're going to be more united and close-knit than we have been in recent years," says Zach Leonard. "It's not going to be a utopia by any means. We're still going to have problems, but I would just say give him a chance. We're going to have to support this guy, whether we like him or not."
– Story by Blu Midyett and Finn Hawley-Blue, photo by Finn Hawley-Blue
In the nights leading up to the election, Grant junior Owen Charlish began losing sleep. He'd often lie awake in bed until midnight, his mind filled with what-ifs: "Could he actually win?" he thought.
"I'm an avid sleeper, I guess you could say, so that was really abnormal for me," he says. The thought of a Trump presidency "would just be on my mind, and I couldn't let it go."
Charlish, who didn't think a Trump presidency was possible, worries that without political or military experience, Trump seems unqualified for the job.
But most of all, Charlish, who identifies as gay, worries about what a Trump presidency means for people who identify as LGBTQ+.
"I don't think he actually understands the stuff that people in the LGBTQ community go through," says Charlish, who says his own political views are "in the middle."
One of his concerns is the status of the Supreme Court's 2015 decision to make same-sex marriage legal in all 50 states. A majority Republican Supreme Court come 2017 makes Charlish believe the act could be overturned. While Trump has no clear plans to overturn the ruling, he has stated that it is something he will "strongly consider."
"They could repeal it, which is kind of tragic, because it's something we've worked so long for as a country," says Charlish.  
Charlish, who is not out to his family, says this possibility coupled with an increase in widespread hate speech since Trump's win makes him feel less confident in his identity.
"I've started coming out to more people, which has helped give me confidence, but for the most part, this has stripped away some of that," he says.
While Charlish says that he's "terrified," about what could happen, he's also arrived at acceptance, realizing that the goal should be to help make Trump's transition into presidency as smooth as possible.  
"I'm holding onto hope," says Charlish. He believes it's essential for members of the LGBTQ+ community to take time to educate Trump on their concerns.  
"I'm just trying to keep in mind: what's the most unifying thing that I can do that I believe in that can bring this country together?"
– Story by Sophie Hauth, photo by Molly Metz
In the summer of 2016, Grant special education teacher Margarett Peoples celebrated the Fourth of July in Louisiana with relatives, including her mother, Nancy Peoples. Throughout the trip, Nancy Peoples mentioned having trouble breathing.
Margarett Peoples, 47, suspected it was the intense humidity in Louisiana, but when her mother's symptoms persisted back home in Tennessee, they realized it was something more serious.
After several hospital visits, Nancy Peoples, 67, was diagnosed with pulmonary hypertension, a rare high blood pressure condition in which the heart and lungs don't properly work together.
With a Trump presidency quickly approaching, Margarett Peoples is increasingly concerned about the stability of her mother's healthcare.
Nancy Peoples – who relies on Medicare, a federal health insurance program for people 65 years or older – was prescribed Albuterol and Opsumit. Albuterol opens up airways in the lungs, and Opsumit, a highly expensive drug for hypertension, regulates the heart.
"My concern with the Trump presidency is that during his campaign, he talked about Medicare as an entitlement program," Margarett Peoples says. "Will that mean that this drug will be cut back?"
Without payment help from pharmaceutical grants, charities and Medicare, the drug would cost Peoples and her mother thousands of dollars. She worries about what Trump's policies on healthcare could mean for her ailing mother, who also has Type 2 Diabetes.
While Trump's personal stance on health care has fluctuated – at times he's said he would support Medicare – his cabinet appointments thus far haven't followed suit. In the weeks after the election, the Trump transition team announced the selection of Congressman Tom Price as Secretary of Health and Human Services. For the past six years, Price has been a leader in the movement to repeal the Affordable Care Act, also known as Obamacare, and cut funds to Medicare.
Over the recent Thanksgiving break, Peoples traveled to Tennessee to visit her mom, who had been readmitted to the hospital and still hasn't received the Opsumit. Doctors say it will take time for Nancy Peoples to recover from pulmonary hypertension. "It's not going to be one or two pills and you're done. It is going to be several years or the rest of her life," says Margarett Peoples.
Peoples recently lost her grandmother and gets teary-eyed at the thought of losing her mother. "To think that I would lose my mom as well is very difficult," she says. "We are very close. As I have gotten older, she is less my mom and more my confidant. I talk to her about everything."
"For whatever reasons, folks don't like Obamacare. I challenge us to remember that it was put in place moving us more to a universal health plan," Peoples says.
With a Trump presidency, Peoples is worried that support won't come from above, so she's continuing to be politically active by writing to members of Congress and participating in town hall events.
"My ultimate concern is immediate and local: How do I make sure that my voice as a citizen is heard?"
– Story by Finn Hawley-Blue and Sarah Hamilton, photo by Finn Hawley-Blue
WcMgcq
On Nov. 8, Julianie and Lewis Padilla Villalobos sat eagerly in front of the television, both hopeful that the first female United States president would be announced later that night. But as the night drew to a close and Hillary Clinton's prospects were slimming, their hopes diminished.
As Julianie Padilla Villalobos (at right) glanced down at her phone, a flutter of messages filled the screen. Family from Puerto Rico conversed over a group chat, discussing the undesired outcome of their own election of Governor Ricky Roselló. With both unwanted turnouts, the family shared condolences with one another, nearly 4,000 miles apart.
For Lewis Padilla Villalobos, the U.S. election results didn't come as a surprise, given the close race. "Now you see the real face of the people," he says about the voting turnout.
But for Julianie Padilla Villalobos, that night came as a shock. The results took over her every thought. "I was thinking too much, and my uncle tells me, 'Don't worry, you are a citizen, you don't need to worry.' I told him, 'I worry about other people … every immigrant,'" she says.
The Padilla Villalobos siblings came to Oregon from Las Marías, Puerto Rico just months ago. In Puerto Rico, their image of America came with thoughts of "opportunity," "an open place" and a "better life." Keeping minimally up to date with American politics, it wasn't until they settled in Portland that they began to pay attention to Donald Trump's rhetoric.
The siblings were quick to recognize Trump's offensive language toward Latinos. He has also put the deportation of millions of illegal immigrants high on his presidential agenda, causing the siblings to fear for the future of many Latinos in America. "I worry about other people who don't have papers and that they maybe don't have the opportunity here," Julianie Padilla Villalobos says.
Both siblings know this election may not directly impact them and their citizenship, given Puerto Rico is a U.S. territory, and they've been citizens since birth. Yet, they're concerned about those close to their family.
With the election's turnout, thoughts about a family friend, who is an undocumented immigrant, come to mind. The friend came to the U.S. to make more money, having to support his family back in Mexico. With a Trump presidency, his future in the country could be jeopardized.
Concerns with the rise of racist attacks also surface for the two. With Trump as the leader of the country, they worry that his offensive language could spark the normalization of such rhetoric.
Now, the siblings reflect on their future with their lives in Oregon and a Trump presidency: "It was like I can have a job and be happy there, have my family with me. But now I'm afraid for family," Julianie Padilla Villalobos says. "There are people who are racist, and now that he won, maybe they show they're racist."
– Story by Kali Rennaker, photo by Finn Hawley-Blue