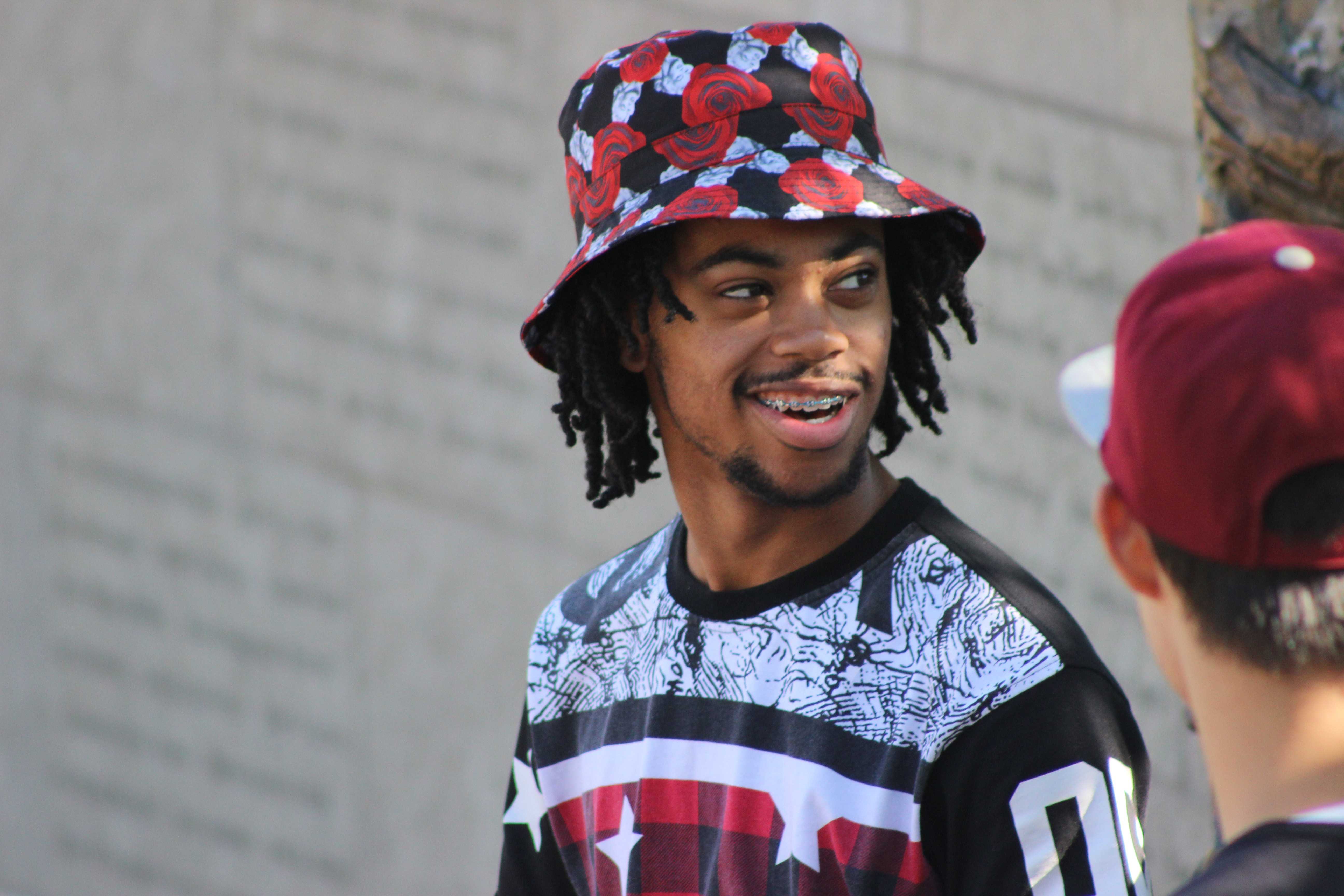 Dance, D'Shawn Lampkin says, has influenced the way he dresses and how he carries himself. "I started to get some more swag," he says, noting that what he wears today is nothing like what he wore several years ago.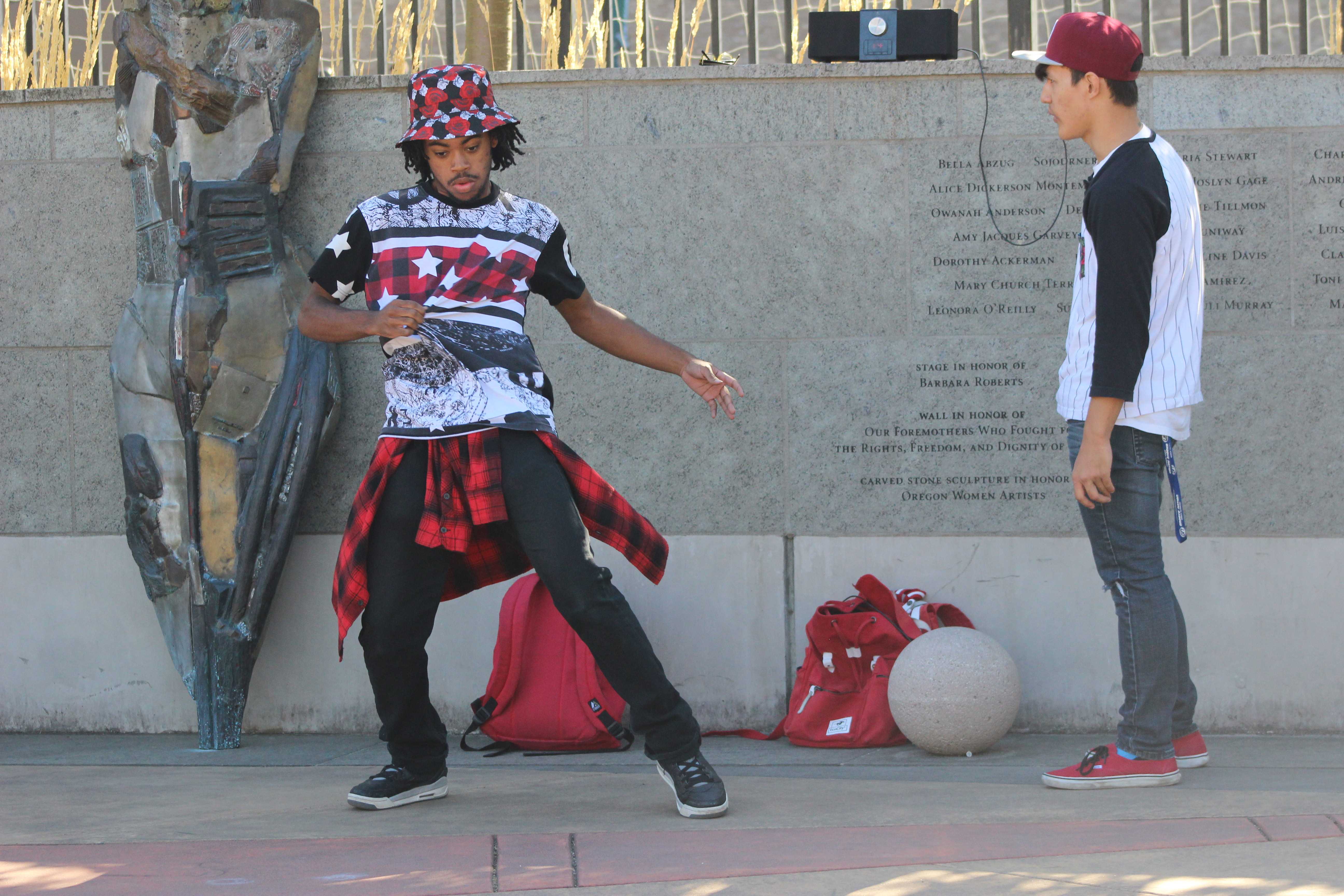 Chrisman, one of Lampkin's closest friends, has watched him grow as a dancer and as a leader. "Seeing him over the years, I think that dance has…pushed him to do certain things that considering his personality he probably wouldn't normally do."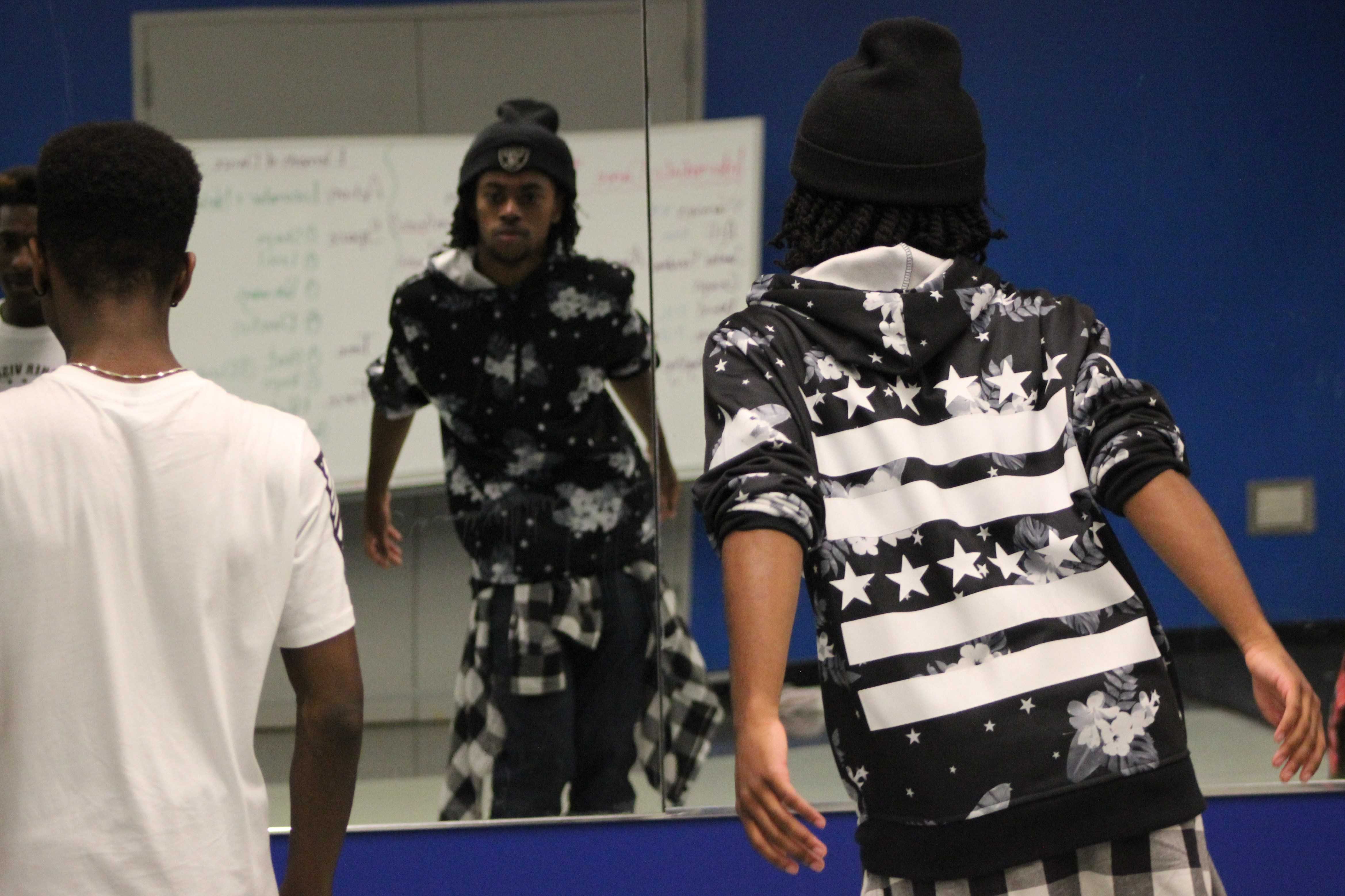 Lampkin says that performing arts are in his future. He also sees himself back at Grant. "I don't know if it's possible but I still want to like after I graduate come back and like teach and like still do my events even after I'm gone."
D'Shawn Lampkin remembers rubbing his sweaty palms on his black dresspants. Hours earlier, when he got dressed for his eighth-grade promotion, he had no idea that he would be performing in front of his classmates, their parents and his teachers.
He recalls stepping onto the temporary stage in the school gymnasium and waiting for the music. As the first notes of Michael Jackson's "Whatever Happens" blasted from the speakers, he remembers how he forgot the crowd and his stuffy button-down shirt, and let the music move him.
This was the moment that Lampkin remembers as his springboard into a life of dance. Ever since, it's a craft that's defined him. "Dance is like drawing a picture but through movement," he says. "It, like, opens yourself up to other things."
Everyone who knows Lampkin, now a senior at Grant, recognizes his smile and easygoing personality. But behind his carefree demeanor is a confident leader.
Last year, Lampkin created a freestyle one-on-one dance battle at the school. He named it "The Impact," and Lampkin, like this event, has left a mark on his community.
Students from various high schools and colleges, as well as parents and grandparents, flocked to Grant's dance room to participate. "It sounds like this little Utopia, but it kinda is in a way," says Grant's dance teacher, Jessica Murray. "Nothing is perfect but it's this great celebration of dance."
Lampkin, 17, credits his success to the people around him. "I wouldn't have gotten this far without…the dance environment of…other people," he says. "You can't just like become a good dancer by yourself. You learn from others."
Born and raised in Portland by a single mom, Lampkin says, "When I was little I didn't even know I had a dad. Like I didn't even know that was a thing. I guess it was just normal to me."
His mother, Jessica Lampkin, agrees. "He was a happy, happy baby, still is (to) this day…all his baby pictures you see him smiling."
But it wasn't always easy to raise him alone. She worked around his schedule so that they could spend the most time together, and when she did have other commitments, he went with her.
His mom clearly remembers taking him to her college classes. While the class was watching a movie, he would whisper. But, she recalls, "his whisper is not a whisper. He'd say, 'Are we almost done yet?' Everybody could hear him and just laugh."
Although it was a necessity, Jessica Lampkin saw value in taking her son with her. "It was all worth it…most people wouldn't bring their kid some places but I took him," she says. "I always felt that he needed to be exposed to some things that were appropriate for kids."
He was always curious and absorbed everything around him. "Any time he asked questions, I couldn't sugar coat it," she recalls. "I was always open and honest with him."
This openness and honesty would prove to influence his future actions. From kindergarten to eighth grade, Lampkin attended Irvington Elementary School. He describes himself as "a quiet little kid."
But his mom remembers how he was always the first to volunteer at school functions. From spaghetti dinners to Back to School night, Lampkin was there. Part of this, says Jessica Lampkin, came from her commitment to volunteering with their church.
Family and community have surrounded Lampkin from a young age and he is especially close with his younger cousin, Isaiah Davis. "If you're his friend, or even his best friend, I guess there's nothing that he hides from you," says Davis.
In eighth grade, Lampkin started to come out of his shell. "I knew if I wanted to be somebody…I couldn't be shy," he says. "If I wanted the world to see me, I had to show myself to the world."
He dabbled in various performing arts and remembers acting, dancing, playing the drums and rapping in front of school. He looked up to the Les Twins, brothers who are nationally known for their hip-hop dancing, and copied all their moves.
"I never was a dancer. It was never an idea," he says. "Then like eighth grade I realized I didn't want to be a shy person forever…I knew that I had to like push myself out there and get myself involved so I would get out of the shyness."
From then on, Lampkin was hooked.
The summer before his freshman year, he met Nicholas Chrisman, a student at Grant, and together they started preparing for the Grant talent show. "I came to Grant and then I really started dancing…it just triggered," Lampkin says. "I was some kid who was never a dancer or anything, anything talented and then I did acting and dance and I'm just like, I just got good at them both."
Chrisman, who is a year older than Lampkin, took him to his first dance battle. Dance battles, Lampkin says, are nothing like what the movies show. The battles are all freestyle. "You don't know what they're gonna play so you kind of have to dance to whatever the DJ plays," he says.
All Lampkin remembers of that first experience is falling in the middle of his routine. "It was terrible. I had no idea what I was doing," he recalls. "I thought I was pretty cool 'til I got out there and saw the other dancers who were like way better than me."
But the community was supportive and intent on helping the talented Lampkin improve.
"I knew if I wanted to be somebody…I couldn't be shy. If I wanted the world to see me, I had to show myself to the world." – D'Shawn Lampkin
He met Jean Francois, who has become a mentor both in and outside of dance. "It's me helping him find his voice," says Francois, who is 23. "Because as an artist, that's one of the hardest things to do, to find your voice."
By Lampkin's sophomore year, a dance class had started at Grant and he joined.
Jessica Murray, the dance teacher and activities director at Grant, remembers Lampkin as being special. And it's something that's stuck since she first met him. "Some people dance out of angst; some people use it as therapy…when they're frustrated or feeling sad or feeling angry," she says. "D'Shawn dances out of joy."
It shows in the classroom, a place where Murray has opened doors for students. To her, they set the tone. And Lampkin is at the forefront. But it wasn't always that way.
"My sort of crazy philosophy is that we just put everything in one class," Murray says. "So we do a little bit of everything…when we can dance in someone else's style, I think we can understand them in a different way. We can't be them, we still carry with us our own background, but I think we can open up a perspective and an understanding."
Despite the open style of the class, Lampkin at first fought the choreography. He says he hated it because he wasn't good at it. He wanted to do his own thing and focus on freestyle rather than more traditional dance forms.
"Then junior year came and I…put that hate aside and started like picking up things from the choreo," he says.
He also became a teaching assistant for Murray's beginning dance class, creating choreography for younger students.
In Murray, he found another mentor. He says that she has helped him step up as a leader and find his voice in dancing. "She's like a mom, like she's there for all of us in the dance class," he says.
Murray is glad he's stuck with it. "It was kind of this really cool melding of these two dance worlds," she says. "And also it was really him sort of stepping up in this leadership role."
Chrisman says Lampkin has used his connection with his dance "family" and his own style to develop an identity of his own.
"When he first started dancing, he told me that his biggest inspiration was the Les Twins…but now he doesn't dance so much like them anymore and he dances more like D'Shawn," says Chrisman. "He's (gone from) a dancer that looks like the Les Twins to a dancer that looks like D'Shawn."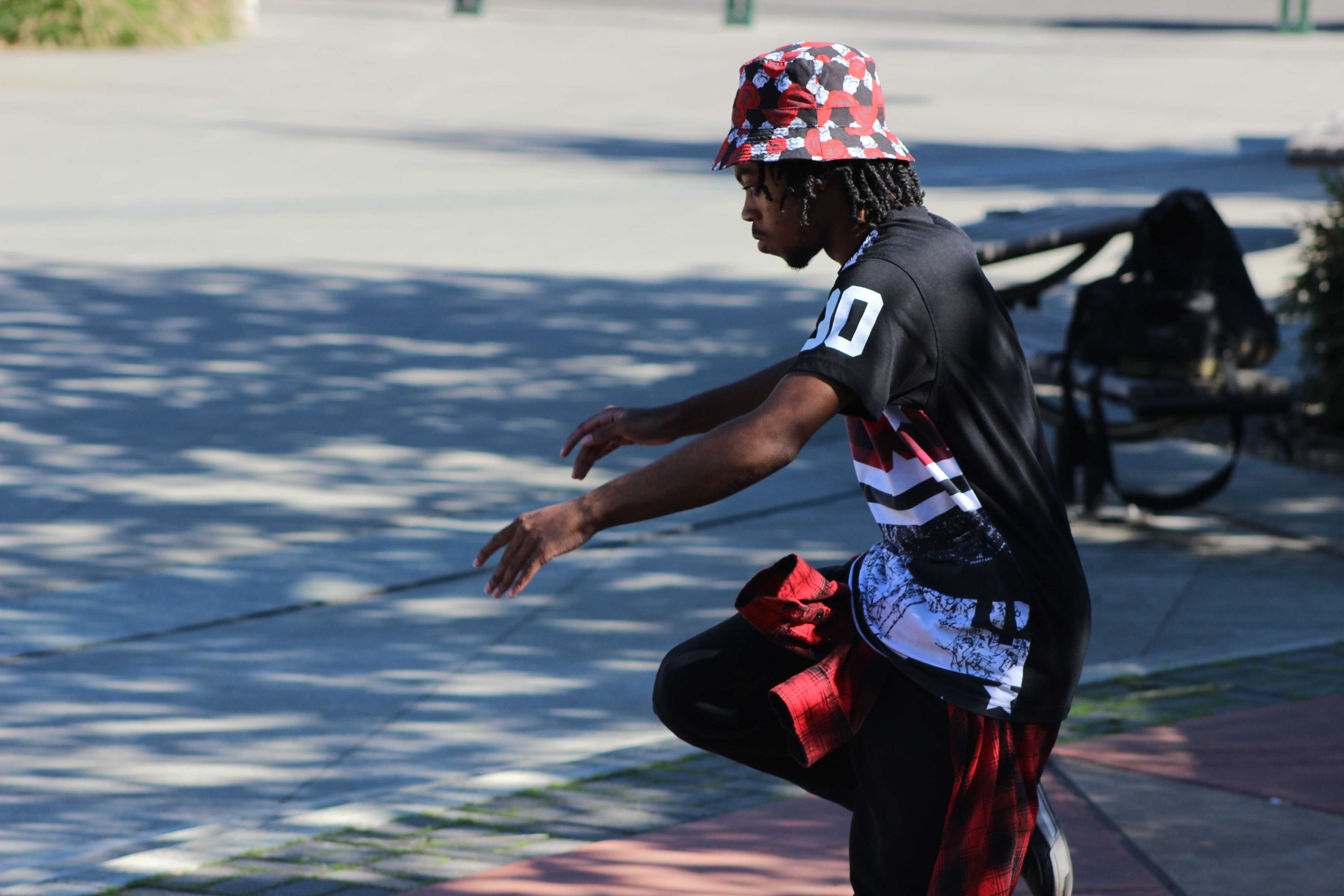 Francois recognizes the talent. "As a dancer he's amazing. He's really clever," says Francois. "He has that ability to interpret through his dance…you give him scenarios that give a certain mood, feel or action. He's able to dance with it."
But despite his skill, says Francois, he's not afraid to ask for help. "He is really mature and that comes from his humbleness," Francois says. "If you're not humble, you don't grow as much as you can."
In Lampkin's leadership class junior year, each student was expected to create a final event or project for the school. Lampkin says at that time there weren't a lot of dance battles going on and he "couldn't wait any longer" for an event to happen. So, he decided to create his own.
"We were discussing what he's leaving behind," says Francois. "The idea became about leaving something behind and doing something good for the school and the students."
Though the name suggests aggression, says Murray, dance battles aren't "in any way violent or intense. It's one of the most supportive dance communities I have ever seen…there's such a celebration of uniqueness, they cheer and scream and hype for each other."
With Chrisman, who helped organize it, Lampkin named the event "The Impact," and like the name suggests, the freestyle battles have left an impression.
Lampkin and Chrisman scheduled their event for May 2015 and decided to hold it in the dance room below the Grant gym. Lampkin says, "You can do a dance battle in the streets, all you need is the music and a space."
Despite their hard work, they were disappointed with the outcome. Around 20 people showed up and he blames it on not getting the word out soon enough.
Although the attendance was low, everyone who did participate loved it. Lampkin refused to give up. He and Chrisman scheduled "The Impact, Vol. 2" for the end of the summer in August. They created a Facebook page and started planning months ahead, keeping in mind the mistakes they made the first time.
The second battle attracted a much larger and diverse crowd. Students from different high schools and colleges attended, some making the drive from Salem. Parents, grandparents and even teachers from Grant came to support.
Daisy Lim, a student at Portland Community College who attended the event, says: "He kept it very fun and kept a very light atmosphere…the Impact was the first time that I had gotten to see a lot of the younger dancers in the scene all dance, all dance together."
Murray also commends Lampkin and Chrisman on their hard work. "Being at the Impact, this last one that we did in August, there was so much joy and acceptance…everyone that day was asking us: 'When are you doing another one? When are you doing another one? I'll be here.'"
And by popular demand, a third Impact is in the works.
Despite Lampkin's personal growth and success as a dancer and leader, he struggled in school. He took Physics his junior year but admits that he often missed class and couldn't keep up.
Francois had a serious conversation with Lampkin. "I said, 'Hey, it's fun to have fun but your high school years are things that you don't get back…your studies are really important,'" Francois recalls.
Lampkin took conversations like this to heart and at the end of his junior year, something changed. "I realized I wanted to go to college," he says.
This year, Lampkin is taking Physics again, "and I'm actually doing a lot better. I'm understanding stuff," he says. He is also doing an independent study with Murray. With it, he is creating choreography for her classes at Grant, and hopes to teach dance classes at Irvington.
"He's matured in the way he carries himself and what he wants to do in life. He has things planned out," says his mom. "And now he's trying to figure out where he wants to go to college."
Lampkin says that he would like to go to school in California and is considering studying either engineering or performing arts. "If I get famous with dance, I'm doing that," he says. "But if I don't, I have something to fall back on, which is engineering."
Recently, Lampkin had to put dancing on pause. Several weeks ago, his grandmother passed away and he says the hardest part is accepting "the fact that she's actually gone."
After her death, his family rallied together to support one another and Lampkin's grandfather. They spent days at his house sharing stories. Lampkin never knew his grandfather very well growing up, but through the recent events, has come to love his grandpa's quirks and funny stories. "The death of a family member really brings the family together," Lampkin says. "You cherish all the moments that you've had."
Lampkin's dance community has also been a great support system. And planning a third Impact for this fall or winter is keeping him busy. "We don't want Impact to just be gone when D'Shawn is gone," says Francois. "We wanted something to be for the school, something that he leaves behind for the school."
Chrisman says whatever happens with Lampkin, his legacy will be felt at Grant for a while. "He's gonna get somewhere and a lot of people should be looking out for him, a lot of people." ◊