Ian Doescher steadied his hands as he picked the lock of the old projector room in the Grant High School auditorium using a credit card cut in the shape of an L.
It was an easy room to break into and he was soon in and out, leaving behind a makeshift alarm built by friends using a car battery, a car alarm and an empty salsa container. All of the gadgets had fit inside a box that was meant to hold reams of paper, easing the suspicion on Doescher as he walked down the crowded halls earlier.
The timing was perfect. Just as all the students and staff attending the student government assembly had been seated, the blaring alarm went off, forcing the auditorium to be emptied.
"My part was really the breaking and entering part," Doescher says now, laughing.
Soon after, the group of friends was suspended, mainly due to their inability to keep the prank a secret. Doescher remembers telling everyone about the successful alarm and the emptying of the auditorium. "I don't think it took very long for the administration to figure out who had been behind it," he says. "I'm sure that by now it's a much safer lock."
Using his still-present inclination to think outside the box and make people laugh, Grant alumnus Ian Doescher is the creative author of the popular trilogy, William Shakespeare's Star Wars. "I have a little bit of a rebellious streak… and I sort of see it as my mission in life to make people laugh," he says.
Kicking off the series with Star Wars and concluding it with The Jedi Doth Return, all three of his books have garnered widespread acclaim and have consistently enjoyed a comfortable position on The New York Times Bestseller list.
While Doescher, 37, is thrilled with the success of his books, he is not motivated by the applause. As a husband and father of two boys, family is at the forefront of his decisions.  Doescher and his wife, Jennifer Creswell, "sometimes sort of talk about the project of our family…that she and I are working on together and that has a future to it and a past to it and a present to it," he says.
Born and raised in what he describes as a big, ocean-blue house on Northeast 30th Avenue, three blocks from Alameda Elementary School, Ian Doescher showed signs of his curious and mischievous personality from a young age.
"He was a holy terror," says his mother, Beth Doescher.
She remembers him climbing out of his crib so often that it got to the point where she left the side of it down. She reasoned that he would suffer less of an injury falling from the crib than from climbing up over the top. "He was going to get out if he wanted out," she says. "I just left the side down and gave up."
Doescher clearly remembers when his love of reading and writing was first sparked. He was only four years old when his mother gave him her old manual typewriter from college and he started writing short stories. From the second floor of their house, Doescher would yell down to his mom, asking how to spell a certain word. She would yell back up with the correct spelling and before long, Doescher stopped asking for help.
While Doescher would spend hours quietly writing stories, he also loved to entertain his family and make them laugh. His parents remember watching him sit in front of the television in the family room and mimic French and British accents from his favorite movies such as My Fair Lady. Beth Doescher most clearly remembers the announcer's voice that he practiced and perfected.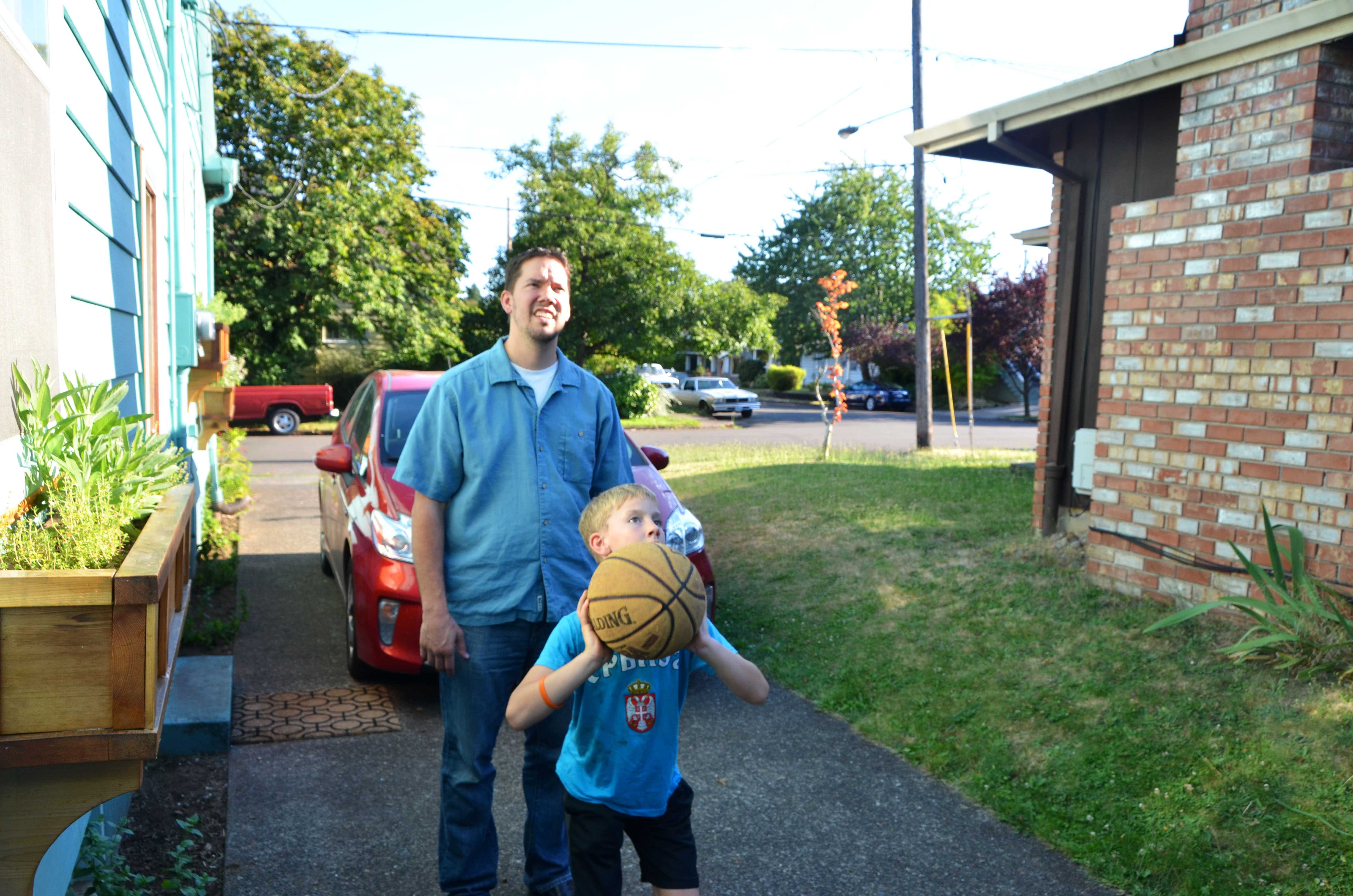 At age 6, Doescher went to see the release of Return of the Jedi in movie theaters.  Then and now, his favorite character is Han Solo, played by Harrison Ford. He says Harrison Ford "had that cool that I think a lot of kids wanted to be." However, Doescher jokes that his personality is more like C-3PO – the wobbly gold robot known for his whiny angst in the movie series.
After watching the film, Doescher remembers staying up long into the night watching the Star Wars movies with his friends after they played at the theaters.
When Doescher was in third grade, he performed Bill Cosby's famous Noah and the Ark soliloquy for the Alameda School talent show. He mimicked Cosby's signature voice, stance and walk. "I was sort of hooked on the idea of being an actor and performing," Doescher says.
Like many students, Doescher had a rough time transitioning into middle school and says he didn't try as hard as he should have.
Acting was the exception. In sixth grade, he met Bruce McDonald, the theater teacher at Grant who would also spend part of his time directing plays for Beaumont Middle School. McDonald mentored Doescher with his acting all the way through high school and remembers seeing a spark in him from an early age.
By the time Doescher was a freshman, he was taking school seriously and also became heavily involved in music and theater. Creswell also went to Grant where Doescher and her first met.
"Ian was like the big man on campus back in the day," she says. "He was student body president, lead in a couple musicals and in Royal Blues, which was a big deal back then."
Freshman year, he became hooked on Shakespeare when reading Othello in his English class. Doescher says when the class performed their memorized soliloquys, "I was the nerd who raised his hand to go first."
While in high school, Doescher and Creswell crossed paths many times, but oddly enough, he knew her parents better than he knew her. Doescher met Creswell's father while doing one of the community musicals at Grant and developed a friendship with the family. He would housesit for them often and carpool home from theater rehearsals.
The pinnacle of Doescher's theater experience at Grant was performing the lead role of Tevye in Fiddler on the Roof his senior year. At that time at Grant, the theater department was doing community musicals, which included elementary school students and adults. Fiddler on the Roof was the biggest production ever done with more than 600 cast members.
Doescher remembers his schedule throughout rehearsals. He'd come home from school, nap and then go right back for hours of rehearsal or shows. "He tells me twice a year he still has anxiety dreams about going on stage and forgetting his lines or going on stage and he's in his boxers," says McDonald.
Although there was a lot of pressure on Doescher, his parents were supportive. "However many performances there were, we went to them," says Doescher's father, Bob. "A friend of mine made me a T-shirt that I still have and on the back it says 'Tevye's Papa.'"
During his senior year, Doescher was also student body president. "I wore a tie every day to school, which now sounds horribly geeky… and it was," he says.
His mother says he worked hard for the position, but "liked the fact that everyone knew him, too. He's very outgoing and so he liked having people all know who he was."
For prom during his last year, Doescher wanted to give his date a memorable experience, so he flew her to the Space Needle and back in one day. "I'd be lying if I said I didn't like being talked about back then," Doescher says.
After high school, Doescher enrolled at Yale University and planned to be a theater major. However, his entire freshman year did not go as he had planned. He was homesick and did not attain the success that he had expected. "I auditioned for shows and didn't get in…and that hadn't actually happened – ever – to me," says Doescher.
At the end of his freshman year, he auditioned to get into the theater department but didn't make the cut. "There was a door that had closed and I had basically accepted it as a closed door," Doescher says. Today, he regrets that he let his dreams of theater go and wishes he had worked harder to pursue it.
Looking back on that period of his life, he says, "losing the acting dream was hard for sure. It had been something I had wanted to do for so long."
Graduating early from Yale in 1998 with a music degree, Doescher moved to California to play in the Pacific Symphony and then in the San Francisco Symphony. After three years, he changed careers because he felt like he wanted to have more of an impact. He now realizes what a difference symphonies do make and fondly remembers the days he spent playing in them.
In December 2000, after being out of touch with Creswell's family for several years, Doescher ran into them by chance and went over to her house for dinner. "All of a sudden, now she was a senior in college and she was very cute," Doescher recalls. After talking over dinner, they both discovered that they were applying for divinity school the following year, in pursuit of an academic knowledge of religion. After several more conversations, they were dating.
Beth Doescher fondly remembers the night her son came home from the dinner. She and her husband recall him singing "Love is a Many Splendored Thing."
Creswell says of their 2002 wedding: "It's such a cliché. It's a really old fashioned type of marriage that my parents knew him first."
Doescher decided to go to divinity school because he wanted more out of life. He enrolled at Yale Divinity School and although he had originally only considered the educational aspects of the program, he soon changed tracks and decided to pursue a career in the church.
While in Divinity School, Doescher and Creswell had their first son, Liam. He was born in the fall of 2003 and Doescher would take him to work at the school bookstore. When they graduated, the proud parents took their turns walking up on stage with the baby.
Two years later, Doescher finished divinity school and in August of 2005, their second son, Graham, was born. Doescher decided to continue his schooling with a PhD in New York.
For several more years, Doescher juggled being the father of two boys and being a student. "The instant I got on the train, I could start being a student…and that meant that when I came home I could really sort of fully be there and be a dad," he recalls. "I don't think it was as crazy as it would have been if I had gone back to a full time job."
Soon after, the family moved back to Portland and Doescher got a job at Calvary Presbyterian Church as a pastor.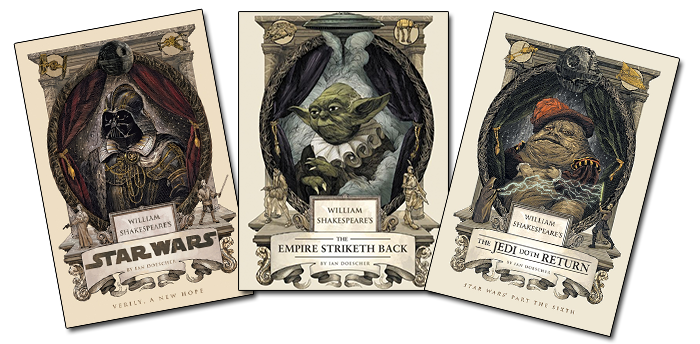 But it was a series of coincidental events that sparked the beginning of Doescher's writing career. He had just finished reading the book Pride and Prejudice for Zombies and watching all three Star Wars movies with his friends. Soon after, he went to see a Shakespeare play in Ashland. And then the idea came to him—combining Star Wars and Shakespeare.
"The best part has been the…I mean I'm not going to say miracle because it's not really, it's not a miracle… it's sort of a surprise to us, having this happen," says Creswell. Since his first book was released, Doescher has received lots of praise. They have all made The New York Times Bestseller list and the first got as high as No. 10. The last book in his trilogy was released in July.
However, with the popularity of the books, Doescher is away from his family often.
"It's hard for the boys to have me gone," he says. "It's this weird balance. On one end it's fun to go and do these book events. But there's always a flip side of that which is it is hard to travel without the family."
His oldest son, Liam, says, "It's really cool that he's writing a book. The only thing that I don't like about it is that at night when he's writing his book, we don't get to do all that much with him."
Last May, Doescher visited McDonald, his former theater teacher, in Belgrade, Serbia, where McDonald was teaching. There, he introduced the students to his books and helped them produce a play. McDonald marveled at the experience.
"It feels a little bit like I'm grandpa and he's my son and they're the grandchildren," he says. "That's the way that theater has been done for centuries, with handing down the knowledge."
Doescher hopes his books' popularity will create a bridge for students toward Shakespeare. "Obviously, it's not introducing real Shakespeare, but it's introducing iambic pentameter and it's introducing some of Shakespeare's references and language," he says.
He hopes after reading his trilogy, students won't be as wary when picking up "Macbeth" or "Romeo and Juliet" in English class.
Now, having just finished the final book in his trilogy, Doescher is enjoying some well-deserved time with his family. His two sons are going into fourth and fifth grade, and are playing in the same neighborhood that he and Creswell grew up in. They both love to read and Liam is following his father's footsteps in acting and music.
Doescher says he'll continue to figure out how to balance his writing and family life. He's talked with his sons and they encouraged their dad to keep writing. Even if it means he'll be away from his family.
"If I can keep writing and publishing books, I would love that," he says. "I think it's possible that there will be other William Shakespeare's Star Wars books.  There are still prequel movies out there." ◊