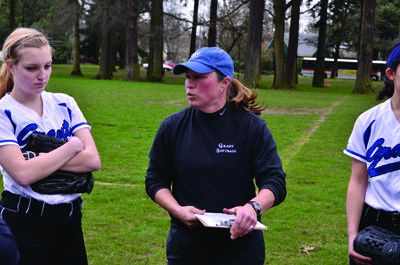 Deb Englestad, the Grant High School softball coach, paces back and forth as her team takes the field for the first game of the season. She calls her players over and gives them the lineup.
"Let's go out there and work as a team," she says.
As the team runs out onto the field, Englestad pulls team captain Ainsley Hunt aside and tells her to lead the team out there and have fun. "Let's get it started," she bellows.
It's easy to see that Englestad, 48, has a burning desire to push her team to improve, even though the season just started. As much as she likes to joke and play around when it comes to sports, she is as competitive as anyone and wants to win.
As a physical education teacher at Grant, she often shows her passion and competitive spirit while teaching. When Englestad walks to the front of a class, it's easy to see her zero-tolerance policy for messing around if a student isn't taking gym seriously. "Stop screwing around over there!" she yells at a student in a recent class. "Get over here and play the right way. If you don't know, I'll show you."
A Grant alumna herself, Englestad is in her 22nd year of teaching physical education at Grant. Last fall, Englestad was inducted into the Grant High School athletic Hall of Fame, an honor she earned not just for her athletic accomplishments, but also for what she's achieved as a coach and a teacher.
The Hall of Fame recognition exemplifies the commitment and work ethic that Englestad has displayed since she was a young girl. Effort and dedication is her life. "I wanted to be a P.E. coach since I was young," says Englestad. "I've always wanted to make a difference in people's lives."
Englestad grew up in a house on Northeast 30th Avenue and Klickitat Street, right around the corner from Grant. She played softball with the Binzer boys, four brothers who lived across the street. "They always used to let me play with them because I was kind of a tomboy, but also I could play," she recalls.
Her love for sports not only benefited her athletically, it kept her out of trouble. "I was very active and couldn't really sit still," she says. "I was always doing something."
At age eight, Englestad played Little League baseball. She remembers being one of the few girls who played with the boys.
She also liked to play sports with her younger sister, Alice.
"I always loved to be active, but Alice was more of the artistic type," Englestad recalls. "I remember when I took her to play softball and after two hours she said: 'Never again.'"
Alice Englestad remembers as a kid when she used to talk to her sister after the lights went out.
"We would always say to each other, 'Tell me when you fall asleep.'" Alice Englestad recalls. "We did that because we were both afraid of the dark. Looking back on it now as an adult it sounds silly, but back then it meant something."
She credits her sister with pretty much raising her while their mother worked a full-time job in retail and their stepfather worked as an elevator inspector.
In high school, Deb Englestad gravitated toward softball and remembers the first time she tried out for the Grant team. "I knew I was never the best athlete and that for me to compete and be successful I had to work harder," she remembers. "Going into tryouts, I was nervous but confident. I really wanted to make a good impression."
She made varsity as a freshman and took advantage of the opportunity to travel and see the country with her team. Hawaii was one of the destinations. "It was absolutely crazy," she recalls. "It was also a huge honor and a privilege that I was invited to go. The only worry I had was how was I going to pay for it."
Her senior year, the team traveled to California where they played in tournaments and went on a side trip to Disneyland. "I will never forget that trip," she says. "It was great. That experience just being there in California getting to play against the best competition, it was really special."
Englestad believes playing sports as a young woman opened up doors for her that wouldn't have been there without the experience. "Playing in athletics gave me a different experience than just being a student," she says. "I had such a great experience with coaches that I wanted to provide the same experience for student athletes."
For college, she wanted to stay close to home but needed a way to pay for some of her education. She received a partial scholarship from Portland State University for softball and made the most of it.
"College was a necessary path to anything I wanted to do in life and bad grades weren't tolerated in our house," she recalls. "Besides, being an athlete, I had to keep good grades. I had less time for homework with practice commitments. I needed to stay organized, stay on top of things. I knew there would be consequences if I didn't."
She worked hard at school and the softball team played well. But in early 1983, Englestad's stepfather was diagnosed with terminal cancer. Alice Englestad recalls: "We tried to keep the same routine everyday to help stabilize us. At one point, our family TV room became our stepfather's hospital room. When you saw him you could see the radiation marks all over him."
Around this time, Englestad was often traveling for softball, and knowing he could die at any moment really unsettled her. She was home when he died in the spring of 1983.
Her mom, Sandy Gibbs, remembers how Englestad helped take care of her. "She was hurt. It hurt our whole family," Gibbs remembers. "We loved him dearly. But Deborah's strength and will got us through it. She was my backbone. She was the reason we made it through OK."
Englestad soldiered through and later earned a Masters of Education in exercise science and sports studies. She credits her mother as her greatest influence, the ultimate role model for working hard. "Why I think she was the best role model in my life is that she showed me what hard work is," Englestad says. "She was a workaholic, always striving to do more and better."
After graduating from PSU in 1987, she worked for a time at Hallmark Cards with her mom, subbed for two years in physical education and math classes, and then started coaching. Englestad had job offers at the elementary school level, but she wanted a shot to work with high school students. She was offered a job at Franklin, but there was no competition in her mind when the Grant job became available.
She was new to the game, and knew she had a lot to learn.
"When I first started teaching, I was only four years older than many of my students," Englestad remembers. "I even got asked for a hall pass."
Today, Englestad strives to teach her students about staying healthy because she believes it is an important part of life. She reflects that as a gym teacher and coach, she has more access to students and can caution them about the importance of staying in good shape and health.
"Coaching softball, I have the privilege and honor of working with some fine, outstanding young ladies that have gone on to become fantastic, successful adults," she says.
At home, Englestad is a mother to a daughter and two stepsons. Jacey is 13 and lives full time with her mom. Englestad sees the boys – Caden, 12, and Owen, 11 – frequently throughout the week.
Jacey describes her mom as loving and fair, and says she tries hard to make everything good for everyone. One of her key attributes is her personality. "She's really outgoing and always has a good purpose," Jacey says.
Jacey remembers going to the Hall of Fame award ceremony and seeing her mother stand out above the rest. "I think it's cool that she's the only award winner who teaches and works at the school," Jacey says.
Englestad, who coaches her daughter's soccer team, says that the greatest joy of being a mom is "watching Jacey grow up and become the young lady she is. It's important to be a role model for young kids, to be a positive influence."