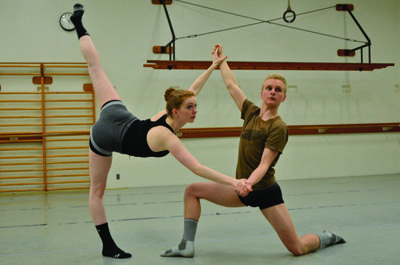 Casey Hess remembers wearing blue tights, a blue tunic and a feathered cap as a freshman dancing for Columbia Dance Studio in Vancouver. He was performing a Pas De Deux – a routine with a partner – for only the second time in his career as 400 people watched from the audience.
Pushing himself to new heights during this dance was when he realized how big a part dance had become in his life. "Freshman year was definitely a big year of progress and I felt very proud, like I was finally getting better," Hess recalls.
These days, every Saturday morning at BodyVox is where you can find Hess – now a Grant High School senior – perfecting his ballet techniques. As strains of classical music echo throughout the studio, his eyes focus on the instructor's movements.
His dedication to dance is shown through his talent and commitment to dancing seven days a week. Although Hess shines brightest on the stage, he also used to play the piano and ride a unicycle.
"Piano wasn't something I yearned for and I quit in the sixth grade," Hess says. "And sometimes I'll take (my unicycle) out for kicks and giggles!"
But dance takes priority over everything else. Hess has been dancing since the age of four. He remembers sitting on the stage as a first grader, watching his older sister dance at Portland Metro Performing Arts. That's what sparked his interest in ballet.
"We have this thing that if you commit to something, you have to follow it," says his mom, Melora Neminski. "He wanted to quit halfway through, but I said: 'I'm sorry. You have to see it through.' And at some point it just took over his life."
Hess' sister quit dance her senior year of high school because it was never her passion, but the two siblings still went to dance performances together. Laurel Hess remembers going to a performance at the Oregon Ballet Theater. "Casey and I were so impressed by the talent and how supportive the dance community is," she recalls.
Growing up, Hess and his sister were very close. A six-year difference never stood in the way of their relationship. "We never fight and we are always supportive of each other," Laurel Hess says now. "As we both get older, we get closer."
Family is important to Casey Hess. They often travel to California to visit other family members. Dad Dan Hess recalls their frequent camping trips when Hess was a young boy. "We used to go to Trillium Lake," Dan Hess says. Riding their bikes around and swimming in the lake made a perfect family vacation.
But Casey Hess wasn't always easygoing. He was stubborn. "I have two very different children," Neminski says. "'Casey, let's go on an adventure.' 'No!'"
But the kid who never wanted to go anywhere is the one who will ultimately travel the farthest to pursue his passion. Switching from studio to studio and outgrowing every one, Hess' focus was solely on ballet.Neminski recalls a time when her son did a reading going into his sophomore year. It was a memoir he wrote about his experience while doing a summer intensive at the San Francisco Ballet. During his time there, he developed six stress fractures, three in each foot. Hess' reply to his injury: "A dancer's body always hurts."
So he kept going even under the hostile tutelage of one of his teachers, who didn't think Hess deserved the scholarship that was awarded to him. "I sat there and cried so hard," Neminski says. "I have disliked the ballet world ever since."
But in the ballet world, Hess says: "You have to pretend like these things didn't happen. You have to pretend you are the best."
Hess normally wouldn't back down, but this time he had to. He learned to push through the criticism, but doctors worried about the damage to his ankles.
Hess was out of ballet for months. "It was rough," he recalls. But then he discovered a love for improvisational dance. "I could do things on the floor that didn't involve my ankles," Hess says.
Nevertheless, being away from ballet for that long was a blow. Hess says that being left behind is exceptionally hard, especially when they're learning new dances and moves everyday. After his injury healed, Hess learned to listen to his body.
Supporting his son is the best thing Dan Hess can do. "He has worked through injuries and learned how to deal with strong personalities of the dance world by developing confidence in himself," Dan Hess says. "He just flat out does not give up."
In his junior year, Casey Hess was dancing for the Portland Festival Ballet and taking dance classes at Jefferson.
"Junior year was a hard time for me because I've always had the dream to be a professional dancer in the San Francisco Ballet," Hess says. "But I realized that my dreams were really unobtainable, especially because I didn't win the genetic lottery for ballet."
As Hess grew as a ballet dancer, he realized the atmosphere was not for him. He saw how many dancers in his company only cared about getting the leading role. "The people in it are too narcissistic," he says.
"No parent wants their child to be subjected to cruelty," Neminski adds. This is when Hess decided to leave the ballet studio. But he didn't leave the skills behind. "Ballet is the base technique for most types of dance," Hess says. He decided to put his talent to use in more modern and contemporary forms of dance.
In September 2012, Hess was accepted into the Jefferson Dance Company. "He has a wonderful time dancing at Jefferson," Neminski says. "He is happier than he has been in years."
Dan Hess adds: "The ballet world can be cutthroat, and Jefferson has been a breath of fresh air."
Now a senior, Hess dances full time for the Jefferson dancers. "Coming over to Jefferson to continue his dance training has made Casey a better dancer and performer," says Steve Gonzales, Jefferson's artistic director. "Casey has had the opportunity to study a variety of styles of dance, making him a more versatile dancer, and more in demand as an artist."
Hess' favorite type of dance? Contemporary and jazz. He takes open ballet classes to refresh his talent on Mondays and Saturdays. On Sundays he attends a contemporary-jazz class.
Aside from dance, Hess holds a job at Baskin and Robbins two to three nights a week. So when does Hess make time for friends? Senior Ellie Klee, Hess' best friend and co-worker, says: "He makes time whenever he can. I respect him for being so driven and if I ever needed something he would make time."
Friends know Hess is a very busy person. "He appreciates every break he gets," Klee adds. "He sees what needs to be done and does it by putting all of his energy into whatever he does."
Because of Hess' intensive dance schedule, he's only taking two academic classes this year. "I'm not really that involved in Grant," says Hess, who has a 4.0 GPA. "I'm not going the academic route, but I do want an academic back up."
Despite the outcomes, balancing school and dance hasn't been easy. And family life is something that gets sacrificed. While he was attending Portland Festival Ballet last year, Hess didn't finish dance until 8:30 p.m. He'd go home, have dinner and stay up late doing homework. "I was very tired," Hess recalls.
"This is the first year he is home for dinners," Neminski says. "He actually has more free time than he has had since he was five."
Recently, he auditioned at four prestigious schools, one in Pittsburgh and three in New York. His top choice is Julliard, which he hopes will give him the best shot at a career as a professional dancer. In Hess' round of auditions there were approximately 50 people. Hess was one of five in his group that made it through the auditions. But many people are trying to get admitted and Julliard is very expensive. "There is a good possibility that even if I get into Julliard I won't be able to go," Hess says.
But his second choice, State University of New York in Purchase, remains a possibility. After making the cut and performing his solo, Hess confidently left to change out of his dance clothes. At the director's request, he came running back in the room with his jeans pulled up and only one shoe on. They offered him a scholarship right on the spot. "I was completely shocked and grateful," Hess says.
When asked if his future career is aimed in the direction of the dance world, he says: "I can't sit at a desk all day making money; I would prefer to be dancing all day."
Gonzales believes he can do just that. "There are many dance companies that would be thrilled to have him and would welcome him with open arms," Gonzales says.
Hess' dream company is the Göteborg Ballet in Sweden, where he values the dancers and the style.
Not setting any plans in stone, Hess stays optimistic. But he knows he wants to follow his passion. "I just wanna see where it takes me," he says. ♦