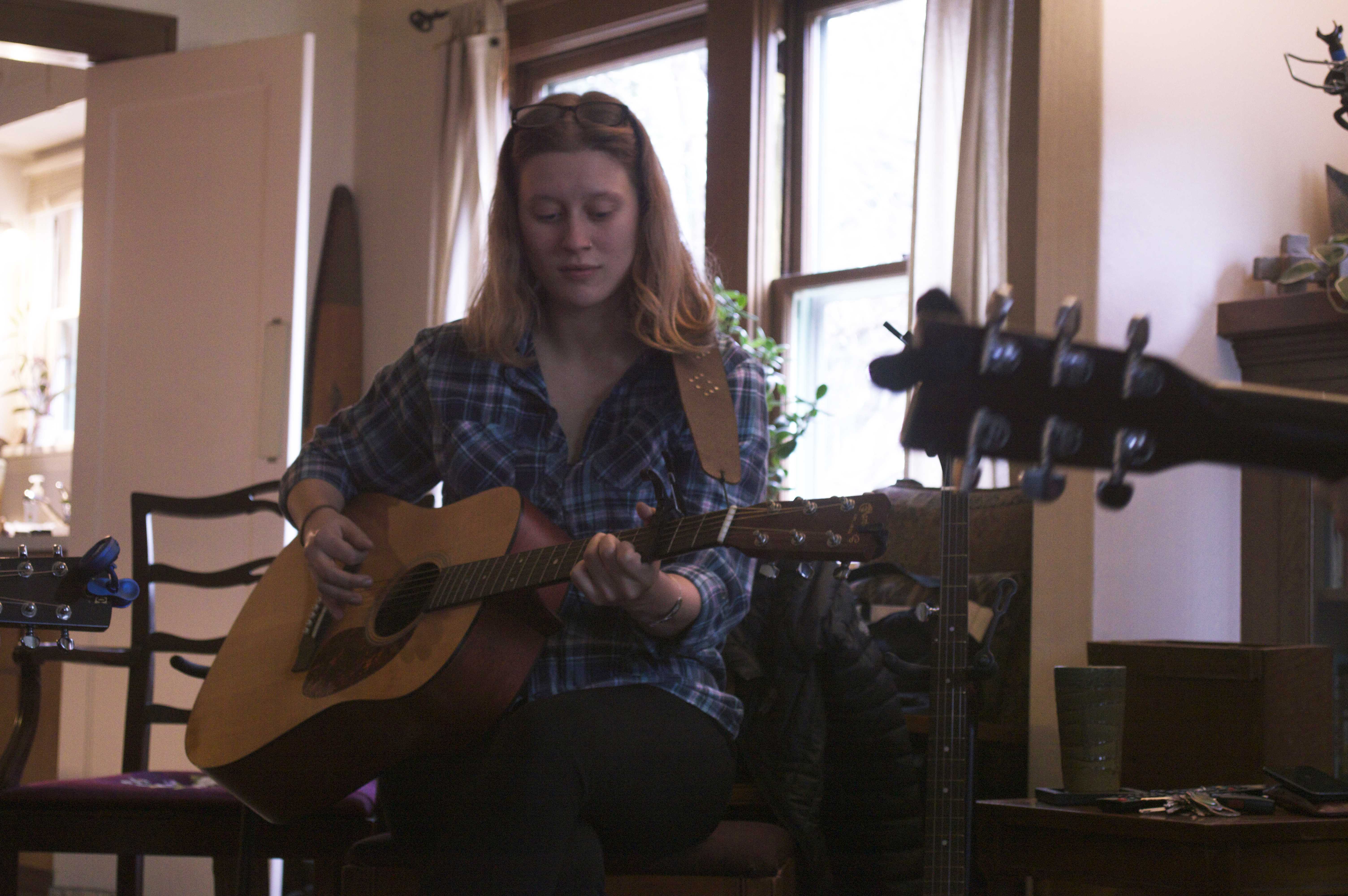 Grant alum Kelly Bosworth believes the power of songwriting can bring people together.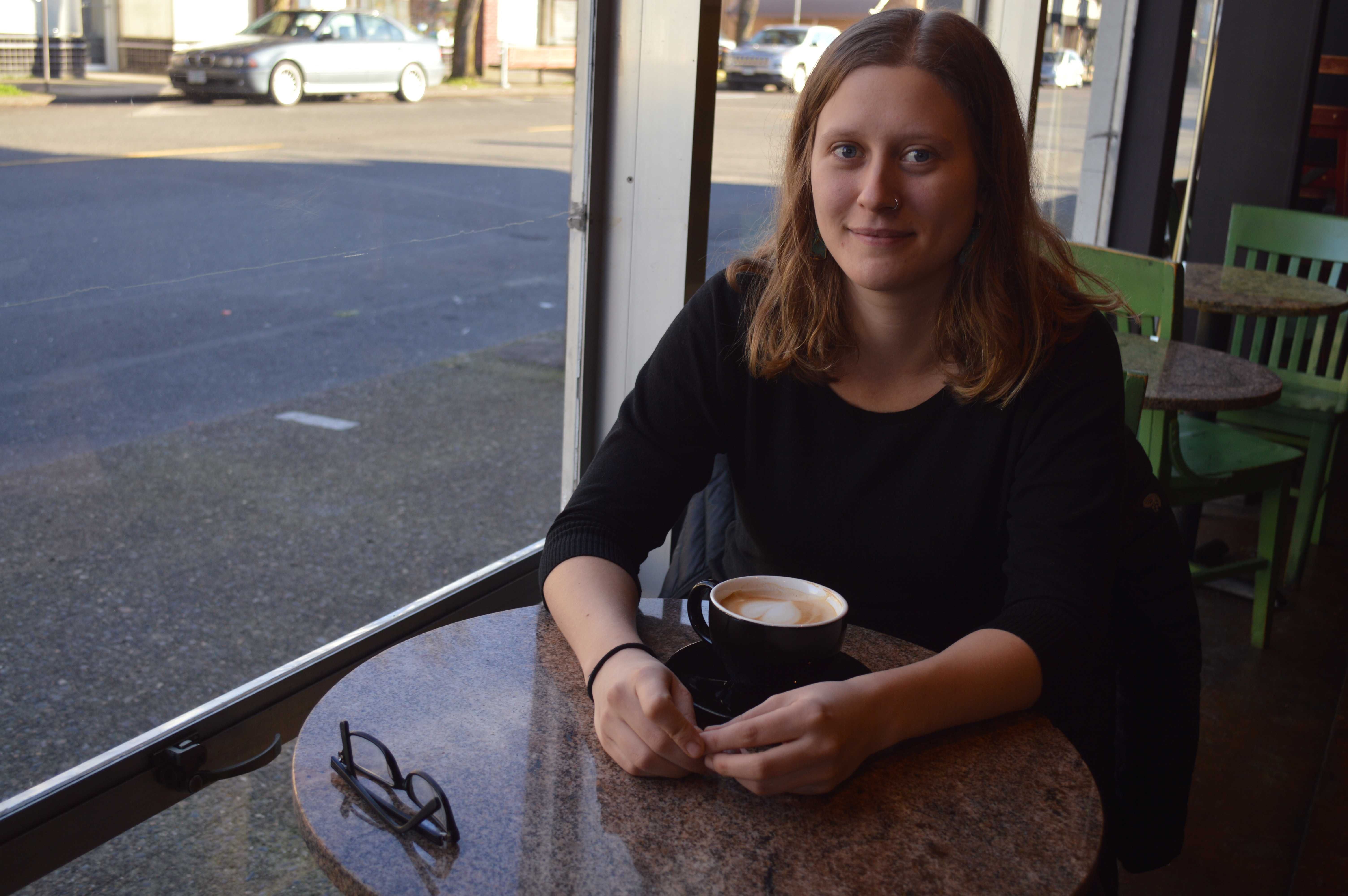 Bosworth and her dad, Mark would often visit fleur de lis, a neighborhood restaurant.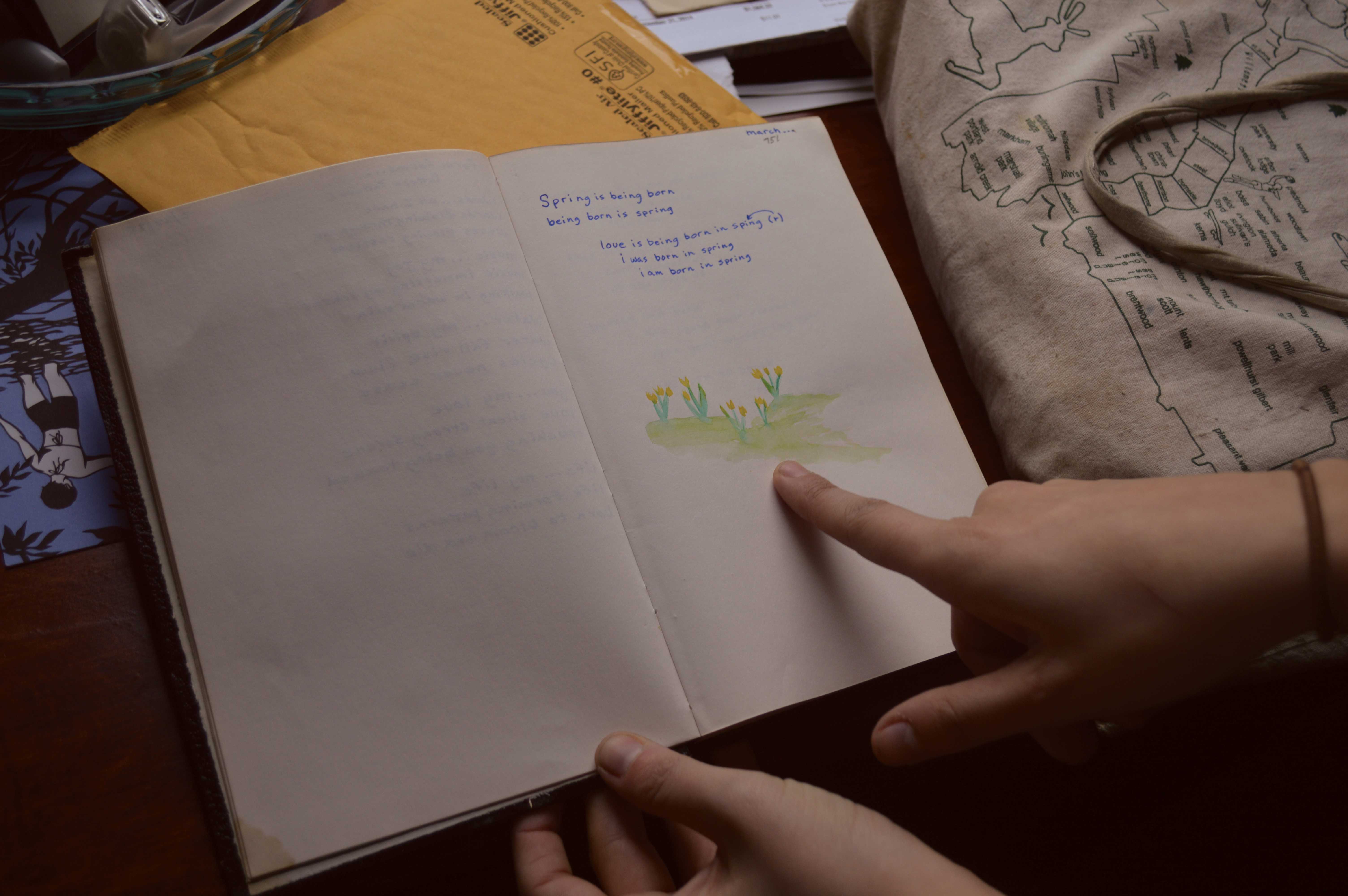 When missing her dad, Bosworth looks to his old journal filled with poems and song lyrics.
Kelly Bosworth remembers walking down the side of a black road in Southern Oregon three years ago, scanning the concrete with her sister, Claire.
They were in Riddle, a small town of just under 2,000 that was hosting a part of the annual Cycle Oregon event and the two were looking carefully in the dense brush. Their dad, Mark Bosworth, was on the trip as a volunteer and had gone missing.
They were looking for any signs of him. A flash of his biking glasses. A bag. A blue wristband. A yellow hat. Any clue to where he might be.
The search came up empty and the loss catapulted Bosworth, who graduated from Grant High School in 2006, into the world of folk music. Her father was the key to immersing Bosworth in the world of song, from playing gigs in venues to teaching lessons.
Last November, she released a self­-titled debut album, "Kelly Bosworth". Now, she is gearing up for a tour across America that begins spring break.
For Bosworth, songwriting is mending, a way to process her emotions.
"As I'm writing a song, I'm crying so hard," she says. "But the song ends up being a healing product at the end. And that's beautiful. You know at some point you're going to find comfort. In a grieving process there's always that turning point."
As a child, Bosworth would always sing in the car. The family would take turns going around the family circle in the car suggesting songs. She'd also let her voice out on the way to school.
"I remember hearing from other parents driving the various carpools of kids that they would hear this beautiful singing coming from the back seat of their car and be amazed that it was Kelly," her mother Julie Bosworth recalls.
When Kelly was about 8, her grandparents bought her a piano. She couldn't fall asleep that night from the excitement of being able to play it. She begged her mother to sign her up for piano lessons.
After about a year, her mom found a teacher for both girls. Kelly followed a rigorous piano curriculum of music theory, scales and classical music all the way through 11th grade.
"What was so surprising was that she progressed steadily without much practice," Julie Bosworth recalls. "She would sit at the piano at home and play around, but rarely practice what she was supposed to practice. But then I would sit through her piano lesson and she would play beautifully."
Bosworth's artistry stemmed from both parents. Her father was a musician-turned-geographer and her mother used to be a dancer who switched over to being a businesswoman. They were no strangers to the world of performance.
Kelly Bosworth recalls how her dad was "in some really lame rock bands." One was called "The Dads," while another group of musicians called themselves "Big Plans" because they were all city planners.
She was 15 when she admitted that her dad had good taste in music. She recalls having a conversation with him about Norah Jones, stunned that her dad was aware of the Grammy-winning singer's existence. "So we had a little overlap there," she recalls. "He bought me a Norah Jones songbook on classical piano and that's when I first learned guitar chords."
After dinner most nights, Kelly would play music with her dad and Claire as her mother listened while doing the dishes. They played Bob Dylan, The Beatles, Carole King and the Dixie Chicks. "It was usually either Kelly on piano, Mark on stand-up double bass and all three singing, or else all three singing with guitars," Julie Bosworth says.
In high school, Kelly Bosworth was in the musical group, Royal Blues. Sometimes after school, members of the group would come over for jam sessions. "When my dad came home from work, he'd make a huge dinner and we always had leftovers," she recalls. "So then I would call my friends to come over and we'd have a packed table."
Alison Staley, a best friend of Bosworth's, remembers all of the sporadic trips they had in high school. "We would take night trips to the beach on school nights, just to dip our feet in that water," Staley recalls.
Some nights would be passed skinny dipping at Lake Trillium. Instead of partaking in the party scene, the girls would create adventures.
Staley remembers meeting Bosworth in theater class sophomore year and being drawn to her sophistication. Bosworth was poised and held herself in a manner far beyond her years, Staley says. "The way that she views every situation is so different than the way I or anyone else would view it," she says.
After high school, Bosworth attended Grinnell College, a small liberal arts school in Iowa. Although she originally had signed up for the music program, she had trouble connecting with the other students. She changed her major to political science and got a job working at an arts and education nonprofit in New York.
After New York, Bosworth moved back to Portland and worked as a leader at Outdoor School. In August 2011, the Bosworth sisters moved into a house together. It was a move the sisters said brought them even closer and got them ready to begin a new chapter of their lives together. But all that changed the following month.
Kelly Bosworth was preparing to show up at Outdoor School when her family informed her of her dad's disappearance. Her mom and sister drove down that morning and hadn't told her. They didn't want her to worry.
They assumed he had just been lost in a shuffle of 2,000 people moving out. "They went down thinking they were gonna take him to the hospital…and then he wasn't any of the places they thought he was going to be," she remembers.
She dropped everything and that night stayed at her parents house. Bosworth thought if her dad was confused, he'd try to get home. "He's gonna hitch a ride and get home to the house he's lived in for 20 years," Bosworth remembers thinking.
The next morning, she got a ride down to the area where they were searching from a friend.
Mark Bosworth had been volunteering at Cycle Oregon, a week-long bike ride for more than 2,000 riders. He went missing on Sept. 16, 2011.
There was a huge tent city of all the cyclists and a little tent town of all the volunteers. The family was told he had been walking from one to the other and never made it back to his tent.
"I remember when I got there, I felt like I had missed a lot. That morning they had 40 or 50 firefighters volunteer to go out searching," Bosworth says.
When she arrived, it was quiet. "There were kids playing on this playground and there was a overhanging shelter right next to it, where the police were."
The Bosworths kept thinking something would happen. The days seemed too long, like time didn't exist in their state of fear. But on the third day, more than 100 friends and family came from Portland eager to help.
Kelly Bosworth distinctly remembers when people started coming off a big bus. Her whole crew from high school, people from her dad's work and people from Cycle Oregon searched for two days in deep brush.
Although searching was emotionally hard, Claire Bosworth wasn't giving up. "It felt far more productive than sitting around and waiting for news," she recalls.
Kelly Bosworth worried about her dad's fate. "Really for that whole time, it didn't seem possible that we wouldn't find him," she says.
Part of the worry came from previous health problems. Mark Bosworth had been diagnosed with cancer twice before and there was a chance that it would return. "It basically came back and we didn't notice it," Kelly Bosworth says now.
Everyone that cycled with him noticed something was a little off.
He'd be staring off into space or he'd say something that didn't make sense. Sometimes, he'd show up late for his volunteer shift. "We were putting everything together as all the stories were being told. And we realized what was happening," Claire Bosworth says.
Although they searched for 10 days in all, no clues were found. His doctors say it's clear the cancer came back into his brain and that he would've died in six weeks without any interventions. "We called every hospital in the country asking if they had any John Does. We gave them my dad's description. Nothing," Claire Bosworth recalls.
After the search, the sisters moved back in with their mom for six weeks. Although they had each other, there was a noticeably desolate feeling in the house. Kelly Bosworth appreciated her mother's strength.
"It's so hard to be a parent going through the experience of being alone," she says now. "And it's so hard for my mom to see her daughters go through the experience of losing a parent. We would try to fill in some of those gaps for each other."
Looking back, Claire Bosworth says she feels blessed for all of the support and love people gave. "I think going through something like that really brings people together, out of necessity. During those six weeks so many people would bring us dinner, play music and cry with us," she says.
Kelly Bosworth didn't have time to mourn the loss of her father. She engrossed herself in working at a nonprofit social service job, teaching financial education to kids who lived in affordable housing in Portland.
She spent two years doing the work. "It was awesome," she says. "The people were really great. They were really supportive and knew what was going on. And I was good at the job."
She didn't know it at the time, but Bosworth was experiencing the shock of losing a father. By keeping herself busy, she didn't deal with the emotions boiling inside her. "I would sob for an hour, and then I would just sit up, wipe my tears, and go back to worrying about work," she says.
She'd have moments where she fell apart, but would always be looking at her watch. She got to the point where the trauma and grief took over her life. "With a missing person, there's a crisis when this person goes missing," she says. "But there's never a crisis when they're dead. I never knew what to do with, 'Well, my dad is kinda dead.' Like when do I deal with that?"
Working got to be too exhausting for Bosworth. Her mood changed and she could no longer focus. She wasn't processing the loss of her father like she should. So Bosworth decided to quit.
She had saved enough money to rent out an apartment overlooking the water at Oceanside for two months. Although Bosworth needed an escape, she felt guilty.
"I didn't really know what I was leaving for or if I was being ridiculous," she says. "I couldn't believe it had been two years. It's kind of a scary time when you start to move further away from it."
Bosworth's mom remembers supporting her daughter. "I told her that her nonprofit job will be there later, so she should take the leap and pursue the unknown," Julie Bosworth says.
She held out hope that this would be a turning point in her daughter's life, that she would discover something about herself in everything that had changed.
Kelly Bosworth's goal was to fall apart. She brought newspaper clippings and pictures of her dad to her new home. "I really wanted to see if I could move through the grief and come to the terms that my dad died," she says.
By writing chords and lyrics, she went to the dark places she had never gone before.
"As I'm writing a song, I'm crying so hard. But the song ends up being a healing product at the end. And that's beautiful." -Kelly Bosworth
During her time of solitude, Bosworth also looked to the future. She bounced between two options on what to do with the rest of her life. "I would either apply to graduate school in public policy and go back into the field I'd been working in. Or I would try to be a folk musician," she says.
She chose the latter.
By the time her stay was over, Bosworth had enough songs to potentially record an album. "I wasn't thinking about it at the time," she recalls. "The idea of an album seemed insane, like egocentric, like no way."
But by going to songwriting classes, she came to the terms that her songs weren't half bad. "Really the biggest thing that happened was I told myself this isn't silly," she says. "I was recording songs on Garageband and it was very healing, and only for me. And then I took a class and realized, 'Oh, some of these songs are not objectively terrible.'"
So Bosworth endured and continued to get better at song writing. After a year of writing, she released songs on her Soundcloud. To her surprise, she received positive feedback. She released the album last November.
In a way, her CD release party felt like a service for her dad. "I think that's part of why so many of his friends and coworkers turned out for the show," Bosworth says.
Bosworth's mom bought a yoga studio recently and puts her energy into that. "We were comfy and happy. Then something happens that shakes your world and assumptions," Julie Bosworth says. "All three of us have been re-examining what's important in our lives.
Mark Bosworth, Julie says, would be proud of all of them.
Kelly Bosworth still wonders sometimes if maybe her dad is alive. "You know, maybe he is…on the streets of Tulsa and he's made some friends," she says wistfully. "Or something totally insane happened that maybe he doesn't know or remember who he is, but he's living a healthy, lovely life somewhere."
For Bosworth, the biggest moment in her grieving process was realizing she didn't have to choose if her dad was dead or alive. "I live in a world where opposing things are true," she says. "It's not all black and white. It's gray. I think that happens in any grieving process." ◊