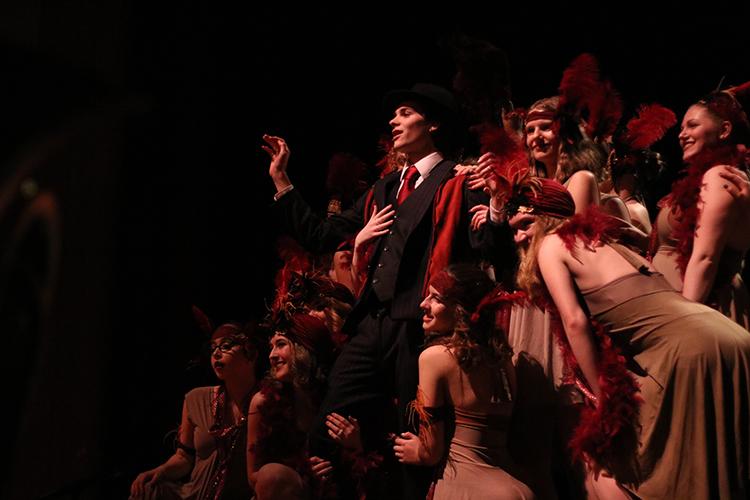 Henry Belliveau, senior – Role: Billy Flynn
"I haven't really played a character like him. I've always gotten casted as the dumb, boyish comedic roles, not that Billy Flynn isn't funny too, but Seymour in 'Little Shop' was very naïve – juvenile – and I'm kind of good at playing that dopey personality. But Billy was a challenge at first, and it took me a while to kind of find my natural way of portraying his character. A lot of the time his role is played a little more seriously than I played it, but I milked the sleazeball side of him as much as I could. I actually had more fun with that role than any other role I've done."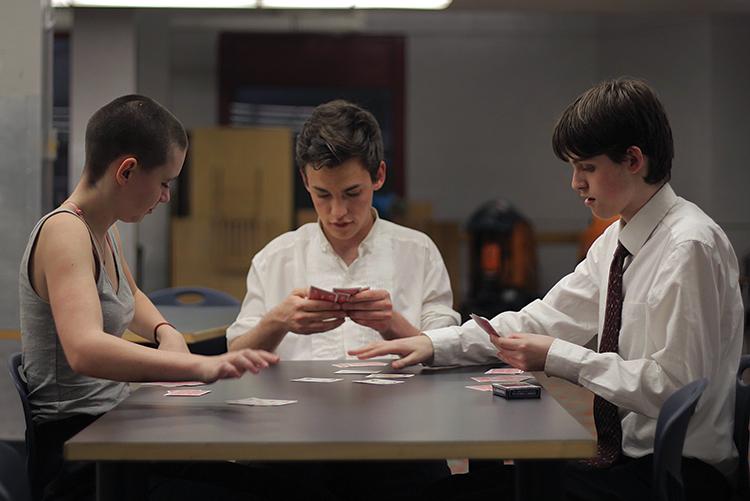 Lucas Nimelman, sophomore – Role: Reporter
"It's a lot of work to put on a production like this because we were rehearsing for two months. Then after that we rehearsed everyday, but once we got into dress rehearsals and the actual shows, everyone is in different scenes, so everyone met up at different times. Downstairs we had card games going on and just people talking, getting in circles and playing games until it was their time to go up. It was just a very welcoming community and anyone could join, and everyone there is just super nice because we're all in this big thing together."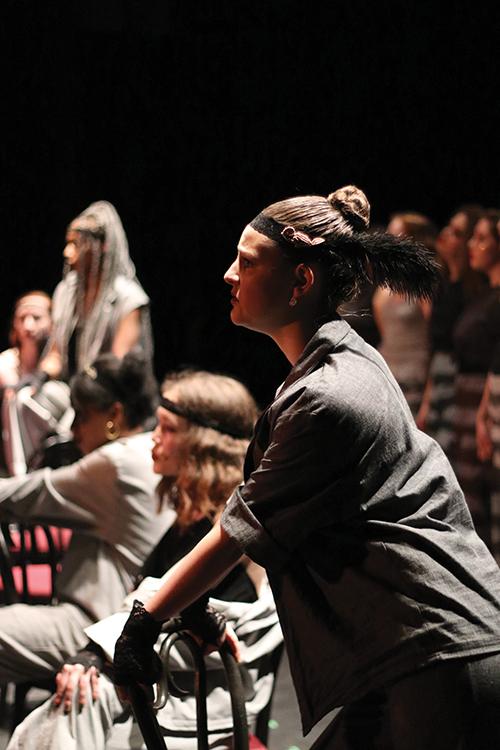 Noa Moulin, senior – Role: Hunyak
"It was actually really interesting, and it felt like I was back at the beginning of the year when I didn't understand much, so it was really interesting and I feel like the character that I was playing in the musical was really interesting because I guess I could connect with the character. She's in the jail and is in the same group of people, but at the same time, she's apart because she doesn't speak the same language, and she's there with people that are kind of with her, but at the same time didn't really care because she's not American, and it's kind of the summary of being an exchange student."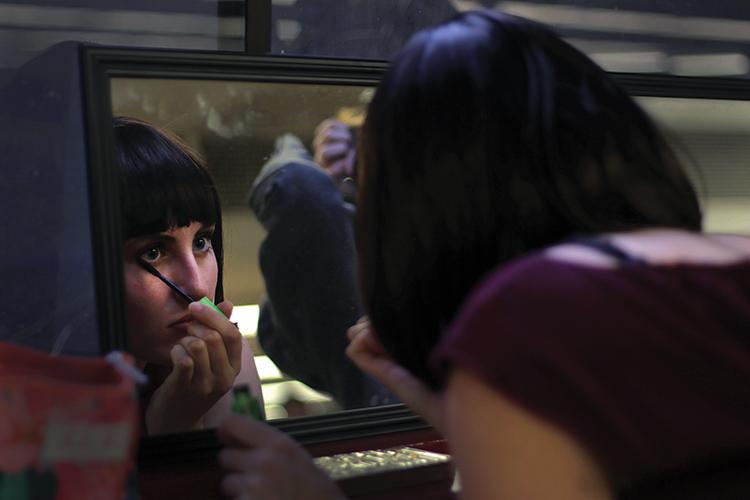 Moya Woods, senior – Role: Mary Sunshine
"It's still pretty surreal. Like I know it's over, but I don't actually know it's over ... I remember the very last line that I said at my last show on Friday. It was interesting because it kinda hit me right as I was walking offstage, I was like 'Okay, this is the last time you're gonna walk offstage as this character,' … it's definitely been quite the experience … I will probably look back on it later in life and remember all the crazy, fun moments that I had. I really like the moment in the song that I sing – it's kinda towards the end – really high notes, and I'm up on a platform looking out in the auditorium full of people ... you don't know that they're there, because it's completely dark, and all the lights are in your face, and you know the whole applause thing is coming. That's my favorite moment."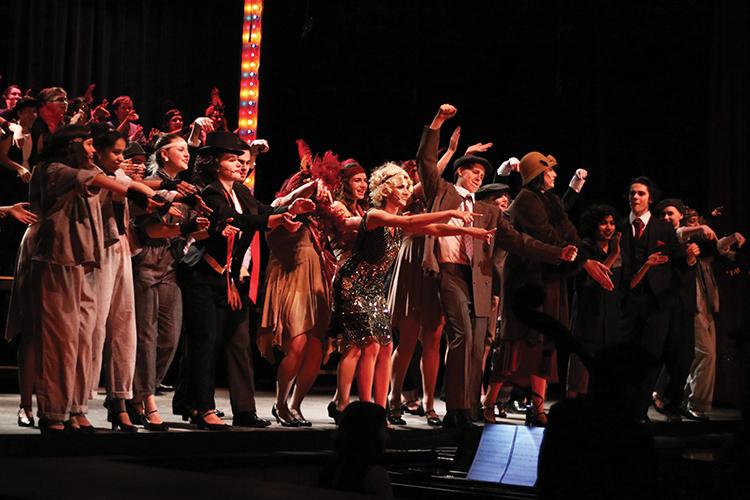 Jessica Murray, co-director and dance coordinator
"To see them support each other and to see on cast A's closing night all of cast B sitting in the back row of the auditorium, sitting together holding hands, watching their counterparts perform on stage and going through all the motions and quietly singing along and cheering and clapping ... that's the best of Grant High School, all these kids of different races and different identities coming together to do something like this. We're completely supportive of each other, which is awesome."
On Friday, May 5, at around 7 p.m., cast A of the "Chicago" production walked on stage behind the curtain, and senior Lilly Sasse, who played the Master of Ceremonies, appeared in front of the crowd:
"Welcome ladies, gentlemen and other fancy folk," she said. "You are about to see a story of murder, greed, corruption, violence, exploitation, adultery and treachery. Perfect for a high school show. Thank you." Then a trumpet wailed, and the curtains opened, revealing a stage full of dancers posed and ready to begin their first number: "All That Jazz."
"'Chicago' is a show I've always wanted to do," says co-director and dance coordinator Jessica Murray. "I needed to do it in a community that was open to it because it's an edgier show, and not a lot of high schools can do it. It was risky in that way,"
The play, originally written in 1975, is set in prohibition-era Chicago and follows the trial process of Roxie Hart, who murders the man she is having an affair with. When she is sent to prison and placed on death row, a local lawyer named Billy Flynn takes her case and helps throw Roxie into public stardom for her cold-blooded murder.
The risqué content and the heavy involvement of Grant's dance program, led by Murray, has set "Chicago" apart from previous musicals and plays produced at Grant.
"The Grant dance department had really grown in the past couple years under Ms. Murray, and … it was very prominently featured, as well as the choir program," says Grant senior Henry Belliveau, who played Billy Flynn in cast A. "I think vocally, and dance-wise, the show was stronger than any other show that I've seen."
"Chicago" was the last production in the Grant auditorium before the redesign of the school, so the students were determined to end the show on a strong note. "The Grant auditorium is such a special place with such a unique energy, and I felt like I owed it to the theater department to put on the best show yet," says Sasse. "Everyone found this new level of motivation to go out with a bang and leave a lasting legacy in that special space." ◆