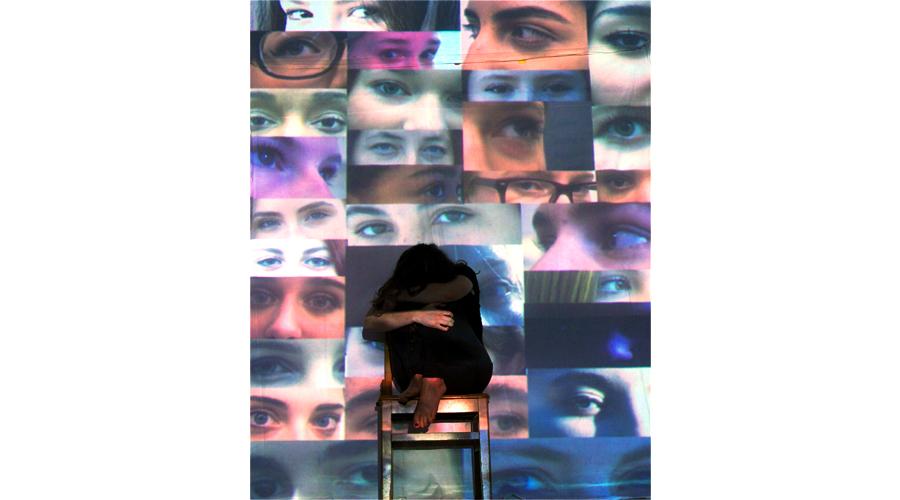 Last year, a group of girls, including a Grant student, took provocative photos in a Northeast Portland park. Afterward, the photos were posted on Tumblr, a popular photo sharing website, and eventually landed in the hands of the police.
Another Grant student frequently posts naked photos of herself and friends on Tumblr. She doesn't think it's scandalous or inappropriate. "It's not about sex," she says. "It's about how the human form is pretty."
One girl who attends Grant says she accidentally posted a provocative photo online. She says she took it with the intention to save it as a draft, which would have kept the photo private from other users. But she never marked it that way and the photos were published. Within moments, people had already shared the photo.
"It was so scary," she says. "Once something's on the Internet, it's completely irreversible and there's nothing you can do to take it back."
Earlier this fall, nude photos of a student were posted on a social media site. The photos, taken inside one of Grant's classrooms, ended up in the hands of authorities. A sexually explicit video taken by a mobile device was found as a part of a separate investigation.
The Portland Police Bureau issued a news release, announcing publicly for the first time that the Sex Crimes Unit was launching an investigation on the sexual activity that was recorded by Grant students. Local news stations descended upon campus, asking students and parents what they thought of the investigation.
School officials are bound by Oregon law not to reveal any details about the case and cannot talk about individual students or the disposition of any discipline because it would violate district rules around privacy, says Grant Vice Principal Kristyn Westphal. "We take student confidentiality very seriously. If a student were involved in a discipline situation of any kind, generally speaking that student and their family don't want to share with anybody else. And due to confidentiality laws, we need to protect and honor that."
The case, though, has whipped up a media frenzy and sensationalistic news reports have left the school swirling with rumors.
But when you step back from the details of the case, it's clear that many high schools in Portland, the state and across the country have issues with kids sharing nude photos.
Numerous Grant students interviewed by Grant Magazine confirm that they have sent or received nude photos via social media applications and messaging platforms. Nationwide, these students are not alone.
According to a 2008 survey by the National Campaign to Prevent Teen and Unplanned Pregnancy, one in five teenagers claims to have "sexted" – using text messages to send sexually explicit image to another person. Therapists say the trend won't fade anytime soon.
Minors can send explicit images on almost any electronic communication platform. Text messaging with smartphone applications such as Tumblr and Snapchat allow users to quickly send or post images without having time to really think about the consequences.
Grant parent Monique McClean says she's aware of teens sexting; however, she doesn't understand the attraction. "I'm surprised that this is so prevalent. Maybe it's because I've been brought up in an era where it was almost like taboo for you to be showing people your naked body," she says.
History teacher Dan Anderson hopes his children, as well as his students, steer clear of the fad. "I want them to treat themselves and others as if they are valuable," he says. "When you are (sending) nudes of yourself around cyberspace, you are pretty much denigrating yourself and shouting to the world, 'I am worthless.'"
But for some students, capturing nude photographs isn't such a heavy topic. One boys says he doesn't think too deeply about the consequences when he sends nude photos. "It's not necessarily the smartest move to make, but it's in the moment," he says.
One Grant girl who says she takes such pictures does so for artistic reasons. She focuses on elements like lighting and formation, and sometimes sketches or paints the images. "The reason I post anything on the Internet is because like I like this and I want other people to see it," she says.
She says the pictures are usually for composition, not effect. "It's really coming at it from an artistic standpoint, versus like I want a guy, or a girl, to see this and be attracted to me or to think of me differently when they see this picture," she says.
Yet, some psychologists say regardless of the intention, nude bodies will always be seen as sexually explicit. "I think it's hard for us to completely divorce ourselves from interpreting anyone's body – ours or other people's – as sexual because they've been highly sexualized by society in general," says local family therapist Erin Durst.
Because of this, Durst does not completely condemn nude photographs. "It is an expression of who you are. We have bodies, and appreciating our bodies is not a bad thing. It's totally healthy," she says.
But she acknowledges that healthy is hard to come by for minors in some cases. "In my experience with people I've seen, sending a nude photo has been a matter of trying to assert sexuality," Durst says, rather than "trying to free yourself from sexualization."
With a mix of puberty, the quest for self-discovery and changing values, Durst says it's natural for people to search for ways to display their sexuality. "If you have an emerging sense of sexual identity, you've got to express it somehow. Some people do it in different ways," she says, adding that it seems there isn't a "healthy way of expressing sexuality in this culture."
Bring in the instant gratification that social media has to offer and the issue can quickly magnify.
Another Grant student says she sees sharing nude photos as a positive experience. "It's a self-esteem boost because it's a way for you to know that people are noticing you," she says.
Others also admit to enjoying the attention. "If it doesn't get any notes, then it's like, 'OK,' and if it does then I guess I'm a little bit proud," says one student who sees nudity as an art form. "People like to be seen that way. People like to feel attractive."
But Professor Elizabeth Daniels, who taught at Oregon State University-Cascades and now serves as assistant professor of psychology at the University of Colorado Springs, sees that as a potential problem. She says in today's culture, youth – especially girls – are taught the most important thing is to be physically attractive.
"I think that, in general, physical attractiveness is pretty important in our culture," says Daniels, who looks at gender, the media, body image and positive youth development in her job. "The idea is that here are these beauty standards that girls and women should be trying to reach for, and that's what people value. If you believe that personally, then you might feel like you need to post those kinds of photos."
In American culture, females are pressured to value their appearance much more than males, experts say. "It's not that teenage boys or men don't feel any pressure about their appearance, but that's just one aspect of who they are and other things matter; whereas women typically get reduced down to this 'hot or not' type of evaluation," Daniels says.
This sort of gender double-standard manifests itself throughout America's society, even inside Grant's community. Some boys at the school say it's not attractive for girls to send pictures.
Senior Da'Marea Stigler admits that he judges the character of girls who would send nude photos to someone. "I think it's a lack of respect for yourself," he says.
Junior Ethan Paul says: "It's sad because girls are more sexualized than boys. I hope one day everyone will be equal, but of course that's never going to happen. But it's a nice thought."
Peer pressure plays a major role in influencing minors to share explicit images. However, this peer pressure could seriously harm someone's future.
Grant Principal Carol Campbell recently visited the University of Oregon, where she is on the admissions advisory board. "They talked about how they do searches – Facebook, Instagram, Twitter and all that for prospective students," she says. "Now, they can just Google your name and that picture might come up."
That idea haunts the student who accidentally posted her picture on Tumblr. "What if I'm trying to get a job one day and it pops up?" she asks.
Posting nude photos also can have the potential to change someone's image among their peers, a notion supported by a 2012 study conducted by Daniels, the University of Colorado Springs professor.
The study found that women had more negative thoughts about a female when her Facebook profile picture was more provocative, whereas when the subject dressed more conservatively, the viewers thought of her as more confident.
"In a lot of ways, you lose power in buying into that," says Daniels. "Focusing on just attractiveness takes attention away from other capabilities. Buying into that sexiness thing means that you lose a lot of yourself to that, I think."
High schoolers, Daniels says, haven't been given the tools to learn how to make responsible decisions. "I think social media is an area that adults and educators haven't done a great job of helping teens learn how to use social media productively," she says.
Schools are often counted on to take on roles beyond the classroom that many say should fall to parents or guardians.
Nonetheless, Campbell agrees that students are undereducated on the matter. "It comes back to helping students understand what they post and how social media works," she says. "We should probably have classes on it."
Although sexting is still common, the recent investigation has affected more than a few students. Some say they've stopped posting photos altogether. "I definitely regretted posting them because you never know who is going to potentially save them to their computer and phone," says one of the students. "I don't think a lot of people, myself included, realize that until something goes wrong." ◊