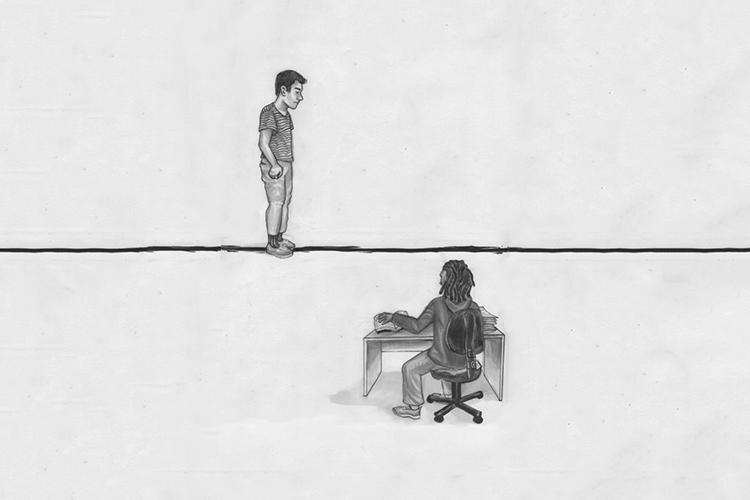 After returning from school, I entered my house and stopped for a moment, listening to the silence — it was empty. Not wasting a second, I rushed to the kitchen counter, settling onto a stool and throwing my feet over two other stools. I closed my eyes for a while, taking advantage of having the house to myself.
Ten minutes later, however, the side door creaked open and my cousin stepped into the kitchen. Moving as fast as I could, I ducked behind the counter and silenced my phone, waiting until he went downstairs to finally stand back up.
Since June of 2012, my cousin Mikaal would make month-long trips from his home in Oshkosh, Wis., to Portland for an annual football camp at Portland State University.
While here, he would stay in our basement. With the exception of organized family activities, he kept to himself, only coming upstairs to grab a snack or leave for football through the side door. Because of the large time commitment that the camp required, my interactions with him were limited; we were friendly in passing, yet he remained an unfamiliar figure in my home.
In a way, this awkwardness was amplified by the way our family treated Mikaal. Because having him in our home was new to us, there was a general sense of discomfort in the house. During Sunday night family dinners, conversation was situated in a formal, interview-like style — questions were superficial and seemed to be asked only out of politeness. When we went on family outings, we sometimes forgot to include him, often leaving before he returned home from football.
Since Mikaal was nearing 19 and almost four years older than me, I was nervous to talk to him, thinking that he would see me as a "little kid." Because of this, I would hide from him when I knew he was home and would stay quiet during family outings.
Mikaal was closer to my older brother. Since they were in the same grade and their interests aligned, conversations between them did not involve the awkwardness of an age gap. I was jealous of their friendship. While it was easy for my brother to spend time with Mikaal, I struggled to figure out how we would interact.
In addition to the age gap, I was aware that we came from drastically different life situations.
Mikaal lived with his single mother and six siblings in a small home in Oshkosh. Money was a perpetual concern, and other things, like college, were left out of the conversation. A few of Mikaal's older brothers had attended community college for a short period of time, but had dropped out with failing grades.
Despite this history, Mikaal was determined to attend college and become the first of his family to graduate.
After reviewing all of the options, Portland State University (PSU) seemed the most feasible. My mom was a former professor at the school and could help him with the admissions process, and he could stay at our home instead of paying for room and board. In addition, he had received an offer from the football coach for some financial assistance and a spot on the team.
As soon as the decision was made for Mikaal to move in, the changes happened swiftly. Our basement, which my friends and I had previously used as a hangout space, was filled with Mikaal's boxes and clothes. My baby portraits that hung on the basement walls were wrapped up and moved into storage, replaced by Mikaal's posters. It felt strange to have a familiar place in my home turn into one that was no longer mine.
I was so frustrated with the idea that my space was being taken over, that I made an effort to avoid Mikaal. When he was home, I would confine myself to my room, or spend time at friends' houses until I knew he had left. If I needed something from downstairs, I would tip-toe to avoid making him aware of my presence. When all else failed, I would pretend to be on a phone call to walk past him without conversation.
And yet, Mikaal constantly made an effort to connect with me. He focused on our common interest in the NBA and would frequently invite me to the basement to watch Friday night games. I would usually escape to my room, mumbling that I had homework or a throbbing headache. Sometimes, though, my mom would insist that I accept the offer, acknowledging that Mikaal and I hadn't connected enough during his time in Portland.
One game — the Portland Trail Blazers versus the Milwaukee Bucks — was spent almost entirely in silence. I struggled to decide what I would talk about, and it was clear that he felt the same. Near the end of the fourth quarter, however, Mikaal made a comment about one of the players. Before I knew it, we were talking an hour after the game had finished, discussing basketball statistics and players, comparing both teams from our respective states.
The conversation, however, quickly transitioned from the topic of basketball. With each minute that passed, we opened up more about our lives. I asked him about what it was like to leave Oshkosh and enter a new life so quickly; Mikaal said that while he missed his friends and life at home, he knew that he needed to pursue an education in order to support his family. I felt as if I had more empathy for his situation, even after only a few hours.
For a short while after that night, I thought that things had changed. I believed that because we had connected once, any remaining awkwardness could be ignored.
Yet when small things got on my nerves, I found myself back where I started, avoiding interaction and turning my head as he walked through the door. I once found my portable speaker in the basement, and posted sticky notes labeled "Narain's" on all of my things.
I soon realized that throughout all of my immaturity, Mikaal was dealing with real problems. He struggled to balance the time commitment of school with football, and often spent eight hours straight doing homework, turning off his lights hours past midnight. Throughout all this, he was receiving several messages from his family at home letting him know that their financial situation was still the same. His mother was juggling multiple jobs and struggling to get food on the table.
Yet Mikaal kept going. He worked hard to maintain his grades, and pushed himself to run faster on the football field. When he learned that his family back in Oshkosh needed his help, he went in search of night jobs, hoping to find a way to provide financial assistance.
While countless commitments took up 11 hours of his day, he still managed to dedicate time to our family. If my father needed help to carry a chair upstairs, Mikaal volunteered. When family dinner was called, he made his way to the table as fast as he could, regardless of how high the stack of work on his desk was.
On an icy day in December 2016, after mentioning to the family that I was interested in trying meat after nine years of vegetarianism, Mikaal offered to prepare some chicken. As usual, I sat in silence as he cooked, making no effort to converse with him as he tirelessly worked to clean the grill. The entire time, Mikaal managed to multitask; on the plastic table attached to the grill, he was scribbling down answers to his economics homework that was due the next day.
Instead of staying in the basement and asking for space to finish his work, Mikaal sacrificed his time to be with me. Instead of finishing his homework and possibly getting to bed earlier, Mikaal chose to put my needs in front of his own. That night, he went to bed at 3 a.m.
That time with Mikaal opened my eyes to the contempt with which I had treated him. It took him great amounts of courage to leave Wisconsin and experience such drastic changes in his life, and yet I — someone who was supposed to welcome him into my home — had made the changes harder.
I spent the next few weeks figuring out how I would apologize to Mikaal. Multiple times, I came close to knocking on his door and doing so, but I always found myself back in my room as usual, avoiding the confrontation.
When I finally thought I was ready to explain myself, it was too late.
In June of 2017, after a year at PSU, Mikaal left Portland. He had learned from his girlfriend back in Oshkosh that he had become a father. Despite his commitment to school, the needs of his family — and now his son — were his first priority. In order to fully support them, he needed to be home.
On the day that he left, my family and I worked to pack up his clothes and belongings, and straighten out the itinerary. Strangely, it felt very similar to the day he moved in; I was quiet, awkward and uncomfortable with the changes. This time, however, the feelings were accompanied by sadness and regret.
To this day, I still have not apologized to Mikaal. We haven't re-connected since he left, and I don't feel that an email or text message would be sufficient. However, having time to reflect has shown me that instead of just apologizing, I need to thank him as well.
Throughout Mikaal's stay, I was adamant that his presence in Portland resulted in my sacrifice. In reality, it was Mikaal who was dealing with adversity and expressing bravery. It was Mikaal who, despite his situation, left his hometown to support his family and pursue an education.
He didn't work so hard in school just for himself — he was working for his brothers and his mother back home. It didn't matter to him that spending an hour with me would mean a later night; what was important to him, in fact, was that his family was happy.
If Mikaal chooses to return to Portland and continue his education at PSU, I know that I will act differently. I won't take his presence for granted, and I will be proactive in trying to spend time with him. Until then, however, I'll constantly wrestle with the same lingering question: Had I treated Mikaal with more respect, would we have had a real relationship?
Narain Dubey is a reporter and Story Editor for Grant Magazine.