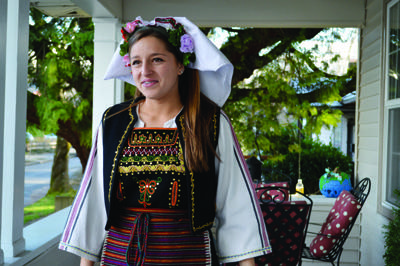 Grant High School junior Katerina Koukoumanos stands alone and waits patiently with her mother in front of a sign that says "Rose Festival Court." Dressed in a blue dress and low heels, she plays with her phone and wonders whether she should practice her speech one last time. She looks over to her right to see 11 girls from Roosevelt High School giggling and taking a picture together. On her other side are four girls from Parkrose. A woman dressed with a badge that says "Rosarian" calls the girls inside for a quick chat before they face their first interview with the Rose Festival judges.
This is the first year that Grant has only one person running for Rose Festival princess.  It's a break in tradition with Grant's Rose Festival success, especially in recent years. In the last four years, Grant has had two princesses become Rose Festival queens. Students usually pack the auditorium and cheer for their favorites in an all-school assembly for every selection.
And the tradition has its benefits. Rose Festival princesses are picked every year from 13 high schools in Portland and two suburban schools. Those who win have a shot at being the queen. But they also get more than a title. They win a $3,500 scholarship, a mentor from Pacific Power and a wardrobe fit for a princess. The winners miss the last month of school to travel throughout Oregon.
"The networking possibilities that you are going to get, plus being joined with a female mentor in downtown Portland who can coach you: it's really a huge opportunity for girls," says Madeline Kokes, who runs the College and Career Center at Grant and is also in charge of promoting the scholarships to students.
But interest has dropped in the Rose Festival process at Grant. For Koukoumanos, it means an automatic spot into the competitive round for queen. With no competition, she'll stand on the stage alone on March 14 and collect a bouquet of roses from Nyausha West, last year's Grant princess. The lack of competition is puzzling to those who run the operation, especially at a time when the cost of college is skyrocketing. Why, officials wonder, won't people compete for the money and the attention?
Sue Davis, the Rose Festival princess coordinator at Grant for the last three years, says she's sad to see a tradition for young women that will not be the same this year. "The experience from speaking in front of the student body and getting to let us know the candidates on a personal level will be missed," says Davis. "It's not something I ever expected at Grant. Not when we have the biggest population of students. And we have such good students, academically. It's not something I really expected here."
It was a big surprise to Koukoumanos when she found out she was the only candidate, but she now has mixed feelings about it. "It's great. It's an automatic in," she says. "But I kind of wanted some competition. I feel like people might think that I'm only following through with it just because it's easy, because I'm already in."
She wanted to prove she was the best candidate by impressing the judges, having the best public speaking skills and letting people know that she would represent Grant well. She says she'll continue to work hard on her preparation. "I am terrified about the judging sessions, but I do have a little weight lifted off of my shoulders more than the other girls since I am the only one," Koukoumanos says.
The Rose Festival has been a tradition for Portland since 1907. As Portland's official festival, it has been a family tradition for generations. The festivities culminate in the Grand Floral Parade, where a miles-long parade moves along Portland streets through downtown with the queen and princesses waving to an adoring crowd. In the last five years, the Rose Festival has twice been awarded the best festival in the world by the International Festivals and Events Association.
To Davis, it's an institution. "It's something I've lived with my whole life," she says. "I tried out for Junior Rose Festival Court. I was on my high school's Court. I follow all the Rose Festival events. So it's really a tradition for me as well as the city."
Koukoumanos grew up with the tradition, as well. She was born and raised in Portland, brought up with the rich culture of her Greek heritage. She has lived in the same house her entire life, with her aunt and cousins living just down the street. She attended Laurelhurst School and also learned to read and write Greek twice a week in a classroom in her church. At home, Koukoumanos learned to speak the language from her parents, who came over from Greece when Koukoumanos' mother was 17.
From the first time Koukoumanos saw the Rose Festival princesses on stage in eighth grade at Laurelhurst, she says she knew that was where she belonged. "I just saw them up there and they looked so happy and they looked like they were having fun and that's when I first started getting interested. Freshman year, I decided I was going to do this," says Koukoumanos.
In high school, she saw the potential benefits of running for princess. "Originally, I figured that this would be a great opportunity to get better at public speaking," she says. "I wanted more of a leadership position. I feel that I am capable of doing it."
A few years ago, Rose Festival officials opened the competition up to juniors in order to increase the number of applicants, among other reasons. For Leslie Goodlow-Baldwin, a Grant graduate and the vice chair of selection for the Rose Festival Court Committee, it also helped to have current students share their experiences to get others interested. A junior girl "would be a good ambassador because she would be in the school the next year and she can promote the spirit at her school and get other girls to run for that year," says Goodlow-Baldwin.
This year, Koukoumanos is involved with two community service clubs at school: Octagon Club and National Honor Society. She's been on Grant's varsity soccer team for two years and is also continuing the rest of the year with club soccer, which she started in seventh grade. She's also participated in Greek dance since age five. Her whole family is a part of a dance troupe that won fourth place at a recent competition in California.
Some of her friends wondered why she wanted to run as a junior. "People ask me, 'Why aren't you doing it senior year?'" she says.
Even Koukoumanos' mom, Petroula Koukoumanos, says, "I wanted her to run her senior year. Her junior year is very busy."
But the 17-year-old Koukoumanos wanted to take the chance. And she didn't want it to interrupt school next year. "Next year, I'll be focusing on so many other things like colleges," she says. "Plus, the sooner the better. I have always wanted to do this."
So why is the tradition sliding at Grant? Ask students and they offer a variety of reasons.
Avalon Reynolds-Brice, a senior, was thinking about running this year but eventually decided not to after looking at the time commitment. "Money for school is the biggest thing that drew me in," Reynolds-Brice says. "I sat down with Sue and she showed me all of the dates and the things I would have had to do if I won, but it wasn't realistic for me to miss that much school."
Reynolds-Brice also believes some aren't running because it has become "a select thing for girls whose parents ran or who was friends with past princesses or queens. It's only reaching a small group of people."
Matilda Wildey, also a senior, considered running this year. It had been her dream since freshman year to be Rose Festival princess and some of her sister's friends ran. "I heard about all the people running and it kind of became a confidence thing," says Wildey. "I didn't want to run against all of those people because I wouldn't win. Another issue was that I didn't want to represent Grant. I don't feel like I have a good connection with this school and I don't think that I wanted to represent Grant in that way."
Goodlow-Baldwin says it's "unfortunate that more girls didn't take advantage of this opportunity."
When she got to high school, she ran for the Grant court and, although she didn't make it as the princess, she was still hooked on everything that Rose Festival stood for and offered.
She decided to apply to be a board member for the Rose Festival. "It was the hardest interview I've ever had because I wanted it so bad," she recalls. She got the job in 1999 and has been extremely dedicated ever since; since 1971 she has only missed one Rose Festival parade due to her first daughter's birth. Being in charge of several different programs within Rose Festival, she also was the Rose Festival President in 2007, the year the tradition turned 100.
Grant has always had plenty of candidates and Goodlow-Baldwin was shocked that her alma mater had only one person this year. "Being a Grant alumni, it makes me sad," she says. "I would hope that it doesn't happen again."
By comparison, Roosevelt had 11 girls running. At smaller schools like Parkrose, administrators have never had a problem getting girls to run. But Bev Read, the Rose Festival princess coordinator at the school, says: "It's hard because the girls are so busy, but those are the kind of girls we want."
Kokes says the idea of Rose Festival princesses needs to be "rebranded, the scholarship beefed up and promoted more." She believes "it's a huge opportunity for girls," but many girls don't know about it.
Vivian Orlen, Grant's principal, agrees. "If we got away from the princess nature of it and there was a lot more information about the scholarship opportunity, I think that we would have a greater number of women applying," Orlen says. "What people have in their minds as the princess image is not as appealing maybe as it once was. And if it was promoted differently, more women might come out for it."
Despite low turnout for Grant's applications this year, Koukoumanos believes she is up for the job. "I'm committed and I'm going to put a lot of time into this," she says. "It's like a dream. I'm getting all of this positive attention and I'm nervous but excited."