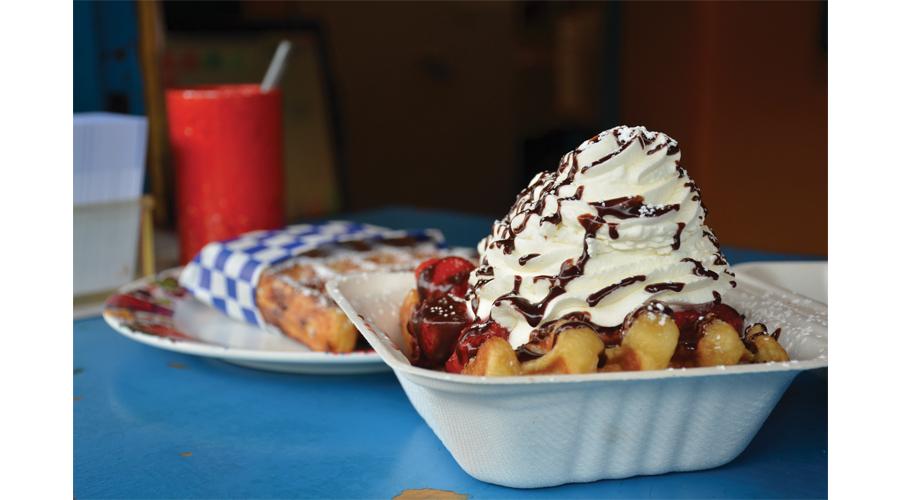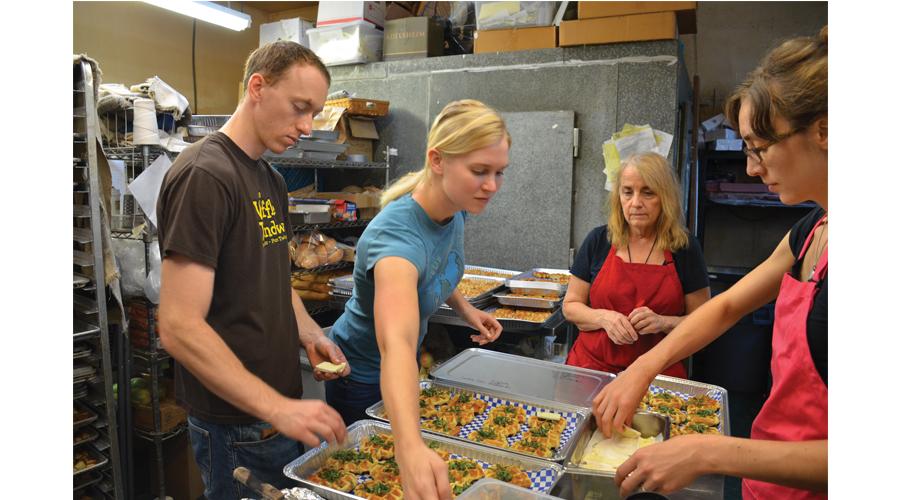 Brendan Fishback, Jenny Ruthven, Mary O'Rourke and employee Kathryn Brown prepare for a catering job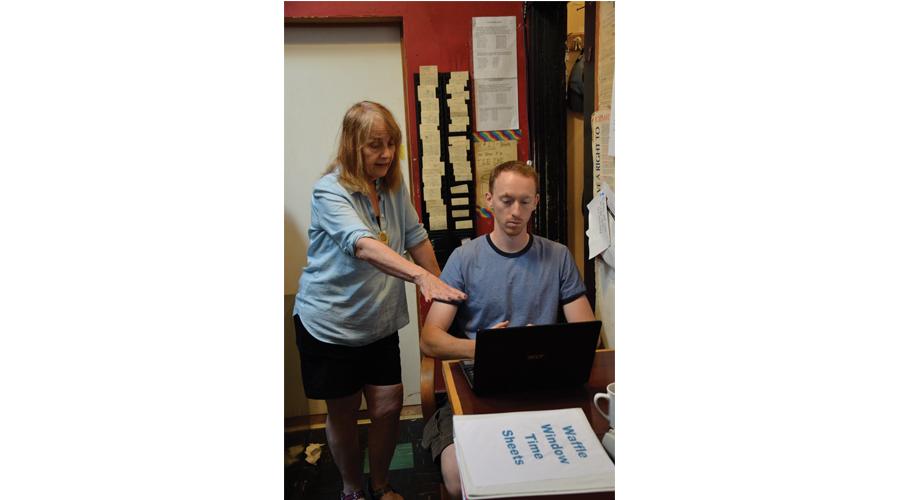 Mary O'Rourke and Brendan Fishback talk about the upcoming plans for The Waffle Window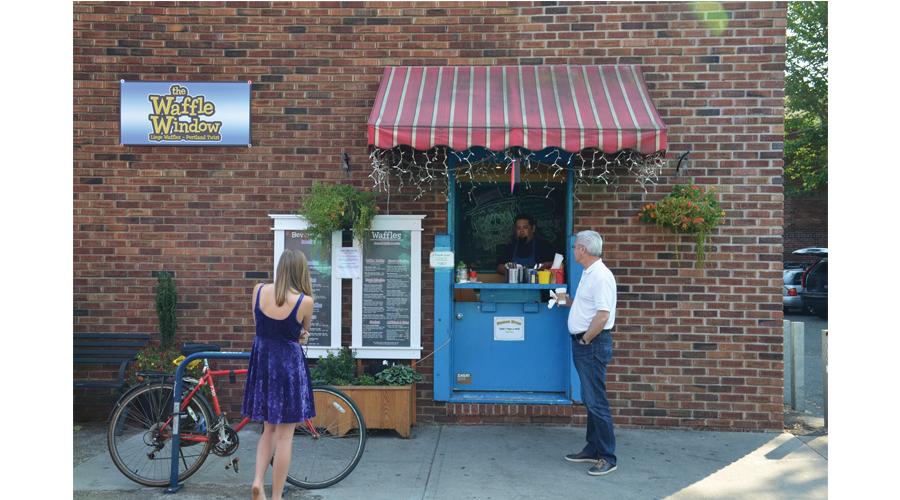 Customers gather at the serving window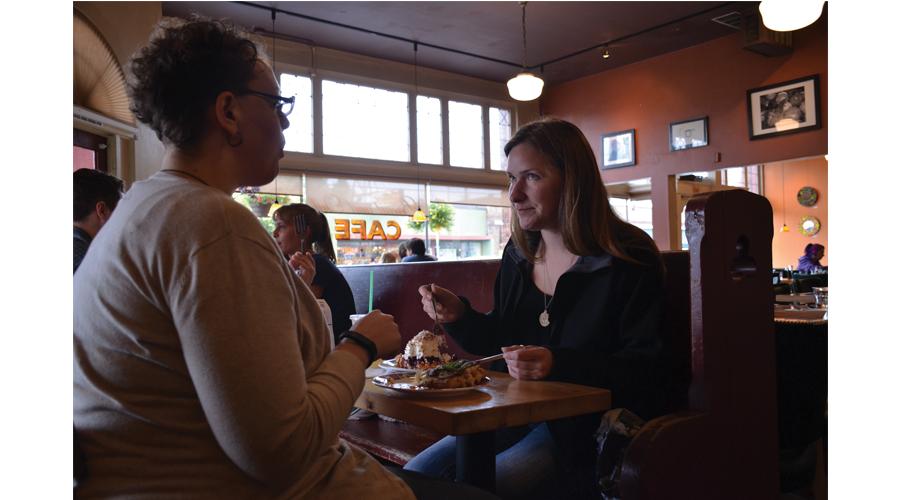 The Waffle Window is a popular attraction for tourists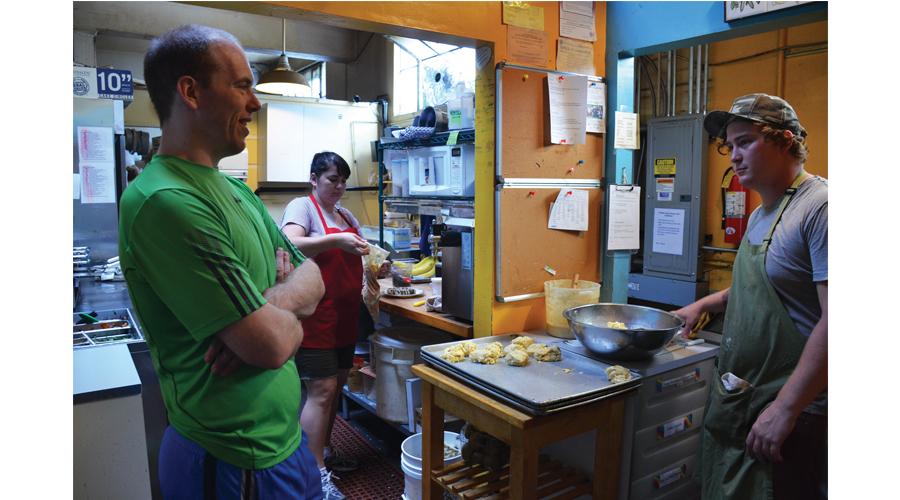 Max Fishback jokes with employees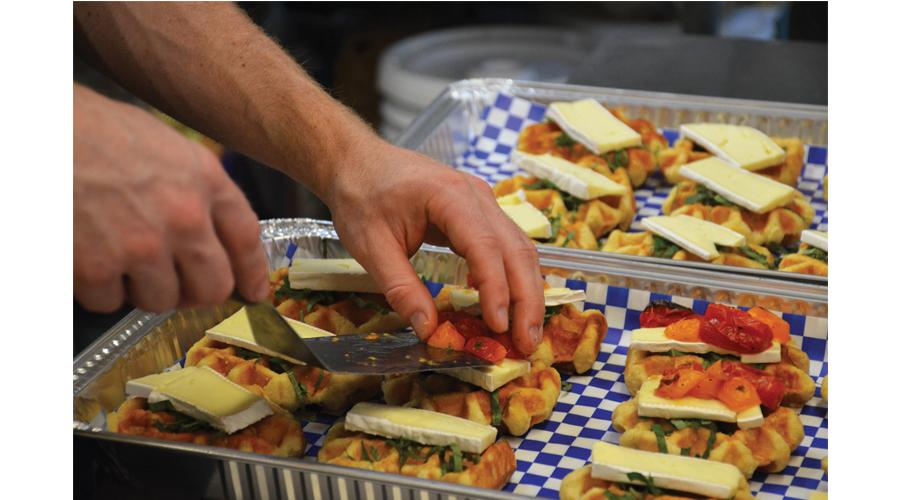 Basil, brie cheese and cherry tomatoes are placed onto waffles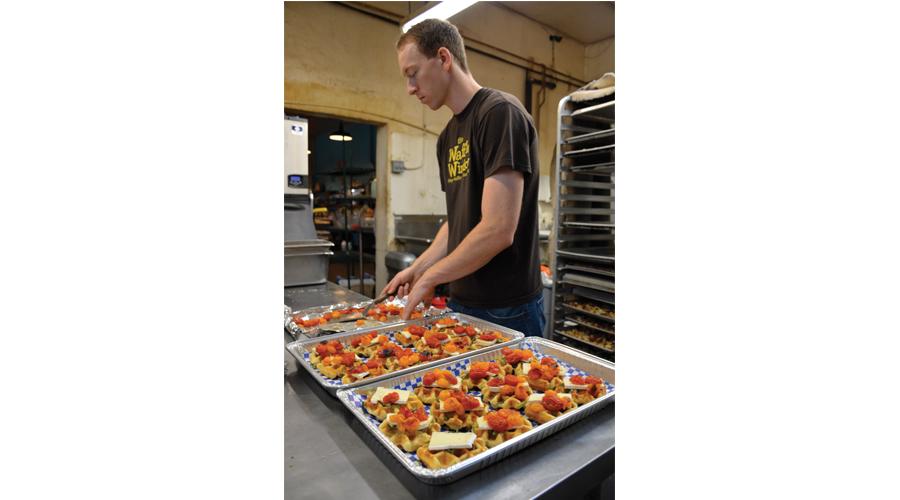 Brendan Fishback adds toppings to waffles for a catering job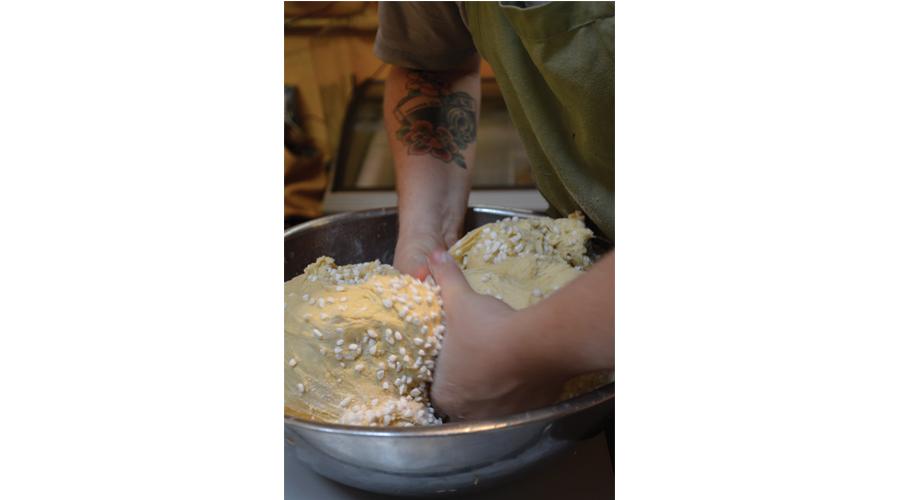 Pearl sugar being mixed into a batch of waffle dough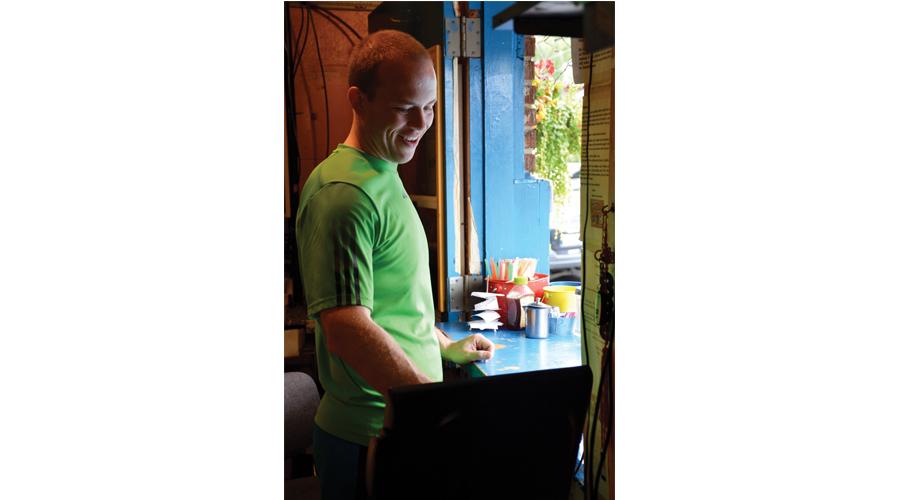 Max Fishback rings up a customer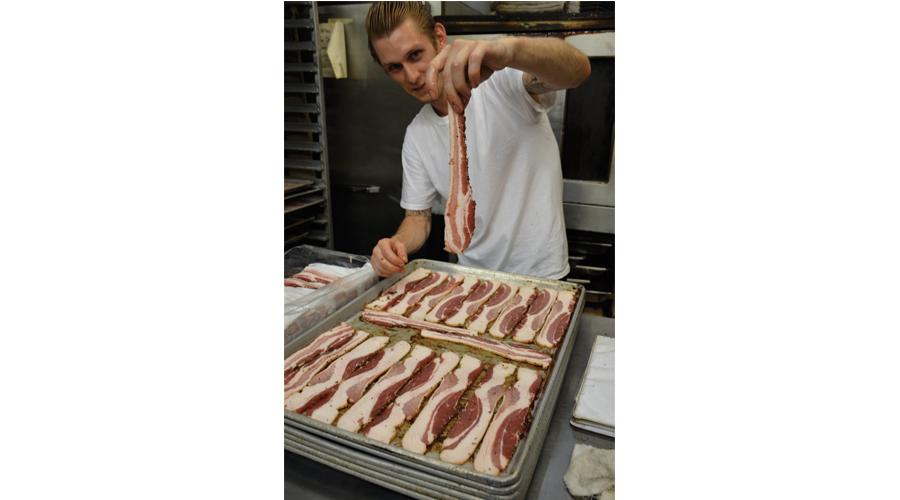 Employee Krispin Baker lines the bacon to be cooked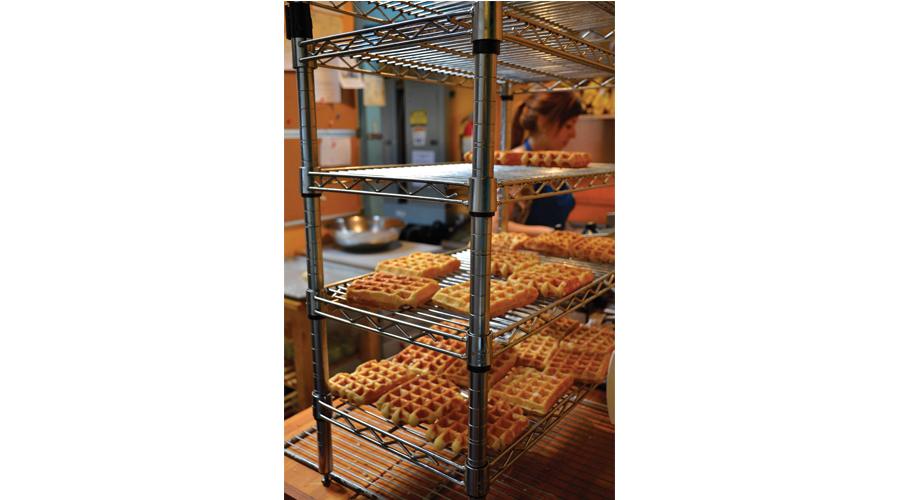 Waffles awaiting to be dressed with toppings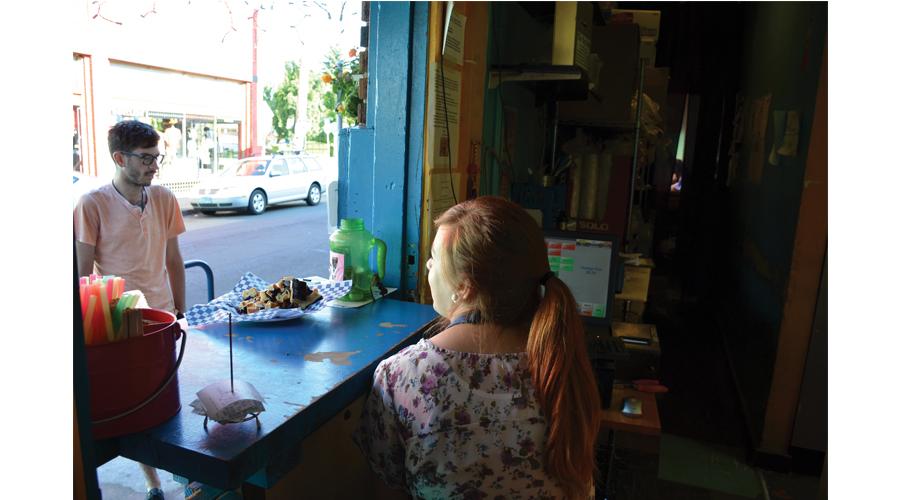 Employee Rachel Davis takes a customer's waffle order
Hundreds of waffles in tins lined with blue and white-checkered paper crowd the counters of the
Waffle Window
's kitchen in Southeast Portland.
Grant High School alumni and brothers Max and Brendan Fishback are preparing for a wedding they are catering later that afternoon. They work diligently, placing shreds of fresh green basil, brie and bright red and orange tomatoes on each waffle.
"Catering is all about counting and making everything the same," their mother, Mary O'Rourke, reminds them.
Not much later, 600 waffles – topped with different items ranging from chocolate to jalapeños – have been produced in addition to 10 fruit platters that will be delivered to a location about an hour away.
Max Fishback, 29, who graduated in 2003, and Brendan Fishback, 28, who finished at Grant two years later, are co-owners of the widely known and thriving Waffle Window restaurants. One is located on trendy Southeast Hawthorne Boulevard; the other on popular Northeast Alberta Street.
They work alongside O'Rourke with the collective goal of supplying everyone who goes to their restaurant with an unforgettable experience.
"The product itself is something that's very different. People are very much drawn to our waffles," says Brendan. "We put a lot of care into our product and I think people understand that."
But running a restaurant wasn't always in the cards for the brothers. Neither of them had any interest in the business, even though their dad runs another successful restaurant on Hawthorne called the Bread and Ink Cafe.
"When I was sitting there trying to decide what I would do after college, I thought: 'I don't know what I want to do, but I definitely don't want to go into the restaurant business,'" Max recalls. "I would watch my dad…There was constant chaos with fixing all these little problems. I felt like he was doing too much for what he was getting out of it."
But the restaurant roots run deep in the family. Their dad, Bruce Fishback, opened Bread and Ink in 1983. O'Rourke worked as a pastry chef at Rimsky-Korsakoffee house in Southeast Portland.
"We spent a lot of time between those two places or running around the city…running random errands," Max says.
When they weren't at the restaurants, the brothers filled their time with sports. As young kids, they would play soccer, tennis and swim.
The athletics continued in high school. Max was on the wrestling team all four years at Grant, following in the footsteps of his father and uncle. He was named heavyweight district champion his junior year and got second his senior year. He also played recreational soccer and lacrosse.
Brendan was a swimmer, setting the Portland Interscholastic League record for the 50-yard freestyle in 2005. He also played tennis and soccer. Outside of sports, Brendan discovered his passion for photography.
After Grant, the brothers went to Oregon State University. While in college, Max studied a wide variety of subjects. "I did pre-med, then I went into biology, then I thought I would try chemistry and then eventually I went with physical therapy," he remembers. "I ended up dropping out with like a billion credits."
At OSU, Brendan started out majoring in mechanical engineering, but switched to zoology. "I had always been really passionate about the outdoors and animals in general, and animal science interested me," he says.
While both were still in college, they decided to take a trip to Europe together. "Their grandma told me the year before that she was going to take them to Europe," says O'Rourke. "But she ended up getting cancer and passing away. So the summer after she passed away, I sent them to Europe. Grandma wanted them to go, so I made sure they went."
They visited Amsterdam, Germany, Austria, Switzerland, Italy, France and Spain. In Amsterdam, they visited with relatives and were introduced to Liège waffles.
"I distinctly remember when we had them for the first time," Brendan recalls. "It was totally unique. Over here we had had waffles, obviously, but the style of the waffle was completely different and it provided a totally different waffling experience."
"The waffles there were cakier than the ones here, almost like cake donuts," Max says.
That's when the idea for Waffle Window began. "They called me from their uncle's house and they told me, 'Mom, you need to figure out how to make these waffles,'" remembers O'Rourke.
Before they had returned from their trip, O'Rourke began experimenting with the recipe for the waffles that her sons were describing. Eventually, she figured out the missing ingredient: pearl sugar.
About a year later, O'Rourke had the idea of utilizing the old delivery door on the side of her husband's cafe into some sort of shop. She considered selling soups or baked goods, then remembered her newfound waffle recipe, which was entirely different from anything else in Portland at the time.
She began selling her Liège waffles for a few hours a day and on weekends in hopes of making a few hundred dollars a day. The family never expected it to become as successful as it has, joking that for the first few weeks the restaurant was nicknamed "Awe-full Waffle."
"I distinctly remember when we had them for the first time. It was totally unique. Over here we had had waffles, obviously, but the style of the waffle was completely different and it provided a totally different waffling experience." – Brendan Fishback
Since then, the Waffle Window has been featured on shows such as Portlandia and Unique Eats, and has become a landmark for Portland's foodie scene.
O'Rourke focuses on the waffles, while Max handles the creative side of the business, making things like the unique-flavored lemonades that are served.
Brendan and his wife, Jenny Ruthven, whom he met at Oregon State, handle the business side of the restaurant and are always looking for ways to create a more structured environment.
Outside of their work at the Waffle Window, Max and Brendan have managed to keep busy.
"I play stupid amounts of soccer," Max says. "I am on four indoor teams, and when my games are over, I just hang around the soccer place and guest play for more teams."
Brendan likes to build things and he used those skills to construct the window out of which the waffles are sold.
"I love building things of all different varieties," he says. "I also love bicycling, building bikes out of bamboo and carbon fiber, road biking and mountain biking. I just love being active."
On a recent morning, Brendan Fishback and his wife wander through the kitchen of the Hawthorne restaurant, making sure everything is running smoothly for the day ahead. Deliveries ready. Inventory of ingredients complete.
They make it to the small office with red walls and binders crowd the shelves. O'Rourke isn't far behind them. They sit down and get to work discussing the upcoming plans for the Waffle Window.
"It can be difficult working with family sometimes," says Ruthven. "It's not a professional business relationship. We try to have it that way, but at the end of the day, it's not. When they come over for dinner, we don't talk about normal family stuff. We talk about business."
A common discussion these days at the dinner table? How to expand to another waffle restaurant, possibly in downtown Portland.
"I'd love it to be something that we could spread across the country," says Max. "But we'll see if we get there. I set my bar pretty high. Who knows what the future will bring?" ◊