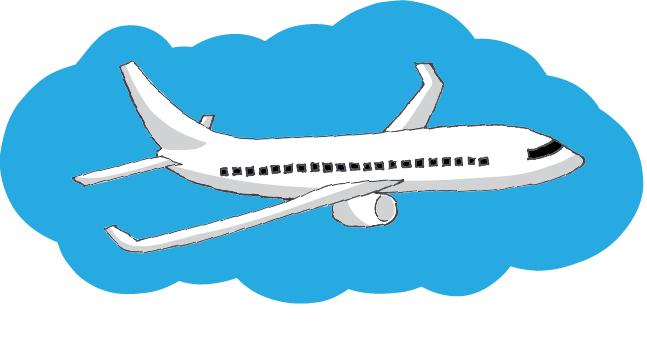 Every time I fly, the scene leading up to the trip is the same: My stomach churns, my hands sweat and I fear the worst.
When it's time to board, I follow my parents through the tunnel that reminds me of something from a horror film. Once on the plane, I inhale the stale air and take my seat while glancing for the safety exits.
The safety video describing multiple potential disasters that might ensue only makes things worse. I think about the hours that will go by before we land and realize I'm stuck.
I know I'm not alone. One in three people in the United States has a fear of flying. To me, planes mean confinement and vulnerability, not to mention the possibility of a crash. I like to be in control. Flying means giving that up to the pilots and flight attendants.
My family has always loved traveling. When I was 9, we went on our first international trip to France. When I look back on the trip, it's the 12-hour plane ride to our layover in Frankfurt, Germany that stands out the most.
I remember walking along the Seine River in Paris and all I could think about was the dreaded plane ride back to Portland.
I felt the same way when I was 13 and took a short flight to Seattle. I was convinced I would vomit on the plane.
So when I joined Grant Magazine, everyone talked about making the trip to New York City in the spring. Could I endure the plane trip? I constantly analyzed the anxiety list in my head. A five-hour, red-eye flight. No family comforts. Possible stormy weather.
Nothing was leaning in my favor. Everyone else on staff seemed excited about the adventure ahead. I was filled with dread.
It didn't matter that we'd be visiting prestigious newsrooms in the city or that we were up for a major journalism award. My only focus was the 10 hours of flight time.
I considered not going on the trip. But as it came time to make my decision, my sister told me I had to go. "You get to go to New York City! There's no way you can turn this down," she told me. Grudgingly, I made the decision to go.
The trip in mid March arrived faster than I expected. When the control tower came into view on the drive to the airport, everything I hated about planes came rushing back. One thought loomed in my mind: Here we go again.
In the lobby, I gave a quick goodbye to my parents. I watched them walk away and suddenly it hit me: I was on my own. Did I want to make the most of the opportunity? Or did I want to spend the trip worrying about the plane rides?
I made a decision to forget about my past. I had the chance to start completely new and maybe even enjoy myself. As we waited in the airport gate, everyone was relaxed. I sat back, chiming in on conversations.
I wasn't thinking about the prospect of turbulence or how much Dramamine I should take. On the plane, I paid no attention to the bumps in the air that used to make my heart race.
Once we arrived, the trip was a blur of subway rides, late-night dinners and walks around the city. I was mesmerized as I listened to top editors at the New Yorker share their expertise.
When we saw a historical one-man play in a rustic Brooklyn theater, I was in awe of the amount of talent and culture that can exist in one city, and I felt lucky to be there.
And I realized I enjoyed being far away from my familiar surroundings. The plane ride home was as easy as the one there. I felt like a different person.
This summer, my family's taking a trip to Europe. I'll go on four planes, totaling 25 hours of flying. And I'll do it without any fear.
The New York trip allowed me to get closer to Grant Magazine staffers, learn more about journalism and immerse myself in another place. It changed my perspective and gave me a sense of independence.
New York was full of possibilities that I never would have experienced without flying on a plane to get there. So next time I have an opportunity like this one, I'll take it without a thought.