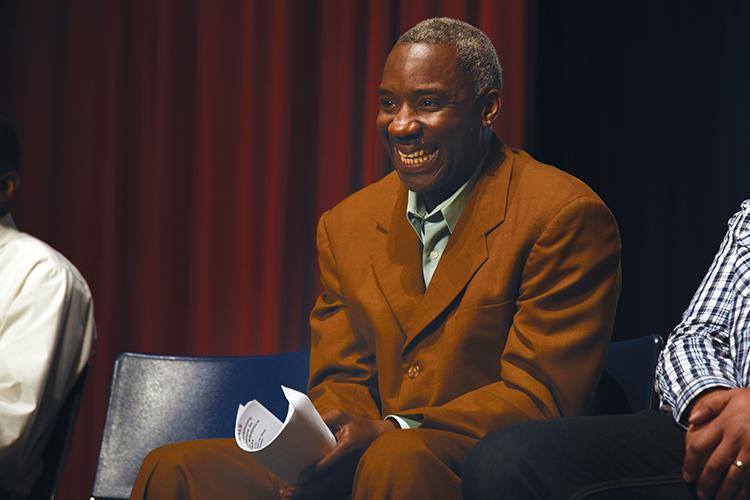 Seconds remain on the clock, and the score is tied. Then-Grant High senior Terrell Brandon stands at the free throw line. All the pressure is on him to make the shot. He takes a deep breath, extends his arms and lets the ball leave his fingertips. The audience is silent as the ball flies through the air – swish.
The crowd erupts with cheers. A pack of Grant students rush onto the court, cheering and nearly trampling the players. Then it hits Brandon – as an 18-year-old All-State point guard, he has just led his team to victory at the 1988 OSAA boys state basketball championship.
This was all part of Brandon's path to stardom in the world of basketball. Just three years later after a stellar career for the University of Oregon Ducks, Brandon was drafted 11th overall by the Cleveland Cavaliers in the 1991 NBA draft.
One might think a man of Brandon's stature would walk with a certain swagger, but he's nothing but humble. He's "just Terrell," he says.
A North and Northeast Portland native, Brandon, now 46, is determined to give back to his community in any way he can. Whether it's providing jobs through one of his many businesses – including Terrell Brandon Barber Shop on Northeast Alberta Street – or putting on basketball camps for kids, Brandon remains a pillar. "I've never wanted to be a community member. I always wanted to be a community leader," he says.
Brandon was born in Portland in 1970 to Charley and Charlotte Brandon. A leg deformity meant spending much of his early childhood in uncomfortable metal leg braces. For 22 hours a day until he was 3, Brandon had to wear the braces everywhere he went. Those two hours he spent without them were bliss for Brandon and his family – he was happiest when he had the freedom to stretch his legs and toes. "I think that taught me how to be tough without even knowing it," he says now.  
Growing up in a tight-knit neighborhood taught Brandon the value of community from a young age. "Everyone took care of each other," he remembers.
But Brandon also remembers a harsher side of the area he grew up in. At the time, his Northeast Portland neighborhood suffered from gang violence and police brutality.
"Coming from Northeast Portland, it's kind of hard, of course, so that's created a hardness within my soul," says Brandon. "Seeing the things that I've seen, it strengthens you."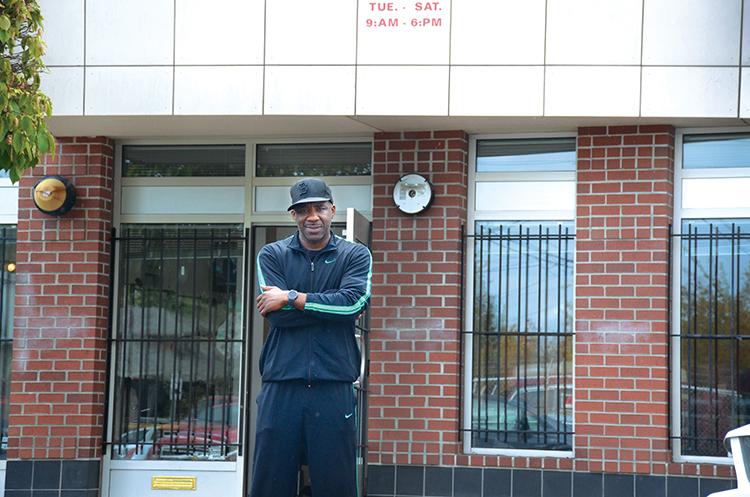 As a kid, Brandon often watched basketball on television with his father. "We only had one TV back then, so whatever he watched, everybody watched," Brandon says.
He also took turns with his dad shooting mini basketballs in the Nerf hoop that was hung in the living room.
In second grade, Brandon played on his first basketball team at the Matt Dishman Community Center. He didn't tower over his peers, so he played point guard – a position that values speed and coordination over height. "That's usually the small guy's position," he explains.
Whatever Brandon lacked in height, he made up for with his skill. He only played with the second grade team for about four games – it was clear from the beginning that Brandon had a special talent. By the end of the year, Brandon was playing for the fifth grade team. He continued this pattern for seven years to come – playing years ahead of his age group.
In 1984, Brandon started on the basketball team as a freshman at Grant, following in the footsteps of his sister, Tracy. He remembers trying out for Grant's team – an experience he describes as nerve-wracking.
In his first year, Brandon was initially placed on the freshman team before being moved up to junior varsity halfway through the year. By sophomore year, Brandon was on the varsity team and played as a substitute for the Grant team that won the 1986 state championship.
The next year, Brandon continued performing at a high level. "His junior year, he was phenomenal," says John Stilwell, Brandon's coach at that time. But unfortunately, they lost the championship that year.
"You're on the top of the mountain, then all of a sudden you're so low down in the dirt," says Brandon.
At the beginning of his senior year, he broke his ankle, continuing a pattern of leg problems that would eventually lead to the end of his basketball career. He played in only a few games throughout the year because of the injury, but he was able to work up the strength to lead his team to the championship in 1988, a feat that earned him "Player of the Year" honors.
"Terrell was a very skilled basketball player," says Stilwell. "He was just a delightful kid to work with. He was very coachable, very humble."
Throughout his junior year, Brandon was flooded with scholarship offers from colleges all across the country. In the end, Brandon's heart was set on the University of Oregon. He grew up watching the UO basketball team play each Saturday. "I would just fall in love with the yellow and the green," he says, "I knew where I was going inside."
As a student athlete in college, his day-to-day schedule was packed – classes from 7 a.m. to 3 p.m.; basketball practice from 4 p.m. to 6 p.m.; study hall from 7 p.m. to 9 p.m.; and then back to the dorms to study some more.
After the season ended his junior year, Brandon started to look toward bigger things when it came to basketball. In May 1991, a variety of NBA scouts began interviewing him. That included personnel from the Cleveland Cavaliers.
It was a scary proposition making the choice to go into the draft, because players lost their eligibility for college basketball if they declared for the draft early but didn't get chosen. "You don't know particularly where you're drafted," Brandon recalls. "You just hope that all the interviews and the workouts that you had, you hope that you've done well enough."
During the NBA draft ceremony in June 1991 at Madison Square Garden, Brandon was selected by Cleveland. The experience was surreal for Brandon – as a kid, he never thought he'd make it to the NBA. "I was just happy to get drafted. I wasn't caught up in what team and all that," he says.
At age 21, after signing his contract with the Cavaliers, Brandon decided to open a barber shop. With money he'd earned from the NBA, he purchased a plot of land on Northeast Alberta Street and began construction. When the shop opened, he hired four barbers and the business took off immediately. Brandon already had a name for himself in the community, so it wasn't difficult to attract customers.
His early years with the Cavaliers were spent performing rookie duties and becoming acclimated to the intense environment of the league. "The NBA is enjoyable, but it's business. It's just kind of a totally different beast," says Brandon.
He enjoyed the relationships with team members. "You find out as the weeks and the months go on, through conversations, everyone's path was similar," says Brandon. "Everyone had something in common."
He was later traded to the Milwaukee Bucks where he played for two years before ending his playing career with the Minnesota Timberwolves, retiring with a knee injury. He was traded to the Atlanta Hawks for salary cap purposes but didn't ever play for the team.
He looks back fondly on a career where he played in two NBA All-Star Games with the likes of Michael Jordan and Patrick Ewing. He was also on the cover of Sports Illustrated, and he won the NBA Sportsmanship Award in 1997.
While it's easy for some athletes to get caught up in the fame and fortune, Brandon always kept his head. "My parents taught my sister and I about having an appreciation for life and what God blesses you with. He can also take it away from you," says Brandon. "I think I got that so early and instilled that into my own head after hearing it so much, that when I so-called 'made it,' the transition, it was just so easy. Because I know who I am."
After settling back into life in Portland, it was as if Brandon had never left. "When I came back, it was natural," he says "It was just a continuation of what I was already doing."
He started spending more hours at his barber shop and led basketball camps for underprivileged and disabled kids at Grant and at Irving Park. "I think it's important for me to give people what I've learned," says Brandon, "I'd like to give back to Grant and give back to the community, show how much I appreciate them … That means more than anything."
Today, Brandon can be found chatting up customers and sweeping the floors at his shop. He says young people who know him are shocked to find out he played professional basketball. "I prefer just being known as the barber shop guy," says Brandon. "It's just comfortable. It's me." ◆