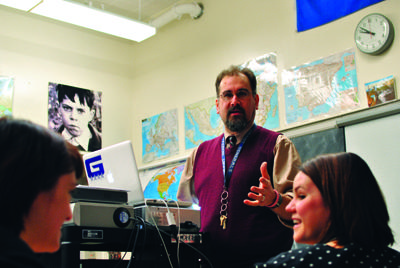 When Grant High School social studies teacher Don Gavitte posed the question to his leadership class earlier this year, he didn't know what the response would be.
"Would it be interesting if student government at Grant played a more active role?" he asked the group of seniors. The response was overwhelming: Elected student officials wanted to be taken more seriously.
Ever since last year's student government elections, when Gavitte witnessed nearly every single executive and senior council seat taken without any opposition, he has wanted government to become something students want to compete for. "The bottom line is I didn't see that much enthusiasm, so I offered something different," Gavitte says.
For Gavitte, many students and the administration, student government at Grant has reached a crisis point. Student elections have turned into popularity contests. The number of elected positions has ballooned to 43, many of which have undefined and insignificant responsibilities. This year, it's gotten to the point that student council is commonly referred to as "the dance machine" because it seems that planning dances is the order of the day.
Junior and executive council publicity rep Madeline Williams says: "All I have really done this year is plan dances. It's always been the way it is."
"All the positions are kind of irrelevant," adds junior Nash Casey, who's been president of his class since freshman year.
The new goal, according to Gavitte, is to change the culture. Instead of having student leaders wrapped up in homecoming court and fundraising for dances, he wants the group to be restructured in order to tackle larger, more community oriented issues.
Now Gavitte, with the backing of Principal Vivian Orlen, has set out to re-imagine the way student government operates. He wants to create a system that allows students to have a more unified student voice throughout the school. He wants students to have more control of the decisions made throughout the building.
"The only reason people aren't running is because there hasn't really been anything to run for," he says. It should be a "privilege and honor" to be involved, "as coveted as the starting point guard on the basketball team."
At this point, next year's student government will look like this: A student body president who regularly connects with the administration and addresses the students. The person will have a desk and phone based in the main office, as well as a school-provided email.
"There's symbolism involved in providing a spot in the main office, but I also think we can send a message to other students that the school values the position," says Orlen.
Four senators who each represent a "counselor district." This would be in place of the four class presidents. These senators would represent all of a counselor's students and each would head a different committee.
"Not enough people know who their representatives are. We want to change that by putting their names on students' schedules," Gavitte says.
Roughly 14-17 student representatives who would make up the five committees, ranging from school spirit to community outreach. There would be approximately one representative per one hundred students.
If executed right, the new system will provide invaluable experience to its members, stimulating competition on the school's center stage. It would also create a healthy relationship between the government and a probing student body that is comfortable asking its representatives to address a range of issues.
"I want students to feel like they can make decisions in the school," says Orlen. "The idea of changing the structure of government is about reawakening the consciousness that it's important to participate in the school community, as well as the larger community."
Grant's student government program has long been in decline. It's an element of high school that has always been there for a reason, but over the years has lost focus and direction.
Grant students in government today say they are tired of carrying out the school's basic tasks: fundraising, promoting activities, planning events. Casey was turned off by student government his freshman year after his expectations of ready access to powerful people and big decisions were met with constant demands to promote events he had little interest in.
One of the reasons students have lost interest is because the school doesn't always prioritize the group's needs. Some members of student government say they are forced to jump over many hurdles before accomplishing small tasks.
Senior class secretary Avalon Reynolds-Brice is in her first year in student government and says: "There are very few people that the administration knows and works with. The rest of us have to float back and work on odd jobs for them."
Reynolds-Brice also says when the group does get a chance to be involved in more exciting projects, "they aren't usually tied to our government positions."
The balance of power between classes is a cause for frustration. This year, executive council is very lopsided. "There are only three juniors on executive council and I feel like the seniors kind of overpower us sometimes," says Williams.
The administration says more leadership is needed and students need to be more willing to be brave and lead with authority. In Orlen's first year here, the student body president, Max Cowan, worked hard to be a mediator between angry students and community members and the new principal who wasn't afraid to make tough decisions.
Orlen remembers spending a lot of time with Cowan as she was criticized relentlessly for her bold stance on changing traditions like off-campus lunch for freshmen and toga day. "He was an extraordinary leader," Orlen recalls, but he had to work against the system's structure, "making it harder to be a peacemaker in the school."
The driving figure in the student government reform is Gavitte, who has been invested in its cause since he was in high school. In ninth grade, he ran for president against his good friend, Tim Beach. "He had a better campaign. I was just kind of winging it. Tim took it more seriously than I did," Gavitte recalls.
After earning freshmen class president, Beach remained in the position for all four years. To this day, Gavitte says, Beach still runs the reunions and is "still considered the governor of Kings Park Senior High School class of 1986."
Last spring, Gavitte decided to push for change. Fed up after another round of devastating budget cuts, Gavitte founded Underfunded Parents, Students and Educators Together – known as UPSET – to create awareness and send a message to our representatives in the Legislature in Salem. The idea was hatched from scratch and built from the ground up, all from within Grant.
A protest through downtown attracted thousands from the community and was considered a successful moment. But Gavitte still wonders: "What if the first place we started was getting together the student body presidents of Portland high schools?" Then, Gavitte says, these leaders would be able to spread the message through the systems they already had established within their own schools.
"With UPSET last year," Gavitte says, "it showed how many students were interested in getting their voices heard, but I didn't see that translating into how government operated here."
With student government in the past, Gavitte remembers being "guilty of what almost everyone else is guilty of." If he didn't have a class during the student government assembly, he says, he wouldn't even go. "I didn't take it seriously," he says.
After the rapid and inspiring success of UPSET, Orlen saw Gavitte as the natural fit for the Leadership class in its second year at Grant.
Senior JJ Miller, class president for the previous two years, recognized that last year's class was more about "getting our feet wet and figuring it out."
Orlen thought the biggest challenge that faced the leadership class last year was that then-teacher of the class, Doug Winn, was a retired substitute and was not at school fulltime.
In planning for this year's leadership class, Orlen liked the fact that Gavitte is a fulltime teacher who cares about student activism. "He really saw that the way we approach student government here has become pretty anemic overtime," she says.
Orlen offered Gavitte the Leadership class for this year, leaving him room to construct the class however he liked.
But a series of unexpected events forced Gavitte and Orlen to take more action.
First, the approval of the Portland Public Schools construction bond provoked the need for an organized conversation. Grant is one of a number of schools that will be gutted and remodeled in the next few years. Everyone will be pushed off campus for two years.
Next year or the year after, Gavitte predicts the school will need to have a "Grant Rebuilding Committee" if the community wants to be able to take part in what Grant will look like when students come back. "The district wants student voice for this. The only catch is it has to be organized and real," Gavitte says.
Also, winter formal was a disaster for the administration. Vice Principal Curtis Wilson remembers during his first three years at Grant, he oversaw student government's event planning, meeting with them every other day at lunch. Since the leadership class has been implemented, "the administration has been taken out of the loop," says Wilson.
A lack of parent supervision at the dance this year led to a number of reported incidents around drugs and alcohol. "We need 20 to 25 parents, we could probably swing it with 15, but this year we had four," Wilson says.
Student government leaders had been in charge of gathering adults, but when the event started the administration was forced to cover more than they were capable of. Wilson remembers running from the bathroom to the coat check to the parking lot. "A lot of things parents normally do, we had to do," he remembers. "I pretty much ran around like a chicken without a head for three hours."
Not all students appreciated the mess created by unsupervised teenagers on the dance floor. Many told their parents who then called the administration. "We had all sorts of calls," says Wilson, "and I had to say I'm sorry I wasn't there. I was fighting fires outside the gym."
Another thing that sparked controversy within student government was this year's homecoming court elections and the plans leading up to it. After the initial round of balloting, in which members of executive council collected and tallied the results, the student body president, the senior class president and the executive council publicity rep ended up on the final ballots for homecoming king and queen.
Originally, the executive council publicity rep was the winner, but when all the details surfaced, Orlen forced the executive council names to be removed from the ballot, and the runner up was awarded the crown.
"They had a really broken election system," Orlen says. "I generally think you shouldn't be running for a position and collecting and tallying the ballots at the same time."
Anayeli Nieves, site council representative and member of the executive council, thinks the event cast a shadow over what they are trying to accomplish."People are already cynical of student government," she says. "They don't think we do anything, and this made them think we have an even worse system."
Senior class president Miller recognized that the homecoming incident opened the group up to criticism. But he says it was "an example of why we need more support. It can't be completely handled on our own. There needs to be some adult involvement."
Gavitte says the events further represent what's wrong with government today. "It's not that the people in government now holding government positions are bad people, or once we get rid of them we'll be fine," he says. "That's not the problem. We need to establish the culture again."
The first time Gavitte met with anyone to discuss the future of student government was in January. On Martin Luther King Jr. Day, he held a meeting in his room to hatch the plan. Eighteen people from his leadership class showed up. He presented his proposal for the restructuring of student government, a "weekend project" that had been stirring in his head over the course of the year.
The written proposal Gavitte brought to the meeting was headed by the objective: "To make student government at Grant a more powerful, dynamic, instructive and meaningful voice for the GHS student body."
He laid out the plan and asked the group for feedback.
The leadership team tweaked and modified the original plan, most notably adding a single, dynamic student body president position. "We still might tweak it, and there might even be changes after this year," Gavitte explains.
Taylor Debnam remembers the first time she saw the proposal, saying, "I just kind of sat and listened. I was trying to grasp the completely different plan."
Miller remembers perfecting the loose plan.  "We sat down and hashed it out. Then we presented our ideas to Ms. Orlen and she told us to run with it," he says.
The new system, proposed by Gavitte and refined with the help of his leadership class, has set out to make student government more "attractive, relevant and competitive," according to the original proposal.
Gavitte wants his students to understand and experience government. "These are all not unprecedented ways of setting up government, these are different variations of how it's done in the real world on the federal, state and local level," he says.
The next step is an all school assembly introducing the new plan, scheduled for mid April. If all goes according to plan, elections for student body president and the senate will be held the following month, and the new system will be in place for the 2013-2014 school year.
Orlen says she believes "we are going in the right direction."