Girls at Grant High School say many science classes don't feel welcoming to them because of their gender. These students — all with a high level of interest in the sciences — hold photos of the faces of prominent women in the field. They are (from left to right): senior Lillian Peters, holding a picture of astronaut Mae C. Jemison; sophomore Siena Lesher, with computer scientist Margaret Hamilton; junior Megan Hurley, with chemist and DNA expert Rosalind Franklin; senior Jehdah Walker, with Chien Shiung Wu, known as the "First Lady of Physics;" junior Emma Findling, with Katherine Johnson, a noted physicist and mathematician; junior Kirsten Rydell, with Marie Curie, the famous physicist and chemist; junior Quinn McGranaghan, with microbiologist Esther Lederberg; and senior Thea Foulk, with Lydia Villa-Komaroff, a molecular biologist.
Siena Lesher remembers walking into her Introduction to Engineering class on the second day of school and not feeling right. As she surveyed the class, she noticed right away that, of around 25 students, there were only three girls.
"When you walk into a room and you see that no one in there is like you, it really feels like you don't belong there," she says.
When it came time for students to break into small groups, no one in the class looked her way. "There was definitely an air of 'I don't wanna be with her,'" recalls Lesher, who has always been confident in math. At this point, her skills felt inadequate.
She dropped the class. "I was feeling really uncomfortable," says Lesher. "It totally unnerved me."
What Lesher faced isn't uncommon at Grant where a number of science classes – especially the physical sciences – have low female enrollment. In this year's STEM (science, technology, engineering and mathematics) classes, some teachers say they have seen the lowest number of girls in years.
In Ethan Medley's first-year Physics classes, girls make up about 29 percent of the class enrollment. In his AP Physics classes, it's even lower at 21 percent. Girls in Erich Simon's Introduction to Engineering and upper-level Engineering classes make up about 12 percent of the enrollment.       
And of the 29 students enrolled in Tony Petraglia's Robotics Class and Robotics Club, only five are girls. It's an alarming trend, especially given that girls make up nearly half of Grant's student population.
"How do we get people to break that mold of what it means to be a scientist?" asks KD Parman, Grant's vice principal in charge of curriculum. "Because I think that unconsciously, most of us, whether you're a male or female, you're going to think that it's a boy."
Caroline Hostetler is a longtime member of the Portland Women in Science Organization and serves as its secretary. She says she's always noticed what she considers to be a gender divide for women and girls when it comes to the sciences.
"A female academic will make more accommodations than a man," Hostetler says. "We are not as good at advocating for ourselves, sadly. When a woman does stand up and say how good she is…culturally, it's not as accepted and oftentimes looked down upon."
For any female academic who has come up through the educational system, the message is clear: girls in science face an uphill battle.
Amy Lindahl, who teaches Portland Community College Biology courses at Grant, believes the disparities start from an early age. "If you're interested in science and you're a kid…you start watching TV and you want to see who are scientists and you watch like PBS," says Lindahl. "You will still see almost all men."
This, she says, translates to the high school classroom as girls start to follow the trend of joining life sciences. "If you have students that are not taking physics as high school students, the odds that they would be a physics major (in college) is probably just about nothing," she says.
Megan Hurley, who is a junior at Grant,  is one of three girls in her Intro to Engineering class. They all sit at a table together in the back of the classroom. "It's very, like, separate," she says. "We don't really interact."
Hurley says she has her sights set on becoming an engineer, but she knows she'll be in the minority when it comes to gender.
"I think it'll just be weird to know that I will probably be one of the few girls in all my classes," in college and beyond, says Hurley. She's heard stories from her brother, who is studying to be an engineer, about the low numbers of young women in his classes.
She tries to look at the positive side of things when she says: "I think when I'm trying to get a job though, it might be easier, because there are so few girls."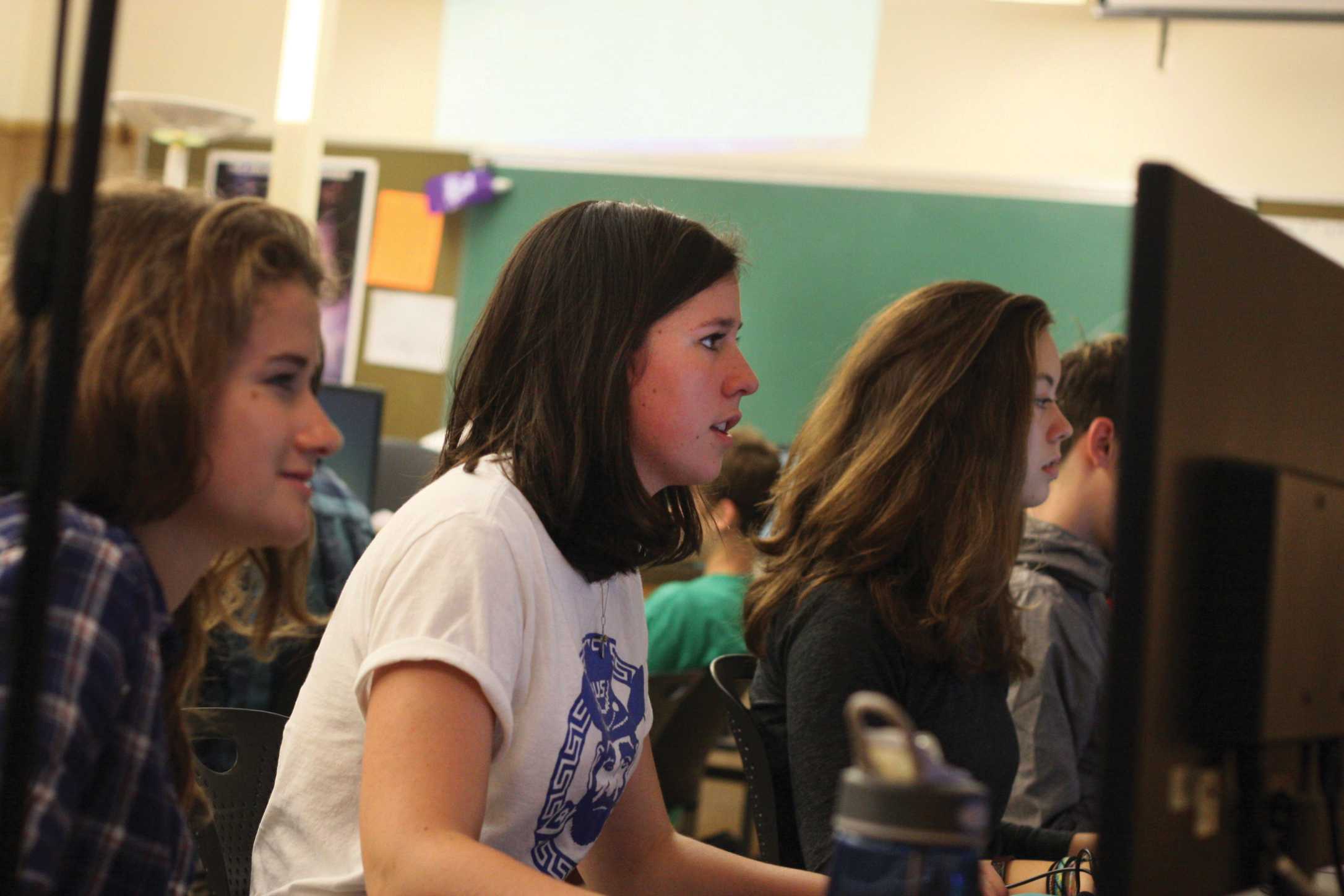 Although data shows that the number of college STEM degrees for women has increased in the last 30 years, fields like computer sciences and engineering have seen a plateau or even a drop in jobs held by women.                                        
In life science classes at Grant, Lindahl and others are pleased with the gender makeup in the classroom. In PCC Biology, for example, young women make up 57 percent of enrollment.
Those numbers begin to fall precipitously beyond high school. According to the Association of American Medical Colleges, 47 percent of all students enrolled in medical school are women and women make up 46 percent of all residents.
But the number of women in leadership positions paints a different picture: women make up 21 percent of medical school professors; only 22 percent of tenured professors are women; and only 15 percent of women hold department chair positions.
Grant Principal Carol Campbell says school administrators have added more classes that relate to careers, such as audio engineering and computer sciences. Career readiness is a focus in freshman communities this year, which Campbell says will help spread awareness about STEM careers to girls.
"At a younger age, students can become familiar with the different types of careers that are related to physics and engineering," she says. "We need to be recruiting girls. Anytime we have a gender imbalance in courses that we're offering it's good to question why that is."                      
The lack of women in the STEM arena goes back to the early part of the 20th century. Women weren't allowed to get Ph.D's from most colleges. Princeton and Harvard Universities didn't give out their first Ph.D to a woman until the 1960s.
At the time, women also faced the societal pressure of raising a family and leaving the profession. Even though times have changed, women, some say, still face barriers in the field of science.
But despite these barriers, many of the greatest discoveries in the field have come from women.
Lise Meitner, a physicist from the early 20th century, conducted experiments that led to the discovery of nuclear fission. And Esther Lederberg, a pioneer in the microbiology world, helped lay down the basic foundation for the understanding of how genes work. Neither were given credit for their work, but their male colleagues went on to win the Nobel Prize for science.
With this kind of history, it's hard for girls in high school to develop role models. Lindahl emphasizes the importance of girls locating a mentor in science.
She recalls a program from her college days organized by some female scientists. Once a week, girls from the community would meet with female college students to do a variety of hands-on science experiments.
"Things like that have a huge impact because I think it's a lot about seeing people that you feel like you can identify with," Lindahl says. "Having those key experiences where you struggle but you can get through something and you have that kind of modeled for you."
Campbell says she plans to continue bringing professional women who work in the STEM fields to school. She also said making sure there is a gender balance within the science teaching staff is a priority for her. Out of 11 science teachers, four are female.
Lindahl says people shouldn't doubt the impact a lack of women in science has on girls.
"I really absorbed and believed those messages that I belonged in life science but not in physical science," she says. "I remember kind of psyching myself out thinking that I couldn't get it and I wouldn't perform as well in those classes, and physics I wouldn't even take."  
While she received a degree in biology, Lindahl regrets that she didn't give physical science a second chance. "I think I really believed a lot of things about what I was capable of doing that weren't really very true," she says.
Some girls at Grant experience the same struggle today.
Senior Lilian Peters remembers feeling intimidated when she first took science classes and saw how few girls were enrolled. But she learned not to let that shy her away. "Now I'm just like, 'OK, if people aren't gonna talk to me, I'm gonna talk to them,'" she says.
She recalls a time in her robotics class last year when the teacher told students that if they needed help with soldering metals together, they should get assistance from Peters or a classmate who was a boy.  
Two girls went to Peters. Everyone else in the class went to the boy.
"When I was soldering, one of the guys in the class started to help me," Peters says. "I was like, 'No, I know how to do this.'"
Peters says the gender divide wasn't apparent when she was in middle school, where she joined the Science Bowl team and loved the dry ice experiments she did in class.
"I guess I didn't really notice the differences in…girls not being interested in science until I got into high school," she says. "And suddenly when there weren't as many girls in my class, it became, like, really obvious."
At Grant, progress is slow. But some teachers are making efforts to increase female enrollment in the physical science classes. Erich Simon, Grant's second-year engineering teacher, is teaching his students about the social impact of engineering, instead of focusing only on the technical side.
"I feel like I may be able to pull (girls) in more if I bring in things like: 'engineering can help solve social problems' vs. 'engineering can create a new high-tech toy that boys will want to play with,'" he says.
While Physics teacher Ethan Medley recognizes that the gender issue exists in his classes, he's more concerned about the lack of minority students that are enrolled. "I don't think we're all at the same place at how to make school work for our African-American students," he says, pointing to the number of girls enrolled in sciences."It's not that I don't care about this issue; it's just not my priority."
Jehdah Walker, an African-American senior at Grant who plans to major in the sciences at Oregon State University says she's loved the topic since she was a kid. But she knows that she faces more than just one barrier.
Her assessment on the reasons why the number of African Americans in science is so low is blunt and to the point: "I feel like they are always looked at as to be the either the athletes or some kind of form of non-academic career," Walker says.
"I think I really believed a lot of things about what I was capable of doing that weren't really very true." – Amy Lindahl, Grant science teacher
Nationally, initiatives to get more women in the STEM fields exist. For example, Oregon State University is one of many colleges in the United States to receive a $3.5 million grant from the National Science Foundation's ADVANCE program. The purpose of the grant? To improve conditions for women in STEM disciplines.
Dean Karen Marrongelle of Portland State University says programs like ADVANCE are beginning to change the tide for women in science.
"I think the future continues to be bright," she says. "There are a lot of people who are really passionate about ensuring that girls have the same opportunities that boys do…but I think this is a push that collectively, as scientists and engineers, we recognize that there's still a lot of work to be done."
How much of a difference the grants, programs and other efforts will make remains to be seen. Regardless, young women connected to Grant are taking matters into their own hands.
Abbie Nilan, a 2014 Grant graduate, is a sophomore at California Polytechnic State University and will major in materials engineering. She says women make up roughly 20 percent of her classes. She advises young women to stay assertive in the classroom.   
"Sometimes guys are so: 'I know what I'm doing,' and girls are like 'OK, let's do it your way,'" says Nilan. "Don't let that happen."
Kirsten Rydell, is a Grant junior taking Introduction to Engineering. She agrees with Nilan. "I think that a first step you need to take is just being willing to stick it out…and just, like, not back off, not get pushed around and just really state your presence in the class and in that field, too," she says. "I don't wanna be just a watcher. I wanna actually do all the things, too." ◊