Many students have found second homes in corners of the Grant campus – learn what drew four seniors to their places.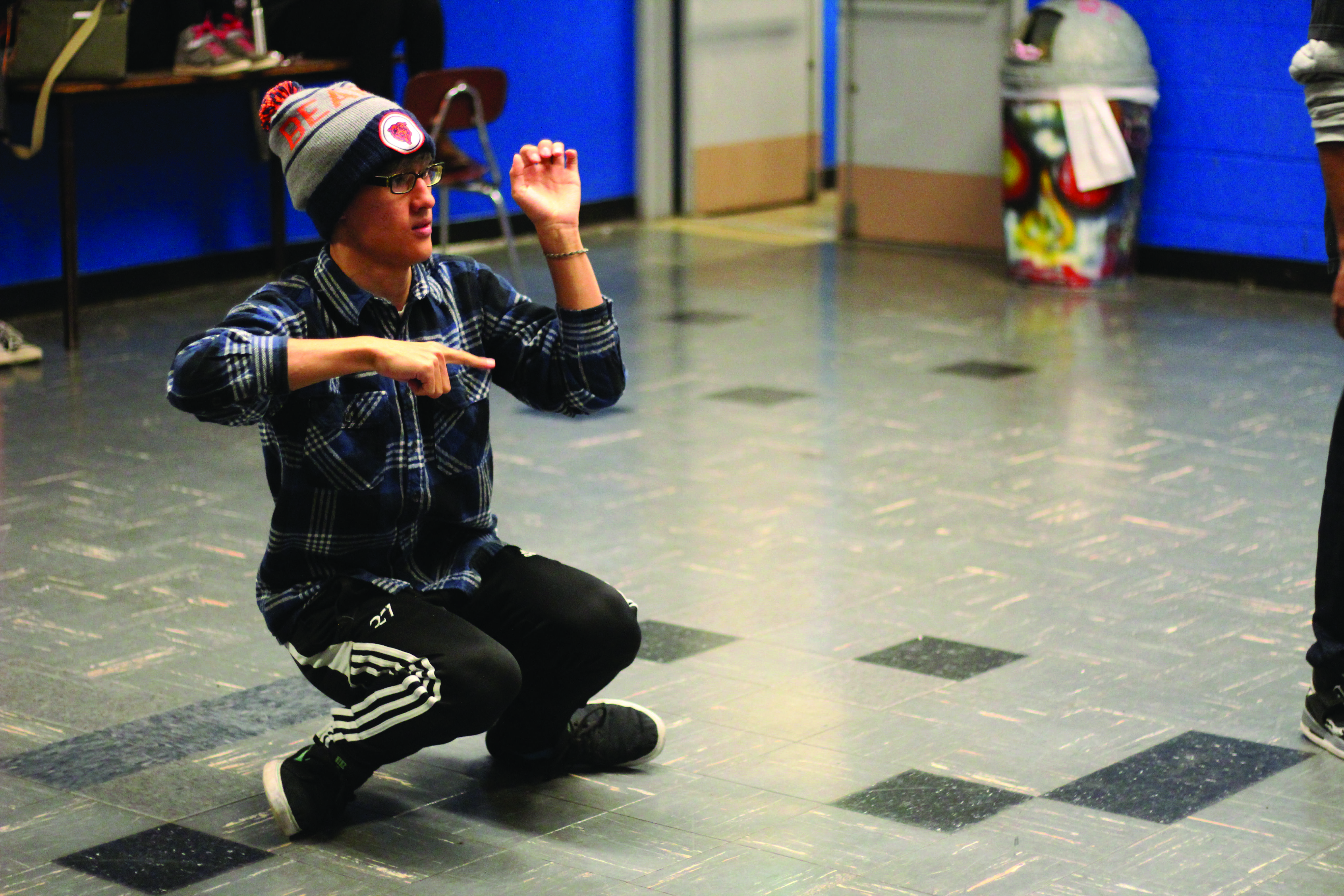 Nick Chrisman
Dance Room
Nearly two years ago, Grant administrators created a dance program and hired teacher Jessica Murray. The school cleared out the multi-purpose room in the basement of the gym and created a studio. Senior Nick Chrisman, a hip-hop dancer, has adopted it as a second home.
It's not the ideal place to dance, but the atmosphere and energy make it special, he says.
Growing up, Chrisman was full of energy and "very creative and artistic," he says. Before he found his passion for dance freshman year, his focus lay in sketching. "Ever since I was little, I used to sketch," he says. "I still do every once and a while, but dancing has replaced that."
Chrisman is in the dance room almost every extra hour he gets, whether it's during lunch or after school. "I come here every single day," he says. "For me, it's a place where I can be myself more than any other place."
With help from Murray, Chrisman has become more confident in himself and in his style of dance. "I was blessed enough and she was gracious enough to notice my love for dance and she's like a second mom to me now," he says.
Senior year in particular was hard for Chrisman. "I just like to be happy and I had a hard time with trying to stay happy this year," he says. "I've had a lot of decisions that I'm trying to deal with, such as college and my future."
The dance room, he says, is a place where he can escape.
"Dance is kind of like a drug," he says. "It can lift your spirits because you're doing something that you're passionate about.
"When I dance, it's like complete freedom in a sense. When you're dancing, it's just you and the music, that's it. And you interpret it however you feel it and you're just being yourself. Because being yourself is the best feeling in the world."
— Story and photo by Finn Hawley-Blue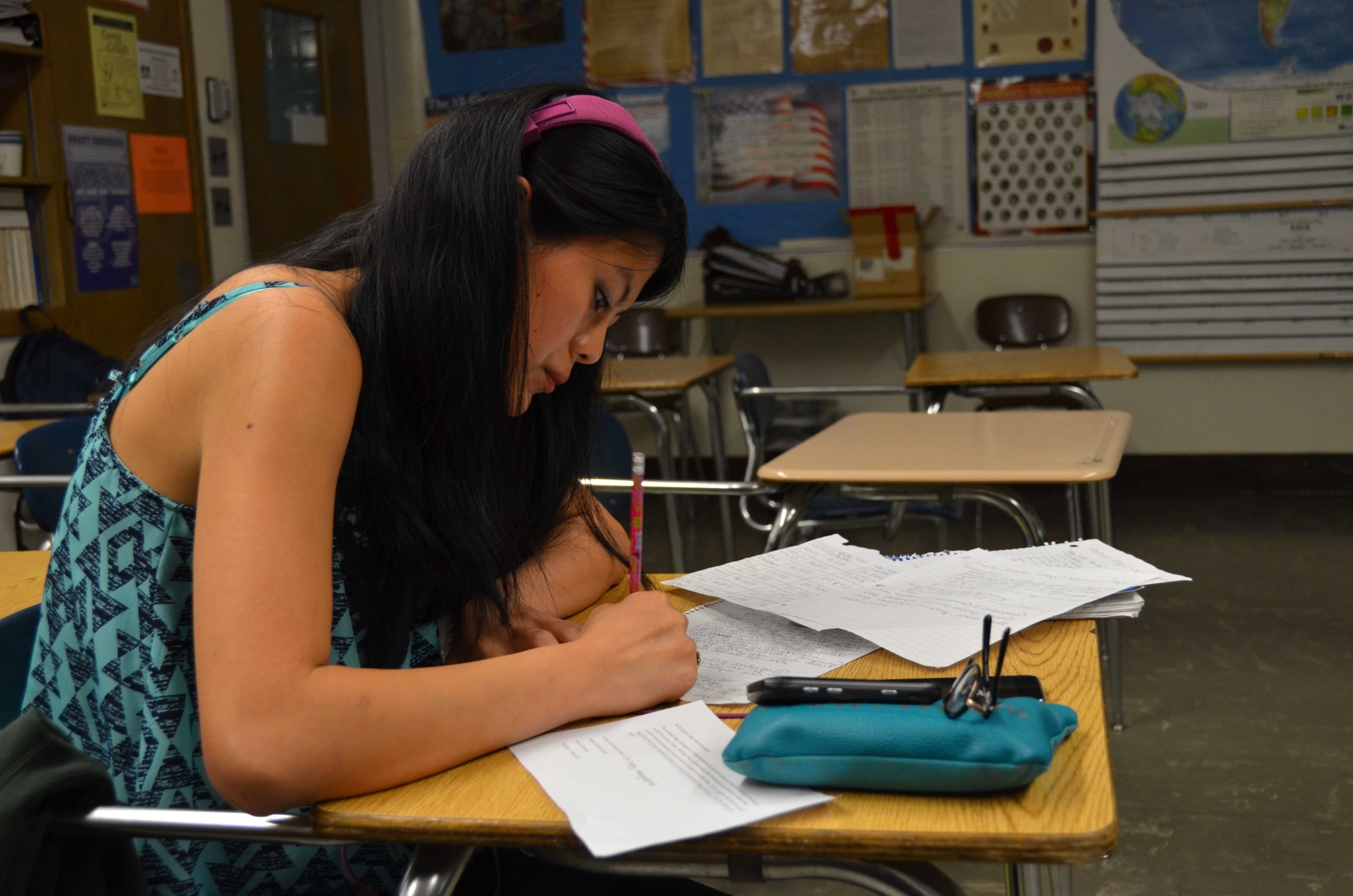 Libby Friedman
Carmel Ross' Classroom
Libby Friedman didn't come to a day of school the entire month of October 2014. Instead, she rested at home in bed, oftentimes sleeping more than 18 hours a day due to iron deficiency anemia. "I think the hardest part was not being able to stay awake, no matter how hard I tried," she says.
Friedman first struggled with the condition as a sophomore. She remembers sleeping through the morning tutorials, too tired to go anywhere. She was constantly exhausted and had trouble keeping up with the mentally taxing schoolwork. Luckily, an iron intake helped a little, but this year the condition came back and was far more serious.
Friedman emailed back and forth with her teachers about the material she was missing. She felt most energetic from 6:00 p.m. to 8:00 p.m., and would work to complete some assignments during those hours. Her email correspondence soon brought her closer to one teacher in particular: Carmel Ross, her third-period government teacher. Friedman began to confide in Ross, drawn to her calm, compassionate nature.
Friedman was involved in a reliant relationship with a boyfriend that started in the beginning of her freshman year. "I was really dependent," she says now. "I looked to him for everything. I wanted him to tell me I was beautiful and that I looked good today and kind of guide me in almost an unhealthy way."
As the relationship progressed, Friedman distanced herself from her friends. So when the couple broke up in late October, she was left spinning.
When Friedman returned to school, her anxiety, which had been a minor setback her freshman year, came back in full force. She found it difficult to spend time with large groups of people, which made lunch hard to deal with. She started to eat lunch in Ross' room, which is secluded from the rest of the school in the north basement.
Friedman says she enjoys listening to music, doing homework or just sitting and thinking during the 33 minutes. The room is a calming place for her, and helps her recharge for the rest of the day. "It's just peaceful…I like having a sanctuary to go to, and it's going to be really different when I'm at college."
— Story and photo by Tess Waxman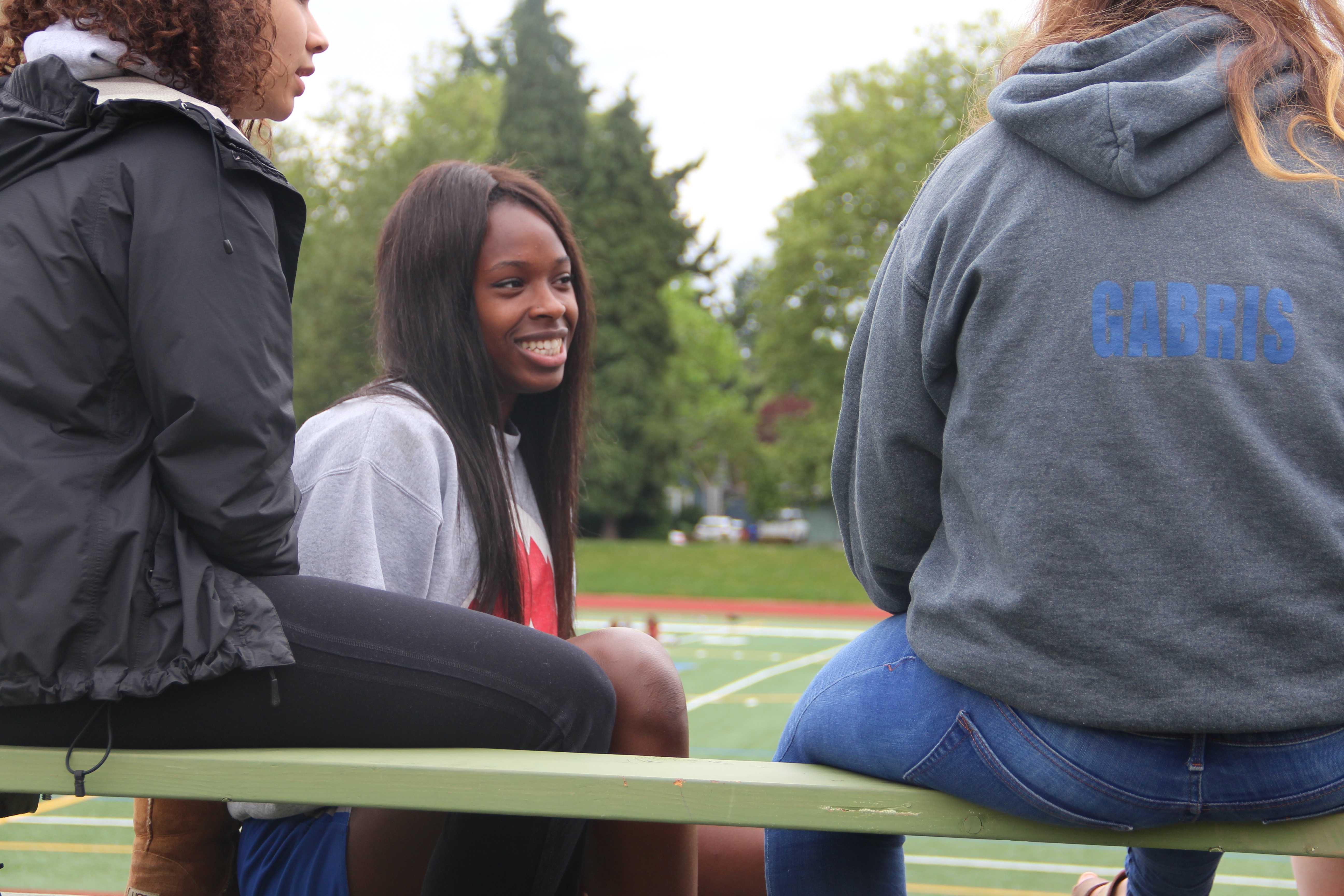 Jourdan Brown
The Bowl
When Grant got a turf field in 2013, Jourdan Brown was ecstatic. Throughout her years at the school, Brown has spent countless afternoons in the bowl – she likes to hang out with friends, watch events and  play various sports. So she eagerly awaited the upgrade.
Brown is a rugby player and a cheerleader, but her busy schedule doesn't keep her from making time for her favorite spot at Grant. "I see a lot of students come up to the bowl and I can see that they're passionate for their sport…you see all the types of people, and even if they're not playing a sport, they're still out here talking with their friends," she says.
As a freshman and a sophomore, Brown played soccer for Grant, and transitioned to rugby her junior year. Her rugby coach had known her mom through work and heard that Brown was a fast runner, so he convinced her to try out for the team. After a couple of practices, she was hooked.
"I like how close-knit my rugby family is," she says. It's "just really physically demanding, and I really like that in sports. I never leave not tired. It just takes so much energy out of you."
Brown says she's not an art or music person, so sports have provided her with the opportunity to express herself. They also relieve the pressures of school and family life that Brown sometimes feels.
When applying for college, Brown made academics a primary focus – she plans to major in computer engineering and aspires to pursue a career in programming. But one big push to attend the University of Nevada, Las Vegas was the fact that the school has a rugby team. She wants to play either rugby or soccer when she gets there.
— Story and photo by Tess Waxman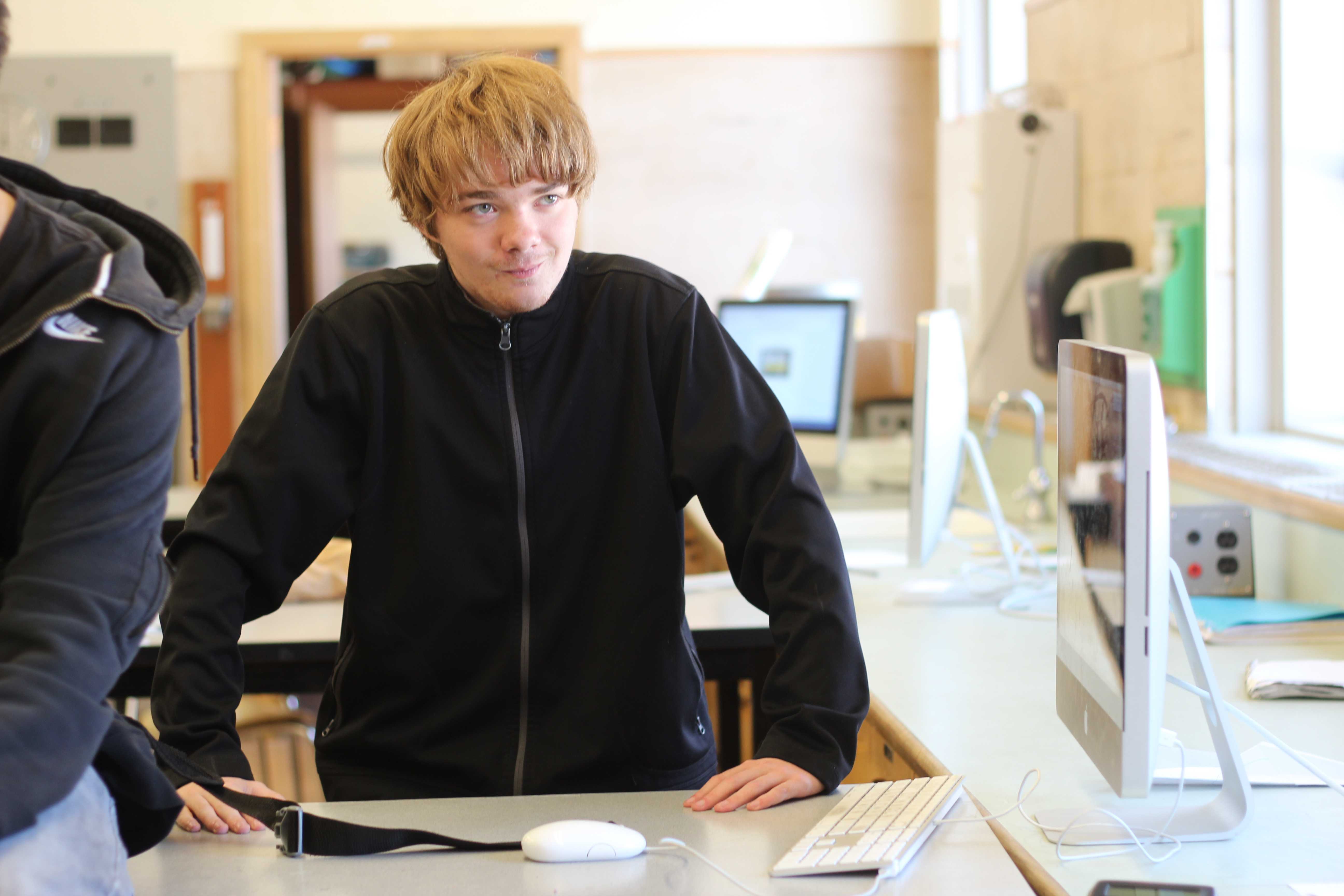 David Newcomer
Ethan Medley's Physics Lab
For the first three years of high school, David Newcomer and his friends mainly spent lunches in Mary Rodeback's classroom. When things would get busy and hectic in her room, they moved down the hall to Ethan Medley's lab room instead.
"This year, it got to the point when Ms. Rodeback had a bunch of stuff going on in her classes that we just moved here," says Newcomer.
The room is an extension of Medley's classroom, typically used for labs or online work during class. But outside of class, it's a social hub for Newcomer and his friends. They normally just hang out and talk and joke around, often about funny YouTube videos.
But the room isn't always fun and games during lunchtime. When there's an upcoming test, students use the room as a place to study. "We usually just eat and talk, but it depends on if you're about to have a physics test because then there are a bunch of people who are actually working," he says.
Newcomer had Medley for biology early on and physics this year. "Medley is a great teacher," says Newcomer. "He's pretty easy going."
Next year, Newcomer will go to Oregon State University where he wants to study microbiology. "After I get a grip on what that's all about, I'm planning on specializing from there because microbiology is just a general degree," he says.
He'll miss the room, though. "I feel welcome in the space," he says. "The room has good vibes."
— Story and photo by Finn Hawley-Blue