The Motivators
Payton and Madeleine Schult
Age: 14
Year in school: freshmen
Type of twin: identical
Who came first? Madeleine, by two minutes
Before seventh grade, 11-year-olds Payton and Madeleine Schult packed up and moved to Portland from Peachtree City, Georgia.
The change was quite significant. Their mother, Rachelle Jarrard, had remarried, and the girls were forced to start over in a new home. During their move, the sisters relied on each other more than they ever had. "We had a lot of the same classes, so that made it better because we already had a friend, and we made a lot of the same ones," Madeleine says. "It's also easy because we're the same age and we understand one another."
At Grant, the girls run cross country. "Like, I know that if she's in front of me, that's where I should be so I push harder," Madeleine says.
Payton echoes her sister, whom she describes as her best friend and someone who will always motivate her.
Both girls truly love being with each other. "We're best friends, and we really understand the other one," Madeleine says. ♦
The Opposites
Mia & Dylan Palmer
Age: 15
Year in school: freshmen
Type of twin: fraternal
Who came first? Mia, by 28 minutes
Dylan and Mia Palmer each made varsity soccer at Grant as freshmen. They grew up playing soccer, tennis and track. They're both artists – with Dylan writing his own music and Mia excelling at visual arts.
They're not identical, but may as well be, if you judged their activities alone. Yet somehow they manage to be complete opposites. "We're so different, there isn't much telling that we're twins," says Dylan.
When Dylan and Mia were born, they were about as different as you can get. "I was always crying, like non-stop," Dylan says. "Apparently when Mia came out, she didn't even cry out."
Being twins has never bothered the Palmers. "It's not really that weird or interesting to us," Dylan says.
"Our parents never wanted us to be in the same classes because she didn't want us to be jealous of each other or compare each other," Mia says.
Dylan is the loud one and Mia is the quiet one. They balance each other out and don't let other people's misconceived ideas about twins separate them. ♦
The Teammates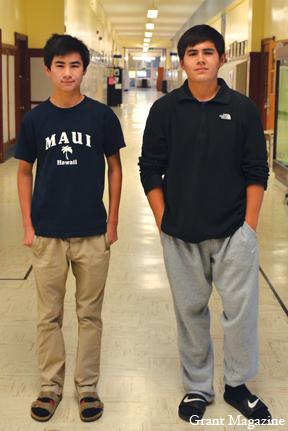 Kyle & Cameron Chin
Age: 16
Year in school: juniors
Type of twin: fraternal
Who came first? Cameron, by 40 minutes
Cameron and Kyle Chin are a force to be reckoned with as doubles partners on the tennis court. In the classroom, they are apt learners who push above and beyond their fellow classmates. They share a lot of the same friends. And they don't ever really fight with each other. They're pretty similar and aren't looking to change that. They have an older brother Brent, who is a sophomore at the University of Oregon and is considered the golden child of the family.
"It's not necessarily like trying to do as good as him, it's more just disappointment when we do the same thing," Cameron says. How are they different from each other?
"Kyle's really into like math and science, and I'm more into reading and writing, that sort of thing," Cameron says. This fall, soccer tryouts separated them. Cameron made varsity, while Kyle was placed on JV. "That was more disappointing, so Cameron didn't rub it in," Kyle says. Experiences like that help bring them closer than they think they would be otherwise. "But in less serious stuff we do compete," Kyle says. ♦
The Sisters
Claire &Tessa Alexander
Age: 16
Year in school: juniors
Type of twin: fraternal
Who came first? Claire, by two hours
While Tessa Alexander slides on her boots, her sister, Claire, bursts into the room.
"Can I wear one of your cardigans?" she asks. With a sigh, Tessa hands one over and continues her morning routine. They love being sisters but sometimes have trouble when their similarities overlap too much.
For the Alexanders, being twins wasn't something that defined them.
"I never really fully realized that we were twins," Tessa says. "She was like my sister and we had the same birthday every year but she was still just my sister to me." Early on, the Alexander sisters both tried to find an identity that was a little bit different from the other. Claire was the more adventurous tomboy and Tessa was the social girly-girl. They say they don't really like sharing friends or being compared to one another. "It's hard to be different, we used to fight a lot," says Claire.
Today, Claire is a passionate photographer who loves design, swims, and competes in track. Tessa enjoys fashion, school, sports, and socializing.
They work constantly on arguing less and staying out of each other's way. "We really are trying to be better friends," Tessa says. ♦
The Best Friends
Eli & Lily Cox-Skall
Age: 17
Year in school: senior
Type of twin: fraternal
Who came first? Lily, by 32 minutes
As Eli and Lily Cox-Skall recollect their childhood memories, they burst out laughing and arguing. "When we were younger, I used to escort Lily to everything," Eli says.
Lily interjects: "He always exaggerates."
When they were young, they used to be involved in the same things. "We shared a room when we were younger," Eli says.
"Yeah, I didn't like sleeping by myself," Lily adds.
Eli and Lily are very different people. Eli is on the Constitution Team and yearbook and rows on a crew team. Lily is an avid lacrosse player who loves fashion. When it comes down to it, being twins is convenient for the Cox-Skalls.
They share a lot of the same friends. "Sometimes I will come home and there are already like four of my friends at my house," Lily explains.
"Lily's still basically my best friend," Eli says.
They have been visiting colleges together and they remain close. Their car is really the only thing they argue about. "But in the end, it's usually Lily that wins," Eli admits. ♦