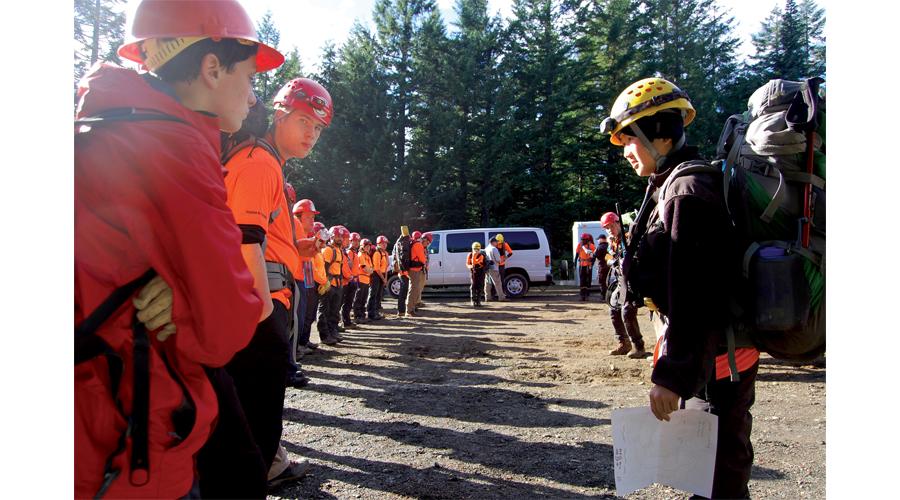 After becoming a team leader of a search and rescue unit last fall, Bibi Powers-McCormack is now in charge of a group of members during searches and trainings.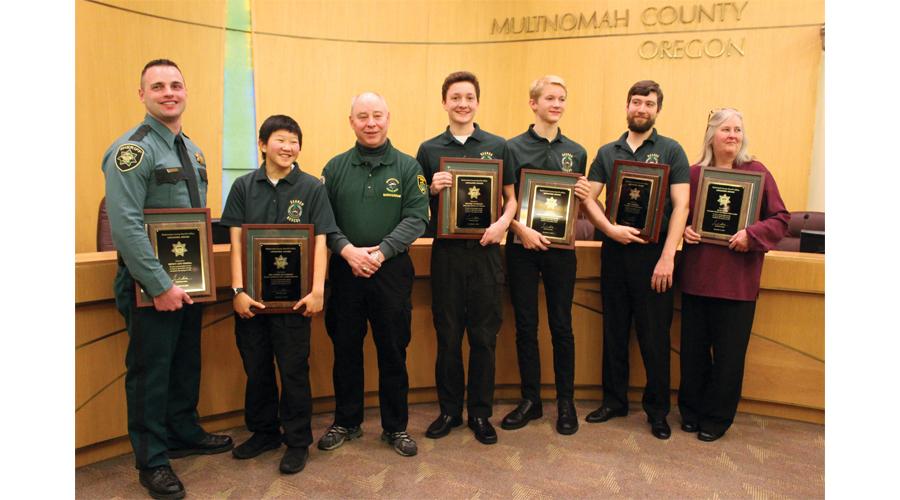 Powers-McCormack and five of her team members received the Life Savings Award for aiding Ric Chambers (third from left) when he had a cardiac arrest during a search last summer.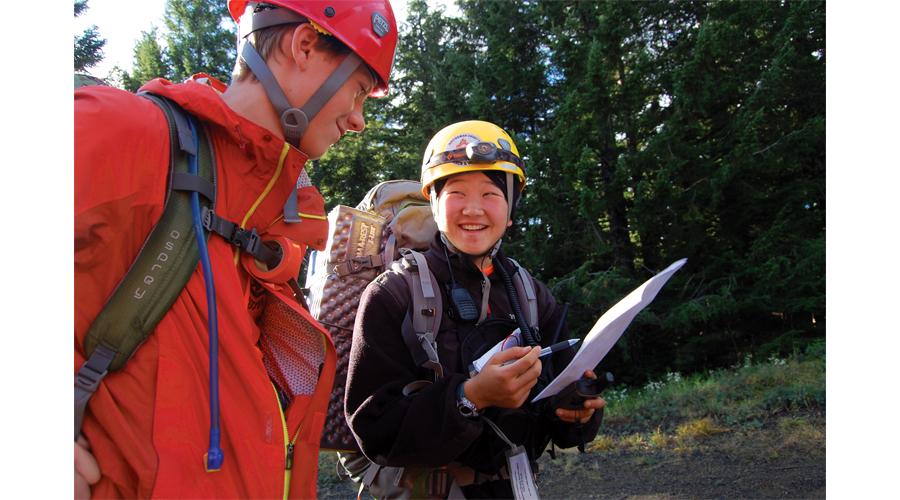 A member of the Multnomah County Sheriff's Office Search and Rescue team since 2012, Powers-McCormack joined with close friend Ian Shriner (left) and attends field trainings once a month.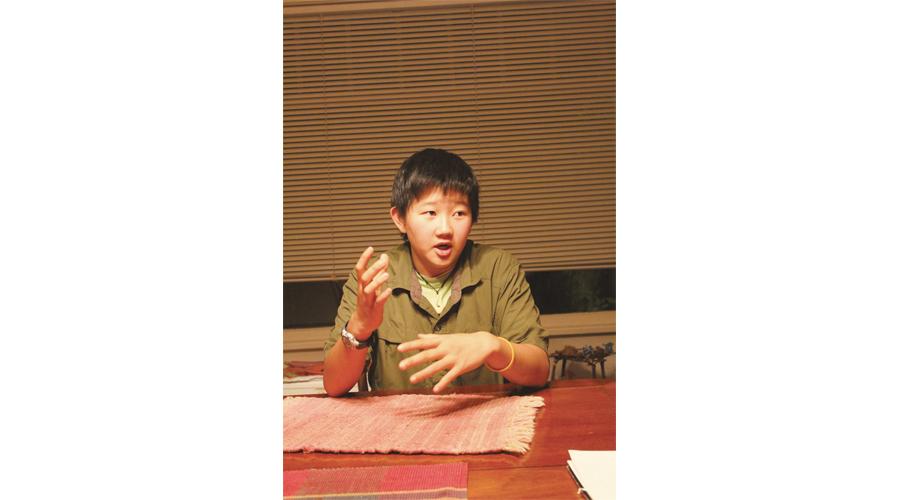 Growing up, Powers-McCormack was heavily interested in nature and outdoor wildlife. She spent hours learning to build traps and snares.
Bibi Powers-McCormack awakens suddenly as a shrill alarm sounds from her iPhone. The screen lights up with a text. It's past midnight, but after two years of being a part of Multnomah County Sheriff's Office's Search and Rescue team, Powers-McCormack is used to these late-night summonings.
This time, there is a lost hiker in the gorge and the team leaders want to know if Powers-McCormack can make it.
Hopping out of bed, Powers-McCormack – a Grant High School junior – gets dressed and slings her 35-pound backpack over her shoulder. It's filled with supplies ranging from a first-aid kit to 48 hours worth of food.
Several hours later, she's standing at the second switchback on the Multnomah Falls Trail; five other searchers are next to her, awaiting her orders. The lost hiker was supposedly walking along Trail 400, which runs off the second switchback.
Powers-McCormack sends two team members down Trail 400 to look for the hiker.
Minutes after freshman Colin Klein's team leaves, Ric Chambers, the oldest search member on the team, falters, falling flat on his back. The group starts shouting at Chambers, but he is unresponsive and his lips are turning a dark blue. He's having a heart attack.
Powers-McCormack's training kicks in as she radios base for defibrillator. Then she runs down the trail to alert her teammates about Chambers. As one of the adults on the team performs CPR, Klein scrambles down the trail to retrieve the defibrillator.
Every few minutes, Powers-McCormack calls the team's head advisor to give her information on the scene. At the same time, she radios updates to base.
They put the pads on Chambers and shock his heart. He finally responds and starts breathing. Paramedics bring him down the trail and a Life Flight helicopter whisks him off to a hospital.
Meanwhile, the team located and stabilized the lost subject.
Looking back on that night, Powers-McCormack knows she did her job. But it was more than that. "I, as a team leader, performed really well," Powers-McCormack says, recalling how the chaos didn't rattle her or her teammates. "I could accomplish everything that needed to be accomplished" and "was able to make certain things happen the way things happened."
Chambers puts it simply: "If I hadn't been standing there with all these people that knew CPR, I would have been dead."

Powers-McCormack has been part of the search and rescue team since 2012. She and her longtime friend, Grant junior Ian Shriner, joined together, each hoping for an opportunity to embrace the outdoors. The pair grew up fascinated with the wildlife around them.
Before joining the team, Powers-McCormack and Shriner were the quiet kids, sitting in the back of the class and mostly keeping to themselves. Since joining, both have had their confidence increase tenfold. Being thrust into life or death situations can do that for a kid.
"I was never comfortable with strangers," Shriner says. Today, though, he feels "like everyone is someone I could meet. I feel more comfortable going about day-to-day life."
Powers-McCormack says being on the team has helped her develop. "My interpersonal skills have really benefited," she says. "In everyday life, you really learn to put yourself out there more. I'm becoming the person that speaks up as opposed to waiting for someone else to take the initiative."
Born on Jan. 6, 1998, as YueBi Yi, Powers-McCormack spent the first 13 months of her life in a large, poorly heated orphanage in Yiyang, a city in China. The owners of the orphanage called her Bibi.
In 1999, a couple from Oregon, Colleen McCormack, a teacher for PPS, and Leslie Powers, who worked at a software company, adopted her. They changed her name to Kyle (pronounced Ky-lee), but she only responded to Bibi. The name stuck.
In Portland, Powers-McCormack grew up with an avid interest in outdoor wildlife. Family outings consisted of going on long hikes on Cape Perpetua near their beach house in Waldport.
Colleen Powers remembers how her daughter was "always exploring what was under the rocks and looking at critters. It was always a big thing for her."
One of Powers-McCormack's earliest memories was when she found a baby bird in the secluded ivy near the playground at Grant Park. "I memorized all of its characteristics," she recalls, remembering how she rushed home and went through the nature guides her parents kept by the window and flipped through the pages to find the bird.
In first grade at Hollyrood Elementary School, Powers-McCormack met Ian Shriner, and the two became fast friends. They bonded over their love of nature. After-school visits to the Hollywood Library became a tradition for the two.
Powers-McCormack and Shriner spent hours searching the bookshelves, grabbing anything that piqued their interest. "We would check out lots of books and try anything that seemed even remotely interesting," Powers-McCormack says.
In middle school, when the pair discovered books on wilderness survival, it quickly became a hot topic. The piles of sticks and wood that line Powers-McCormack's house serve as testament to the hours spent constructing various traps and snares.
"We'd go and set it up and not catch anything," Shriner says, but they soon perfected the skill. Not wanting to injure the urban wildlife, they substituted sticks for animals. "We caught a lot of sticks," Shriner admits.
Powers-McCormack remembers one night when she and Shriner spent hours building a fire on the beach, using only the waterlogged kindling they collected. By 9 o'clock at night, they had a roaring fire.
"It was super windy, so we hung a tarp up to prevent the wind from coming," says Powers-McCormack. "We were roasting marshmallows, we had our s'mores, but they were so much than s'mores. It was a feeling of accomplishment."
When she wasn't outdoors, Powers-McCormack had issues with schooling. After leaving Hollyrood Elementary School and moving to Fernwood Middle School in the fourth grade, Powers-McCormack grew unsatisfied with her education, which she says felt "stagnate."
She recalls her school friendships becoming distanced. After Shriner transferred to The Emerson School in Northwest Portland, Powers-McCormack had little incentive to stay at Fernwood. "It didn't really matter where I went because Ian wasn't going to Fernwood," she says.
Her parents sent her to Sunstone Montessori School in Southwest Portland, where students gets to build their own curriculum based on their interests. Powers-McCormack liked having more freedom in learning, but the school ended after sixth grade.
She bounced around Portland schools before landing at Metro Montessori Middle School. She never had issues adjusting to new schools, she says, because her connection with other students was "directed towards education as opposed to a friendship."
After school, free time was spent with Shriner. "I didn't form any connections with people like I have with Ian."
Going into her freshman year, Powers-McCormack decided she wanted to return to her neighborhood school, Grant. Additionally, it was where Shriner was going. It was then that Shriner came to her about the idea of joining the search and rescue team after hearing about it from a teacher.
After attending the orientation meeting in September 2012, Powers-McCormack and Shriner were immediately hooked. "After about a month, there was no turning back; it was something I was passionate about," she says.
"I'm helping my community and helping myself, as well. I didn't know I would be shifting the way I've thought about life, about the way I observe the world."
A month later, the pair started training, which included going to weekly meetings, monthly outings and being taught a variety of wilderness survival skills like navigation and fire building basics.
Powers-McCormack remembers being deep into her homework late one night in January last year when she got the text summoning her for her first search. She sprang into action, grabbing her massive pack of gear and meeting Shriner for the drive down to the sheriff's office.
The team met up, piled into white vans labeled with "Search and Rescue" on the sides and drove to the Cedar Hills neighborhood. The assignment? To conduct an urban search for an elderly man with severe dementia.
Shriner remembers being charged with "a lot of energy that you're trying to keep focused." They looked for signs of the subject's clothing and clues that anyone had been through the area. After six hours, the search team headed back to base. They couldn't find him.
Powers-McCormack and Shriner returned home at 4 a.m. Instead of sleeping, Shriner remembers sitting on the couch and staring out the window for the next two hours before he had to get ready for school. He pondered the weight of the search. "I was glad I was a part of it, and really working toward something," he says.
The man was found dead by another search team the next day in a neighbor's backyard. Several months later, the Multnomah County team received a letter from the man's family thanking them for their efforts, though he wasn't found soon enough.
"It brings closure to families, knowing that all these people are dedicated to finding someone in their community," says Powers-McCormack.
Being on the team also began to help define how she saw herself. "It kind of switched from this fantasy – 'This is who I'm going to be' to 'This is who I am and what I'm doing,'" Powers-McCormack recalls.
As she continued to go on searches, she gained more experience. Last year, Powers-McCormack was elected as a team leader. The roll meant that she was in charge of leading a unit of adults and youths on searches when she was called out.
Today, she's trying to pass on her experience to new recruits. Eva Emter, 16, is a Grant junior who joined the team last month. She's on the unit that's led by Powers-McCormack and says she looks up to her team leader.
"She has a lot of communication skills and is always talking to people. She is really social," Emter says. "She has a lot of knowledge and she knows how to use it."
Powers-McCormack says teaching others has boosted her self-confidence. It's "an experience I haven't really felt anywhere else," she says. "I'm understanding more and more each year. Because I understand more, I'm more comfortable and confident."
Now, Powers-McCormack is looking at the prospect of being the president of the team next year, the highest position available for youth members. "I will have the highest rankings of the other officers below me, so I might just fall into that position," she says.
When she graduates, she definitely plans to attend college but she's not sure yet where she'll go. Apart from that, her future is still hazy. If she stays close to Portland, she wants to explore the adult positions the search and rescue team offers. But she wouldn't take a position behind a desk. "I really want to be in the field directly helping," she says.
Earlier this month, members of the team gathered in the Multnomah County boardroom for the team's semi-annual awards ceremony.
Powers-McCormack is dressed in black pants and a dark green polo shirt with the team's emblem – a tall pine tree under a red cross. She lines up in the center where she and her nine other team members receive the Lifesaving Award for helping save Ric Chambers.
Chambers stands from audience and takes each plaque from the deputy presenting the awards. Walking down the line, Chambers hands each member a plaque, ending with Powers-McCormack, who he gives a quick hug before sitting down.
Powers-McCormack beams. To her, the award is more than something she can hang on her wall. "I think in the years to come, I will definitely see that the plaque doesn't just represent one event," she says. "I'm helping my community and helping myself, as well. I didn't know I would be shifting the way I've thought about life, about the way I observe the world." ◊