March 21, 2017 – Finding peace and family in Central Park
By Stella Kondylis-Breeze | Photo by Sydney Jones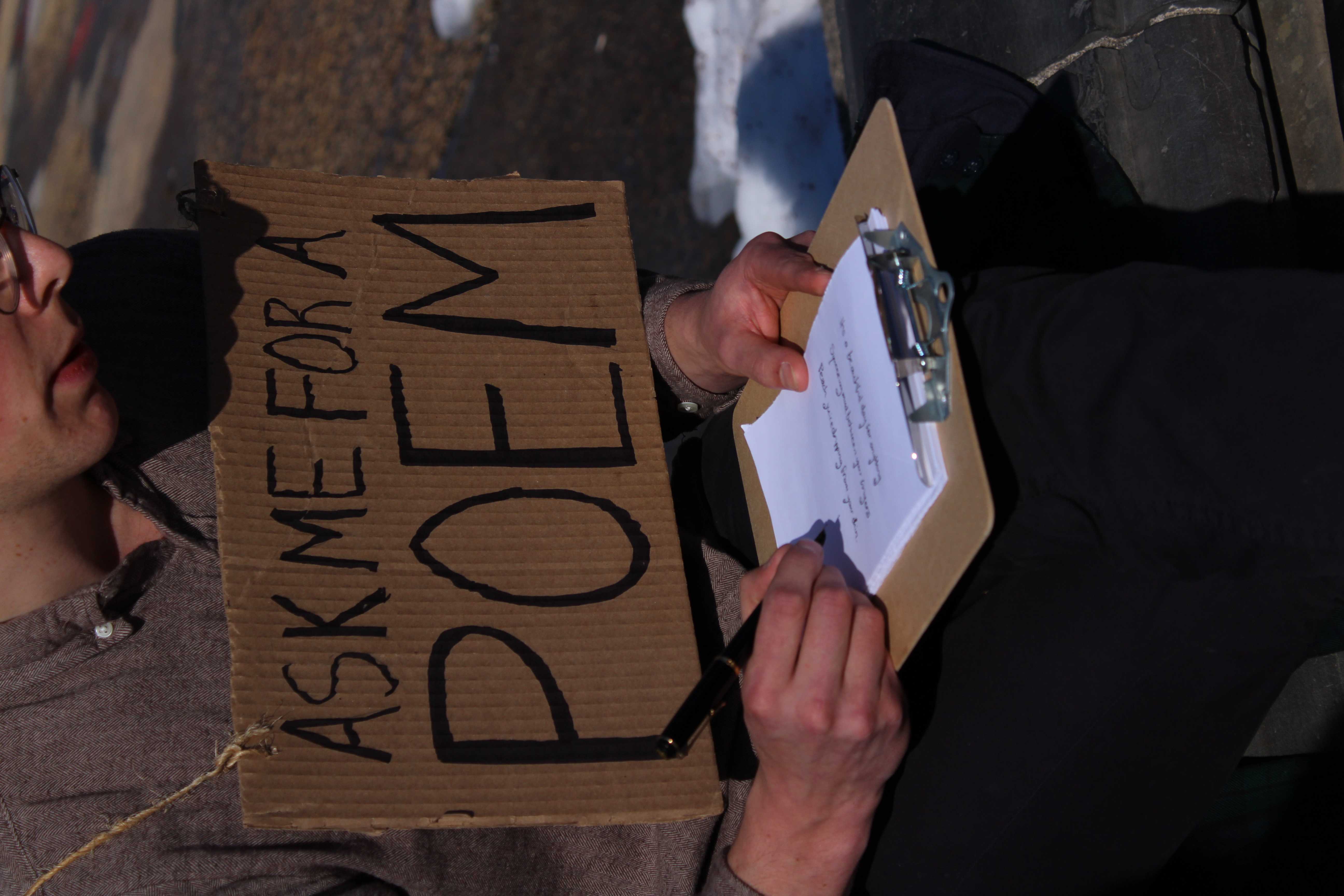 By our sixth day in the Big Apple, the exhaustion of the trip was starting to get the better of me.  Coming from Portland to a city like New York, the lack of nature can be overwhelming and at times stressful. When the time came to make our way to Central Park, I was ecstatic to escape from the constant business the city brought and enjoy our last full day peacefully.
Right when we entered the park, a group of us ran down some stairs under a small bridge to find five men singing old school soul music with a stand up bass player. The music filled the air: their voices and the booming bass reverberating off of the colorfully tiled ceiling of the bridge. Looking around to see fellow staff members swaying to the music together, I felt a strong sense of community. We continued through the park stopping to watch other street performers, a man making giant bubbles, another musician, and a poet sitting on the edge of an empty fountain writing poems for people passing by.
We wandered down paths in the park laughing at each other's jokes and enjoying the company of one another. I was so involved with my newly formed Grant Magazine family that I almost forgot I was in a familiar location. I've been to New York many times with my family and Central Park is always one of my favorite places. This time the park was also the site of one of the biggest surprises of the trip. While walking along a path, soaking up the afternoon sun, I ran into my grandfather. It made me realize how close I had become to my fellow staff members when I saw their joy in reaction to my reunion with my grandfather.
The week had been full of so many activities that took us all over the bustling city.  Everything we did brought the class closer together as a group, but the afternoon at the park allowed us to bond away from the hectic streets, tall buildings, and crowded sidewalks.
March 21, 2017 – Behind the Scenes: CNN
By Kali Rennaker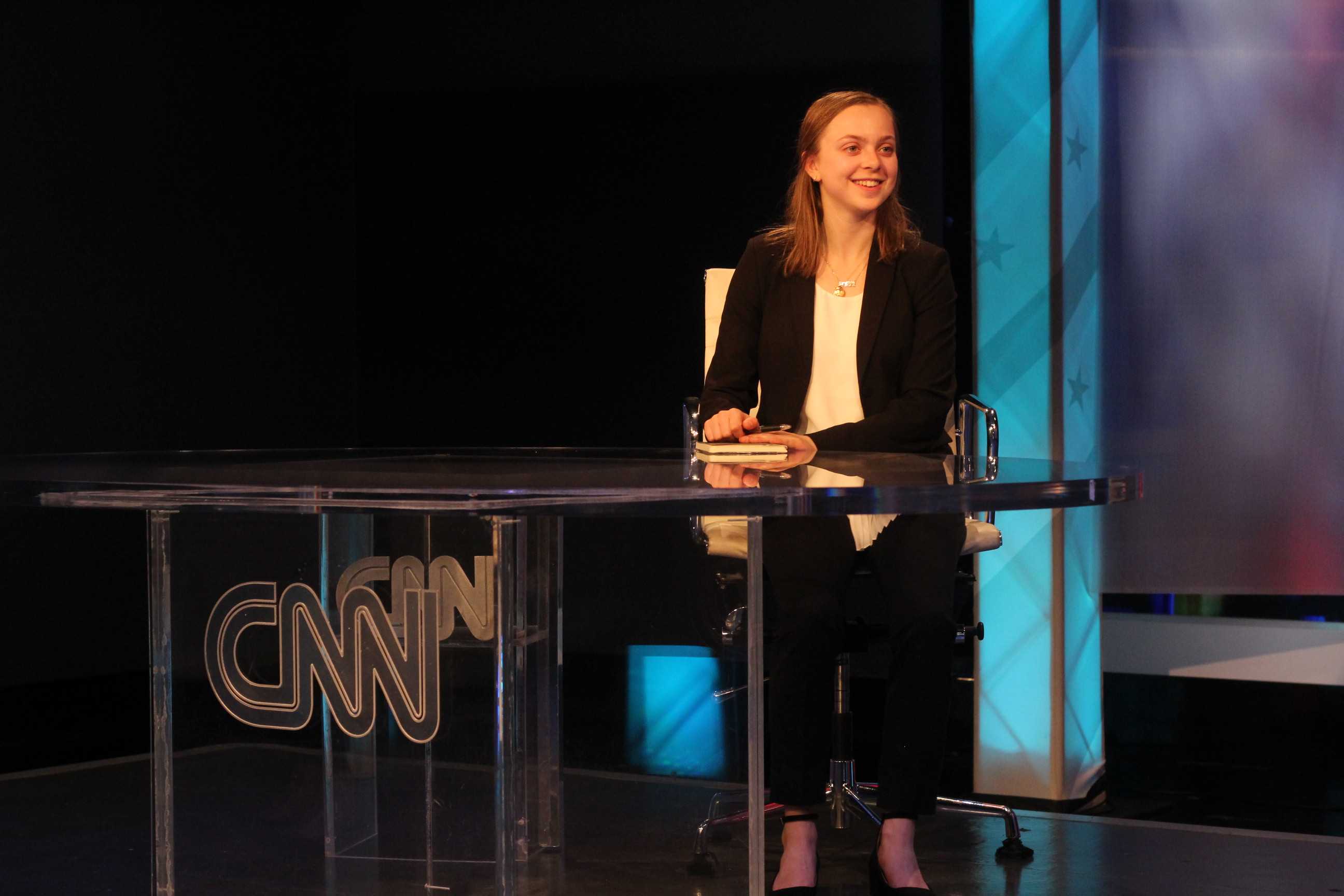 It had been nearly a week since coming to New York and the city's constant hustle was starting to feel custom. Our busy schedules packed with print publication visits and miscellaneous city adventures were a day by day norm.
But as we headed off of the subway that Tuesday morning, a rush of excitement surfaced. The 11:00 A.M. CNN visit was finally upon us: something I had been looking forward to the whole trip.
As we waited in the lobby, I started reminiscing on my childhood: eating breakfast and seated by the kitchen's TV to tune in to the CNN morning show. Broadcast journalism has been a staple in my life for as long as I can remember.
Sitting down with staff from on and off the screen was a reality shock, to say the least. Our lovely guide and CNN staff member Anne McCarton led us through the ins and outs of the building, allowing us to work the cameras and discuss filming techniques with staff.
The dedication was hard to go unnoticed in the building, as we asked questions. Reporter Deborah Doft, discussed her demanding work life, having a suitcase by her desk at all times to prepare for impromptu flights wherever a news story may surface. Commitment, she said, was a necessity in a field like hers.
The correlations between the CNN building and our own magazine room back in Portland seemed obvious. Yes, our publication doesn't call for random flights across the country, but this intense system seemed to mirror the hard work Magazine calls for.
Leaving Warner Tower that Tuesday afternoon, I couldn't help but feel inspired. I know CNN is a farfetched career goal, but Grant Magazine is invariably a step in the right direction.
March 20, 2017 – A tour through Brooklyn brings important discussion
By Narain Dubey | Photo by Mako Barmon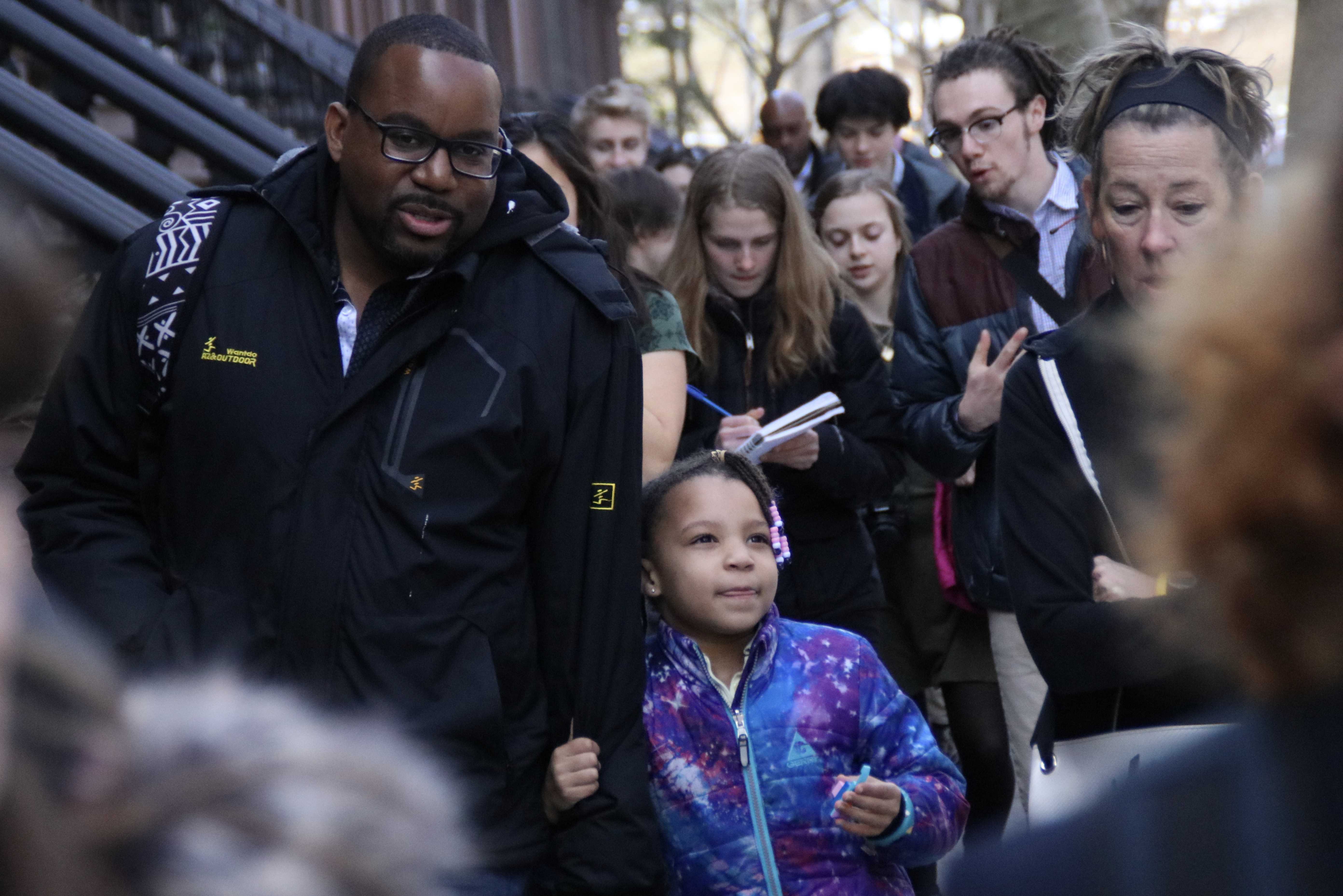 I am walking from Dumbo Kitchen with a chicken sandwich in hand, my coat tied on my waist. I move with a skip in my step, excited for the day to come. As we cross Grand Street, though, my feet stop beneath me. The tall skyscrapers and jaw-dropping architecture of New York City is brought to an abrupt halt. Instead, the streets are surrounded by dilapidated brick buildings. We had just entered a forgotten neighborhood: Vinegar Hill, in Brooklyn, New York.
Our meeting was with Faraji Hannah-Jones, at P.S. 307, a public school in Northern Brooklyn. The school was clean and renovated. However, Faraji explained to us that while the city had done great work to remodel the school, key issues remained unchanged: gentrification, and racism.
Faraji's talk took us through the neighborhood, where he told stories of how the increase in development was pushing families out. He told us about families that didn't even wait for the area to begin gentrifying – with the first talk of change, they packed their bags and fled to New Jersey.
A tour of Brooklyn, which I had thought would be simple and quick, had become an important discussion.
He told us that most white families chose to avoid P.S. 307, because despite top of the line materials and high-level teachers, the heavily African-American demographic was a deterrent: The under-enrolled P.S. 307 was still considered a "bad school".
I was shaken.
Almost instantaneously, I thought of home. Jefferson High School in Portland was facing the same low numbers as P.S. 307 was, and their demographics were twin-like. New apartments were popping up all around the city, pushing locals out.
It became apparent to me then that everything Faraji had explained to us – racism, property development, and poverty – was not singular to Brooklyn. Across the country, I was witnessing two worlds collide.
For me, this was a moment of inspiration and epiphany. It was a call to action. Gentrification is alive in Portland, Oregon, and around the country. I wasn't blind to it, but I didn't address it, either. I knew that I had discovered an opportunity to start making a change, and having an impact.
My whole experience with Faraji showed me that this New York trip, while complete with fun and team bonding, was so much more than a vacation. This trip, and our discussion about the gentrification of Brooklyn has opened my eyes to the responsibility we have as student journalists: to bring to light issues that are often shoved under the rug.
Writing and discussion has the ability to incite change, and this conversation with Faraji solidified the idea that we at Grant Magazine have the ability, and the duty, to make a difference.
To learn more about gentrification, visit grantmagazine.com/losing-alberta-gentrification
March 20, 2017 – Thinking About the Future at WK
By Julian Wyatt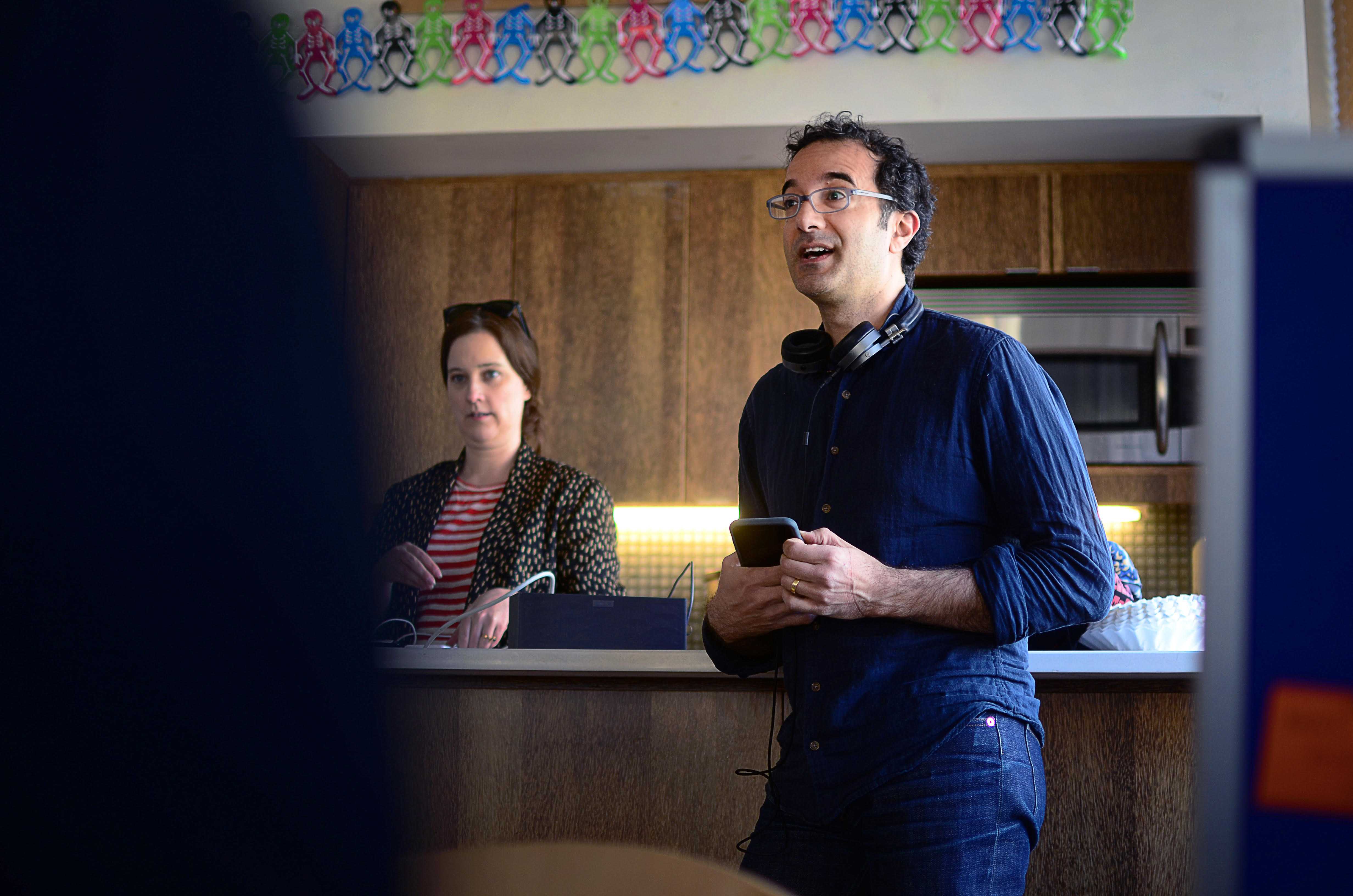 We ran through the streets of New York frantically, moving from our two closely scheduled appointments, WNYC to Wieden and Kennedy. I struggled to get my backpack, camera and notebook ready as we rushed through the revolving doors and into a tiny elevator.
Once in the building, we were sent into an upstairs "gym", as they called it. The room was scattered with weights, a punching bag, and a basketball hoop, but is often used for video shoots and other activities. In the center there were five chairs arranged into a line to face us, and a few WKNY speakers joined us for a Q & A session. Each speaker brought a certain expertise and represented a different branch of the company: the creative writer, media planner, account manager, finance worker and content producer.
As each speaker went around and explained their day to day experiences, I began to understand just how many working pieces are needed to run a design firm. At on point, the content producer talked about how it's ok to change your mind when pursuing a career, and how she had no idea that she'd be where she is today at 18 years old. This eased me of some stress as I've been grappling with the realities of the future involving college and career interests, and made me realize that I don't necessarily need to have it all figured out right now, but should still pursue my interests and see where it takes me. Doing layout and design for the magazine has helped me to gain experience and I hope to be able to continue to fuse my interests in arts and technology in the future.
As the session of Q & A came to an end, two of the tour guides flashed a video up on the wall. Upbeat music began to play and segments of WK commercials were strewn together to form a montage of clips, showing ads featuring sports legends like Michael Jordan and comedic actors like Will Ferrell. The film inspired me in a way, it reminded me of the possibilities of advertising and I gained a respect for the amount of creativity that is needed to produce content like that.
After the video ended, we began a tour around the large, multilevel office. We passed several couches, a wall of staff members as ceramic figures, and a bar with TV's while Drake music played throughout the workspace. We even visited an outdoor patio with a view of the One World Trade Center.
I really enjoyed the whole vibe of the WKNY office and the fact that it could be so casual while still being filled with hard workers. Knick-knacks and trinkets littered people's desks and it gave the place personality. Even though everyone seemed to be focused and hard at work, there were still areas like the gym, patio and bar where people could take breaks and come together as co-workers if they wished. I definitely could see myself working in an environment like this in the future with involvement in design and art, and if I'm lucky, maybe one day a mini, ceramic Julian Wyatt can stand amongst the others on the wall of staff members.
March 20, 2017 – Bridging New Connections
By Jessica Griepenberg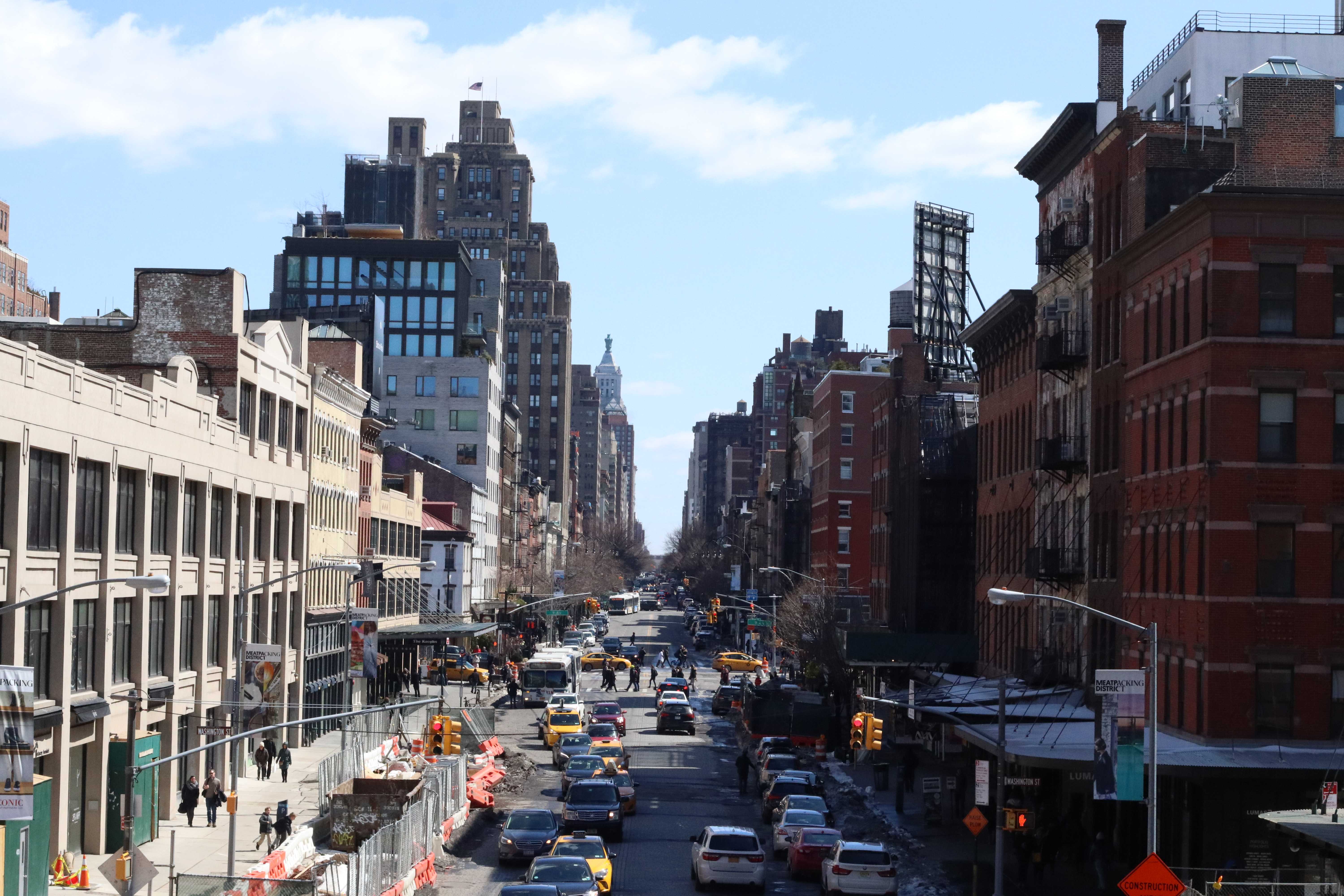 Though I'd only been there once before, I felt a sense of comfort and belonging when the Grant Magazine staff walked into the WNYC building. The break room a few stories up was cozy with its booths and big windows and it called to me with a warm familiarity.
I'd woken up that morning feeling sick, but my nausea was completely forgotten when Jad Abumrad, executive producer and host of WNYC's RadioLab, stepped into the room. When he began to talk, I was tempted to close my eyes and just listen; having spent hours with Abumrad's podcasts and hearing his voice play through my earbuds, it felt equally strange and amazing to see the man behind the voice standing a few feet away.
Abumrad's energy was calm but enthusiastic. You can tell he loves what he does and how he tells stories, describing an infinite amount of stories to tell as "the whole universe in a single blade of grass."
WNYC Public Radio, the New York affiliate for NPR, is so different from every other place we visit in New York each year. The atmosphere is a perfect balance of professional and casual. The people treat us like adults – it's easy to forget we're still in high school. The situations we discussed were relatable and I was able to connect with experiences reporters spoke about.
Radio hosts Sean Rameswaram and Kelsey Padgett filled the room with laughter when they spoke about failed first jobs and rejected ideas. My sense of belonging grew with every piece of advice given, every snippet of a podcast played.
Then reporters Kathy Tu and Tobin Low came by to chat about their upcoming podcast called "Nancy," a collection of stories from and about the LGBTQ+ community. Something in me clicked instantly. Having recently come out to my family and friends and my interest in podcasts growing steadily, this new show couldn't have felt more perfect. The minute they told us the release date, April 9th, 2017, the eagerness settled in.
To me, this wasn't just the announcement of a new podcast. "Nancy" is a chance for me to expand my knowledge of radio, a place for me to feel more connected to the LGBTQ+ community. It will bridge connections not only between myself and the journalists at WNYC, but also with parts of my identity I often feel uncertain about.
Walking back through the narrow hallways at WNYC, I could already imagine a career there in my future. I know I have a lot of work ahead of me if I wish to help continue and expand this part of the magazine next year as Blu Midyett, creator of both of Grant Magazine's podcasts, is graduating this June.
But I've never felt more inspired and eager to learn as I did walking out of that building and into the sun, the words of journalists echoing in my head.
March 19, 2017 –A step back in time: Visiting the 9/11 Memorial Museum
By Sophie Hauth | Photo by Mako Barmon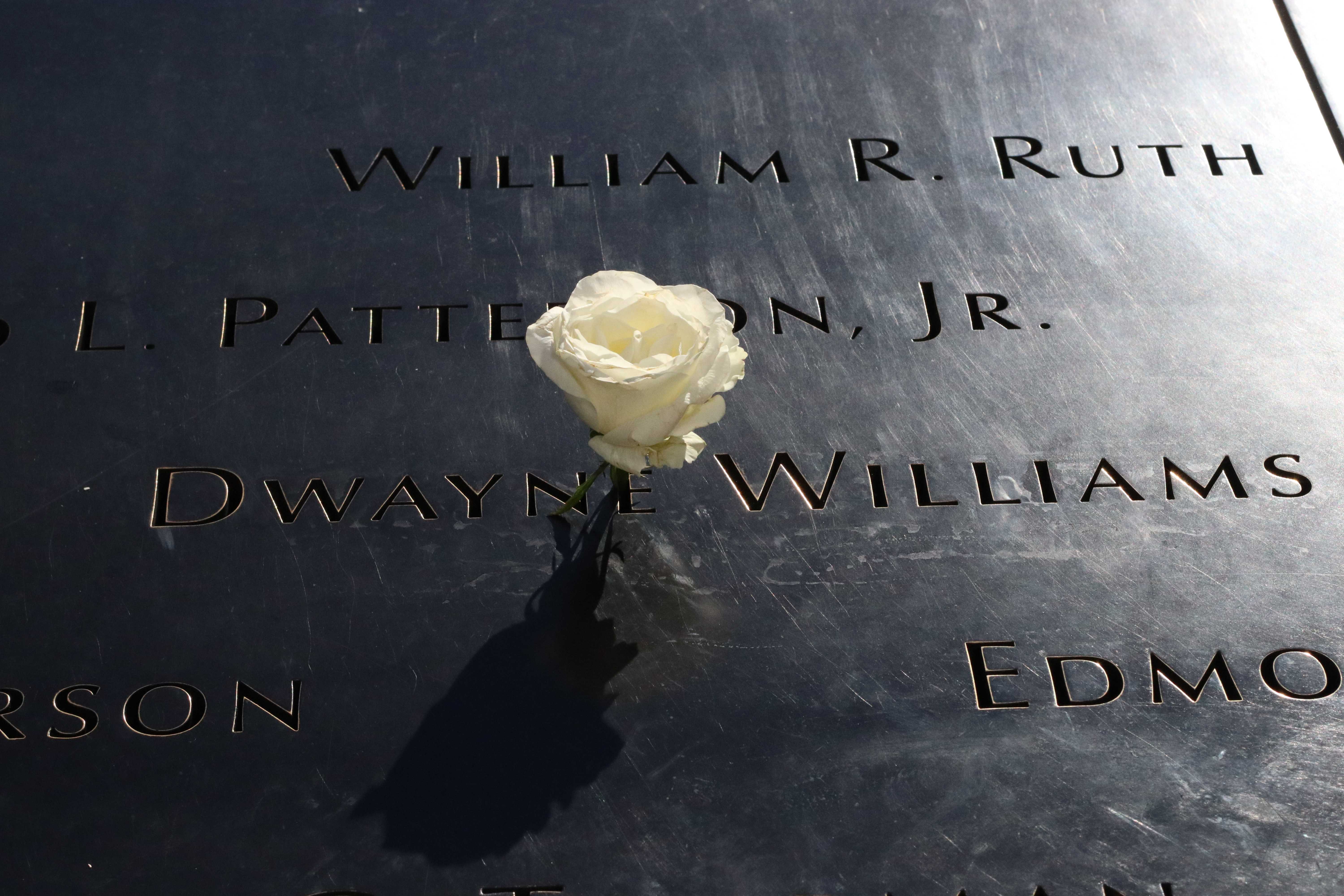 Our Sunday in New York was sunny and bright, with a chill in the air. Bundled up in coats and scarves, we spent the first part of the day visiting the Whitney Museum, taking a scenic walk, and eating lunch at a nearby market. Energy was high as we chatted, joked and took photos.  
But when we arrived at the 9/11 Memorial Museum, located where the original World Trade Center buildings once stood, the tone shifted. Conversations died out as soon as we reached the reflective pool, which is surrounded by engraved names of the nearly 3,000 people who perished on 9/11.  I stood silently and took the opportunity to think and reflect on the tragedy.
Going back to the museum this year was a different experience from when I went to the museum two years ago during my first Grant Magazine New York trip as a sophomore. I remember how the expansive museum seemed to mirror the trip as a whole: it was a little overwhelming. This time, though, I knew the museum well enough to know how to navigate it.  I made a beeline for the maze-like section in the middle of the museum, which includes a minute-to minute timeline from that day, testimonials from survivors and short movie screenings, among countless other exhibits.  I wandered each section purposefully – notebook in hand – attempting to take in everything I could in the two and a half hours we allotted to our visit. Truthfully, I could have spent an entire day there and still had more to see.  
What stood out to me the most were the artifacts, sealed in glass cases, that belonged to World Trade Center employees – some of whom made it out alive, others who didn't. A pair of high heels stained with blood. Typed documents ripped and burned on the edges. A metrocard identical to the ones I and my fellow magazine staffers carry in our wallets. These are just everyday objects, but they tell the story of the people who we lost.   
Once our visit ended and we prepared for our dinner excursion, my thoughts lingered on everything I had seen. Visiting the museum reminded me that it's my duty to keep the spirits alive of everyone we lost that day. I won't forget the panicked voicemails from the airplane's passengers or the tales of heroic firefighters who risked their lives to save those who were trapped in the building.  As I go forward, I know I'll always keep my memories of the museum with me.  
March 18, 2017 – Thank You Eddie
By Blu Midyett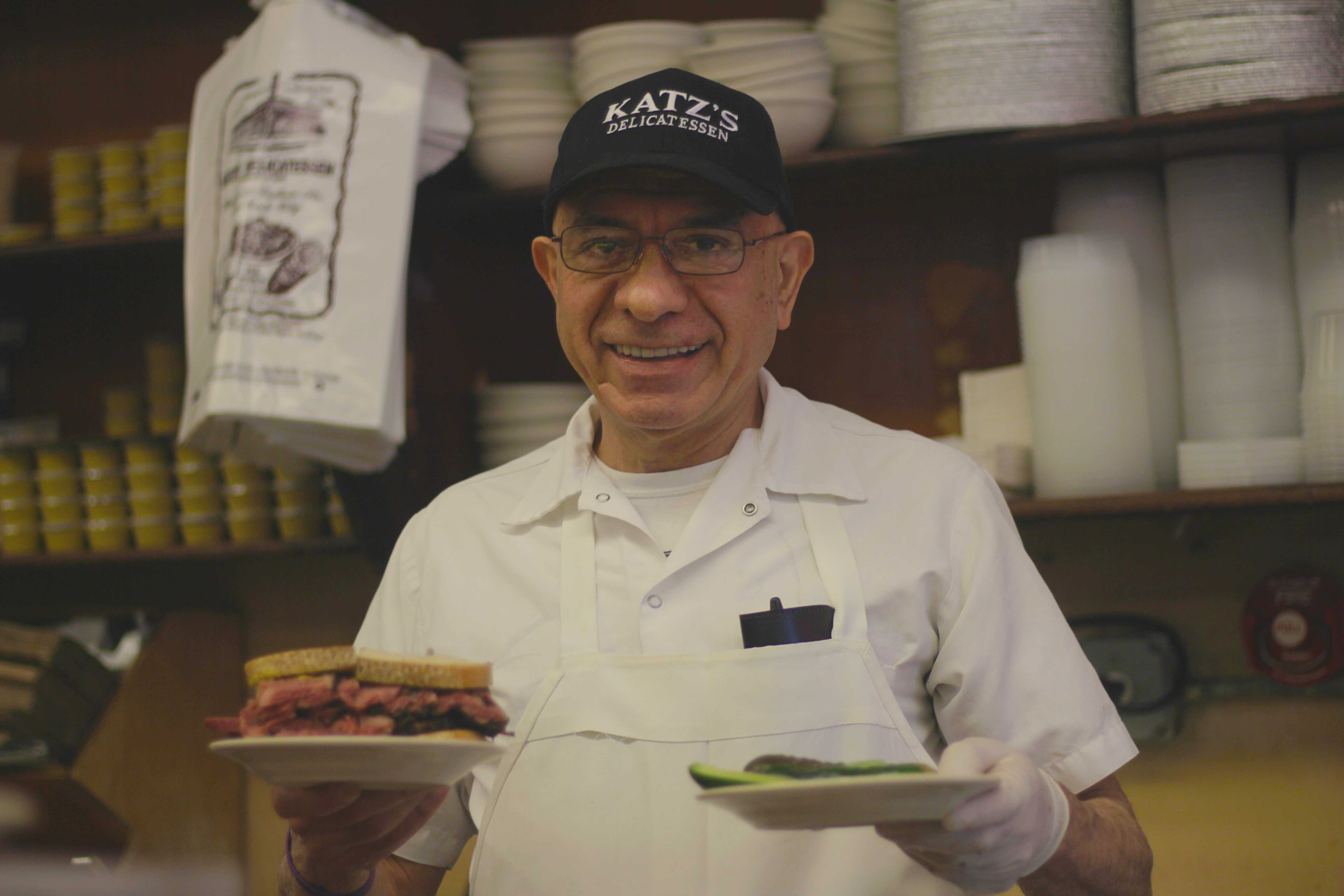 The moment had finally come: after fasting from breakfast and daydreaming for weeks, the Katz's Delicatessen lunch had arrived. When the class walked in we were met with a frenzy of yelling men trying to organize the food counter line, dish bussers shoving through the crowd and a mass of hungry and anxious people only comparable to the center of Times Square at its busiest hour. But for the esteemed pastrami sandwich that the shop had to offer, it was worth it.
I walked up to the counter and a man in his 60's or so wearing thin-wired glasses and a black 'Katz's Delicatessen' hat on his head, asked me what I wanted. I promptly told him that I would have a pastrami sandwich and a side of matzo ball soup, worried that any hesitation would be met with swift condemnation. He took a slab of hot black meat and sliced off four small pieces, revealing the succulent red inside, only to throw them away. The real Katz's secret was in this inner layer where the juiciest and most appetizing part of the pastrami hides away. I watched with gleaming eyes as he piled over two inches of meat on to a slice of rye bread and placed another slice with mustard on top, the two thin pieces looking like a cute garnish to a plate of meat. He threw some pickles on a separate plate and then held them up, smiled at me, and asked if I could take his picture. At first surprised that he had even noticed the camera dangling from my neck, I complied. "I'm writing a book about everything that happens here and I need some pictures for it … you could be famous one day," he told me. I snapped photo after photo as he posed with my food. Before I could leave he wrote down his phone number, his email and his Facebook name "Eddie 'Ruben' Romero".  "Send those to me, and don't you forget!" he said to me as I was walking off.
The food went down quickly, but the image of Eddie's smiling face asking for a picture did not. His cordial politeness was a pleasant reminder that New York City wasn't just all cut and dry. Even when I snapped more photos and the security yelled at me to go back to my table, Eddie looked up and asked if everything was okay. After four visits to the Big Apple I'd become quite used to the angry New Yorker behavior, but Eddie was a nice break from it. I learned that New York can have a gentle side and that gives me just the slightest bit of hope that I might find some more of that if I ever moved here in the future. Thanks Eddie, I won't forget.
March 17, 2017 – A Different Perspective
By Momoko Baker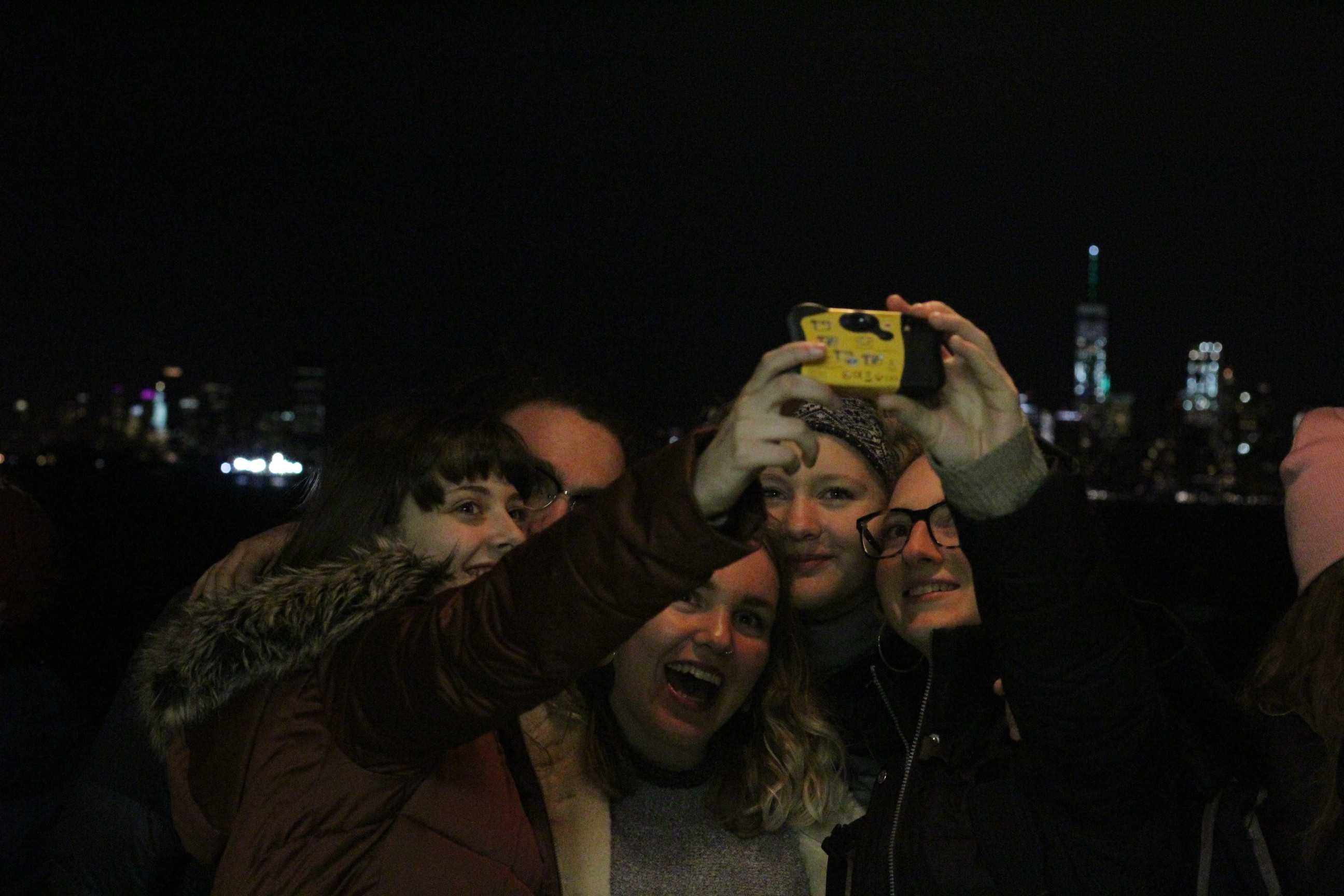 As I step foot onto The Staten Island Ferry, I take a sigh of relief. After a long and busy day accepting a Gold Crown Award at the Columbia Scholastic Press Association and attending journalism workshops, the ride gave us a chance to cool off.
This trip is my first time in the city that never sleeps. As someone who has never seen a city so big and bustling, I was overwhelmed by the scale. Even on the third day of the trip, the feeling of amazement never vanished. Looking up from below, the tops of skyscrapers were almost impossible to see, something I had never experienced before.
Watching the New York skyline grow smaller and smaller as we pulled away from the dock left me in awe. The skyscrapers that I had been craning my neck to see now spanned all across the horizon, covering more land than I could've imagined. Lights shone bright from the tall buildings, offering more light than even the stars.
Prior to the New York trip, most of my classmates knew me as a shy person, but the trip brought us closer together and gave me a sense of comfort among the group. The ferry ride gave me a chance to come out of my shell and really bond with my peers.
I remember when me and a few other Grant Magazine photographers made photos together inside the ferry, and discussed camera settings. Talking about our common interests and passions formed closer bonds between us that will hopefully carry on past this trip.
Seeing the city from this new perspective reinforced my idea that this was truly the city that never sleeps.  
March 17, 2017 – Going For The Gold
By Sarah Hamilton| Photo by Finn Hawley-Blue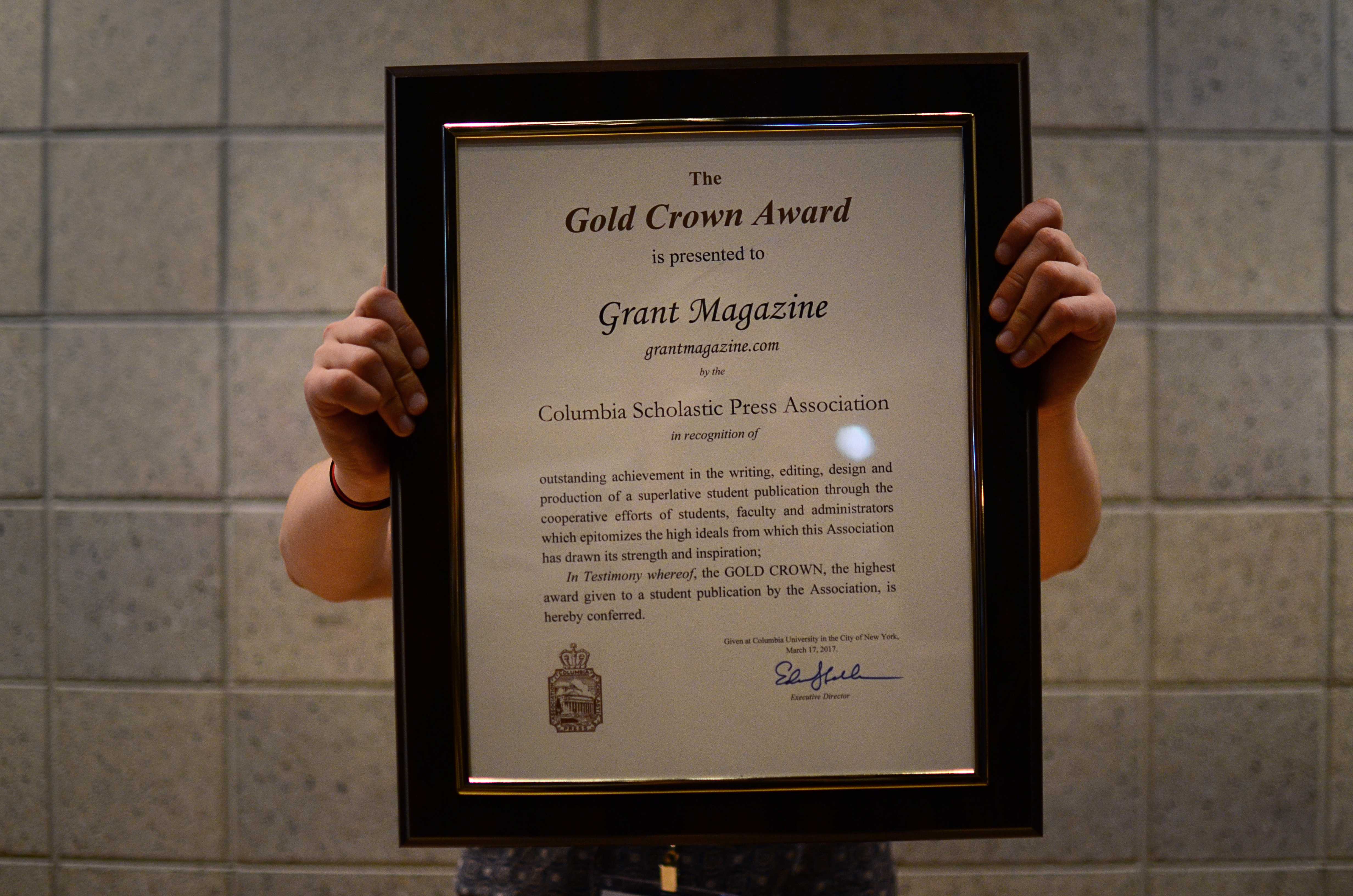 After a day of workshops on the Columbia University campus, the Grant Magazine staff and I filed into the Alfred Lerner Hall auditorium. This is our fourth year competing in the Columbia Scholastic Press Association's Scholastic Crown Awards, and so far we've brought home gold three times. The work we do in Grant Magazine isn't about receiving awards, but it always feels great to be recognized. The awards were given for the 2015-16 school year, and I was eager to see how the CSPA would receive the controversial topics we covered last year, from the N-Word to transgender issues. I hoped that we would be awarded for taking a stand and challenging norms. We took our seats and the room, filled with other student journalists from all around the country, came to a quiet.
CSPA Assistant Director Antonio Rodriguez took to the podium and began presenting the winners. When he got to the "G"s, we looked around at each other nervously. "To Grant Magazine, the hybrid news magazine of Grant High School…"
I hold my breath.
"… A gold crown."
The staff erupted with cheers, and I immediately felt a sense of relief. As I posed for a picture with the award with last years editors, some of whom are now freshmen in college in New York City, I could feel how powerful the team we've built over the years has become. But amidst all of this, there was still something missing.
Three weeks ago our adviser, Dave Austin, stepped down from the magazine to focus on his new job at the City of Portland. Every year on Grant Magazine presents new challenges, and with them opportunities to grow – but none of us expected this change.
If there's anything I've learned from Dave's mentorship, it's to keep moving and never allow yourself to be held down. Now, more than ever, Grant Magazine will be lead entirely by students. And because of the lessons the Dave has taught us and the profound talent and thoughtfulness I've seen this staff display, I know we will rise to the occasion.
March 16, 2017 – Inspiration from the 38th: Visiting The New Yorker
By Isabel Lickey | Photo by Finn Hawley-Blue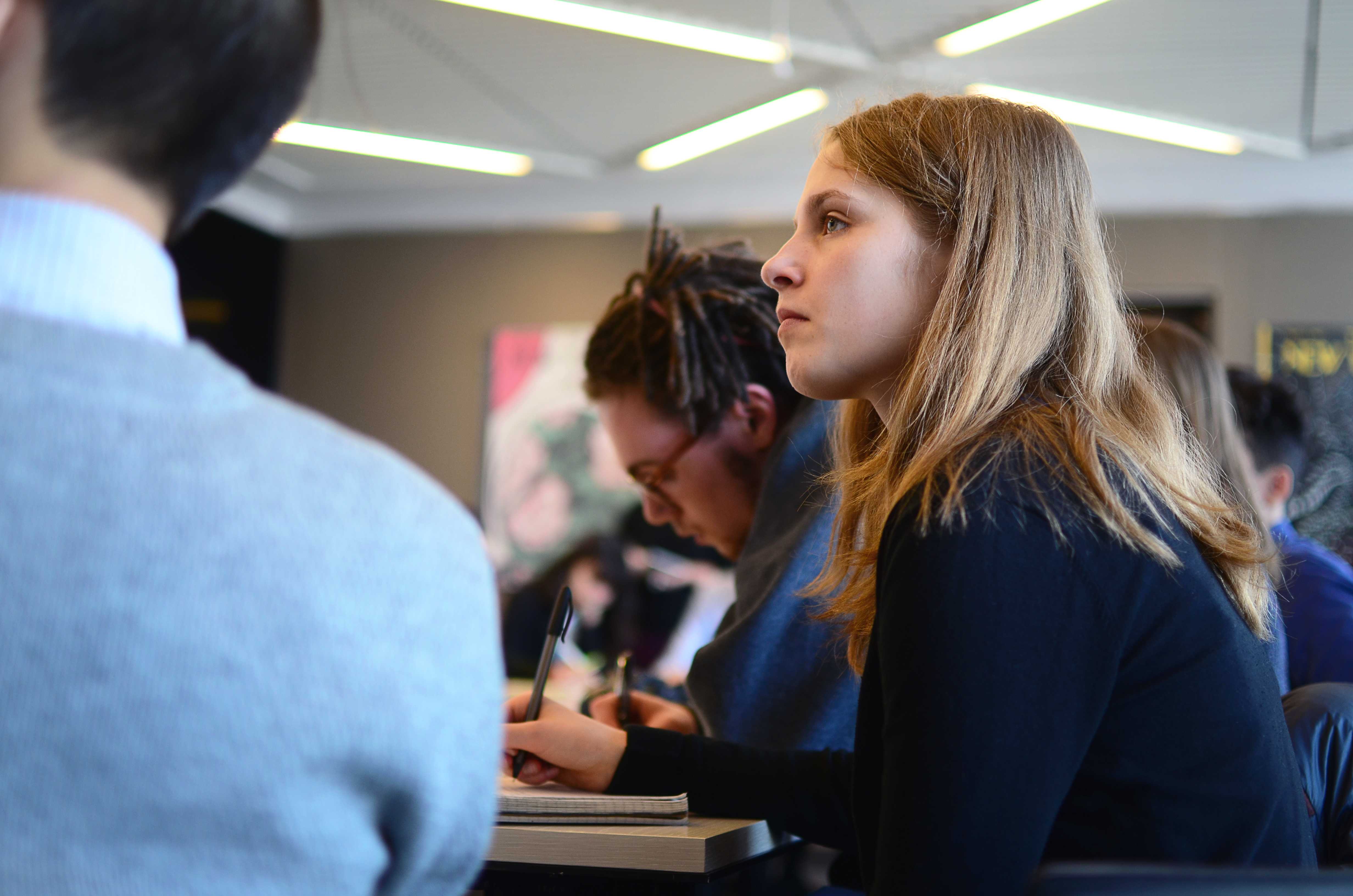 It took three elevators to bring all 22 staff members of Grant Magazine, and our four chaperones, to the 38th floor of the One World Trade Center, otherwise known as the The New Yorker office.
Sarah Larson, their roving cultural correspondent, greeted us warmly, setting the tone for the rest of the visit. She lead us on a brief tour of the office, decorated with old The New Yorker covers, and brightly lit by the floor-to-wall windows.
We settled into the conference room where, for the next two hours, journalists, videographers, editors, podcasters, and copy editors gave us tips about journalism.
Sitting there, I couldn't help but feel encouraged. It was a whirlwind, and by the time we left, almost three hours after we arrived, I was exhausted, but brimming with excitement. To see professional journalists at the top of their field talk about how they got to where they were made me confident that journalism is a career path I can follow.
More than listening to the staffers, seeing them writing, and editing, and designing inspired me to strive to their level. Their commitment and love for their job was hard to go unnoticed.
Journalism seems to be an unreachable career, but seeing those professional staffers made it seem like a goal, not a dream.
March 16, 2017 – From Teammates to Family
By Mackie Mallison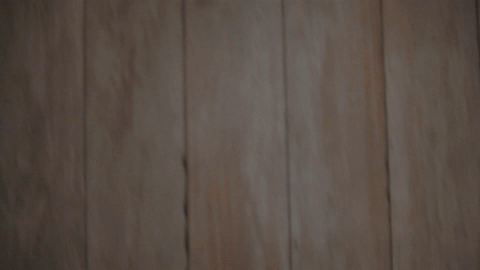 On our second night in New York, as we set off for dinner, I could feel the group finally start to settle in with each other. Smiles were wider, people were laughing amongst each other and the usual high tension of the team was nowhere to be seen.
During the hour-long journey to Chez Lucienne, a French restaurant located in Harlem, unexpected friendships started to form. I watched as people who usually only communicated through Grant Magazine work cracked jokes and confided in one another. This is always the part of the trip that I enjoy the most – seeing new relationships being born.
Sitting down at the long table placed in the middle of the restaurant I came in thinking it was time to wind down from a long day of traveling around the city, but it was the exact opposite. Whether it was Georgia vlogging her dinner or Finn drawing a portrait of Kana on the paper lying on top of the table, by the end everyone was in a state of laughter. We weren't just a team anymore, we were beginning to become a family.
Before this turning point in the trip, I could look to my left and see one group of people, closed off from the group of people closed off to my right. Up until this trip, the majority of Grant Magazine staff interactions were work-related. I found it awkward at first when I would try to go up to a teammate I rarely talked to and grasped to find topics to talk about that were aside from the work that we do. We would do late night excursions like our occasional Hotcake House runs as a team but hadn't gotten to know each other on a deeper level yet. This is just the beginning of the trip. I can't wait to see where this family goes.
March 15, 2017 – The Arrival
By Sydney Jones | Photo by Mako Barmon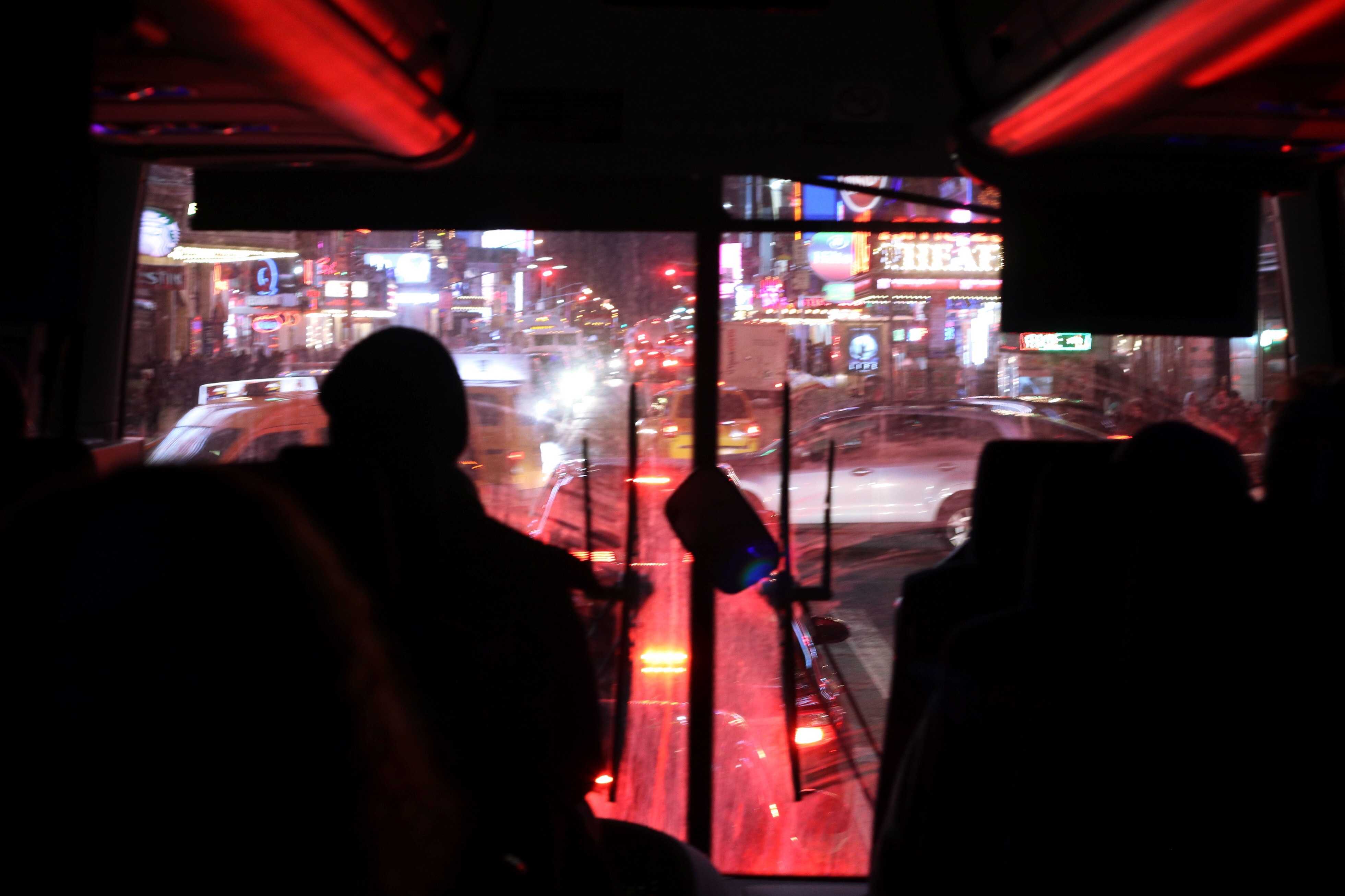 "Let's hear it for New York…New York, New York!"
We belt out the words to Alicia Key's Empire State of Mind as the coach bus drives down the freeway toward New York City. The 22 other Grant Mag staffers and I are staying in the city for the next week at the Marriott Marquis Hotel in Times Square. It's my first time in the Big Apple, and I couldn't be more excited.
The chaperones sit up front talking as everyone looks towards the city and Dylan Palmer sings out his best Whitney Houston-esque high notes.
My emotions are everywhere after the long travel day filled with layovers and flight delays, but anticipation takes over as I laugh along to jokes and crane my neck, hoping to get my first glance of New York out the window.
The first time we pass Times Square on the bus I stare at all the lights, buildings and late night energy, surrounded in snow, that I didn't know could come together in such an exhilarating yet chaotic combination.
As we go through our evening, getting into our hotel rooms and meeting back up before getting burgers at Shake Shack, my excitement continues to rise. But I realize the place isn't what has me most excited. While I'm thrilled to be in New York City, it doesn't compare to the amazing group of staff members I get to experience the trip with
I know our time in New York this year will bring us all closer than ever before. I look forward to this trip as a huge opportunity and consider myself beyond lucky to have these intelligent and fun people by my side through it all.