It's lunchtime. Paul Sanchez sits in front of nine students in a blue metal chair and strums a guitar he bought at a thrift shop for six bucks. The students in the class for medically fragile kids sit in their wheelchairs, staggered in a quarter-circle around the 58-year-old Sanchez as he plays an old folk song.
One girl bobs her head to the music. Another lifts her head and smiles ear to ear. Still another vocalizes, though without words, to the tune. As Sanchez cycles through refrains, he focuses on each student, customizing the lyrics to include each of their names.
He's here because he loves making a difference in the lives of some of Grant's most vulnerable students. "Some people think working with students with disabilities can be sad," he says. "That's a misconception. We laugh a lot in this class. There's a lot of joy in this class."
Sanchez has worked with the medically fragile class for two years. It consists of nine students who spend their days at Grant in a classroom tucked away in the school's northeast corner. They sit in wheelchairs and none of them can speak. Sanchez's job requires a caring heart and compassion.
Most of the students come to school from their home at the Providence Center for Medically Fragile Children. Unlike the majority of Grant students, they rarely see their parents. The only time the "general education" students see them is when they're wheeled from the bus down the hallway to their classroom. They return to Providence at the end of the day.
For Sanchez, a California native of mixed heritage, music is the best way to connect with the students. After experiencing prejudice as a child, being laid off from a job as an editor of a publication, being hit by a car on a music tour and waging a battle against sleep apnea, Sanchez finds solace in music.
Cindy Zrinyi, Sanchez's colleague, says he "has a really calming effect. He can engage the students. You can tell that he really, really cares."
Sanchez was born on Oct. 26, 1955 in Port Hueneme, Calif. His home was four blocks from the ocean. His mother was a first-generation Indian-American and his father was a first-generation Mexican-American.
Growing up, the prejudice Sanchez faced as a child was not new to the family. His father had faced racist taunts in a small California town just north of the Mexican border. His dad fought to end the segregation of a local movie theater, where people of color were forced to sit in the balcony. "He was a political guy," remembers Sanchez.
The Civil Rights movement was in full swing and Sanchez vividly remembers the day Martin Luther King Jr. was shot in 1968. A neighbor angrily marched into his house and asked what the big deal was. She didn't understand why everybody was so sad. Sanchez, who was seated on his living room couch, just remembers being appalled. "We were kind of shocked," says Sanchez. "We had never heard anybody talk like that."
When Sanchez was growing up, his parents always played music at home. His father loved to sing Mexican songs and play the guitar, while his mother favored pop songs.
His youngest brother, Kirk, remembers music being at the center of everything. "Our dad was always strumming things," Kirk Sanchez recalls. "He gave us all a sense of rhythm."
But Paul Sanchez especially inherited his father's musicality. One day, he was in the backseat of the car. "I was giving my own little concert to myself. Like I always did," he remembers.
Sanchez's mother, who was driving, turned around and exclaimed: "You're just like your father, always singing."
He wrote his first song in first grade. He remembers a friend of his older brother teaching him the notes on a toy piano. "I just took that and ran with it," he says.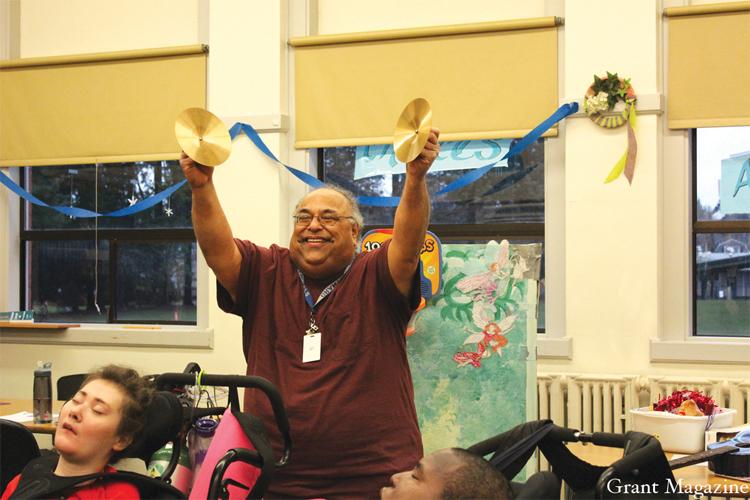 Aside from playing music constantly, Sanchez was a comic strip enthusiast. He would read "Mad" magazine and "Peanuts" comic strips wherever and whenever he could. When he wasn't sitting at home playing music or reading cartoons, he was out trying to make money with his siblings.
The family had sugar cane growing in the backyard and harvested it every year. The children would haul a wagon of their sugar cane around the neighborhood and try to sell it. Sanchez says the business was hardly lucrative.
Growing up, Paul Sanchez recalls being excluded often. He says he wasn't allowed to be on his school's newspaper because of his dark skin and his last name. He was also placed in lower level English classes because teachers just assumed he wasn't smart enough.
He remembers being given reading assignments in class. He would usually finish before everyone else because he was a fast reader. But instead of praising him, his teacher called him a liar. There was no way a Latino student could read faster than white students, the teacher implied.
He was even turned down when he tried to join the school choir. He brushed it off and continued playing music on his own. Every evening, he would return home and start fiddling with his piano or guitar. He wrote song lyrics to tunes in his head.
Every morning, Sanchez woke up and asked himself: "What am I going to sing today?" At school, Sanchez held his textbooks like a banjo, strumming them like Earl Scruggs, the master of bluegrass banjo.
"In school," he says, "I fell through the cracks. I was barely noticed by students and teachers at school. But at home, I had a very rich musical life. And that's what kept me afloat."
After high school, Sanchez attended Ventura Community College. Once when he was hitchhiking home from college, he was given a ride by someone who offered him advice about his future. "The person who gave me a ride home told me to major in journalism, that it was easy," Sanchez recalls. "I quickly learned that it wasn't."
He became editor of his school's newspaper while simultaneously working two other jobs at a McDonald's and as a janitor. But it was too much. "I just couldn't do it," he says. "I couldn't work until four in the morning and then expect to wake up for an eight o'clock science class."
He then transferred to California State University-Northridge, majoring in journalism and getting a minor in English. Music, though, continued to be a constant in his life. He took guitar lessons for eight weeks but they didn't matter because, as Sanchez remembers, "I had already taught myself everything."
When he began to play bluegrass with college classmates, he picked up the banjo. He frequently jammed with his friends and always took his guitar to school, something he had never done in high school for fear of being bullied.
While attending Northridge, Sanchez was able to combine his two favorite things – music and journalism – when he became an editor for a local folk music magazine.
He later took a job at the Ojai Valley Times as editor of the entertainment section. "It was a wonderful job," remembers Sanchez. "I interviewed artists, actors, musicians. Even Utah Phillips, who was an idol of mine."
But the happiness was short lived. After a year, his boss went on a tear, firing people left and right. At one point, he fired the newspaper's only photographer. Finally, it was Sanchez's turn.
But Sanchez still had his music. "Nobody could lay me off from writing music," he says.
That's when he decided to take his music to another level. He played wherever and whenever he could. He played small gigs at nursing homes, libraries and county fairs – any place that would let him perform.
After living on unemployment benefits for about six months, Sanchez found a maintenance job for the California State Parks system. "That was the perfect job," he says.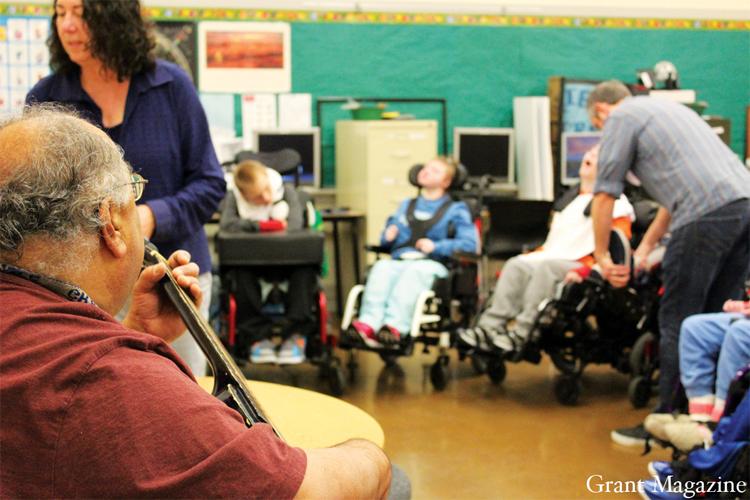 Every morning, Sanchez and his friends drove around the beaches before they started work. He remembers the blue ocean and the picturesque views. He liked being outside and especially loved his job.
Because the maintenance job was seasonal, Sanchez began working as a clerk at a public library. But he kept playing music. In 1984, as a librarian, Sanchez set up the biggest tour of his life. He performed in small venues across the country, showcasing his songwriting, guitar playing and vocals. But he never guessed the misfortune that was going to hit him next.
Early in his tour, while he was walking down the side of a street in Arkansas, a car came from behind and hit Sanchez on his left side. The driver sped off but was caught later after hitting several other people.
Sanchez was immediately taken to the hospital in an ambulance. His left foot was broken. He remembers when all his doctors left the room and he started singing. He immediately felt better.
His tour was over and he had to use crutches for a few weeks and go to physical therapy. The real injury, Sanchez reasoned, was that "the accident made me afraid to ever travel again."
Kirk Sanchez remembers driving from California to Arkansas to pick up his brother. "He was very gracious to everyone who helped him out. The doctors, even the person who hit him," Kirk Sanchez recalls.
Paul Sanchez didn't go on another tour for seven years.
He started working as a teacher's aide in the Ventura County Public Schools system in 1990. Two years later, he released his first album, titled "Home By Morning." He enjoyed little financial success but never let that get him down.
"That's the most rewarding part of my job. The students love it." – Paul Sanchez
After being reassigned to new schools at the end of his first three school years, Sanchez wanted stability. A friend recommended teaching students with disabilities. A position opened up in nearby Oxnard, Calif., and Sanchez decided to be a substitute for the special education class.
He loved working with students with disabilities. He was happy at work every day and realized it might be something he could do for the rest of his life.
Meanwhile in 1998, he released another album, titled "Yesterday's Clothes." He later moved to Austin, Texas, where he continued to teach. But his health started deteriorating.
In Austin, he began to feel depressed, like he didn't have control of his own body. Sanchez went to see his doctor, who diagnosed him with sleep apnea, a disorder often characterized by long pauses in breathing during sleep.
He began using a CPAP machine, which helps regulate breathing, and felt much better. "It's become my best friend," says Sanchez.
He released another album, called "Long Story Short," in 2003. Three years later, he moved to Portland for "change's sake." His younger brother had recently moved to Portland and Sanchez wanted to be near the family, which had recently welcomed a daughter.
He found an apartment near Mount Tabor in Southeast Portland and applied to Portland Public Schools to become a substitute teacher. He landed a stable job at the Community Transition Program, a program for 18- to 21-year-olds with disabilities. Four years later, he ended up at Grant in the special education program. He fit in immediately.
Sanchez has been impressed with Grant's student population since day one, especially with the general students' respect toward those with disabilities. "It's nothing like my high school experience," he says.
He helps his students into school every morning after eating granola in his car. After "morning circle," where the students hear about the weather and usher in the new day, they play games, read books and sing songs.
Cindy Zrinyi, the lead teacher in the class for medically fragile students, also sings to the students. Before Sanchez came to Grant three years ago, Zrinyi had only Monday, Tuesday and Friday songs. "For my birthday three years ago," she says, Sanchez "wrote a Wednesday and a Thursday song."
His favorite part of the day is lunchtime because he gets to play guitar for his students. Zrinyi adds: "Most students are visually impaired and many students respond to music. Some of the students will smile, some will vocalize, some will move their bodies. Music is a perfect way to touch them."
It's the perfect playing field for Sanchez. He knows the students can't fully express their emotions, but through their limited movements he can tell the music he's playing is stimulating them. He trusts them as an audience.
"If I could, I'd get a degree in musical therapy," he says. "That's the most rewarding part of my job. The students love it. I write songs to play for the class. I play birthday songs for students and staff members. It's not like I don't trust anybody… but it's the only thing I can trust."
When Sanchez sits down to write the lyrics to a song, he has no music playing, just a pen and pad of paper. "I usually check into my inner iPod," he says. "I'll have a few words, a phrase or something I've thought of during the day."
His songs aren't about just anything. His friend, Matt Meighan, who is also a professional songwriter and singer, says: "His songs are very real. He's not just writing on the surface. It's stuff that actually matters to him. He really puts himself into the music."
Sanchez's brother agrees. "He writes a lot of songs about the struggle, because everybody has their own," Kirk Sanchez says. "He sees the injustice in the world and writes songs about those people who are less privileged."
At a recent performance at Artichoke Music in Southeast Portland, Paul Sanchez takes the stage. The lights are dim. About 60 people sit and listen as Sanchez strums his guitar and sings his own folk song. It's a tune he wrote himself.
I am not an orphan
I am not an orphan
I am not an orphan in this world
Though my mom and dad are gone
And I'm left to carry on
I am not an orphan in this world
"Music is magic to me," he says. "I don't know if I would have reason to live without it." ♦