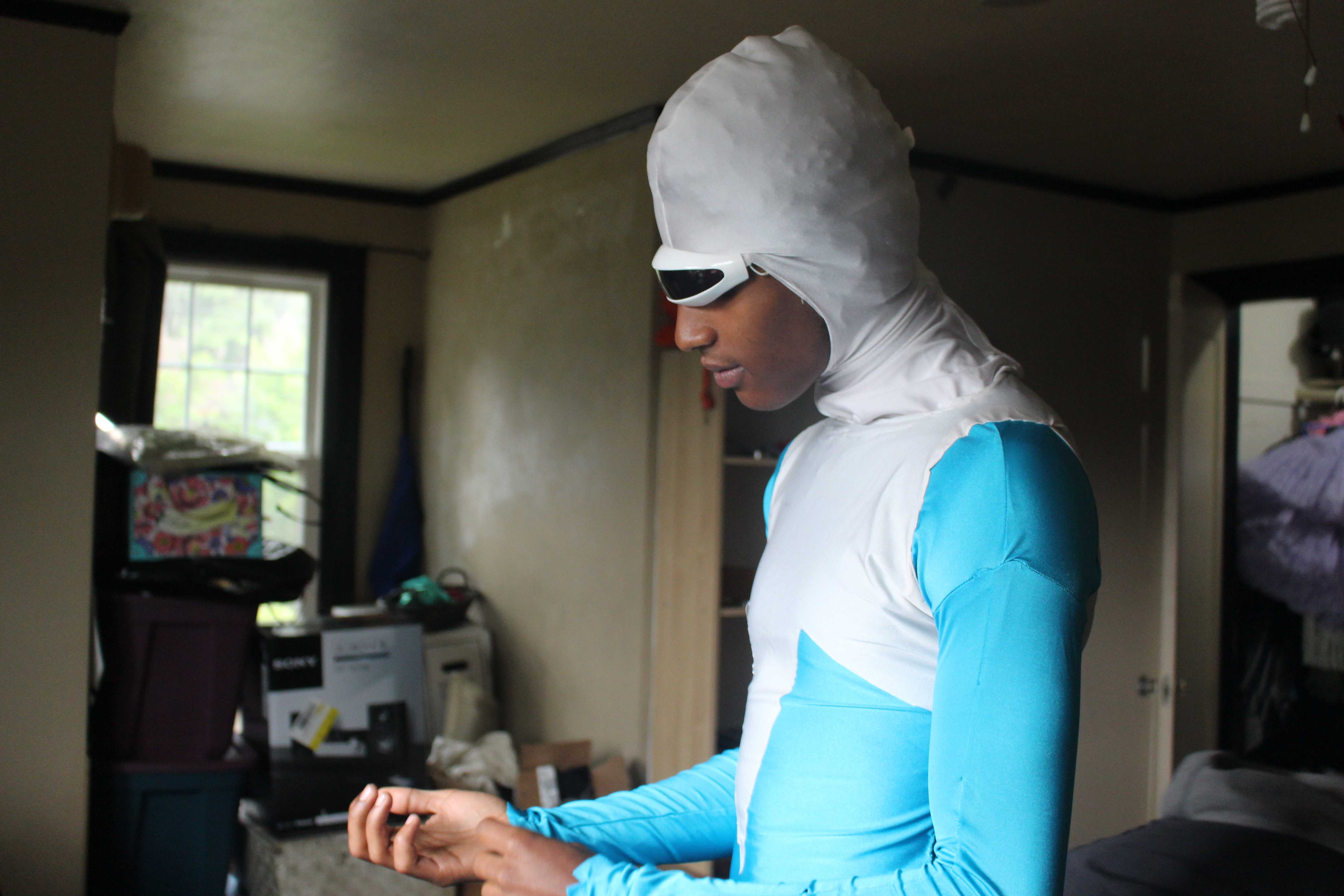 Kusaiyah Gibson adjusts the sleeve on his costume based off Frozone of Disney's Incredibles. He's in a room on the second floor of his home dubbed the "War Room." "It's just where we make all of our stuff and we have totes of costumes and sewing machines. In the corner there's 10 cardboard boxes full of thousands of comics."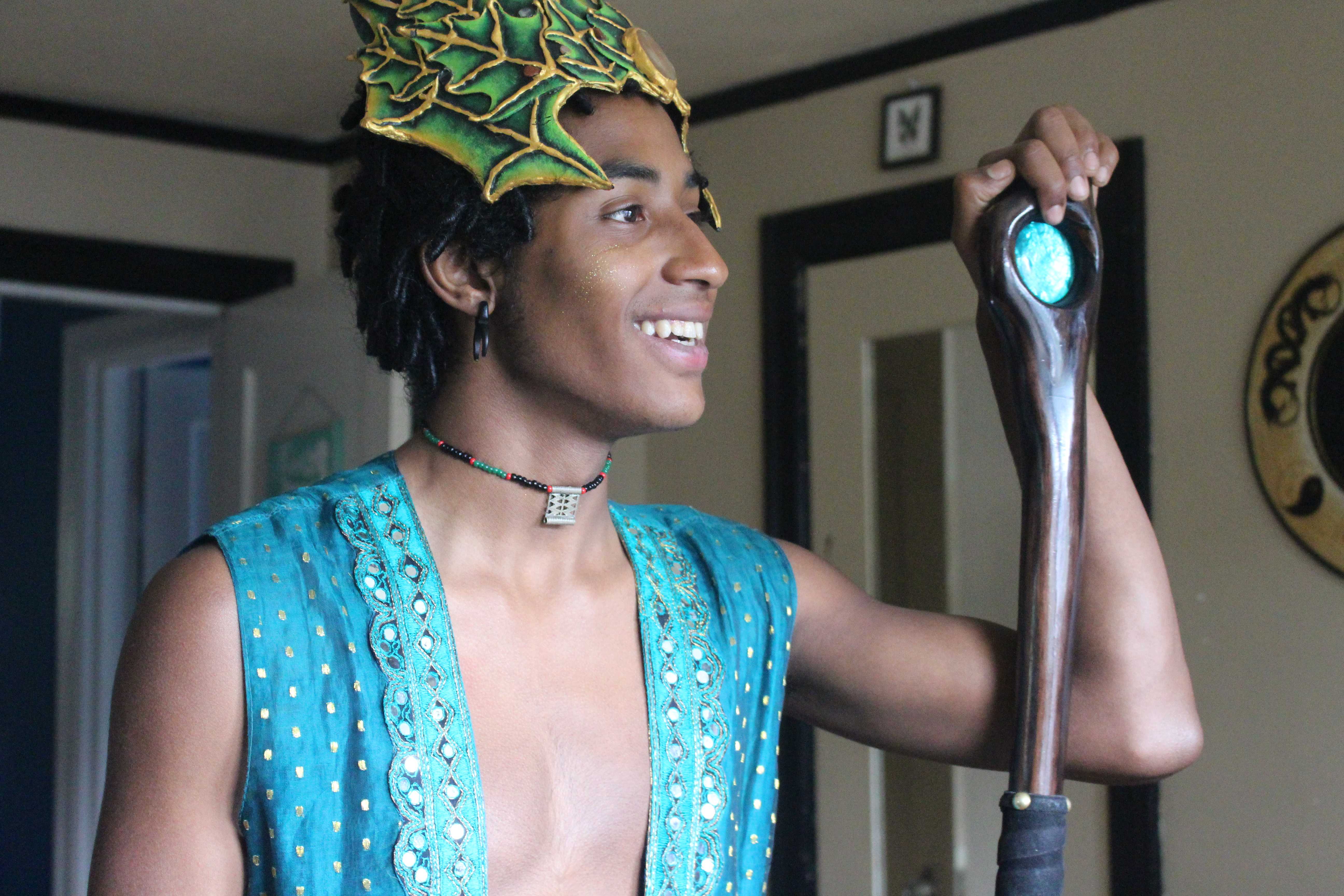 Gibson models a costume that he made for an event he went to at Peninsula Park. "I want to be able to visualize actually being that character. These are fantastical beings ... we're just humans but in these instances I get to be a different person and at the same time be myself," he says.
Kusaiyah Gibson sits on the edge of a pool, arms propping him up on a small platform. In front of him, a long shimmery gold tail replaces where his legs would be. He turns to smile at his mother, whose own tail glints in the afternoon sun, as small kids and adults walk by and gawk. "I am so comfortable right now," he thinks to himself.
It's September 2015, and Gibson and his mother are at the Faerie World Festival in North Plains, Ore. While such an event might be foreign to some, for Gibson and his family, it is nothing out of the ordinary.
Raised by two parents who are self-described nerds, Gibson grew up reading comic books and graphic novels while most of his peers were out playing sports. "Part of the reason I'm so nerdy is because of my parents," he says. "They have always been a part of my life (with) nerd culture."
As a family, the Gibsons have spent the last 7 years traveling to different cosplay conventions and festivals throughout the Northwest. "It's our family trip," says Gibson's older sister, Shona Curtis. "People take trips to the Bahamas, but we take trips to Comic Con."
For Gibson, cosplay – a subculture where people dress up as fictional characters – is an opportunity to bond with his family and others over shared interests that aren't historically representative of minority communities.
"If you don't see characters or different things to attach or relate to," he says, "then it kind of makes it harder to live in the rest of the world because you don't have something to anchor yourself to or to build off of."
Gibson's parents recognize the added weight that comes with being one of the only families of color participating in the cosplay conventions. "I feel like it's really important for us to be out there, not just for us, but for everybody," says Thandiwe Gibson, Kusaiyah's mother.
Her husband, Anthony Gibson, adds: "It's interesting, especially being a person of color being into (cosplay)…How represented are we in these comics and in the industry? What pool do you have to pull from that you can identify with?…There's the Blades and the Storms and the Icons and the Static Shocks."
"That type of representation helps, not only for us – people of color – but for people in general, because it gives them a positive representation, something besides stereotypes,  so that when they see us…it's not this thug image people have or this negative, poor image people have."
While Gibson shares his parent's views, he says he tries to focus on the parts of cosplay that he loves most: being in costume and bonding over characters with other cosplayers. "Instead of concentrating on the fact that I'm not surrounded by people of color," he says, "I'm surrounded by nerds…which I'm also not surrounded by…all the time. I get to look at it like that and have fun."
Kusaiyah Gibson was born March 18, 1998, in Oakland, Calif. His parents met through a mutual friend and were drawn to each other because of their shared interest in nerd culture.
When Gibson was 6 years old, his family moved to Portland to follow his mother's job. He attended Winterhaven School in Southeast Portland before transferring to Alameda Elementary School in third grade.
Immediately, he stood out from his peers. While most kids spent their afternoons being shuttled from soccer games to basketball practices, Gibson could be found reading a comic book in his room or researching a scientific theory. "When everyone asked, 'What do you want to be when you grow up?' I was like, 'I want to be a zoologist,'" says Gibson. "Of the first 12 years of my life, the only thing I ever wanted to be was something that ended with 'ologist.'"
From a young age Gibson's parents encouraged him to explore their extensive comic collections in hopes that he would one day share their passion. As he grew older, his love for science and reading only intensified.
During the summers, Gibson attended camps at the Oregon Museum of Science and Industry, eager to learn all he could about how the world works and other scientific methods. But, he says, those activities often came with a cost.
More often than not, Gibson found himself as the only person of color in camps and activities related to his interests. "Since I was young, no matter what activity I was into, I was the only black kid," says Gibson. "I just kind of did my thing at home, and I didn't really need friends to talk about it with because I had my family."
In 2011, Gibson says he found his niche for the first time. One summer morning, Thandiwe Gibson decided to bring her family to the annual Portland Pirate Festival in the St. Johns neighborhood. Walking in, Gibson saw hundreds of people dressed in intricate pirate costumes. Sailors slashed at each other with swords, people laughed as they toasted to a good day and in the harbor, gigantic ships blasted their cannons.
Gibson enjoyed his time at the festival but something didn't quite click. "I didn't feel that a pirate was the right fit," he says now. "Whenever I dress up for something, I want to feel a connection to it. I don't just want to put something on just because it looks cool." 
When his family returned home from the festival, Gibson wasn't as excited as his mother had hoped he would be. Fearing that she was losing his interest, Thandiwe Gibson encouraged her son to look up 'Steampunk' (a subgenre of science fiction) on the Internet.                                                                                                                  
He says what he found changed his life. "The first image on Google I saw was this black guy with this vest," says Gibson. "He had the old doctor look; the vest had super interesting patterns…and I was just enraptured by this picture. The fact that it was a black guy first just solidified me wanting to do this…it made me want to represent this community."
Gibson immediately began designing his own costume to wear to the next year's festival. He broke apart an old clock and superglued the gears to a hat, which still sits on a shelf in his room. Later, Gibson went thrift shopping and convinced his mom to buy a $50 vintage red vest to complete the look. Then he spray-painted an old Nerf gun to match his aesthetic.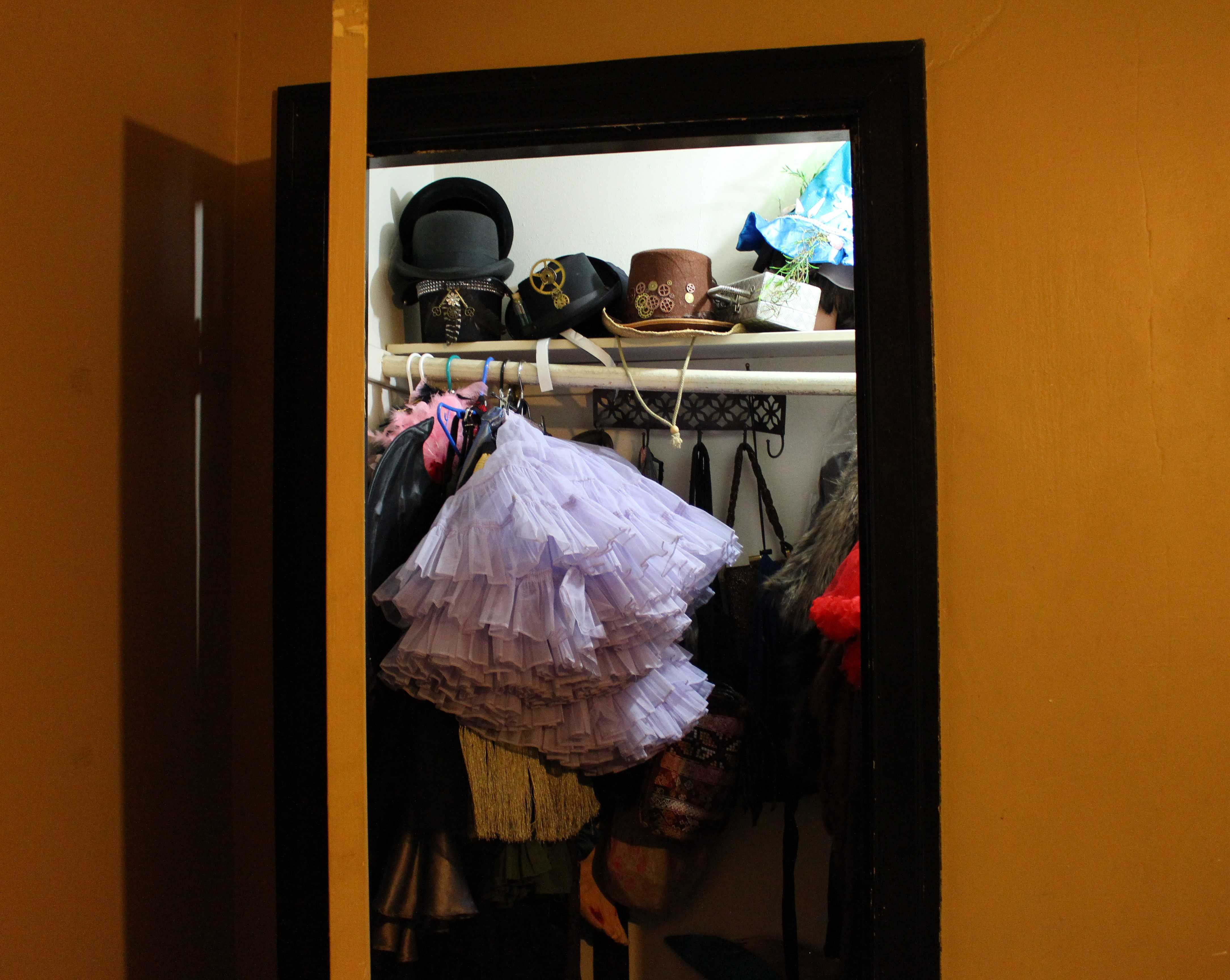 Since then, Gibson has made nearly all of his own costumes. His mother is proud of the way he has embraced the cosplay community. "With Kusaiyah, I think he's taking it to a completely different level," Thandiwe Gibson says. "I see him, and he can make his own character so easily, and it jumps boundaries…He does direct himself towards brown characters, but he's more into making his own thing,  and that kind of transcends what I'm doing, which is beautiful."
Each year, the Gibsons make an effort to attend at least two comic conventions, including the Rose City Comic Con, which takes place in Portland, and the Emerald City Comicon in Seattle.
Thandiwe Gibson says that over the years, cosplay has helped her family grow closer. "It's just a way to keep us together," she says. "When you've got on a costume, you are that person inside of you. We all have superheroes inside of us, and for all our family to express those people is really empowering. That's something we'll have forever."
Though Kusaiyah Gibson enjoys cosplay, he knows it won't be a lucrative future career. Instead, he wants to channel his love of reading into becoming an English teacher. "I really want kids to read more because kids don't read enough," says Gibson. "I want to get good books and have great discussions. English just feels like the perfect thing for me to be doing."
Still, Gibson knows that cosplay will always be a part of his life. And he says he feels charged to be the sort of figure he rarely saw reading comic books or going to conventions growing up. "If you don't feel represented, then you don't feel like what's important to you is being put out there," he says. "I want to be someone who, especially for people of color, can identify with and be a role model. Someone where they can see that it's OK to be nerdy and it's OK to like books; you can get by with that." ◊