As 14-year-old Jesse Quarum steps up to the chalk bucket, he listens to his coach's advice: "You got this, you've done it before, you can do it again."
Quarum runs it through his head one last time, shuts everything and everyone out, and prepares himself. "I don't remember anything after I salute the judge until I land my dismount," he says.
Just days before his first day of high school, Quarum was halfway across the world, competing in a gymnastics competition in Sapporo, Japan.
While many teenagers spend their time after school playing video games, hanging out with friends or avoiding their homework as long as they can, Quarum spends his after-school hours training at the Multnomah Athletic Club. It's a tough commitment, but Quarum can handle it. His earlier experiences with Taekwondo taught him discipline, a value he applies to his life today.
At the age of five, Quarum began Taekwondo at the U.S. West Coast Taekwondo Association. "I was really into fighting, like Power Rangers and ninja stuff," he admits.
His mother decided to sign him up for a Taekwondo class with his two sisters, just to try it out. Quarum enjoyed the class and decided to continue in the program for the next five years, eventually earning his black belt by the age of ten. "I wouldn't be training at this high of a level in gymnastics if it wasn't for Taekwondo," he says.
Quarum appreciates the discipline, respect and commitment that the martial art instilled in him.
He later applied those values toward his training in gymnastics.
When Quarum first began gymnastics, he was ten. Hoping to learn to do a back flip, he was trying out a recreational tumbling class at the Multnomah Athletic Club. But while the class taught him new tricks, Quarum wanted more of a challenge, so he tried out for the competitive gymnastics team.
He made it and began his competitive training at level four, the first level of competition, in fifth grade. He quickly fell in love with the sport, giving up Taekwondo to focus more on gymnastics.
By the time he entered St. Steven's Academy in seventh grade, Quarum was spending 12 hours a week at practice. He left school early most days to get to practice but eventually found it hard to keep up with the curriculum. Quarum chose to scale back his training rather than continue missing school.
Today, a freshman at Grant, Quarum still tries to find a balance between gymnastics and school.
Switching to a public school after years in private school, Quarum says that he hasn't really noticed a difference. "It's a lot bigger, but I wanted the new adventure and new experiences," he explains.
Quarum is a member of Grant's Symphonic Band and Jazz Lab, where he plays the drums and is a percussionist. He has played the drums for five years.
Jeremiah Wicks, Quarum's good friend of six years, says, "He's really into drumming. Once we were talking and he said, 'I have to go practice drums for like two hours. It's not what I want to do, I just have to.' When he finds something he really likes and he's into it, he'll succeed."
Quarum's other hobbies include long boarding, playing video games and spending time with friends. For the most part however, he fills his extra hours with rest: "Outside of gymnastics, I mostly eat and sleep. It's great!" Quarum jokes.
But he doesn't have much free time outside of gymnastics. In fact, he spent ten days competing in a gymnastics meet this September, sacrificing the last days of his summer vacation and missing the first week of school.
The trip was "an excuse to visit Japan," says Rob Saliski, Quarum's coach, "and a chance for the athletes to immerse themselves in a different culture."
Quarum completely embraced the opportunity. Saliski recalls an instance during a break in between events: "There was this raised track, and all of the kids were sitting there with their own teams. Then I noticed a row of like 20 Japanese gymnasts, and there was Jesse, right in the middle of all of them, barely able to communicate, but really trying to get to know them."
Quarum jokes: "It was charades and Google Translate all week."
While competition season is typically January through May, Quarum performed and competed like he would during the normal season.
"Jesse did phenomenal," recalls Saliski.
Quarum competed in pommel horse, vault, high bar, and floor, earning first place for his all around age group – his first international win. "It felt pretty good," he recalls. "I didn't think I was going to win."
Back at home, powdered chalk drifts in the air as gymnasts ranging from five to 18 years old crowd the gym, lining up for drills from their coaches or flipping powerfully through the air. The gleaming wooden floors are buried under layers of tumbling mats, a bright red spring floor and other scattered equipment. Quarum spends four hours a day, five days a week training here.
This year, Quarum is a level nine gymnast. His current favorite move, a back full, consists of a complicated sequence of skills: a round off leading into a back handspring, followed by a back lay off with a full twist.
"There's a lot of crazy things you can do in gymnastics," says Saliski. "It's a dangerous sport."
A few years ago, Quarum hit an obstacle: he smashed his toes on the high bar as he was letting go, attempting a dismount. The experience left him scared and uncertain if he would be able to do the trick again. "I psyched myself out," Quarum says.
No matter how hard he tried, he was unable to do a dismount for a year, and he grew frustrated with himself.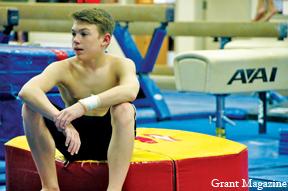 His coach remembers Quarum's approach: "Despite his fear, he was willing to take a step back, erase the skill, and start all over again. He never gave up, and he never stopped. The way he approached it and attacked it was awesome. Now he does it better than he did before."
"It's the best feeling when you get a trick down, after all the hard work and hours that you put into learning it," says Quarum.
Quarum's love for the sport is what pushes him to continue gymnastics. He enjoys the challenge and the level of discipline he's learned from it: "You always have to have your 'A-Game' or bad habits can form," he says. While gymnastics can be demanding and at times painful, Quarum never fails to have a positive attitude.
"Jesse's always working hard," says Michael Smith, Quarum's teammate of two years, "and he's always pretty happy."
Though Quarum gave up Taekwondo years ago, he has recently decided to pick up the martial art again. With his busy schedule, he's only able to train on Saturday mornings, saying, "I'm just doing it for fun. Gymnastics is still my highest priority."
His older sister, Savannah, is a senior at St. Steven's Academy. She admires her brother's work ethic. "The discipline he's learned from Taekwondo and gymnastics has helped him in all aspects of life, especially school," she says.
Quarum's hard work has paid off; he has won both State and Regional's three times for his age group, along with numerous other gymnastics competitions, and has been selected to represent the Portland area in Japan twice.
As for ultimate goals through gymnastics, Quarum hopes to compete in the Olympics some day. His mother reminds him: "Every four years there are the Olympics. Every four years somebody has to go, so why not you? You have as good of a chance as anybody else."
"I have a long way to go," he says, "and a lot of time for training before I get there." ♦