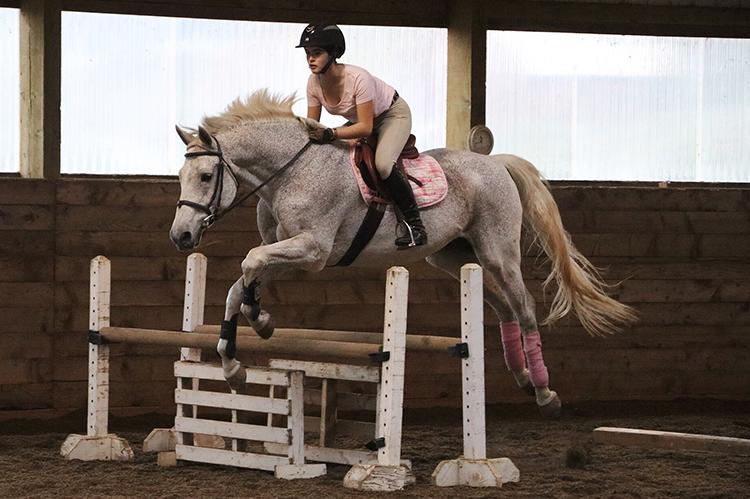 McDonald rides her horse, Styles, four times a week at Savin Hill Farms. This year, McDonald plans on travelling to Canada to compete in the West Coast Classic. She is currently 9th ranked in Oregon for her division.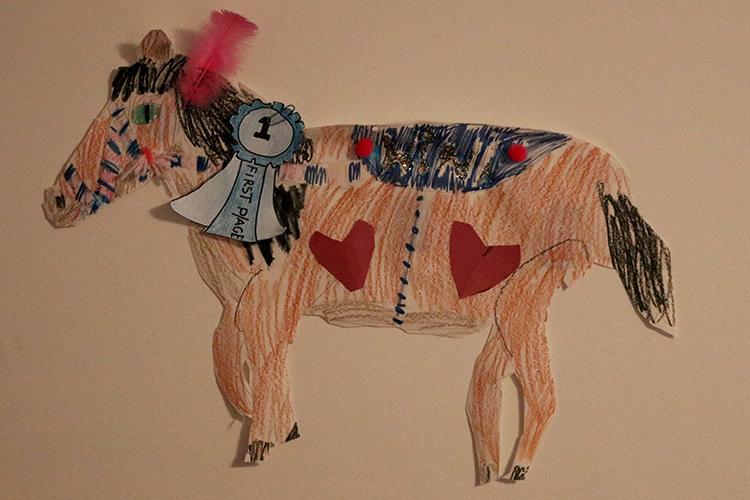 A drawing of Secretariat McDonald gave to her mother after she was diagnosed with breast cancer. McDonald's mother, Lora Looney keeps it in her room.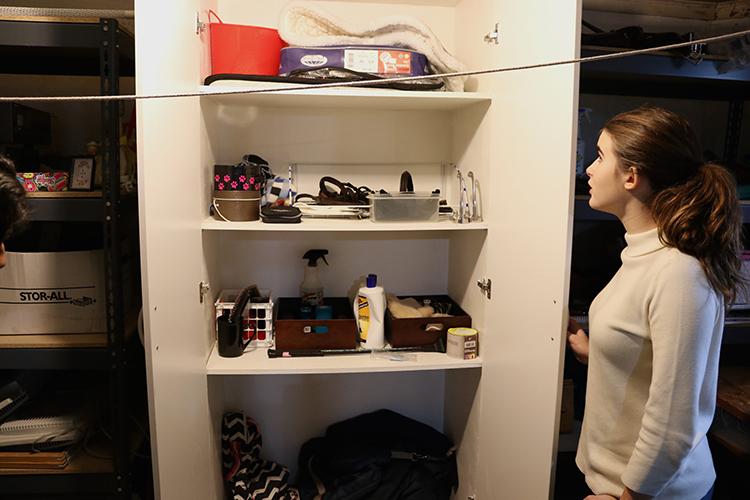 McDonald owns many instrument to help take care of Styles as well as his saddle and reins.
Grant freshman Helen McDonald furrows her brow as she prepares to jump over a two-and-a-half foot fence on her horse, Styles. "It all comes down to these last few jumps," McDonald thinks. "Focus."
She keeps an even pace, carefully timing each of Styles' steps. Counting those steps is imperative to success in competitions. The wind rushes against her face, and her heart beats quickly as she approaches the fence.
McDonald knows her mom is among the spectators and hopes that she can make her proud. "I know someone is going to have something nice to say when I'm done," McDonald says. "It's better when she's there."
When her mother was diagnosed with breast cancer in 2011, McDonald started horseback riding as a way to take her mind off things. "We all have things happen to us that we wish didn't happen," McDonald says. "Horses really got me through that."
But riding turned into something more than just a distraction. "I get this feeling of exhilaration when I ride," McDonald says. "Horses just have energy. You can find yourself if you ride horses."
Now, McDonald competes in events every summer and commutes to Savin Hill Farms near Newberg four times a week so she can ride. "I don't mind the time commitment because horseback riding is something I love," she says.
McDonald was born an only child on June 7, 2002, in Portland. From a young age, she was very energetic and always needed something to do.
Her father, Darren McDonald remembers his daughter collecting plush microbes, which she still keeps in a basket in her room today. "She would often get really deep into a subject," he says.
McDonald attended the Franciscan Montessori Earth School for elementary school.
"There was a lot of science-based work," McDonald's mother, Lora Looney says. At the school, which didn't have much structure, McDonald was encouraged to find her own interests.
She became absorbed in reading and studying different animals. When she was 7, she could name every species of shark, including where it lives, what it eats and how common it is in the world.
Then in January 2011, McDonald's life changed dramatically. Her mother took her daughter to see the movie "Secretariat," A story about a once-injured horse that comes back to win the Triple Crown, a feat in which a horse takes the nation's top three racing events of the year.
After the movie, McDonald's parents sat her down in the family room to break the news.
"I found out something about my body," Looney said at the time.
"You have cancer, don't you?" McDonald responded.
When Looney affirmed McDonald's assumption – that she had been diagnosed with breast cancer – a wave of shock came over her. She ran upstairs and started crying.
Looney says now that taking her daughter to "Secretariat" was symbolic – it was her way of letting McDonald know she was going to overcome cancer the same way the horse overcame his injury.
She says it wasn't a surprise that McDonald guessed her condition. At the time, the assistant director at McDonald's school had recently been diagnosed with cancer. They had also lost her physical education teacher to the disease. "Cancer was everywhere," Looney says. "It was … in the air at her school."
In the months following, dark thoughts clouded McDonald's mind. "There was a lot of unanswered questions," McDonald says.
She constantly felt anxious and had trouble focusing. With cancer, "you're living with uncertainty," Looney says. McDonald remembers her mom receiving weekly checkups and reports with the progression of her cancer.
The stress of her condition took a toll on McDonald, Looney says. She had frequent meltdowns, crying uncontrollably in her room multiple times a week.
Looney, who grew up for part of her life in the mountains in Colorado, spent much of her childhood riding and taking care of her horse, Pebbles. She remembers the bond she was able to create with her horse and wanted the same thing for McDonald during the difficult time.
In mid-January 2011, Looney underwent a mastectomy to combat the cancer. The recovery period was difficult. Looney remembers having to be in the hospital for five weeks after the surgery.
Although Looney was in a tremendous amount of pain, she searched for things for her daughter. During the following summer, Looney signed McDonald up for a horseback riding camp. "I woke up one morning, and I said to myself, 'Take her to the horses,'" Looney recalls.
At the camp, McDonald's curiosity showed. "I just found it really interesting that there could be all these big animals in one place," McDonald says.
The camp was also loosely structured, which allowed McDonald to create a better connection with all of the horses. Every day, when she entered and left the camp, McDonald would pet each one of the horses as she walked through the stable.
In March, doctors told Looney that she wouldn't have to go through chemotherapy or radiation. Instead, Looney was prescribed the drug Tamoxifen, a tablet that was used to help prevent her breast cancer from recurring.
Unfortunately, the drug has many adverse side effects such as loss of energy and achiness. As a result, Looney often feels under the weather. "I hate it," she says.
For McDonald, the riding served as a tonic. At age 9, she started taking riding lessons at Quarry Ridge Farms in Battleground, Wash. She felt an immediate connection with the horses. "Humans seem to get caught up in a bunch of complicated and difficult stuff that doesn't need to be so complicated and difficult," McDonald says. "Horses simplify life."
She loves the way horses emulate the way the rider is feeling. She says horses base their confidence on the emotion of the rider. When McDonald felt anxious about her mom's sickness, the horses could sense it. "I had to tone down the anxiety when I went to the barn," McDonald says, or the horses would get spooked.
The discipline of riding she learned is known as Hunter Jumper, which was derived from fox hunting in the 18th and 19th century. It involves jumping over multiple fences on a memorized course as gracefully as possible.
By the end of her first year of riding, McDonald was already performing in competitions that generally have five classes, or sections. A ribbon won from each class is worth a certain number of points. The person with the most cumulative points wins the division.
Although McDonald enjoyed the riding, she became hard on herself due to the competitive environment at Quarry Ridge Farm. "I put a lot of pressure on myself to do well," McDonald says.
In spring 2015, McDonald decided to look for a different barn. She quickly found Savin Hill Farms, where she continues to ride today.
In April that year, McDonald got Styles, a 17-year-old Hanoverian thoroughbred. He began his life as a fancy show horse in Wellington, Fla. "He was a really big deal," McDonald says. But when his owner went to college, Styles was shipped to Oregon.
When McDonald first saw Styles, she was not impressed. He had dull eyes and little muscle mass on his neck and shoulders. McDonald didn't think Styles would be capable of performing in competitions based on his withered appearance.
But when she rode him, she understood why he had been recommended to her. "I was really happy with how he moved," McDonald says.
She decided to split the cost of Styles with another rider. Styles took her through the show season of 2015, and she rode him four days a week. "You really have an understanding for each other," McDonald says of her horse.
She recalls a recent incident with Styles as if she is talking about a member of her family. She remembers approaching a jump in a festival when Styles saw red flowers and became distracted. "He just started cantering backwards," McDonald laughs. "It's funny now."
At the end of the show season that year, McDonald switched from two-foot to two-and-a-half-foot jumps. She was ready for the challenge.
Shortly after the show season, her family made the decision to buy out the other owner's half in Styles. "I just loved him so much," McDonald says.
The dedication and commitment have paid off. This year, McDonald competed in four major shows, called rated shows, winning first place in one class and winning second in two other classes.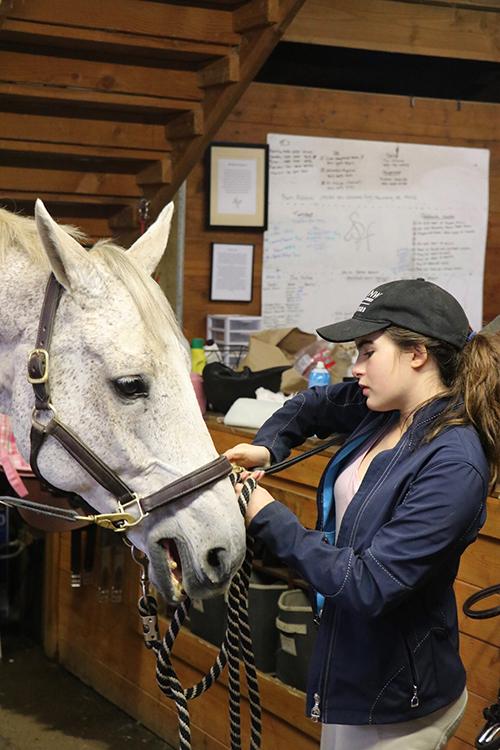 Today, she continues to practice four times a week. She believes with her current level of dedication, she will be able to move up to three-foot jumps by next year.
Sarah Savin, the trainer at Savin Hills Farms, believes McDonald has grown a great deal emotionally since joining her farm. "She understands that mistakes are a part of learning," Savin says. "She's very forgiving of herself of that now."
This year, McDonald will compete in multiple competitions such as the Oregon Trail Classic in Wilsonville, where she competes with people 17 and under.
During the competition, McDonald wakes up at 5 a.m. It gives her enough time to get to the grounds and set up her horse.
Competitions last all day, and in most circumstances, McDonald gets home at around 8 p.m. McDonald repeats the taxing schedule for all five to seven days of the competition.
She also hopes to travel to Canada in July to compete in the West Coast Classic at the Thunderbird complex, one of the premier facilities in the Northwest.
Although McDonald has an incredible connection with Styles, he is getting older. This could pose problems for McDonald, who wants to continue to challenge herself with higher jumps.
She plans to purchase another horse that can jump higher than Styles. "He can't go over three feet," Looney says. "He has an old injury that will prevent him from doing that."
McDonald says she wants to attend the University of Portland, and she plans to graduate early – after her sophomore year – to get more of a challenge from school. She's considering forensic science but knows she'll never lose her love for riding.
"I like that you have a connection between yourself and the animal," McDonald says. "You can work together to do something incredible." ◆